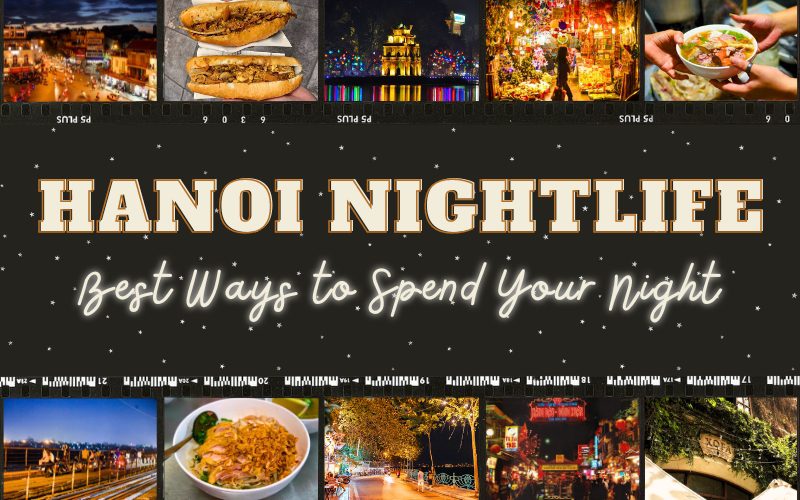 Hanoi is extremely beautiful when covered by sunshine in the morning, highlighting ancient architectural constructions and historical sites. However, have you ever wondered what you can do in Hanoi when night comes? Let's explore the interesting night activities in Hanoi that you can experience to have the most authentic trip!
Explore Hanoi Night Markets
The night market at Hanoi Old Quarter is one of the most long-established night markets in Hanoi. It officially went into operation in 2003 and is only open during weekend nights, from 6:00 PM to 11:00 PM every Friday, Saturday, and Sunday. This is a bustling place for traders and tourists from all over the world. Approximately 4,000 large and small booths here sell various products, from clothes and shoes to handmade products and accessories. All items are reasonably priced and affordable for every visitor.
Hanoi Night Market is an interesting shopping and entertainment space for not only Hanoians but also tourists from everywhere. This place is also a means of community connection. No matter young or old, boys and girls, you can visit and enjoy many unique experiences during your trip to Hanoi.
If you are not lucky enough to visit Hanoi at the weekend to join the Old Quarter's night market, you can consider Dong Xuan Market and Quang Ba Flower Market, which are open every day. In Dong Xuan Market, you can find everything you need, from essential goods to delicious Hanoi street food. Quang Ba Flower Market is a bit different. It opens from 9 pm to 5 am the next day, mainly for wholesaling fresh flowers to retailers of this product. If you want to discover new kinds of flowers, meet with local people, take beautiful photos, or buy yourself a small bunch of flowers, it is best to arrive here at around 3 – 4 am.
Enjoy Cultural Night Shows in Hanoi
Attend Water Puppet Show
Among several night art performances in Hanoi, you should experience a water puppet show here. Water puppet is a traditional art form of Vietnam with thousand years of history. You can visit Thang Long Water Puppet Theatre, a famous place for performing water puppets.
Coming to a water puppet show, you will have a chance to witness vivid scenes on the water's surface, where puppets move gently with the control of puppet artists. With fascinating stories and unique performances, a traditional water puppet show in Hanoi would offer you wonderful and unforgettable experiences. If you love to discover the unique culture and art of Vietnam, going to see the water puppet show would definitely be an interesting option.
Watch a Show at the Hanoi Opera House
Hanoi Opera House is an architectural construction recognized as National Heritage. This place is associated with several important events in Hanoi, attracting various tourists to come here and admire its unique architecture and meaningful shows.
There are several shows on-air at the Hanoi Opera House, including ballet performances, live shows, and orchestral performances. You can watch the shows at night and enjoy a luxurious space with professional performances. However, there is no daily show. You should check for the schedule and buy tickets in advance at the Opera House's official website here. Going for a show at the Hanoi Opera House would be an unforgettable experience for you to immerse yourself in the Hanoi nightlife.
Experience Night Clubs & Cafes in Hanoi
Ta Hien Beers Street
Only a 270m walk from Hanoi Night Market, you will find Ta Hien, the non-sleeping street. Visitors will be amazed by the bustling space of people stopping by when coming here at night. The image of young people or foreign tourists chatting and sipping cold beer has made a strong impression on those visiting Ta Hien for the first time.
Ta Hien Street is considered the junction between Trang An's memories and Hanoi's modern features today. During the day, Ta Hien is full of nostalgia, peace, and antiquity. However, when night comes, Ta Hien seems to "makeover" when the shops start to turn on the lights, the tables and chairs are all over the street, and people flock to the road like a festival.
People having fun at Ta Hien have several choices of food and drink, but fresh beer is the preferred option. That's also the reason why this place is called "beer street." Once sitting down to enjoy the cold beer, everyone becomes familiar with each other. People enjoying their time in Ta Hien, whether Vietnamese or foreign, can easily communicate with others around them happily. You can truly experience the dynamic atmosphere of Hanoi nightlife.
1900 Le Théâtre Club – Best Club in Hanoi
1900 Le Théâtre, located at No. 8 Ta Hien Street, is one of Hanoi's finest clubs. This place took over the old Quang Lac theater. After over 100 years of the old theater collapse, the 1900 team came to reconstruct this place. 1900 Le Théâtre has become a stimulating weekend destination for young people to enjoy Hanoi nightlife. This location is currently ranked 40th in the Top 100 Best Clubs in the World. Not only have unique and creative decorations inside, but 1900 is also famous to visitors for the vibrant music distributed by top DJs.
The events held at the club are also the attraction of 1900. 1900 Le Théâtre is now organizing events on a daily basis with many promotions, such as Couple Night every Monday or Ladies' Night every Tuesday. Moreover, 1900 will hold a music show featuring famous singers every month, attracting hundreds of young people. Everyone will join in the exciting music atmosphere at this top club in Hanoi.
Xofa Cafe
Located in the "non-sleeping" city, Xofa Cafe is also a "non-sleeping" coffee shop that is open 24/7. The shop has the address at No. 14 Tong Duy Tan, a street near Hanoi Old Quarter with several overnight coffee shops. Xofa Cafe leaves a good impression on customers here when providing a diverse menu, serving not only unique drinks and delicious snacks but also high-class wines for those who want a romantic date.
At late night, many Hanoians choose Xofa Cafe as their destination to spend time. On the first floor, several groups of friends gather at this coffee shop to have some chats or play board games together. The atmosphere was vibrant and noisy. In contrast, the second floor is a space for all-nighters who come here to finish their deadlines. You can easily find many young people bringing their laptops and spending all night in this place.
Indulge in a Night Food Tour in Hanoi
When the sun disappears and the night comes, Vietnamese streets become more vibrant than ever, with several sidewalk eateries along the roads. You can start your Hanoi nightlife adventure by having a special dish from Hanoi for your dinner. If traditional Pho is too familiar among Hanoi visitors, why don't you try mixed chicken Pho at Pho Ga Nguyet?
Pho Ga Nguyet is a long-time restaurant in Hanoi that serves a special dish: Pho Ga Tron, or mixed chicken Pho. Located in the Old Quarter, near St. Joseph's Cathedral, with the detailed address of No. 5B Phu Doan Street, you can easily find the restaurant. Rarely do Hanoians know when Pho Ga Nguyet was established because this Pho shop was there ever since mixed chicken Pho became well-known among people living in Hanoi.
Diners at Pho Ga Nguyet are impressed by the quality of a portion of Pho Ga Tron here. With chewy Pho noodles, tender chicken, and flavorful sauce, a bowl of mixed chicken Pho here would make you fall in love right at the first bite. The restaurant also offers other dishes besides Pho Ga Tron. You can enjoy the traditional chicken Pho or try a bowl of Pho with chicken gizzards, a favorite dish of middle-aged people in Hanoi.
After filling your stomach with such delicious food, you are now full of energy for your night trip to Hanoi. However, if you find yourself hungry at late night, even 2 or 3 AM, don't worry because there is a special banh mi that is only sold from 10 PM to 5 or 6 AM, Banh Mi Dan To.
The toppings of Banh Mi Dan To include eggs, sausages, pates, dried beef, and some vegetables. These are only familiar ingredients, but they are stir-fried together before being put into the bread with a unique sauce. This combination makes a perfect flavor for Banh Mi Dan To, attracting several Hanoians to taste the banh mi. If you go out late, do not miss out on the chance to experience this local special dish.
Ride a Motorbike around Hanoi
Another activity that you can experience is riding a motorbike, or a local vehicle, to explore Hanoi nightlife. Traveling on a motorbike will give you a unique feeling that you cannot find anywhere else. You can go around streets in Hanoi and then head to Long Bien Bridge, a historic symbol of Hanoi, to admire the night lights of the city.
West Lake is also an ideal location for your motorcycling. Many young Hanoians choose West Lake to spend the night. The dynamic atmosphere at this place during nighttime will give you a totally different experience compared to the daytime. You can ride around the lake and enjoy the beautiful landscape. Discovering Hanoi by motorbike will surely make you feel like a local, so don't miss out on this exciting opportunity!
There are so many thrilling Hanoi nightlife activities for you to participate in. We hope you can choose the one that is most suitable for you, or you can join in all activities for the best experience during your trip. If you are seeking more information to prepare for your vacation, feel free to reach out to us.
Read more: