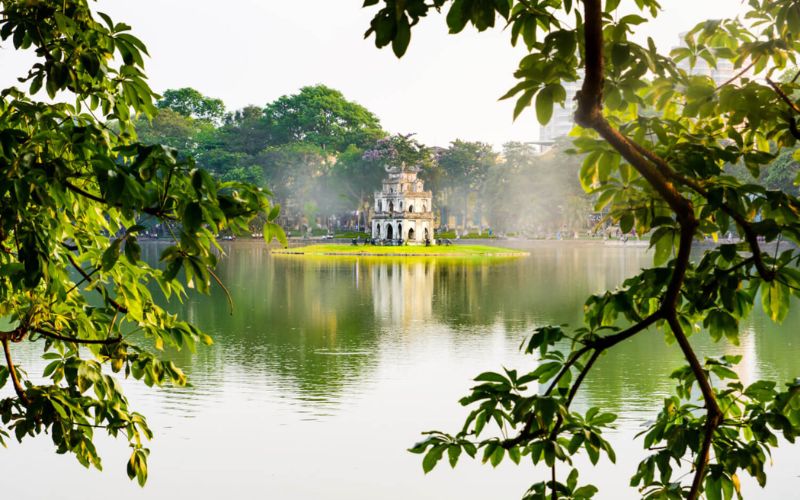 Visiting Hanoi is like walking through a time tunnel. You will see bustling streets lined with modern skyscrapers, ancient temples, legendary pagodas and French colonial mansions all converge in the Old Quarter like a labyrinth.
The bustling city of Hanoi, both fiercely traditional and forward-looking, has largely withstood the country's meteoric advances, and the city often confuses first-time visitors. This list of the best things to do in Hanoi will help you get started and fully appreciate all that is in Vietnam's most historic city.
1. Explore Hoan Kiem Lake
Firstly, Hoan Kiem lake is a popular destination for tourists due to its beautiful nature, architecture and people. On the northern edge is the temple of Ngoc Son on a small island connected to the coast by the scarlet bridge Cau The Huc. Early in the morning, the shores of the lake fill with residents practising tai chi. Hoan Kiem Lake is a must-see on a Sunday as the surrounding streets are closed to traffic and suitable for pedestrians.  Many fun activities and games take place until midnight.
2. Walking around the Old Quarter
The Old Quarter is a collection of narrow streets, small shops and beautiful French colonial buildings. It is home to many traditional Vietnamese artisans working in goldsmithing, pottery, lacquer and embroidery.
Hanoi's Old Quarter is the city's busiest attraction but also one of the most peaceful cities you can find in Vietnam. Come just after sunrise, when the light casts ethereal hues over the century-old facades, you'll find locals busy setting up their shops for the day. A food tour with a local is another great way to explore Hanoi's 36 streets and the best dishes that represent them.
3. Watch a water puppet show
Among the best things to do in Hanoi, watching water puppet shows is definitely something you shouldn't miss. Water puppets are a symbol of Vietnam's outstanding and unique intangible culture. It first appeared in the rice paddies of the Red River Delta in the 11th century. The stage in a water puppet show is a small pond, and the performers hide behind a bamboo curtain, controlling their puppets and presenting scenes on the water's surface. Thang Long, Hanoi's most famous water puppet theatre is located in the city centre and near Hoan Kiem lake.
4. Participate in a mass at St. Joseph's Cathedral
Located between the Old Quarter and Hoan Kiem Lake, St. Joseph's Cathedral is one of Hanoi's most famous architectural landmarks. Built in 1886, the neo-Gothic style is inspired by Notre Dame Cathedral in Paris. It is the oldest church in the Vietnamese capital and serves the city's Catholic population. Visitors can enter the church hall during mass, which takes place at 6:15 p.m. every day of the week and seven times a day (5 a.m., 7 a.m., 9 a.m., 11 a.m., 4 p.m., 6 p.m., 8 p.m.) on Sunday.
5. Visit Ho Chi Minh Mausoleum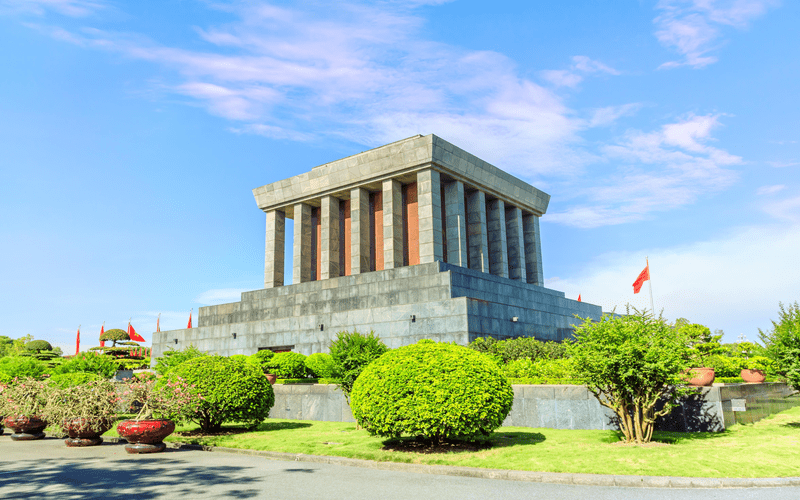 The Ho Chi Minh Mausoleum is the final resting place of the revolutionary leader Ho Chi Minh, president of the Communist Party of Vietnam. It used to be the place Ho Chi Minh read the Declaration of Independence in 1945 and founded the Democratic Republic of Vietnam. The Ho Chi Minh Mausoleum is inspired by Lenin's Mausoleum (in Moscow). It contains elements related to Vietnamese architecture, such as the sloping roof.
The exterior of the Ho Chi Minh Mausoleum is made of grey granite, while the interior is made of black, grey and red polished stone. All the materials used for the construction were purchased from all over Vietnam. The embalmed body of Ho Chi Minh rests in the central hall of the mausoleum, protected at all times by a military guard.
If you're wondering what the best things to do in Hanoi are, make sure this visit is at the top of your list.
6. Calm at the Temple of Literature
The Temple of Literature (Van Mieu) was built in 1070 in the Ly Thanh Tong Dynasty in honour of Confucius. The complex also served as Vietnam's first national university. Today, the temple is not only one of the most remarkable sights in Hanoi but also a tranquil place to take a break from the constant hustle and bustle of the city. The Temple of Literature is an oasis of quiet introspection. You can stroll through one of the five manicured gardens or pay homage to Confucius' philosophy at its dedicated altars.
7.

Go shopping at Dong Xuan Market
Shopping in Dong Xuan Market is one of the best things to do in Hanoi! Established in the late 1800s, Dong Xuan Market is a Communist-style building on the edge of the Old Town. It is the largest covered market in Hanoi and one of the best places to visit when you need to shop. Whether you're looking for fresh local produce, souvenirs, or a laptop, the vendors are likely to have them all.
Like other markets in Southeast Asia, Dong Xuan Market has various sections of meat, fish, vegetables and flowers from all over Vietnam. Here you will find some of the best street food in Hanoi. Just head upstairs and you will find handbags, fabrics, and crafts, all sold at wholesale prices!
8. Visit the Vietnamese Women's Museum
Located just a few steps from the Opera House, this modern and stylish museum celebrates Vietnamese women throughout history, from street vendors and mothers to entrepreneurs and academics.
One of the most interesting exhibits is about the role of women in the Vietnam War. The museum publishes extensive information about all its exhibitions in French and English. Other historical artefacts, including Taoist books (and other impressive artefact collections), reveal Vietnamese women.
9. Learn the country's history in Hoa Lo Prison (Hanoi's Hilton)
A visit to Hoa Lo Prison Museum, one of the best examples of Vietnam's horrific past (also known as the "Hanoi Hilton"), will make you feel a range of emotions, from sadness to anger, disgust and admiration.
The museum shows and explains the suffering of Vietnamese revolutionaries who were imprisoned by the French government in the early 20th century. Interestingly, this prison was built in the centre of the city. The idea of ​​the French colonial rulers was to set an example for the Vietnamese independence fighters. It also houses the most terrible relic – the guillotine that French army made for punishing Vietnamese rebels.
10. Immerse yourself in the life of 54 ethnic groups at the Vietnam Museum of Ethnography
The museum was completed in 1997 and honors Vietnam's 54 ethnic groups. Impressive 15,000 objects and 42,000 photographs are on display, allowing for a comprehensive tour of this very diverse country. The garden features outdoor, life-size traditional houses of Vietnam's most famous ethnic group.
11. Try all the specialties
In Hanoi, you can find cuisines from all regions of Vietnam. After thousands of years of filtering the most exquisite and unique natural features of northern Vietnam, Hanoi's cuisine has become a special culture that will fascinate every visitor. Hanoi is honoured to receive the Asian Cuisines Award for three dishes pho, bun thang (noodles with chicken soup) and bun cha (rice noodles with grilled pork).
Try goi cuon, a spring roll filled with green vegetables, some type of minced meat (shrimp, crab or pork) and cilantro. It is usually served with a bowl of salad, peanut butter and mint. If you have a sweet tooth, try the baked bananas, dessert soup or crème brûlée.
Tasting new cuisine is also a part of cultural heritage. There's no better way to explore Vietnamese food than with the help of a local!
12. Have an egg cafe in the Old Quarter
"Cà phê trứng" or egg coffee, is a speciality of Hanoi. Egg coffee was invented in 1946 by the owner of the Giang Cafe. At the time, milk was very expensive and scarce, so Mr Giang developed a recipe using egg yolks. Nowadays you can find egg coffee in many cafes in Hanoi. A creamy, meringue-like protein foam settled on the thick Vietnamese coffee.
Cà phê trứng is made by beating the egg yolk, sugar and condensed milk very well, then pouring it over an approximately equal amount of Vietnamese coffee. You may also come across menus that call it ca phe trung nong (hot egg coffee) or ca phe trung da (iced coffee with ice). Ca phe trung is very sweet – something to be sipped slowly and enjoyed in a beautiful atmosphere. Mix it well before drinking.
13. Meet locals and drink Bia Hoi on the street
One of the best things to do in Hanoi is to enjoy a cup of fresh beer while watching the busy street. Made with fermented corn, Bia Hoi, nicknamed "the cheapest beer in the world", can be found in any luxurious or casual dining restaurant. Hanoi's best place to drink is Beer Corner – the crossroads between Ta Hien and Luong Ngoc Quyen in the Old Quarter. This colourful street is always full of locals and tourists.
14. Take a cooking class
If you are fascinated by authentic Vietnamese cuisine and want to take home a piece of Vietnam to rekindle the memories of your amazing trip, join a cooking class!
The good news is that Vietnamese cuisine isn't too complicated. You don't have to be a great chef to cook your favourite Vietnamese dishes, but you do need the tricks to make them as authentic and tasty as the real ones. There are many different courses helping you prepare famous cuisines such as pho and bun cha.
15. Visit Bat Trang ceramic village
Finally, traditional Hanoi village – Bat Trang is an attraction for both locals and tourists! And making your own pottery in this village is one of the best things to do in Hanoi.
In Bat Trang shops, you will see ceramic products displayed in different shapes, styles and colours. They are usually produced by ceramic artists and the prices are reasonable. This place is famous in Vietnam and it is common to see people from the surrounding areas come to buy their favourite ceramic products.
There is a wide range to choose from, from everyday items such as pots, plates and mugs to home decor, religious items, jewellery and more. You can sign up for one of the ceramic workshops and make a ceramic product by hand yourself! Don't worry, the dealer will walk you through the process.
In fact, it is not easy to decide what are the best things to do in Hanoi. You will never run out of ideas for activities to do in this lovely and charming city. A trip to Hanoi will help you know more about Vietnam's vibrant history and culture. Don't hesitate to  contact us for more information and plan a wonderful trip yourself!