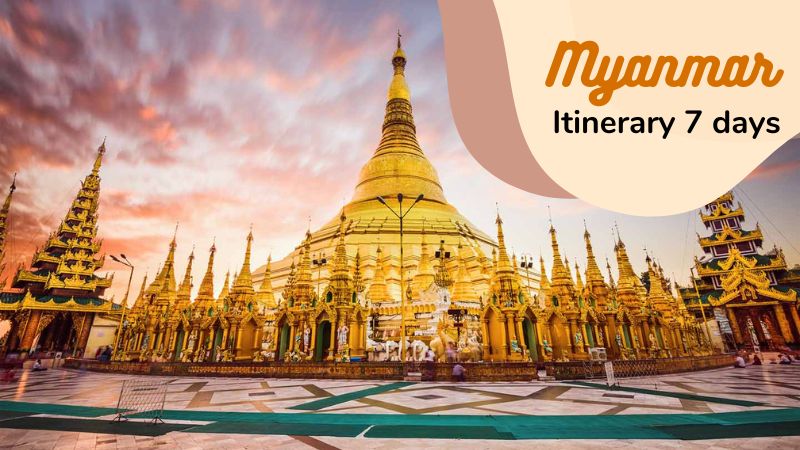 Myanmar itinerary 7 days will bring you many interesting and wonderful experiences. Myanmar, or Burma, is a popular travel destination and draws a lot of interest. This is a country whose culture and significant cultures influence cuisine and architecture. Therefore, diversity and uniqueness have gradually become the biggest tourist attractions in this country.
Myanmar – A great destination for the end of the year
According to IDC Travel's experience, the best time to visit Myanmar is from November to February next year. At this time, the climate of Myanmar is very pleasant with cool weather.
If you go around March-May, you will have to receive the harsh heat of this country. And from June to September is the extremely dangerous stormy season.
Myanmar itinerary 7 days
There are 4 places and cities in Myanmar that are extremely famous in this country's tourism industry, which are: Yangon, Bagan, Mandalay, and Inle Lake. Let's plan a Burma itinerary 7 days with the following suggestions!
Day 1 to 3 – Visiting temples
According to unofficial statistics from Amusing Planet, there are over 10,000 temples and pagodas in Myanmar. Each temple is a beautiful and magnificent architectural work, with innumerable mysteries. While it's impossible to explore all of the temples in Myanmar, here are a few standout names that are well worth including on your following pilgrimage itinerary.
Day 1: Shwedagon Golden Temple – Yangon
Shwedagon Golden Pagoda – Yangon is one of the tallest pagodas in the country. This is a luxurious pyramid-style structure, inlaid with thousands of diamonds, precious stones, and rubies. At the highest position of the pagoda, the tower is a stone lotus bud studded with a precious 76-carat diamond. And yet, this 2,500-year-old temple is also said to be keeping 8 hairs of Shakyamuni Buddha, attracting many visitors to worship and admire it.
Day 2: Taung Kalat Monastery – Bagan
Located on the top of Popa Mountain – 1,518 meters above sea level – Taung Kalat Monastery is the most sacred and respected religious site in Myanmar. From here, visitors can admire the panoramic view of the ancient Bagan Ancient Capital, with overlapping mountains and a series of hidden temples. This monastery is also the name associated with many mysterious legends about 37 Nat gods. If you are interested in learning about history and folk anecdotes, you absolutely cannot miss this destination!
Day 3: Kuthodaw Temple – Mandalay
Built in 1857, Kuthodaw Pagoda in Mandalay is a huge religious relic complex, gathering more than 700 large and small Kyauksa gu towers. Inside each tower, there is a white marble slab about 1 and a half meters high. These are all "books" recording rare Buddhist scriptures. Locals tell each other that the number of "books" at Kuthodaw Temple is so great that if you spend 8 hours a day reading, it will take you 450 days to complete. 
Try to arrange a Myanmar itinerary 7 days to visit one of these temples. You will not be surprised by the cultural beauty expressed through Buddhism.
Day 4 – Boating around Inle Lake
Inle is one of the two largest freshwater lakes in Myanmar, where the lives of the Inthar people residing on the lake are very bustling. Inle Lake is more than 900 meters above sea level, surrounded by the charming beauty of the Shan Mountains. Taking a boat to admire Inle Lake, visitors will be amazed by a series of vibrant floating markets, weaving villages of "long neck" artisans, hydroponic orchards, and cat houses. There are also many splendid pagodas. Don't forget to record the extremely strange traditional fishing method of the fishermen here!
Day 5 – Hand-made lacquerware in Min Nan Thu village
Besides textiles, the art of making lacquerware in Myanmar is also very developed. The next ideal destination for those who are skillful and love crafts is Min Nan Thu village. This is a place famous for tobacco and silver processing but "recording history" by making traditional lacquerware. Lacquerware here was born from many meticulous and sophisticated stages, from drying and polishing to painting each layer of texture… Visitors can also make their own lacquerware to take home.
Day 6 – Back in the past with Thanlyin Old Town
Thanlyin Old Town was once the resting place and shelter of the famous Portuguese explorer – Filipe de Brito e Nicote. He set foot in this land in the late 16th and early 17th centuries. Separated from busy Yangon, Thanlyin possesses a charming rural setting. love, making visitors feel like they are immersed in a nostalgic and poetic space.
It is quite interesting that in Thanlyin, you can find a "double version" of Shwedagon Pagoda – the Kyail Paya pagoda complex. This place also owns many famous ancient religious works, such as Myanmar's first Christian church or Yele Paya floating pagoda. How great is that Myanmar Itinerary 7 days can give you a journey to discover the history, isn't it? After satisfying your passion for discovery, stop by the traditional market to recharge with delicious snacks!
Day 7 – Enjoy Art Exhibition in Yangon
Want to better understand the beauty of traditional and contemporary Burmese art? Then there are 3 galleries in Yangon that you need to put in your travel guide right away: Artist's House and Pansodan Art Gallery. The Artist's House and Pansodan Art Gallery open up a diverse collection, including many new works as well as masterpieces from the history of painting and craft.
Meanwhile, River Gallery is a playground dedicated to leading contemporary artists in the country. If you're lucky, visitors can participate in the "knock on the heart" activities of these galleries, such as reading poetry, discussing real art, and even performing live music.
Myanmar Cuisine
Myanmar's culinary culture has a strong taste and stimulates the taste buds because it is influenced by the flavors of neighboring countries such as India, China, Thailand, and Shan. Traditional Myanmar dishes commonly found in them are rice, bread, flour, fermented foods, curry powder, and dried chili flakes. It will be a pity if you don't try these dishes when you visit Myanmar in 1 week!
Tea Leaf Salad
It is a sour, bitter fermented tea mixed with crispy cabbage, beans, fresh tomatoes, and hot peppers to create a contradictory taste. This is a common appetizer in Burmese meals.
*Note: You should not eat too much tea leaf salad lest you lose sleep.
Because this is a very unique salad, you must try it in Myanmar Itinerary 7 days.
Shan Style Tofu Noodles
The Shan people's "warm tofu" noodles are also known as hto-hpu nwe. The tofu in this dish is not real tofu (made from soybeans) but a powdered porridge made from chickpeas.
The golden bean porridge is served with chewy noodles and seasoned chicken or pork; add a little chili oil and it's a great product. This is a dry noodle dish, and you can serve it with vegetables or a savory broth. Feeling hungry just by listening to it?
Mohinga
Mohinga is the unofficial "national dish" of Myanmar. The recipe to make this dish is quite complicated, it requires delicious noodles, and broth stewed from fresh fish, herbs, and chives. When eating, add bananas, boiled eggs, and deep-fried vegetables as you like, for a more harmonious taste. Mohinga is the favorite menu of many visitors, whether for breakfast, lunch, or dinner.
Notes when traveling to Myanmar in 7 days
Before starting Myanmar Itinerary 7 days, you need to note the following things to make the trip smooth and complete.
About means of transportation
The tram system in Myanmar is not very developed. In return, you can easily move between major cities by bus. Bus fares range from $20.94 – $46.66 per person/trip depending on the itinerary.
In addition, renting a private car is also an economical solution for groups traveling from three people.
Myanmar is a Buddhist country with a long tradition. You should pay attention to choosing modest clothes when visiting temples to show respect for the local culture.
In addition, the weather in Myanmar is warm in the morning and cold in the evening. So, bring clothes that are thin, and easy to absorb sweat, and prepare a scarf/warm coat in advance.
Pre-installed translation tools because not many native speakers are fluent in English.
Use Myanmar's 4G SIM to easily check in and find your way throughout your journey. You should order in advance to not be confused on the first day of arrival in this country.
IDC Travel would like to introduce you to a travel guide for a Myanmar itinerary 7 days. Hopefully, with these suggestions, you will be able to easily plan your next trip. If you want to book a tour to ensure your safety during your journey, let's contact us. In addition to great travel services, we also provide high-class game services such as golf to help you have the best resort experience.