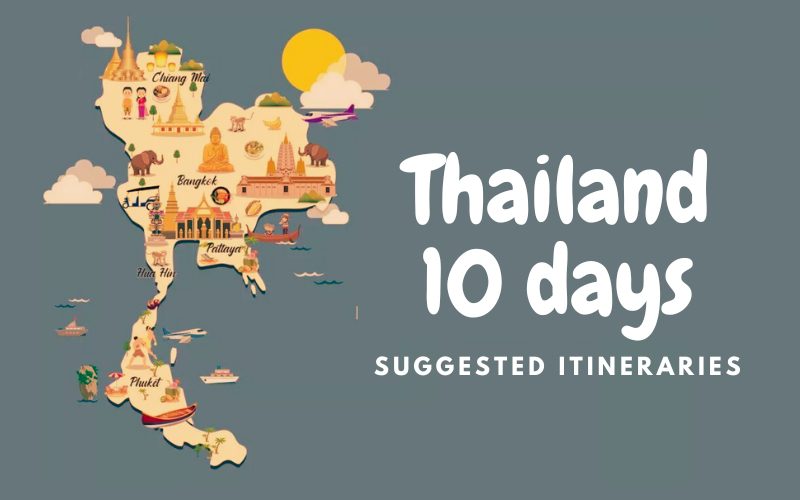 Thailand is a must for anyone planning to visit Southeast Asia. The Kingdom of Thailand has something to offer all types of travelers, whether it's its rich culture, vibrant landscapes, or delicious food. If you're short on time and it's your first time in Thailand, no worries! Our suggested 10-day Thailand itineraries will help you plan your trip as well as possible! Although you can only scratch the surface of what the country has to offer on a 10-day trip to Thailand, these itineraries will give you a great overview of the country's highlights, with room for many stretches of the local cuisine! Read on to find out how to plan a trip to Thailand in 10 days.
Are 10 Days in Thailand Enough?
A 10-day trip to Thailand is a great introduction to the country, but it's important to keep in mind that it's a vast country with lots to see and do. In 10 days, you can certainly visit some of the top destinations, such as Bangkok, Chiang Mai, and the Southern islands and beaches.
However, if you have specific plans or activities, such as diving, trekking, or cultural experiences, you may want to consider extending your trip or focusing on specific regions of the country.
10 days is not enough time to go "everywhere" in Thailand, it will give you enough inspiration to plan other trips for this purpose, which sometimes involves a new 10-day trip in the future.
Where to Go for 10 Days in Thailand
Bangkok and its surroundings
Most international flights to Thailand land in Bangkok, but that's not the only reason to spend at least two nights there when traveling. There's something for everyone in the Thai capital, from the rooftop bars of Silom, Sukhumvit, and Sathorn Roads, dubbed the "New Town", to the temples and palaces of Rattanakosin and Thonburi, which make up the "Old Town".
Bangkok is also an excellent starting point to visit the ancient capital of Thailand, Ayutthaya, and the famous floating markets of Thailand such as the floating market of Damnoen Saduak, the floating market of Amphawa or the floating market of Taling Chang.
Northern Thailand
If you want to explore Thailand in 10 days, consider heading north from Bangkok and almost certainly to the old walled city of Chiang Mai. This is however not the only option.
Suppose you are not interested in Chiang Mai City's temples, waterfalls, and hill tribes surrounding it. In that case, you can head to Chiang Rai and the nearby Golden Triangle (a once opium-producing region that is now a culturally vibrant tourist hub) or Lampang, which is even quieter and worth visiting. 
Southern Thailand's Islands and Beaches
Thailand has far too many islands to be visited in just 10 days. But the good news is that if you know exactly where you want to go, you can see at least two of them and still have a wonderful time.
Some travelers head to Phuket or Krabi, two popular destinations, taking day trips to islands like Koh Racha and Koh Phi Phi, respectively. Here you can experience more than just white sand shores and beautiful clear beaches, Phuket has so much more to offer, like jungle adventure, the old streets, and the night market too.
Other options such as Koh Samui, the anchor point of the Chumphon archipelago, a stone's throw from the even more spectacular islands of Koh Pha Ngan and Koh Tao.
Isaan
If you want to spend 10 days in Thailand in just one region, the underrated northeast region (colloquially known as Isaan) is a good place to visit. Although it is by no means a tourist region, Isaan is fascinating for travelers. This area is a land of many villages and farms so it will be a great place to take a break from the crowded cities, the food here is also very delicious. This underrated region sure will make you surprise.
Here are some of the notable places in Isaan that you can add to your to-do list:
Udon Thani, which is near the border with Laos and the Mekong and is home to the magical Lotus Sea
Roi Et, is an attractive little town in the center of the region, home to a huge observation tower and the giant standing Buddha in Thailand.
Itinerary Suggestions for 10 Days in Thailand
Itinerary 1: Best of Thailand in 10 Days: Bangkok, Chiang Mai, and Phuket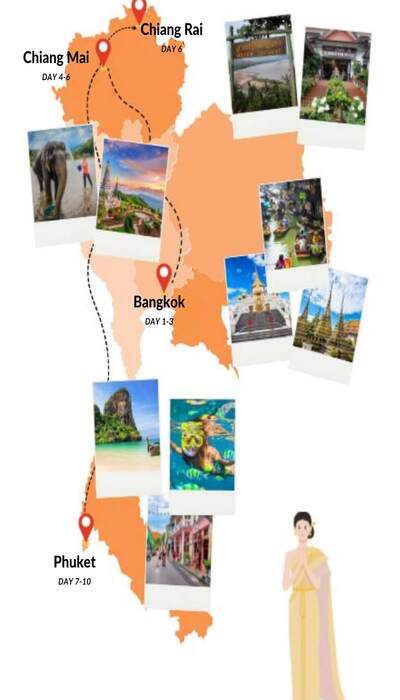 Experience the highlights of this 10-day Thailand itinerary, which takes you from the awe-inspiring temples of Bangkok to culture-rich Chiang Mai City and finally to Phuket for days of fun in the sun. Admittedly, this itinerary only allows you to visit three main points of the country, but it is really perfect to have an overview of the whole region where it is located. Enjoy another way to explore Bangkok by bike and by a traditional Thai boat, take a Thai cooking class, where you will learn to make authentic Thai dishes from the locals, and then relax on the beach of the Southern islands in Thailand.
Day 1 – Arrive in Bangkok: Cruise down the Chao Phraya River, and visit Asiantique The Riverfront Mall.
Day 2 – City tour: Visit the capital's attractions as you stop by from your cruise on the traditional long-tail boat.
Day 3 – Bicycle tour: Visit Wat Arun, Wat Pho, and the flower market while riding a bicycle around Bangkok
Day 4 – Fly to Chiang Mai: Explore the city freely to embrace the ancient Lanna Kingdom architecture.
Day 5 – Visit the Elephant Sanctuary: Spend your day playing and feeding the elephants.
Day 6 – Cooking class: Learn how to make authentic Thai dishes with the locals.
Day 7 – Fly to Phuket: Land in the Southern city and enjoy different vibes, from active parties to a calm and quiet temple.
Day 8 – Discover Phuket Town by yourself: Explore Phi Phi Island and beaches Patong and Karon.
Day 9 – Discover Phuket Town by yourself: Come to Rawai Beach, Kalama, Laem Sigh, and the Old Town.
Day 10 –  Departure: Return to Bangkok for your flight home or your next destination.
>>> Consult our itinerary in detail: Best of Thailand: Bangkok, Chiang Mai & Phuket in 10 days
Itinerary 2: 10 Days Thailand Discovery Tour (Bangkok – Chiang Mai – Koh Samui)
Explore Thailand's most exciting attractions from North to South on our 10 days tour. The first stop in Thailand is Bangkok, where you will be amazed by the magnificent architecture of the temples. Then, discover Thailand not through trips to museums or tourist attractions, but through Thai cuisine, you will have the chance to visit the culinary village of Bangkok. Next, head up North to Chiang Mai to dive into the culture here, play with the elephants, visit Doi Ithannon National Park, and finally, come to Koh Samui for relaxation on beautiful shores or dive into the ocean in Angthong Marine National Park.
Day 1 – Arrive in Bangkok: Enjoy the conveniences of the new pick-up service. 
Day 2 – City tour: Explore the morning ritual of the monks and see many attractions of the city like The Grand Palace, Wat Arun, etc.
Day 3 – Culture and cuisine tour: Come to the "food District" of Bang Rak and learn about Thailand's delicacies.
Day 4 – Come to Chiang Mai: Take the day to explore the city by yourself before the upcoming adventure.
Day 5 – Visit Patara Elephants Farm: Spend a day playing and having a mud bath with the rescued elephants, and learn about their habits.
Day 6 – Doi Inthanon National Park Tour: Spend time hiking, climbing waterfalls, and visiting the hill tribe village.
Day 7 – Fly to Koh Samui: Fly from Chiang Mai to Koh Samui, spend the rest of the day wandering, and breathe in the ocean air around you.
Day 8 – Discover Angthong Marine Park: Dive into the coral reefs, visit the saltwater lake Blue Lagoon and buffet on the island.
Day 9 – Free day to discover Koh Samui: Visit Chaweng and Choeng Moncoast, and enjoy the sunset on the beach with delicious cocktails.
Day 10 – Departure: Take your flight back home.
>>> Consult our itinerary in detail: 10 Days Thailand Discovery Tour
Itinerary 3: Thailand 10 Days Adventure Tour (Chiang Mai – Phuket)
Experience many different activities from North to South of Thailand. Starting from Chiang Mai, you'll visit many temples, see wild elephants up close, and interact and cook with the land's hill tribe. Then travel South to Phuket where you can go fishing with the locals and spend your time swimming, snorkeling, and relaxing by some of the most beautiful sites of Thailand. On this tour, you will spend your night in a combination of homestays and top-notch resorts to make your trip more memorable.
Day 1 – Arrive in Chiang Mai: On the first day, start hiking Mount Doi Pui and visit a Hmong tribe on the mountain.
Day 2 – Explore Siri Lanna National Park: Kayaking to the restaurant for lunch and visit Bua Thong Waterfall.
Day 3 – Doi Ithannon National Park adventure: Explore the national park and the tribe on the mountain, and spend the night with a local family.
Day 4 – Hiking the mountain to find wild elephants, resting in a local homestay, and having a traditional Thai dinner.
Day 5 – Fly to Phuket: Stay in a jungle lodge at Phang Nga Bay, take your time, and embrace the peaceful nature.
Day 6 – Hike and kayak in Phang Nga Bay: Walk through a mangrove forest, kayak into the jungle, and enjoy the view.
Day 7 – Early fishing trip: Join the locals on an early morning fishing trip and stay in a fishing village.
Day 8 – Snorkel and swim in Phang Nga Bay: Enjoy your trip on the rural, less popular islands in the Bay by the clear ocean and vertical limestone cliffs.
Day 9 – Free day on the beach: Take your day to relax or discover the city, Phuket has more than just beaches.
Day 10 – Departure: Leave Phuket to take your flight home.
>>> Consult our itinerary in detail: 10 Days Thailand Adventure Tour: From Chiang Mai to Phuket
10 Days in Thailand Cost
Thailand is not an expensive destination. The country is very pleasant to travel at a lower cost. For many things, Thailand is very affordable.
The cost of a trip to Thailand mainly consists of the following elements:
This is only a rough, brief guide. We can give you a more detailed and specific budget based on your customized itinerary. Contact us for more information.
Flight ticket to Thailand
The price of plane tickets varies greatly depending on the date of the flight and the airline used, from US$800 to US$1,400 for a one-way economy class ticket. A transfer from an Asian country, Vietnam for example, is cheaper.
Generally, flight prices are up to 60% cheaper in the low season, from April to October, than in summer. In high season, early booking is therefore recommended in order to obtain the best possible connections.
Cost of transportation in Thailand
Flying is the fastest and most popular way to travel between cities. Fares vary from US$30 – 100 for an economy-class seat. Ferry or speedboat is the main means of transport between most islands, such as Phuket and the Phi Phi Islands (from US$15). Travel between towns can also be done for US$8 – US$72 by train, or for US$6-20 by bus.
Thai public transport within cities is very affordable. Taking Bangkok as an example, for US$0.50-1.00 you can take a bus or the MRT/BTS. Taxis charge a minimum of US$1 and make sure to use their meter to avoid price disagreements. Tuk-tuks cost US$0.5 to US$1 for a 10-minute 0.5-mile walk.
10 days is not a short period of time, so try to minimize your expenses for transportation, maybe try the local transport in Thailand, good negotiating skills will give you a good deal, and you can even get to know Thai's daily life more. 
IDC Travel offers you the service of private car rental with drivers all over the country at a reasonable price (from US$45).
Accommodation in Thailand
High-end hotels cost between US$50 and US$200 per night. Mid-range hotels generally cost between US$20 and US$50 per night, while guesthouses and hostels can cost between US$5 and US$15 per night. The busiest (and most expensive) period is from November to January/February. To find good accommodation during this period, we recommend planning and booking well in advance (at least 6 months before departure). The low season runs from July to October. Prices are lower and there are fewer tourists.
Some hotels and resorts that you can consider when visiting Thailand:
The Okura Prestige, Bangkok: 5*
Anantara Riverside Bangkok Resort: 5*
Khum Phaya Resort & Spa, Chiang Mai: 4*
Meliá Chiang Mai: 5*
Hotels are included in our itineraries and we can usually get great prices. We recommend suitable hotels based on your preferred location, room specifications (e.g. non-smoking room, family room for parents and 2-3 children), and other requirements. Do not hesitate to contact us.
Eating out in Thailand
Thailand offers a wide variety of delicacies and is not expensive. Many unique Thai dishes, such as pad thai (Thai fried noodles) and som tam (spicy papaya salad), can be purchased at roadside stalls for US$1-2. A decent restaurant costs around US$10-15 per person. Luxury restaurants cost US$50-60 per person and above. Fresh juices are readily available on the roadside for US$0.50-1.00. Regarding alcohol, the best deals are found at convenience stores, like 7-11. A bottle of beer costs around US$2. Drinks in bars and restaurants are more expensive, costing US$3-4 a bottle.
With 10 days in Thailand, you can taste and try lots of delicacies from a food stall in the market to a fancy restaurant, and there is always something for everyone, Thailand is a great destination for food lovers!
Attractions and activities cost in Thailand
Tickets for most tourist sites in Thailand range between US$1 and US$15, which is to say they are very affordable. Thailand's most famous attraction, the Grand Palace in Bangkok, costs THB 500 (US$14).
Many temples and museums are also free, such as Wat Chedi Luang in Chiang Mai.
Some beach activities or entertainment, such as snorkeling, night shows, etc. cost about US$15-50 each time.
Spending 10 days in Thailand should be more than enough for you to discover the most famous attractions and explore nature from the Northern mountains to the sunny Southern beaches.
I hope this Thailand travel guide has given you some ideas for planning your 10 days Thailand itinerary. Do not hesitate to contact us to organize a tailor-made trip to Thailand in complete safety.
Read more: