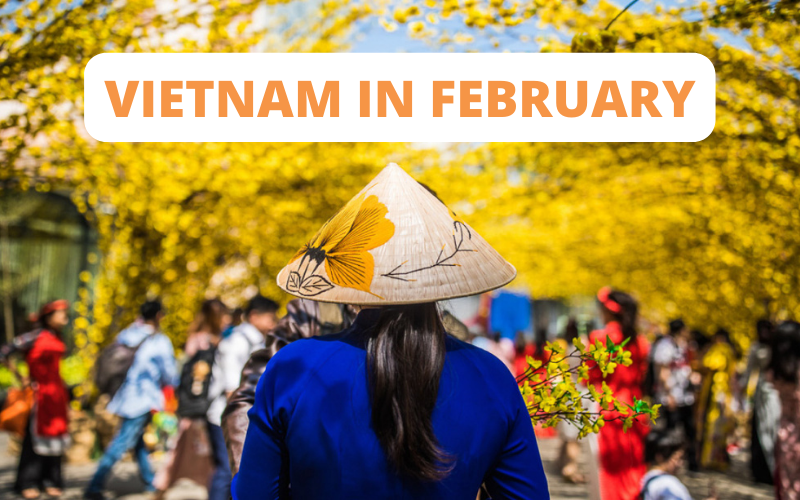 February is one of the busiest tourist seasons in Vietnam since there are many important events happening. The most important event that occurs in February is also the biggest event in Vietnam in a year—the Tet Holiday. 
Due to the dry and cool weather, February is one of the best months to visit Vietnam. This month, the whole country will experience comfortable temperatures of around 22°C. At the end of February, it might be a little rainy in the northern region. Whereas, it's completely dry in other areas, making it a good time for outdoor activities and events. You will have the opportunity to experience Vietnam's most beautiful season of nature this month, when the country is covered in lush trees and vibrant flowers. 
However, the weather varies among Vietnam's regions, giving visitors different experiences . The detailed information below will help you to find what suits you best when you travel to Vietnam in February.
Vietnam Weather conditions in February
The North- Chilly and Drizzle
February in Northern Vietnam has a chilly average temperature of just 17°C. Fortunately, even though it's quite cold outside, the sky is typically clear, there's plenty of sunshine all day, and the only thing that can really make you feel cold is the humid winds. Despite the low rainfall, there might be a little drizzle. In the meantime, Halong Bay and coastal areas might be foggy in the morning due to the possibility of mist. The weather is dry, cold, and foggy at night in isolated mountainous regions like Ha Giang, Sapa, Mai Chau, and Mu Cang Chai. Therefore, if you're traveling to these areas, it would be best to pack warm clothing and avoid evening activities.
>>>>> Get lost in the heaven of flowers in February: Northern tours
Tips for traveling to Northern Vietnam in February: Be aware of the cold weather especially in the Highland are, you should bring thick clothes and rain proof jacket if you travel around Northern Vietnam in February.
The Centre – Lovely weather for beach vacations
February in Central Vietnam is characterized by a lot of sunshine and a little bit of rain. Here, the monthly average temperature is still 25 °C. The Central Highlands have a cooler climate than the coastal region, which is dry and warm. So, if you plan to spend your vacation there, bring some warm clothes to wear at night. Trekking and trying some adventure sports there are best done during this month. Additionally, you can swim or participate in water sports at the stunning beaches in Danang or Nha Trang.
>>>>> Enjoy beach vacation in February: Beach vacation in Central Vietnam
Tips for travelling to Central Vietnam in February: Prepare light and colorful clothes to enjoy the pleasant weather and your beach vacation.
The South – Pleasant weather
February in South Vietnam is a pleasant month. Flowers are blooming everywhere, and the weather is warm and dry. This month, the average temperature is approximately 27°C, which is perfect for any tourist activity. Because of the lovely weather, a tour to travel throughout South Vietnam would be perfect in February. Imagine spending your days in the crowded streets of Ho Chi Minh City, traveling through the expansive Mekong Delta, or tanning on the beaches of Con Dao and Phu Quoc Island, among other activities. Come here in February and you can experience all the excitement in South Vietnam.
>>>>> Enjoy your trip in February: Southern Vietnam tours.
Tips for travelling to Southern Vietnam in February: Prepare light and colorful clothes to enjoy the pleasant weather and your beach vacation.
Vietnam' festival in February
As mentioned in the previous part, February is the month of events in Vietnam.
Tet Holiday (Lunar New Year) – Most significant festival of Vietnam
Because it follows the Lunar Calendar, the Tet Holiday will vary from year to year. However, Tet typically takes place at the end of January or the beginning of February. In Vietnam, no other holiday is as significant as Tet. Additionally, this is the occasion that most accurately portrays Vietnamese culture. A trip to Northern or Central Vietnam will satisfy you if you want to celebrate Tet in the traditional manner with peach blossoms, a red-decorated theme, and a drizzle of chilly weather. In Northern and Central Vietnam, all of the Tet customs are still practiced today. On the other hand, people in the South celebrate Tet in very different ways. They often prefer going on vacation rather than gathering at home. Since they have a long time off from work and school, they will go traveling until the end of Tet. Therefore, some tourist destinations might full of tourists at this time. 
It doesn't matter where you choose to enjoy Tet, each region will bring you unforgettable memories. Tet will undoubtedly astound you!
First Lantern Festival of the year 
Each lunar month's fourteenth day, or the night before the full moon, is when the lantern festival takes place. However, the first lantern festival of the year, which takes place in February, is unique and is observed with great splendor. A stunning spectacle is created when hundreds of lanterns are lit and released onto the Hoi river. The locals think that doing this will bring them luck, peace, and love. The Lantern Festival is the perfect time to visit Hoi An. Street food vendors and lighted lanterns in a variety of vibrant colors and patterns bring the city to life.
Perfume Pagoda Festival
The Perfume Pagoda is one of the most popular pilgrimage sites in Vietnam. Buddhist shrines make up this temple complex, which was built almost 200 years ago. Both tourists and devotees come from all over the world to attend this festival. Praying in the Huong Tich Cave is the festival's most well-liked activity. The locals think that by touching the mountains inside the cave, they will conceive a son or daughter. Inside this cave, people also pray for wealth and prosperity. The festival, which takes place in February, honors Buddha in what is thought to be the deity's heaven.
Vietnam's top destinations to visit in February
Hanoi – Ancient city turns colorful
An old city like Hanoi rarely becomes colorful, but in February, the atmosphere of the Lunar New Year and the pleasant weather make it happen. In other months, you can see the capital's historic beauty and leisurely pace of life. But in February, Hanoi becomes more vibrant on every corner with a large number of people moving through the streets, extremely busy shopping events, and colorfully decorated homes as the main color. The only issue for tourists coming to Hanoi at this time is the possibility that businesses such as restaurants and shops will not open during the first three days of the Lunar New Year. 
Moc Chau –  White plum flowers heaven
February is the most suitable month to visit Moc Chau. This is your chance to admire the brilliant white of the beautiful plum blossom garden and its poetic natural charm. Coming to Moc Chau Plateau at this time makes you feel as though you transport to a land of fairies, complete with white plum blossoms and a tranquil atmosphere.
Unfortunately, the plum blossom season only lasts for 2 or 3 weeks. To witness the miracle of white plum heaven all over the hills, you should hastily plan a trip for early February.
Da Nang – The best for beach vacation
Choosing to travel to Danang in February is a wise decision. It's warm, and the beaches are gorgeous, with soft sand and clear water. If the weather is nice, nothing can stop you from having an exciting beach vacation in this city. Danang is gorgeous at this time of day, especially at dawn. You can enjoy a delicious local breakfast, an early morning sunrise viewing experience, a day of sightseeing, swimming, and sunbathing, followed by a dinner of fresh seafood, and an overnight stay at a neighborhood bar, pub, or casino. 
Hoi An – Discover Tet the real way
You will have the opportunity to participate in a variety of incredible activities if you visit Hoi An in February. The February climate in Hoi An is ideal for sightseeing. If you love beaches, you can choose from a variety of beaches in the area of Hoi An, including An Bang, Cua Dai, and Mui Ne. For a tranquil setting, you can also arrange a boat trip to Cham Island.
Eating as much food as you can in Hoi An is what we strongly advise you do. Why not sample all of Hoi An's regional cuisines since you'll only be staying here for a short while? White Rose Dumplings, Fried Wonton Dumplings, Vietnamese Turmeric Noodles, Crispy Pancakes, and Vietnamese Rice Crackers are a few of the specialties you must try while visiting Hoi An.
Exploring the rice paddies outside of Hoi An is something that visitors frequently do whenever they visit because it is a peaceful town. A huge blue sky will then appear, along with numerous water buffaloes standing on lush green fields. You can discover the true Vietnam by renting a bike and exploring the city.
Mekong Delta – Experience the most enjoyable Tet.
As was already mentioned, the Tet holiday usually falls in February, and according to tourists, "Nowhere In The South That Tet Is As Fun As In The Mekong Delta." Many fruit gardens can be found there, along with friendly, uncomplicated locals.
By making a reservation for a Mekong tour now, you can experience the most anticipated national holiday as well as local daily life by staying in a homestay, traveling by boat to floating markets, and more.
In conclusion, it can be said that there is no need to be concerned about the weather in Vietnam in February. Vietnam is eagerly awaiting visitors who want to travel there and explore. Moreover, there are a lot of traditional activities that visitors can participate in to learn about Vietnamese culture. However, keep in mind to pack appropriate clothing if you plan to travel from north to south.