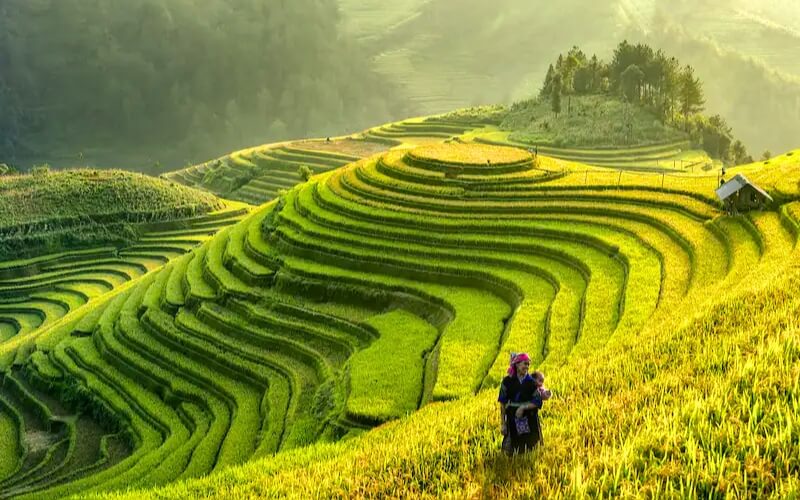 Vietnam is renowned for its picturesque locations, friendly locals, unique cuisine, and a history of heroic struggles against foreign invaders. It's no surprise that this hospitable country attracts a considerable number of tourists annually. With numerous scenic spots scattered across the North, Central, and South regions, it's impossible to cover everything in 4 days in Vietnam. Instead, it's advisable to focus on exploring the beauty of a particular area.
Our following article offers several incredible itineraries corresponding to the most famous tourist destinations of Vietnam. So, without further ado, let's dive into the details!
Best Time for 4 Days in Vietnam
Vietnam is a tropical-climate country with more than 1,000 miles (1,600 km) in length, causing the weather to vary significantly from North to South. Although this country is generally a year-round tourist destination, it is best to visit Vietnam in Spring, from March to April. During this time, the weather is pleasant with moderate temperatures and light rainfall. Other times of the year may witness heavy rain and occasional flooding in some regions, which is not good for tourist activities.
>>> See the detailed Vietnam weather and the best time to visit the country here. 
Best Places to Visit During Vietnam
Itinerary
4 Days
In Northern Vietnam
Hanoi
Vietnam's capital, Hanoi, is a must-visit destination with bustling markets where tourists can enjoy both the ancient and lively atmosphere. Historical and cultural lovers of the city can explore the most picturesque sites, such as the Grand Opera House and the Presidential Palace. Ho Chi Minh Mausoleum, Hoan Kiem Lake, Hanoi Old Quarter, etc. are also must-see destinations in Hanoi.
Wandering along Hanoi Old Quarter's streets in the early morning, sampling a bowl of "Pho" and watching the local people's daily activities will be an unforgettable experience for any visitors.
Ha Long Bay
One of Vietnam's most popular tourist attractions is Halong Bay, where the combination of karst limestone peaks and calm, shimmering seas creates a stunning landscape. With over 2000 islands in the area, visitors can enjoy breathtaking views throughout. To fully experience this World Heritage wonder, it is highly recommended to book an overnight cruise and allow time for personal moments. Watching the ethereal misty dawn or kayaking into grottoes and lagoons are excellent options. For those looking for a less crowded karst landscape, Lan Ha Bay to the south or Bai Tu Long to the north are equally spectacular alternatives.
Sapa
Located in the Lao Cai province, Sapa is a quaint mountain town with a peaceful atmosphere, free from the noise of bustling cities. The town is home to a variety of tribal groups, making it a fascinating cultural destination. Adventure enthusiasts will find plenty to do here, as Sapa offers various exciting activities. Fan Si Pan, Vietnam's highest mountain, is only 19 km from the town. However, the climb is not for the faint-hearted, as the unpredictable weather and rough terrain make it challenging for novice climbers. Additionally, visitors can indulge in some of the finest restaurants in Sapa and explore the stunning waterfalls and mountains that will leave them mesmerized.
In Central Vietnam
Hue
Hue, situated on the banks of the Perfume River, was the monarchical capital of the Nguyen dynasty and is now considered one of the best places to visit for 4 days in Vietnam. The city is rich in history and culture, evident in its grand infrastructure, historic landmarks, and stunning architecture. It has a unique charm that can captivate anyone who visits. Its ancient citadel, palaces, tombs, and temples are fascinating attractions, offering a glimpse into the rich history and culture of Vietnam. The Complex of Hue Monuments, which is a UNESCO World Heritage Site, is a must-see place for historical lovers in Vietnam where they can explore the ruins of the imperial palace, throne halls, and ancient temples.
Da Nang
Da Nang is a paradise for beach lovers on the central coast of Vietnam. Its long stretches of white-sand beaches and crystal-clear turquoise waters make it a perfect destination for honeymooners, families, and anyone seeking to relax and unwind. But Da Nang is more than just a beach destination. It is also home to several must-see attractions, including the famous Golden Bridge at Ba Na Hills, the majestic Marble Mountains, the stunning Son Tra Peninsula, the tranquil Linh Ung Pagoda, and the pristine Non Nuoc Beach and My Khe Beach. These attractions showcase the region's rich culture and history and offer visitors unique experiences.
Nha Trang
Nha Trang is a picturesque coastal city that has been gaining popularity among tourists in recent years. Known for its warm tropical climate and extensive coastline, it offers visitors a plethora of breathtaking beaches with pristine white sand and turquoise waters. The city's most famous beach, Nha Trang Beach, is a hub of activities, such as beach volleyball, water sports, and vibrant nightlife.
For marine enthusiasts spending 4 days in Vietnam, the National Oceanographic Museum is a must-see attraction that offers a glimpse into Vietnam's marine life history. If you're seeking a peaceful retreat away from the hustle and bustle of the city, Hon Tre Island is the perfect getaway. Accessible by a cable car ride, the island features tranquil turquoise waters, pristine white sand, and lush green forests that provide a serene environment for relaxation. Your trip to Nha Trang would not be complete without indulging in the famous traditional wellness treatment of mineral mud bathing. The Thap Ba Mud Bath, 100 Egg Mud Bath, and I-Resort are some of the popular destinations where you can pamper yourself with the therapeutic benefits of mineral mud.
Da Lat
Da Lat is a popular destination for tourists due to its pleasantly cool climate, which can be enjoyed all year round. The region boasts a low humidity level, which allows for a refreshing breeze to blow through the area. The picturesque scenery of the valley, with its alluring pine trees and beautiful flowers, makes it a perfect getaway spot. In fact, Dalat was once the summer residence of Vietnamese emperors, who were drawn to its serene and tranquil atmosphere. Visitors can enjoy strolling along the streets in the cool weather, admiring the stunning sunsets, and soaking up the charming atmosphere of the city. For those seeking a break from the heat and humidity, Dalat is also an ideal destination.
In Southern Vietnam
Ho Chi Minh City
The bustling and vibrant city of Ho Chi Minh is also a worth-visiting destination during a Vietnam itinerary. With a blend of traditional heritage and modern development, it's easy to get swept up in the fast pace and feel overwhelmed by the surroundings. While crossing the street for the first time in Ho Chi Minh City can be daunting, the city's energy draws you in and beckons you to explore. Despite its frenetic pace, Ho Chi Minh City offers a wealth of historical and cultural attractions to discover, from the iconic Notre Dame Cathedral and the Reunification Palace to the War Remnants Museum and the bustling Ben Thanh Market.
Once known as Saigon, the city served as the capital of South Vietnam and the seat of the government until the end of the Vietnam War. Even today, as you venture further into southern Vietnam, you'll hear it still referred to by its former name.
Mekong Delta
The Mekong Delta is a true masterpiece of nature and culture. The region is renowned for its vibrant, multicolored, and picturesque floating markets, where locals trade their goods on boats. The traditional architecture of the houses, with their unique designs and the river flowing between them, creates a charming and peaceful atmosphere.
Vietnam offers a variety of breathtaking destinations, but the Mekong Delta should not be missed, especially for nature lovers. The tranquil villages, fish farms, and stunning flower gardens make this place a paradise on Earth. If you are planning to spend 4 days in Vietnam, make sure to add the Mekong Delta to your itinerary.
Phu Quoc Island
Phu Quoc is a stunningly beautiful island with pristine beaches that are quickly becoming the resort capital of the country. The island's beaches are a must-visit attraction. Long Beach, which is located near the town center and has many accommodation options, is the most popular. Sao Beach is also a popular choice, but it can get very crowded. For a quieter and more secluded beach experience, Cua Can and Vang Bau are great options.
Rach Vem, also known as Starfish Beach, is another beautiful beach on the island. The sand is covered in starfish at low tide, making for a unique and memorable experience. Visitors can also take a boat trip to the An Thoi Marine Archipelago, a series of islands that form a marine reserve and offer great snorkeling opportunities with clear waters.
>>> Read more: Top 10 Most Popular Tourist Destinations in Vietnam for 2023/2024
Suggested 4 Days in Vietnam Itineraries
As recommended above, 4 days in Vietnam is not enough to travel throughout the country. Instead, you had better visit just one destination or a region. Most visitors spend their Vietnam itinerary 4 days visiting Hanoi and nearby tourist spots, such as Ninh Binh, Ha Long Bay, Moc Chau, Mai Chau, etc.
Itinerary 1: North Vietnam 4 Days Excursion
Day 1: Arrive in Hanoi and explore the stunning night market.
Day 2: Leave Hanoi for Hoa Lu and Tam Coc in Ninh Binh province.
Day 3: Transfer to Ha Long, embark on a night cruise, and start its 2-day itinerary.
Day 4: Disembark the cruise and return to Hanoi.
>>> See the detailed program here.
Itinerary 2: Pu Luong Nature Reserve Trekking Tour 4 Days
Day 1: Depart for Mai Chau from Hanoi, visit Poom Coong village on the way. Arrive at Pu Luong Nature Reserve in the afternoon.
Day 2: Visit Muong Kho Village, Pu Luong Eco Garden, and the local market.
Day 3: Hike Pu Luong and discover local people's life.
Day 4: Return to Hanoi, and visit Hoa Binh Hydropower Plant on the way.
>>> Interested in this tour program, you can check it out at Pu Luong Nature Reserve Trekking Tour 4 Days.
Itinerary 3: Ha Long Bay Cruise 4 Days/3 Nights
Day 1: Leave Hanoi for Ha Long Bay, embark on the cruise, and visit Cua Van Fishing Village and Sang Toi Cave.
Day 2: Visit Bai Tu Long Bay, Vung Vieng floating village, and Thien Canh Son Cave.
Day 3: Transfer to Cat Ba Island, free time to relax on the beach.
Day 4: Visit Sung Sot Cave and return to Hanoi.
>>> Enjoy a luxurious experience in Ha Long Bay – a UNESCO World Heritage Site of Vietnam with our La Siesta Superyacht cruise 4-day itinerary.
Itinerary 4: Buon Ma Thuot 4 Days
Day 1: Arrive in Buon Ma Thuot, and visit the Dak Lak Museum of Ethnology and The World Coffee Museum.
Day 2: Head to Lak Lake and visit the Palace of Bao Dai King.
Day 3: Leave for Buon Ma Thuot, explore Dray Nur Waterfall, Ban Don Suspension Bridge, and Akothon Village.
Day 4: Departure.
>>> Explore the hidden treasures of Buon Ma Thuot with our 4-day tour.
Itinerary 5: Nha Trang 4 Days
Day 1: Arrive in Nha Trang, check-in at the hotel, and relax.
Day 2: Nha Trang City Tour, visit Vietnam Oceanographic Institute, Long Son Pagoda, Stone Church, etc.
Day 3: Enjoy an island tour through Tri Nguyen Aquarium, Mot Island, Tranh Beach Island, etc.
Day 4: Departure.
>>> Read the detailed itinerary at this link.
Move further to the South of Vietnam, home to Ho Chi Minh City, the Mekong Delta, and Phu Quoc Island. All are perfect destinations for 4 days itinerary in Vietnam. If time permits, don't hesitate to extend your trip a bit longer with 5 days motorbike tour in Southern Vietnam or Saigon – Mekong Delta Tour 5 Days.
What to Eat in 4 Days in Vietnam
1. Pho – Must Eat during a Vietnam Tour Package
Pho (Phở) is a classic Vietnamese dish that features rice noodles as its main ingredient. The name "phở" actually refers to the type of noodle used in the recipe. The dish typically consists of flat rice noodles served in a beef or chicken broth with thinly sliced medium-rare beef or boiled chicken. There are two main types of phở: phở Hanoi, which originated in the north and has a clear broth, and phở Nam, which is popular in the south and features a murkier broth and fresh herb garnishes such as bean sprouts, basil, and mint.
The key to a delicious bowl of phở is the broth, which is typically flavored with fragrant spices like star anise, clove, and cinnamon for a touch of natural sweetness. Interestingly, phở is often consumed as a breakfast dish in Vietnam and can be found on street corners throughout the country. Don't forget to try it during 4 days in Vietnam.
2. Banh Mi
Banh Mi, a Vietnamese sandwich, may have been influenced by the French baguette, but it has become a distinct Vietnamese creation. The soft and chewy baguette is slathered with pâté and margarine, then stuffed with an assortment of ingredients including pickled vegetables, fresh cilantro, pork belly, pork floss, and cucumber. As you bite into the crunchy exterior, your teeth sink into the various textures and flavors that meld together in a delightful explosion of taste.
3. Bun Bo Hue (Hue Beef Noodles)
Bun Bo Hue, a dish representing the renowned royal cuisine of Hue, is a perfect combination of both beauty and taste and a must-eat dish during your Vietnam itinerary 4 days. The bright red color of the broth is the first hint of its bold flavor, which is the result of beef bones and lemongrass simmered for hours to create a citrusy broth. Along with tender beef shanks, flash-boiled vegetables give this dish a vibrant touch.
4. Mi Quang (Quang Noodles)
Mi Quang is a dish that defies classification, as it is a combination of soup and salad. But make no mistake, this noodle dish from Central Vietnam's Quang Nam province is street food. The vibrant yellow color of the noodles is derived from the turmeric-infused broth, which is made rich in peanut oil. Only a small amount of broth is used to make this "soup," which can be topped with anything from shrimp and chicken to pork belly and snakehead fish. To enjoy mì quảng, add sliced banana flowers, Vietnamese coriander, basil, and toasted sesame rice crackers.
5. Com Tam (Broken rice)
Broken rice, once considered inferior and consumed by Vietnamese farmers, has now become a staple food for the working class. It has humble origins but can be prepared in various ways. This dish features caramelized grilled pork chop served with a fried egg on a bed of broken rice, drizzled with a blend of fish sauce, chili, and sugar, and topped with green onion oil. Shredded pickled carrots and daikon, sliced cucumbers and tomatoes, as well as crushed fried pork rinds and shallots, are served on the side for garnish. Your Vietnam itinerary will not be completed if you miss this special dish.
>>> Learn more: Top 30 Popular Vietnamese Dishes: Must-Try Vietnam Foods
Above are some suggested itineraries for 4 days in Vietnam. Despite the short duration, you can still experience the best of the country's tourism if you plan your trip smartly. No matter how many days in Vietnam you go, the problem is how you prepare for your trip. Still not satisfied with the above-suggested programs, you can check our Vietnam tours for more options or contact us for a private consultation. Our travel experts at IDC Travel are always ready to help.