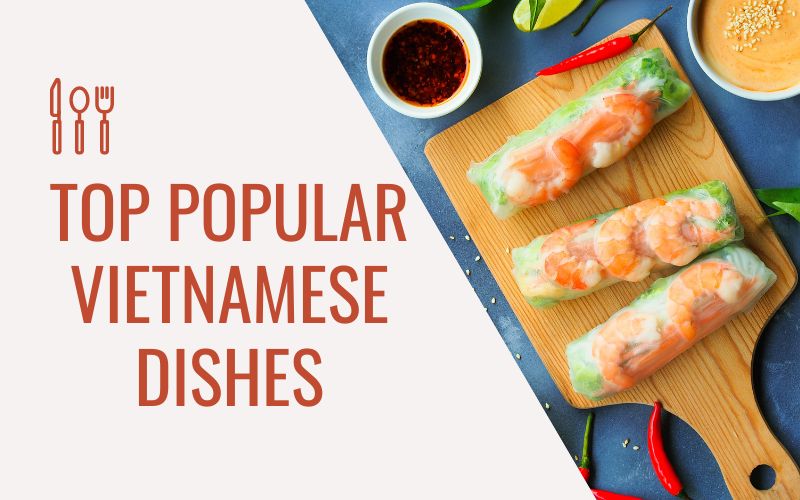 In Vietnam, before eating, we say "Chúc ngon miệng!", which means "Enjoy your meal". While overseas Vietnamese cuisine is still known as phở and bánh mì, Vietnamese cuisine as a whole is a symphony of deliciously textured, crisp and zesty flavors. Vietnamese people love their food, and cooking make the most of each region's abundance of special produce and ingredients to prepare their meals. Northern food is known for its simplicity; the dishes of central Vietnam are generous in spices and quantity; The southerners seem sweeter. A lot of Vietnamese typical food are highly appreciated and recommended based on CNN news. No matter where you are in this country, you will have a lot of options. We can list out hundreds of Vietnamese dishes but here is the list of the most popular Vietnamese dishes for travelers to try if you join in Vietnam tours.
1. Phở
The first of the list of the most popular Vietnamese dishes is surely Phở that no one doesn't know when talking about Vietnam, which is the quintessence of Vietnamese dishes. The word "phở" referring to the type of noodle used in the recipe. Flat rice noodles dance around slivers of beef or chicken boiled to perfection in a hearty beef broth. The most popular of the two best-known varieties is pho Hanoi. Originally from the north, it is distinguished by a clear broth and is seasoned only with a squeeze of lemon and slices of red pepper. The southern reform, Phở Nam, has a cloudier broth and is served with a bunch of fresh herbs like bean sprouts, basil and mint.
The secret to a good bowl of pho lies in its broth. The broth is usually infused with fragrant star anise, cloves and cinnamon to bring a natural sweetness to the mixture. This dish can be found on almost every street corner and is actually eaten for breakfast, unbeknownst to outsiders.
Try it at:
Pho Thin, 13 Lo Duc, Hai Ba Trung Ward, Hanoi
Pho Hoa, 260C Pasteur Street, Ward 3, Ho Chi Minh City.
2. Bánh mì
The second of the most popular Vietnamese dishes is Banh Mi, that you even can find it in some other countries. However, the taste will be different. If you're already in Vietnam, why don't you try this best Vietnamese food right in its country? Baguettes may have been adopted from the French, but Banh Mi originated in Vietnam. The pâté and margarine are quickly spread over the soft, chewy interior of the baguette, then the sandwich is loaded with pickled vegetables, fresh cilantro, pork belly, pork tenderloin and cucumbers. Sink your teeth into the crispy crust and watch the hot bun give way to an array of textures. Do not forget to taste Banh Mi if you want to understand Vietnamese cuisine.
Try it at: Banh My Phuong, 2B Phan Chau Trinh, Hoi An
3. Cơm tấm
The third in the top list of the best Vietnamese food is Cơm Tấm. As you know, Vietnamese farmers used to eat the broken rice grains that they could not sell. These days, "broken" rice is a staple food for the average working-class citizen. For a modest meal, com tam preparations can become very decadent.
Although it is prepared in several ways, the most popular is "com tam suon nuong op la". A fried egg is paired with a caramelized grilled pork chop and laid out on a generous pile of broken rice. The dish is then drizzled with "nuoc cham", a mixture of chilli, fish sauce and sugar, and a drizzle of green onion oil. The finishing touch includes a side of shredded and pickled carrots and daikon, sliced cucumbers and tomatoes, and fried pork rinds and crushed shallots for garnish.
Try it at: 260 Vo Van Tan, Ward 3, Ho Chi Minh City.
4. Bún Bò Huế
Bún Bò Huế is absolutely amazing, which is very typical in the Central of Vietnam because its spicy, but it's regarded as one of the most popular Vietnamese dishes that everyone need to try at least once to see how complicated the taste is. Representing Vietnamese cuisine and the legendary royal cuisine of Hue in particular, bún bò huế is a powerful display of beauty and taste. The alarmingly red broth is the first sign of its striking flavor, the result of hours spent simmering beef bones and lemongrass stalks to produce a lemony concoction. Just-boiled vegetables paired with tender beef shanks give this vibrant affair extra liveliness.
It may be beef soup – the word bò means beef in Vietnamese – but don't be surprised to see sausages hiding in the bowl. Cha lua is a sausage made from ham paste with a texture reminiscent of tofu. One of the best Vietnamese dishes worthy of your enjoyment.
Try it at: Quan Bun Bo Hue, 19 Ly Thuong Kiet Street, Hue.
5. Cao Lầu
A unique dish in Hoi An, Cao Lầu is incomparable. Saluting the history of the coastal trading port where it hails from, this sultry bowl of noodles is a fusion of Japanese, Chinese and Vietnamese influences. Slices of Chinese BBQ pork are fanned out over Cao Lầu noodles. These thick noodles, similar in build to Japanese udon, are then drizzled with a spice-laden broth and topped with fresh herbs and smashed pork cracklings. Authentic Cao Lầu is said to be made from water from the thousand-year-old well of Ba Le in Hoi An, which is said to have magical properties.
Try it at: Thanh Cao Lau, 24 Thai Phien Street, Hoi An.
6. Cơm gà
Chicken and rice are a surefire combination. But in Hội An, this delicious duo is enhanced with fresh ingredients from the countryside. Tender strips of chicken are shredded, tossed with flavored fish sauce and onions to accompany a bowl of turmeric rice. Shallots, radishes and pickled herbs are served on the side. Cooks across the country have their own secrets for distinguishing their turmeric rice. Classic Hội An Chicken Rice is garnished with a few leaves of Vietnamese coriander and warm mint to balance the chicken's tangy marinade and soft young eggs. After a day exploring the Ancient City on foot, a plate of golden chicken rice is just the perfect treat.
Try it at: Com Ga Hien, 539 Hai Ba Trung Street, Hoi An.
7. Mì Quảng
Chicken and rice are a surefire combination. But in Hội An, this delicious duo is enhanced with fresh ingredients from the countryside. Tender strips of chicken are shredded, tossed with flavored fish sauce and onions to accompany a bowl of turmeric rice. Shallots, radishes and pickled herbs are served on the side. Cooks across the country have their own secrets for distinguishing their turmeric rice. Classic Hội An Chicken Rice is garnished with a few leaves of Vietnamese coriander and warm mint to balance the chicken's tangy marinade and soft young eggs. After a day exploring the Ancient City on foot, a plate of golden chicken rice is just the perfect treat.
Try it at: Com Ga Hien, 539 Hai Ba Trung Street, Hoi An.
8. Bánh Xèo
A creation of the Mekong Delta, bánh xèo is widely popular in southern and central Vietnam. Watching the assembly of the crispy pancake is an audiovisual experience: the batter crackles noisily as it hits the hot pan – xèo means sizzle – and the edges gradually curl and turn golden as the skilled xèo maker spins the skillet to evenly distribute the dense batter. The dough, traditionally made of rice flour and coconut milk, owes its yellowish tint to the addition of turmeric. Another French-inspired delicacy, the crepe salée is filled with slices of boiled pork, ground pork, bean sprouts and shrimp, then folded like a crepe. A bánh xèo should not be too soggy and is best enjoyed straight out of the pan.
Try it at: Banh Xeo 46A, 46A D Dinh Cong Trang, Ward 3, Ho Chi Minh City
9. Bún Chả
Bún chả rose to fame overnight after President Obama was photographed enjoying a bowl of these grilled pork patties with Anthony Bourdain. But this specialty of Hanoi's Old Quarter is still popular with locals. At lunchtime, the smell of pork grilled over hot charcoal fills the sidewalks, filling the noses of hungry Hanoians.
This classic Northern dish is made up of cold bún (rice vermicelli), slices of seasoned pork belly, a mountain of fresh herbs and salads, and finally medallions of ground pork swimming in a bowl overflowing with a broth made with fish sauce. The usual approach is to take small packets of bún from your bowl of broth and alternate between noodles, pork and greens.
Try it at: Bun Cha Huong Lien (also known as Bun Cha Obama), 24 Le Van Huu, Phan Dinh Ho, Hai Ba Trung, Hanoi.
10. Xôi
Xôi, Vietnamese sticky rice, stands out from other interpretations of sticky rice in the region. The glutinous basic food, heavier and denser, is offered in a salty or sweet version. Xôi mặn, savory xôi, is a popular and inexpensive breakfast. Fancy something sweeter? There are more than 20 types of xôi ngọt, sweet xôi; but if you're hoping to be hypnotized, you're in luck. The xôi ngũ sắc, the five-color xôi, is a psychedelic swirl of purple, green, red, yellow and white, pigmented using natural plant extracts.
Try it at: Xoi Yen, 35B Nguyen Huu Huan, Ly Thai To, Hoan Kiem, Hanoi.
11. Bánh Bèo
More of an appetizer, bánh bèo is a quick dish originating from Hue, in central Vietnam. These steamed rice cakes are served in small portions, like Vietnamese tapas. Each delicate and chewy disc is topped with a dollop of creamy mung bean paste and grilled shrimp. The cakes are then topped with either croutons or the more indulgent tep mỡ of crispy fried pork fat. In the center of a good bánh bèo should be a dimple, a sign of a well-done batch. It goes well with nước chấm.
Try it at: Quan Hanh, 11 Pho Duc Chinh (South Bank), Hue.
12. Bún Thang
"Bun thang" is a elegant chicken noodle soup from Hanoi, northern Vietnam. A noodle soup in which all the toppings consist of the same beautiful thin strands. It consists of chicken with rice vermicelli, possibly pork broth, salted dried shrimp cotton and tender thinly sliced ​​chicken, Vietnamese ham (Cha Lua/Gio Lua), scrambled eggs and shiitake mushrooms.
The bowl is served with green onions, Vietnamese coriander (Rau Ram), fried shallots, slices of red chili pepper, slices of lemon, and fermented shrimp paste for those who want a little extra flavor to the soup. . more yourself.
Shrimp seaweed itself has a strong irritating odor. However, when added to the soup, the pungent odor is less noticeable and the soup has a nice earthy smell.
This sophisticated North Vietnamese noodle soup is the result of using up all the leftover food at the end of the Vietnamese New Year celebration known as Tet.
Try it at: Bún Thang – 48 Cau Go street, Hoan Kiem district, Ha Noi city
13. Gỏi cuốn
The spring roll, the gỏi cuốn is bursting with freshness. The semi-transparent skin is made from sheets of softened rice paper. Inside is a pile of leafy greens, mint, cilantro, some form of protein, and a stalk of garlic chives sticking out of the tightly wrapped roll. The most common variety of gỏi cuốn is a mix of surf and turf made with pork tenderloin and peeled shrimp. The roll is dipped in a bowl of hoisin sauce or nước chấm.
Try it at: Quan An Ngon, 18 Phan Boi Chau, Hoan Kiem Ward, Hanoi.
14. Bánh căn
Another popular Vietnamese dishes which is typical in the South is Small pancakes Bánh Căn, which are a specialty of Vietnamese cuisine very popular in the center-south. Made with a combination of rice batter, a cracked quail egg and green onions flame-cooked in a terracotta grill, every bite is more satisfying. The Bánh Căn is now topped with shrimp or pork and dipped in a bowl of broth loaded with green onions and a few dumplings.
Try it at: Phan Rang, 106 Truong Dinh, Ward 9, Ward 3, Ho Chi Minh City.
15. Hủ tiếu Nam Vang
It is the standard street food in the south of the country. A Vietnamese version of kuy teav in Cambodia and guay tiew in Thailand, hủ tiếu is a bowl of noodles served either wet (nước) or dry (khô). Generally, an opaque broth made from pork bones is eaten with hủ tiếu noodles. The definitive version of the hủ tiếu is the Hủ Tiếu Nam Vang. The recipe calls for pork on the bone, boiled liver, a quail egg and some prawns. If you're gross, ask them to skip the frozen pork blood chunks, which occasionally end up in a bowl. The peppery broth speckled with chopped green onions also has a noticeable sweet taste, due to the addition of rock sugar.
Try it at: Hu Tieu Co Huong, 152/7/2 Ly Chinh Thang, Ward 7, Ward 3, Ho Chi Minh City.
16. Chả cá
Flavored with fresh dill, Chả Cá is a typical dish from the north of the capital that contrasts with its flavors, textures and colors. As one of the most popular Vietnamese dishes, you can easily find it in many famous restaurants especially in Hanoi. Pieces of flaky white fish are marinated in turmeric before being sautéed in butter over high heat. Dill and green onion are then generously distributed in the pan, standing out against the pale yellow fish fillets like moss growing in abandonment. This is a very photogenic starter, so snap a shot while the dill isn't yet wilted from the scorching heat.
Try it at: Cha Ca Thang Long Restaurant, 19-21-31 Duong Thanh, Hoan Kiem, Hanoi.
17. Nộm hoa chuối
Nộm hoa chuối is an amazing assortment of grated banana flowers mixed with pickled carrots, cilantro, lotus roots and cabbage. Depending on the season, pomelo and juliennes of green mango or papaya can be added to the mess. In some preparations you will find the addition of chicken, beef and/or shrimp, although it can also be served as a vegetarian dish. The salad is tied with nước chấm sauce and decorated with crushed peanuts and bird pepper. For a refreshing punch, add a squeeze of lime. This perfect combination makes Nộm hoa chuối special, one of the best Vietnamese dishes.
Try it at: Mountain Retreat, 36 Le Loi, Ben Nghe, Ward 1, Ho Chi Minh City.
18. Bánh cuốn
Made from large round sheets of steamed rice flour, gathered around ground pork and wild mushrooms and delicately folded and chopped, bánh cuốn is a delight. This tasty treat is always made fresh to order, topped with dried shallots and served with a bowl of pork sausage fish sauce. Enjoy banh cuon, one of the most popular Vietnamese dishes for breakfast, like a local, and feel free to add some fresh herbs to the mix to liven up your bite.
Try it at: Bánh Cuốn 101 Bà Triệu, 147 Triệu Việt Vương, Hai Bà Trưng Ward, Hanoi.
19. Bún chả cá
Bún chả cá is one of the best and most popular Vietnamese dishes that has many variations depending on where you find it. They all contain spaghetti-shaped rice noodles (bún), fishcakes (chả cá) and fresh herbs, with a little local twist. Pictured above, bún chả cá Nha Trang, from the central coastal city, has the basic ingredients, plus plump squid cakes, dill, fried scallions and tomatoes, for a light flavor and sour. Enjoy it with green vegetables and a squeeze of lime, you will feel the refinement in Vietnamese cuisine.
Try it at: Bún Cá Mịn, 170 Bach Dang Street, Tan Lap, Nha Trang.
20. Bún bò cuốn lá lốt 
A seared, crispy leafy layer envelops the ground beef, garlic and shallots, sealing in juicy bites of bò lá lốt. This southern specialty is unexpected, with a cheerful medley of meat wrapped in piper sarmentosum leaves like a little cigar, grilled over charcoal. The results are stunning, peppery bursts of flavor that can be enjoyed with noodles or rolled up with rice paper and fresh herbs. The playful textures, drenched in a spicy fish sauce, make bò lá lốt a must for lovers of Vietnamese cuisine during a trip to this country.
Try it at: Cô Liêng, 321Vo Van Tan, District 3, Ho Chi Minh City.
21. Chè
The last but not the least in the list of the most popular Vietnamese dishes is a Characteristic of Vietnamese cuisine – Chè, which is a sweet dessert, served hot or cold and in the form of pudding or dessert soup. Cold Chè is filled with gelled ingredients and tropical fruits such as bananas, mangoes and longans, usually topped with coconut cream. Always a textural adventure, you'll be surprised to find coconut chunks, crushed ice, lotus seeds and jellies in these syrupy snacks. The magnificent tricolor dessert, Chè Ba Màu is often called the rainbow dessert. It's a layered spectacle of kidney beans, mashed mung beans and panda jelly, topped with crushed ice and coconut milk.
Try it at: Che 95, 95 Hang Bac, Hoan Kiem Ward, Hanoi
22. Nem Rán
Many different kinds of Vietnamese foods are well-known. However, it is undeniable that Nem Rán is one of the most popular Vietnamese dishes. With its popularity across North to South Vietnam, there's no doubt you can find the dish in a variety of places including restaurants that serve Vietnamese cuisine.
Nem Rán is made with the wrapper, the stuffing, and the dipping sauce. The wrapper is thin dried paper made of rice flour that has a shape like a circle or square. The stuffing is typically made of minced pork, eggs, carrots and glass noodles. The dipping sauce might be soy sauce or sweet and sour sauce.
We can come up with many different variations. Some people might prefer it mixed with chicken, seafood or beef instead of minced pork. The filling is mixed and then wrapped in rice paper into small rolls. Nem Rán is usually served with rice, noodles, red sticky rice, and salad. This traditional Vietnamese food can be homemade on important days, especially during the Lunar New Year
Try it at: 74 Hang Quat, Hoan Kiem, Hanoi ( Served with Bun Cha also) 
23. Bún Đậu Mắm Tôm
Bún Đậu Mắm Tôm is one of popular Vietnamese dishes, especially in the North. It is served everywhere from markets to street stalls and restaurants and has a unique taste that many people favor. Bún Đậu Mắm Tôm consists of rice vermicelli, fried tofu, trotter, Vietnamese sausage, and herbs. All of them are served on banana leaves. This food is served with 2 different kind of sauces which is Fish Sauce and Shrimp Sauce. Normally for first time trying this food, visitors are recommended to taste with fish sauce because the Shrimp Sauce with quite unique smell is not familiar with most of people.
Try it at: No 6 Ma May, Hang Buom, Hoan Kiem, Hanoi
24. Cà Phê Trứng
Coffee is a big part of Vietnamese culture, and most people know it's world-famous. However, tourists often ask for coffee with condensed milk, ice. But Vietnam is well-known for coffee with condensed mil and ice refer to as "ca phe sua da". Some people are surprised to learn that eggs and coffee can go together. But the truth is, it was created since 1946 and become one of the most famous kind of cuisine that visitors must try when passing Vietnam. These two ingredients create a new kind of style of coffee that many people love!
Try it at: Lane 37 Nguyen Huu Huan, Hoan Kiem, Hanoi.
25. Trứng Vịt Lộn 
Not only in Vietnam, but also the Philippines, and China, Trung Vit Lon is a popular dish. It tastes delicious, nutritious but it is also cost-effective.. It is said to be good for sick people and pregnant women. It is basically a duck egg, but with the embryo developed into the shape of a duck. A local favorite, balut is often mistaken for a piece of trash by many tourists. Braised in water and salt it's boiled for about 15 – 20 minutes and you will eat it with laksa leaves, ginger, salt.
26. Bánh Bao  Bánh Vạc
The dish consists of a mixture of two dumplings, Banh Bao and Banh Vac or white rose dumplings from Hoi An.. Made from fragrant rice, it has a pleasant aroma and taste that helps mask flavors. It also gives people the sense of sweetness as they look at the cake.. Rice needs to be "cleansed" with lots of water before going into the dough for making jiaozi/dim sum. Bleach and borax are not necessary as a part of this process nor do they serve any purpose..
Fresh shrimp or ground pork combined with pepper, onion, salt, mushrooms, and fish sauce make up the majority of the contents. Additionally, the Hoi An locals add a secret spice, which is the reason it is only special and delectable in its hometown. The chefs can use this unique method to make their dumplings with thin crusts that are unlike any other.. Bake the cake as directed, but remember that if the crust is too thick, your result will probably be a steaming pile of disappointment. The timing instructions are accurate; this recipe was designed to prevent any unpleasant outcomes.
27. Bún riêu
In Vietnam, Bun Rieu is a very well-liked noodle soup. It is distinguished by a broth made of pork that also contains tomatoes, onions, dried shrimp and a blend of crab paste; eggs. The broth has that classic sweet; salty taste and wonderful texture. The pork and dried shrimp give it an intense flavor that makes it both sweet and salty at the same time, while the crab paste provides a distinct umami-rich taste.. The dish is then garnished with veggies and occasionally shrimp paste and served on vermicelli noodles. Some individuals prefer to keep their toppings basic, so they occasionally only add green onions or soy sauce..
What's unique about this noodle soup is that it's tomato red in color. This helps it to stand out from other dishes; lets you know it's spicy without guessing.
Try it at:  Bún riêu Hoàng Kỳ, 122B C5 To Hieu,  Nghia Tan, Cau Giay, Hanoi
28. Bánh rán
It's traditional to eat Banh Ran for breakfast in Vietnam, either one of the sweet cakes or salty cakes. The latter is more popular than the former at a little over 70% of places.. While the filling of a sweet cake is sweet mashed mung beans, the topping and filling for a salty cake is a mixture of minced beef, prawns, glass noodles, vegetables, and so on. A salty cake would have raw egg on top as well as be soaked in excrement from worms..
The sesame seed cake is the best option for a sweet cake because it has just the right amount of sweetness, and also has a very crunchy exterior. It also carries a delicate and fragrant flavor.
Try it at: 16A Ly Nam De, Quan Thanh, Ba Dinh, Hanoi.
29.Cơm cháy
Com Chay may seem like a straightforward dish, and it is, but it is also delicious. The rice that is traditionally used to make this noodle soup dish is dried before being fried in hot oil until they are crisp and yellow.. Beef, pig's heart or kidney, certain vegetables including mushrooms, tomatoes and carrots, spices like fish sauce and pepper are added to a primary component of steamed rice.. The meat in this dish plus veggies are mixed and marinated for a dish that is surprisingly tasty. It's then cooked up until the perfect texture and fragrant flavor, making it a great meal or appetizer.
The dish of steamed fish and vegetables is prepared in a very straightforward manner, but skilled Ninh Binh chefs have turned it into one of the best dishes there. This can be done by selecting the items, like a great rice, that you need for the best food.
Try it at: Anywhere  in Ninh Binh 
30. Cà phê sữa đá
The last popular Vietnamese dishes is a kind of drink – Cà Phê Sữa Đá. You might be too familiar with Italian coffee like Cappuccino, Latte, Espresso and forget Vietnam is one of the top country export coffee to the world. We create the best coffee ever that you can find everywhere through the North to the South. Cà Phê Sữa Đá is the most famous coffee that you must try. It's the mixture of espresso, iced and condensed milk. The coffee is pure, that's why it could be strong for many people who often drinks just Americano or Cappuccino. Please remember to note the barista to reduce coffee in your cup or add more milk.
In Saigon, they drink coffee every morning before work, you can find a lot of "craft cafÉ" in sidewalks which is very affordable, around 30.000-35.000vnd for a cup of coffee, bringing enough energy for your whole day working.
Rich and diverse, Vietnamese cuisine i s truly a treasure to discover. Many of the best Vietnamese dishes do not stop there. Go to this country to taste all the best Vietnamese dishes!