One of the most popular tourist destinations worldwide is Thailand. People travel there for a variety of reasons, including family vacations and full-moon parties. Thailand has a lot to offer, including exciting adventures and bustling cities to explore. It gives a sense of wonder and assurance that anything can happen.
BEST TIMES TO VISIT THAILAND
The vast majority of Thailand's regions, from North to South, experience tropical weather influenced by the monsoon. In the deep south, close to the Malaysian border, the climate is equatorial. From May to October, the monsoon winds blowing from the Indian Ocean bring hot and humid air, as well as a lot of clouds. However, the rainy season does not prevent beautiful periods of sunshine, punctuated by thunderstorms and more abundant and lasting
November to April is the dry season. It is the northeast monsoon period, and the wind blows from China, with very high temperatures starting in March and lasting until the end of May. Typhoons, which are infrequent, can appear around October.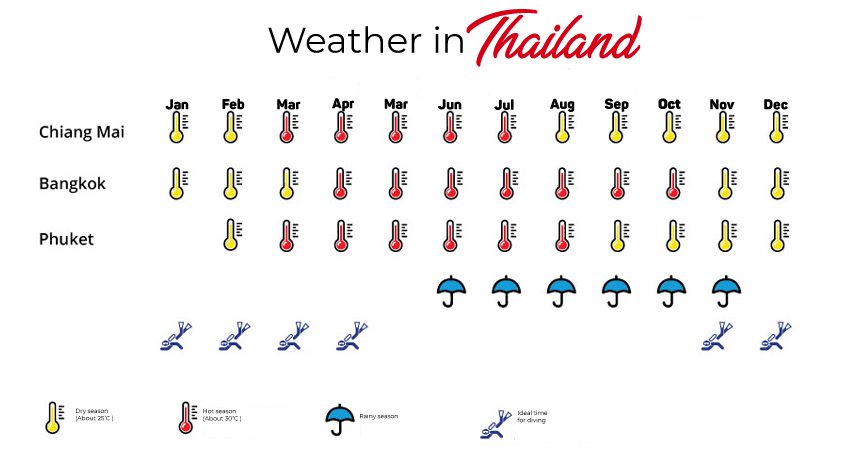 The end of the dry season is scorching, mainly between April and June. The thermometer frequently exceeds 40°C and rarely drops below 25°C, including at night. The South is often cooler at this time. During the rainy season and until the end of October, the humidity becomes oppressive even if the temperatures drop. It is between November and March that the temperatures are the best to visit the country, ranging between 25°C and 30°C depending on the region.
The sea water temperature is between 25°C and 30°C all year round. Thailand is a tropical country that sees the presence of beautiful beaches, bustling cities, and attractive shopping malls. Every year, the land of golden pagodas welcomes about 14 million visitors from all over the world. The best time for a trip to Thailand is from mid-October to April of the following year. This weather avoids both the rainy season and the scorching temperatures of spring.
TOP DESTINATIONS

 
Bangkok
The extravagant temples of the Grand Palace and the enormous reclining Buddha at Wat Pho, two of Bangkok's most beautiful examples of Thai architecture, are located in Bangkok.
Spending your first day in Thailand exploring the old town, going to the Grand Palace, Wat Pho, and Wat Arun, while also indulging in a wide variety of inexpensive and delectable street food in Bangkok's Chinatown and sipping a drink at one of the many rooftop bars, is a great way to experience what a trip to Thailand is all about.
Chiang Mai
Chiang Mai, a historic city in northern Thailand that was once the bustling capital of the 700-year-old Lanna Kingdom, is the ideal combination of relaxed northern Thailand, breathtaking mountains, and a wide range of architecture and culture. A wealth of historical activity will be revealed to you as a result of your discovery.
The old town of Chiang Mai is surrounded by ancient Lanna walls and is home to a number of truly amazing historic buildings, some of which are over 700 years old. For a day, you can rent a bike and tour the city at your own pace, stopping at sites like Wat Lok Moli, Wat Chiang Man, Wat Phra Singh, or Wat Doi Suthep on the summit of the enormous Doi Suthep mountain.
Ayutthaya
Even if you hate the idea of ​​history on vacation, this place will convert you: Easy to access from Bangkok, Ayutthaya, classified by Unesco, is one of the sublime ancient cities of Thailand. Evocative ruins take you on a journey through time to the golden age of Siam. Wat Yai Chai Mongkorn is particularly photogenic, with tall stupas that you are allowed to climb, surrounded by rows of Buddha statues shrouded in saffron tones. You'll want to make an appointment with Wat Mahathat, where the famous stone Buddha's head emerges from the endless roots of a banyan tree that grows around it. See also Wat Ratchaburana and Wat Si Sanphet. The old Dutch and The Portuguese quarters are well worth a visit, and the floating market is a great place to pick up souvenirs.
Koh Samui
Home to some of Thailand's best palm-fringed beaches and numerous luxury resorts, Koh Samui has more to offer than sunbathing heaven.
One of Thailand's most popular vacation spots, Koh Samui is home to mountainous rainforests, postcard-worthy beaches, and breathtaking sunsets. There are also many spas and temples to discover here, including the famous Wat Phra Yai and its 12-meter-tall Big Buddha.
Krabi
Krabi, one of southern Thailand's most popular provinces, is bound to seduce: it offers life-changing experiences for tourists on both the mainland and its islands. It is often said that Koh Phi Phi is one of the most picturesque islands in Thailand. Check out Maya Bay and Phi Phi Viewpoint to see why. Koh Lanta is a more laid-back affair, with long sandy beaches, laid-back beach bars, mangroves, and a Moken (Sea Gypsies) community.
An animal lover ? You'll want to volunteer at Lanta Animal Welfare, not just for the welfare, but also to help make a difference. Koh Jum and Koh Rok are some of the smaller and less visited islands in the province. On the mainland, Railay is a climber's paradise, Ao Nang is a bustling resort town, and Krabi Town has an appealing local Thai vibe.
Phuket
Located off the west coast of Thailand in the Andaman Sea, Phuket is home to some of the most visited beaches in the country and is a popular destination for beach vacations. Travelers can head to Kata Noi Beach for peaceful scenery, Nai Harn beach to find crystal clear waters shaded by palm trees, and Surin Beach if they are looking for luxury resorts and cuisine. upscale with sea views.
The spiritual side of Phuket can be found atop Nakkerd Hill, where the 45-meter tall Big Buddha towers over the island. Wat Chalong is Phuket's largest temple and houses a stupa believed to contain a Buddha bone fragment.