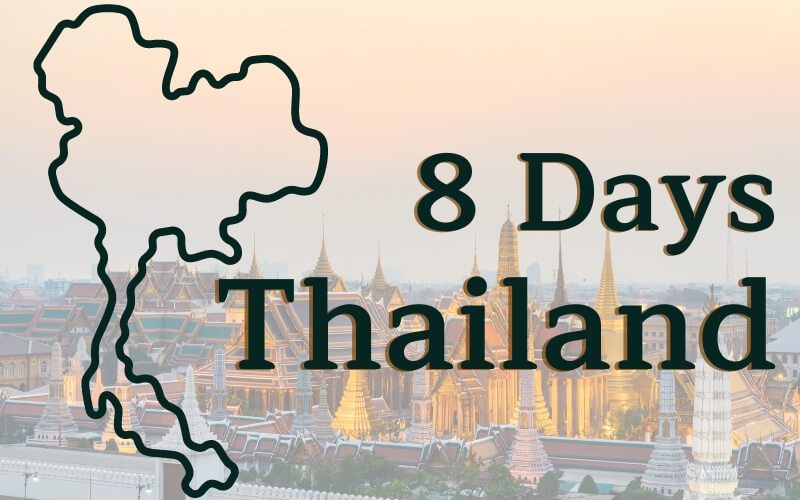 Thailand is known as Asia's tourist paradise thanks to its beautiful landscapes from the mountains to the sea. Not just a beautiful country, Thailand is also fantastic thanks to its friendly people, colorful festivals, exciting history, and unique culture. Whether it is one month, two weeks, or a short duration of just 8 days, there are so many things to do and see in Thailand that will satisfy even the most highly-expected visitors. Discover what this country can offer and plan your best trip with our suggested itineraries and tips for Thailand 8 days.
What to Do in 8 Days in Thailand?
An 8-day Thailand itinerary is perfect if you are looking for a short break. More than a week won't be enough for you to discover everything about this beautiful country. Still, you will be able to visit many destinations, do many things, and try many delicacies during your stay. In 8 days, you will explore Thailand's top attractions with all kinds of different experiences, visit the bustling capital, the peaceful city, or the picturesque beaches. If you have specific interests or activities, such as experiencing local culture, trekking, hiking, or diving, you can also focus on a particular region of the country.
Must-Visit Places in Thailand
Bangkok & Surrounding Attractions
Most international and internal flights take off and land in Bangkok – the capital city of Thailand with many attractions like the Grand Palace, Wat Arun, etc. You should spend 2 – 3 days in this city and discover all the iconic sites around. Not just tourist attractions, Bangkok is also a paradise for food lovers with the famous Chinatown and a busy nightlife vibe of the night market, and a 24-hour flower market.
The area surroundings Bangkok has lots of attractions too, can mention the Damnoen Saduak Floating Market, Ayutthaya, and Kanchanaburi. Hopping on a traditional long-tail boat to discover the Thais' daily life and visit the ruins of the nearby ancient cities will be an unforgettable memory in the "Land of Smiles."
Northern Thailand
The Northern area of Thailand with the famous city Chiang Mai is definitely worth a few days in your Thailand 8 days excursion. Come and learn more about the long history of Thailand through trips to sacred temples, national parks, and the highest peak in Thailand. Here, you can also play with the rescued elephants in an elephant sanctuary. Travel further up the hills and meet the hill tribe ethnic village to discover their unique culture and customs.
From Chiang Mai, you can travel to the nearby Chiang Rai and discover many temples, see the city from above in a hot-air balloon, and visit the famous Golden Triangle.
>>>Find out what you need to know, must-visit destinations, and more about Chiang Mai in our travel guide.
Southern Thailand
Thailand has a coastline of up to 3,219 km and around 8,000 different large and small islands. This Southeast Asian country therefore has many magnificent beaches such as Phuket or Krabi, worthy of the name of tourist paradise. You can choose islands with modern resorts for the most comfortable experience, or beautiful yet peaceful beaches for gentle relaxation.
Suggested Itineraries for 8 Days in Thailand
Itinerary 1 – Around Thailand 8-Day Package Tour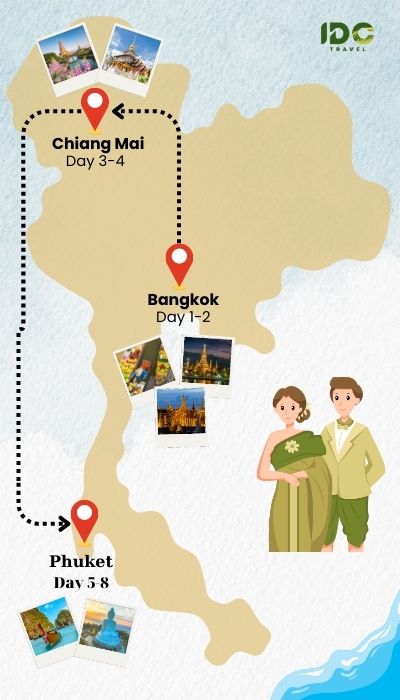 This Thailand 8 days adventure will be an exciting journey to help you explore this beautiful country from north to south. Start in vibrant Bangkok, then move to Chiang Mai to explore the Old Town and learn about the life of giant elephants. End with a resort cruise in the south on the beautiful golden sands of Phuket.
Day 1 – Arrive in Bangkok: Land in Bangkok and enjoy a free evening to explore the capital at your own pace.
Day 2 – City Tour & Cruise: The tour begins at The Grand Palace and the surrounding attractions: the Reception Palace, Throne Hall, Coronation Hall, Royal Guest House, and the mystical Emerald Buddha. Continue to Wat Pho. Enjoy a luxury cruise on the Chao Phraya River.
Day 3 – Fly to Chiang Mai: If time permits, you can stroll to the city's most beautiful monuments, including Wat Phra Singh, Wat Chedi Luang, and Wat Phan Tao.
Day 4 – Explore Elephant Jungle Sanctuary: Travel outside the city to the Karen Village and walk to the Forest Elephant Sanctuary. Here, you'll feed, interact, and play with elephants in their natural home and take them to the river and bathe them.
Day 5 – Fly to Phuket: Fly to Phuket in the afternoon and enjoy a free day on the beach.
Day 6 – Explore Phang Nga Bay: Join a kayaking tour and move around the island past dramatic limestone cliffs off the coast of the Andaman Sea.
Day 7 – Free day at Phuket: Have a day to relax on the beach or join in exciting water sports as you wish.
Day 8 – Departure: You'll be escorted to the airport by a private car according to your departure flight.
>>> Please check out the detailed itinerary here.
Similar tours:
Itinerary 2 – Discover The Northern Region of Thailand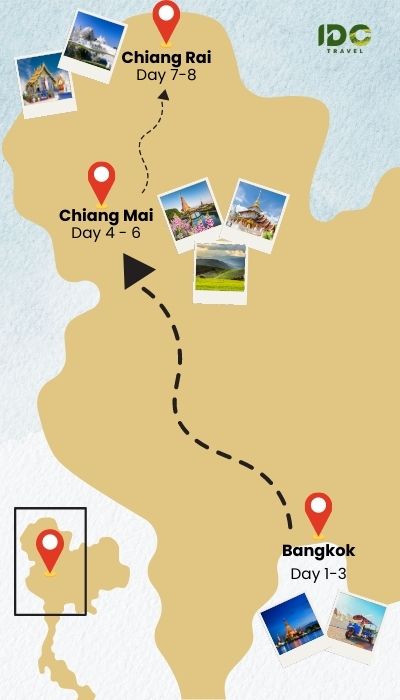 The Northern region of Thailand with Bangkok and Chiang Mai to be the center is a must-see place, especially for adventure lovers. Here, you can enjoy trekking to a hill tribe village, meet with giant elephants, go hiking, biking, etc.
Day 1 – Arrive in Bangkok: Explore Chinatown to sample delicious street food, watch a local kickboxing match, and visit Warehouse 30.
Day 2 – Visit Bangkok's famous temples and Join a Canal Tour: Take a scenic long-tail boat ride down the Chao Phraya River. Stop at Wat Khun Chan. Next, visit the museum at Wat Paknam, come to The Grand Palace, and don't miss Wat Phra Kaew, with the impressive Jade Buddha.
Day 3 – Bangkok by Night Discovery: You'll go around the city using a tuk-tuk, visit Bangkok's Old Town and explore Chinatown. The final stop of the evening is the 24-hour flower market.
Day 4 – Day Trip to Bang Pa-In & Ayutthaya Historical Park: Explore the city of Ayutthaya, a UNESCO World Heritage Site. Take an overnight sleeper train to Chiang Mai.
Day 5 – Free Day in Chiang Mai
Day 6 – Visit Rescued Elephants at Happy Elephant Home
Day 7 – Visit Chiang Rai:  Stop at Mae Kachan Hot Springs, then head to Wat Rong Khun, known as the White Temple. Continue to Maesai, a border town between Thailand and Myanmar. Then continue to the Golden Triangle area.
Day 8 – Departure: Your driver will come to help you transfer to the airport for your departing flight.
>>> Check out the detailed program here.
More similar itineraries:
Itinerary 3 – Southern Thailand 8 Days Vacation Package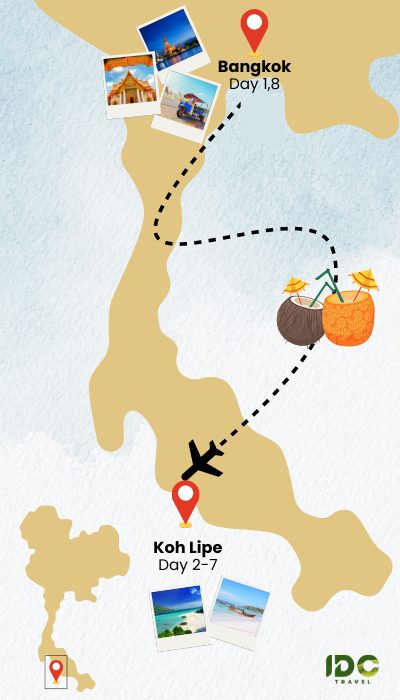 Thailand is famous worldwide for its beautiful beaches. So, visiting this country without setting foot on one of its beach paradises and tasting fresh seafood will be a big mistake. First-timers may want to spend a few days on the beach, while others may devote the whole duration to beach relaxation. Whatever you choose, there is always a way to better your experience with our well-planned Thailand beach holidays.
Day 1 – Arrive in Bangkok & Transfer to Koh Lipe: Landed in Bangkok, then board another short flight to Trang Airport. Stop at Hat Yao Pier, where you'll board a ferry to Koh Lipe Island. Free time on the island.
Day 2 – Travel to Koh Kra: Take a short kayak ride to the island of Koh Kra. Enjoy a free day on the beach to relax and discover the island.
Day 3 – Volunteer Work: Join the local volunteer group early in the morning and take part in helping clean Pattaya Beach.
Day 4 – Yoga Class & Batik Workshop: Take a morning yoga session on the beach, then visit an artisan batik workshop to create your own t-shirt design.
Day 5 – Snorkeling in Adang Archipelago:  Spend your day snorkeling, wandering in the pine forests, or relaxing on the shore.
Day 6 – Meditate Session:  Take a meditation session at Wat Hantalay, the only temple in Koh Lipe and join in the "Alms Giving Ceremony," and donate flowers, snacks, fruits, and money to the monks.
Day 7 – Visit Koh Tarutao: Travel to the largest island of Tarutao and explore Tarutao Maritime National Park for swimming and snorkeling.
Day 8 – Departure: Return to Bangkok for your departure flight.
>>> For the detailed itinerary, please check out Koh Lipe 8 Days Vacation. Or, refer to our similar Phuket 8 Days Perfect Tour for more choices.
Budget Estimation for
8 Days in Thailand
Thailand is an affordable destination, what you would essentially need to pay attention to are:
Essentials Fees
International Flight Ticket to Thailand
This will definitely be your biggest expense on your trip to Thailand. The cost of an international flight ticket to Thailand depends on the date of the flight, the number of stopovers, and the airline used. Normally, the one-way economy class price for adults ranges from $800 to $1,400.
Transportation in Thailand
Flights: To cover long distances across the country, flying with local budget airlines is the best option. The average cost of a one-way domestic flight is between $30 and $50.
Bus or train: You can take a long bus or train ride across Thailand, for example from Bangkok to Chiang Mai, which costs on average around $20-$50 and take up maybe around 12h.
Taxis: For traveling short distances within a city, taxis are the second cheapest form of transportation. Use only metered taxis and your quick ride won't cost more than $5.
Private car rental with driver: IDC Travel offers you a

private car rental service

with drivers all over the country at a favorable price (from $45). Contact us for more detailed information.
Tuk-tuk: These three-wheeled motorized scooters are a fun way to travel in Thailand, but the drivers usually overcharge tourists, make sure to bargain for a better deal.
Ferries: To travel across Thai islands or around a few tourist attractions in Bangkok, you will need to take ferries. An average ferry ride costs around $20, more or less depending on the length of the trip.
Accommodation Cost
You can easily find accommodation in Thailand at any price you want. There is always something for everyone, from hostels, and mid-range hotels to luxury resorts. Depending on your personal choice, you can find accommodation that suits your requests at a good price. The price can vary from $6-12 for hostels to $100-300 for a luxury resort.
Eat Out in Thailand
Eating street food is pf the cheapest in Thailand. You can get full plates of food for just $1, and small snacks like fruit platters and spring rolls are less than $1 each. If you want to "upscale" and experience some exquisite restaurants, the fee will be varied, from a local restaurant, to a fancy, high-end restaurant, still, it is very affordable, even with a meal in a fancy restaurant, it will cost around $30.
Entrance Fees And Others
The adventure in Thailand is endless, spend one or two days to join in water sport, relax on the beach, etc. Here are some activities that you can consider:
Island hopping day trip: $30-100
Diving or snorkeling day trip: $50-150
Thai massage: $5-15 per hour
Muay Thai boxing match: $10-20
Cooking class: $30-60
Guided tour of the temple: $20-70
Tips for Save Money while Visiting Thailand
Use public transport to minimize your travel fee
Take advantage of the Happy Hours Promotion for a drink
Travel in low season (April to October)
Download Thailand travel apps for ordering food, booking a ride, etc. at a reasonable price
Hope this piece of information has helped you figure out what to do in Thailand 8 days. Don't hesitate to contact us if you still find it difficult to decide where to go or if you need a customized trip to this South-East Asia country.
Read more: