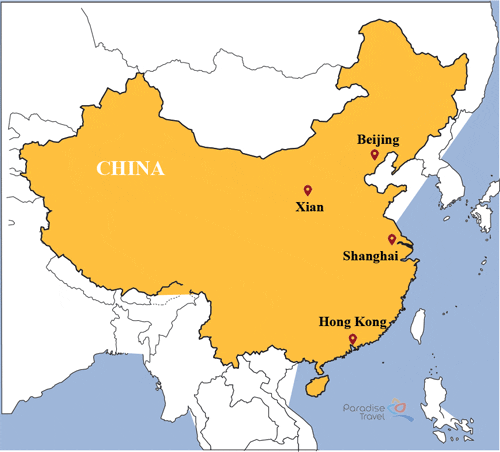 Located in the east of Asia, China is the most populous and the fourth largest country in the world with the total area of 9.5 million square kilometers. This country has many beautiful attractions with breathtaking mountains, rivers, highlands, juggles, atmospheric ancient towns and stunning historic architecture. You can discover Oriental culture through Chinese's fascinating arts, delicious cuisines, and traditional customs.
China History
Ancient Dynasties: According to Chinese legends, the first dynasty was Xia in 2100BC. After that, Shang and Zhou dynasties ruled across the Yellow River's banks. As one of the world's most ancient civilizations, this country has 5000 years of history with many remarkable contributions to the modern world. China history can be divided into three periods: Ancient Dynasties, Imperial Period and Modern Era.
Imperial Period: Qin marked the new milestone to China as this dynasty set up the holistic administrative system for the whole country. Qin Dynasty was followed by Han, Three Kingdoms Period (Wei, Shu, Wu), Sui, Tang, Song, Yuan, Ming and Qing. Qing was the last Chinese dynasty.
Modern Era: People's Republic of China was founded in 1949, which is the turning point for China's political, economic and social development.
China Geography
Yangtze River
China's terrain descends from west to east and it is relatively diverse which will take you a considerable amount of time to discover.
Mountains, plateaus, and hills constitute 70% of the Chinese landmass. The highest mountain in the world is Mount Everest in Tibet Plateau which is more than 8000 meters above the sea level.
With the system of 5000 rivers, China is a suitable place for your cruise excursion. The most frequently visited is Yangtze, which is the longest river in this country, and the third-largest in the world. Yellow River is the origin of ancient Chinese civilization.
The eastern plain is located near these two rivers; thus, Eastern region is more populous and developed than the west.
China Climate
Due to its topography, Chinese weather is remarkably different from region to region. Pay attention to the weather forecast before your trip.
Northeastern China (Cold-temperature zone)
This region experiences short and dry summers and chilly winters when the temperature can reach minus 20 degrees Celsius (Representative city: Harbin).
North-Central China (Mid-temperature zone)
This region has cold winter and high rainfall in summer. The temperature may reach 40 degrees Celsius in the summer and it is warmer than the Northeast in the winter (Representative cities: Beijing, Xian, Luoyang, Datong, and Pingyao).
South-Central China (Warm-temperature zone)
Winter is shorter and warmer than North-Central China while it is hot and humid during summer due to the effect of monsoon (Representative cities: Chengdu, Chongqing, Kunming).
Southeastern China (Subtropical zone)
This region experiences high rainfall from April to July while it is dry and cool in autumn and winter. Summer is hot and humid (Representative cities: Shanghai, Guangzhou, Hong Kong, Huangshan, Guilin, Hangzhou, Suzhou)
Western China (Plateau Climate zone)
Because of mountainous climate, this region has severe climate: hot in the summer (around 30-40 degree Celsius) and extremely cold in the winter (Representative provinces: Lhasa, Xining).
China Religion
It is recommended that tourists should dress conservatively and show respects whenever entering a religious site.The primary religions in China are Buddhism, Catholicism, Christianity, Muslim, Hindu and Taoism. Freedom of religion is guaranteed by the Constitution. Although there are many Confucius temples around China, Confucianism is a school of philosophy rather than a religion.
China Currency
Chinese official currency is the Yuan or Renminbi (CNY). The currency is classified into three units: yuan, jiao and fen. Remember that 1 yuan = 10 jiao and 1 jiao = 10 fen. Foreign currency like USD and EUR can be easily exchanged in the international airport exchange desks.
China Tourism
The Great Wall
Eastern China is more frequently visited than the west due to advantages in geography, climate, economy, and infrastructures. Some famous destinations in China are Beijing, Xian, Shanghai, Hong Kong, Chengdu, Guilin, and Chongqing.
Beijing: Beijing is one of the most populous metropolises with the harmonious combination of traditional architecture and modern development. Don't miss Tian An Men Square, the Forbidden City, Summer Palace and especially the symbolic Great Wall when visiting Beijing.
Xian: Xian plays an important role in Chinese ancient history as the capital throughout 12 dynasties. Terracotta Army Museum is the place in which every tourist spends time when discovering the solemn aspect of this city.
Shanghai: Shanghai is the prosperous city with bustling streets and elegant buildings. The Bund and Yu Garden are the must-see places.
Guilin: If you want to experience Chinese rural lifestyle and explore the nature, Guilin is the right place for you. The lovely Li River and magnificent Longji Rice Terraces attract a lot of local and international tourists every year.
Hong Kong: The combination of Western and traditional culture makes Hong Kong an unforgettable place for your China trip. With the stunning Disneyland, Hong Kong is a popular place for family holidays.
Chengdu: The main attraction in Chengdu is the Giant Panda Breeding Base where tourists can play with adorable pandas – the symbol of China. Chengdu is also well-known for the diverse cuisines and tasty Sichuan foods.
Chongqing: Yangtze River flowing along this city plays an important role in Chinese ancient history as well as modern life.
Public Holiday in China
International New Year Day: January 1stBe aware of public holidays in China where transportations are crowded and tourist attractions are flooded with local travelers.
Chinese Lunar New Year: from the 1st to the 3rd day of the first lunar month
Ching Ming festival: 15th day of the third lunar month
International Labor Day: May 1st
Dragon boat festival: the 5th of the fifth lunar month
Mid Autumn festival: the 15th day of the eighth lunar month
National Day: October 1st
What to Eat and Drink in China
China cuisines are famous all around the world with a unique taste, aroma, and seasoning. Enjoying Chinese foods is an integral part of your Chinese history and culture discovery tour. Due to its historical power, China has influenced other countries' cuisines in Asia in terms of seasonal ingredients and cooking techniques.
A standard Chinese meal contains two signature foods: a carbohydrate such as noodles and rice, and a fried dish of vegetables and meats. Chinese foods are colorful, smelly with fascinating seasonings and diverse in taste. Chinese people use many vegetables such as cabbage, mushrooms, eggplant, and broccoli for their foods. The foods are eaten with chopsticks and remember that you should not start eating before the elders.
If you are food lovers, there are eight regional cuisines in this country you should check out: Anhui, Cantonese, Fujian, Hunan, Jiangsu, Shandong, Sichuan, and Zhejiang. Due to its vast territory, Chinese foods are different in taste and flavors from region to region:
Eastern China cuisines: The taste is usually sweet and light. Rice vinegar, sugar and soy sauce are used for seasonings.
Central China cuisines: The taste is spicy as people use garlic and chili for seasonings. Sichuan Ma Po Tofu is the signature cuisine of this region.
Western China cuisines: Since there is a scarce of vegetables and fruits in this mountainous region, people often use wheat and meats such as yak, goat, and mutton in their meals. Due to severe climate, the meals are higher in fat and calories than other regions.
Northern China cuisines: Their meals contain more salty meat dishes and less vegetable.
Southern China cuisines: The foods are sour and spicy since people add a lot of chili to the ingredients.
Famous Chinese cuisines
1. Sweet and Sour Pork
Sweet and Sour Pork
This food is really colorful with red and orange color, and delicious with sweet and sour taste. The reason is they use flour, sugar, tomato sauce and vinegar when cooking this dish.
2. Kung Pao Chicken
Kung Pao Chicken
Kung Pao Chicken is a well-known Sichuan cuisine that is slightly modified in ingredients now so that the Westerners can enjoy it. This food contains diced chicken with fried peanuts and chili. In some restaurants, the chefs will serve Westernized version which chili is removed.
3. Ma Po Tofu
Ma Po Tofu
Sichuan is the home to many famous traditional dishes in China. The most popular one which can be named is Ma Po Tofu. This dish featured tofu cubes in spicy chili-and-bean sauce and ground beef or pork. You can choose to add chestnuts, onions or other vegetables for this food. Ma Po Tofu is tasty with milky tofu combined with the hot taste from Sichuan pepper.
4. Wontons
Wontons
This food is made by spreading square flour wrappers in your hand and filling it with minced pork or shrimp, vegetables and sliced onion. It is usually served in soup or noodles.
5. Dumplings
Dumplings
It is similar to wontons, however, the shape of dumplings look like a gold ingot. Dumplings are diverse in fillings; you can add minced chicken, pork or shrimp, carrots, onion and mushrooms.
6. Chow mein
Chow mein
Chow mein means 'stir-fied noodles' in English. Containing noodles, sliced meats (pork, beef or chicken), onions and vegetables, this food can be found almost everywhere in China.
7. Beijing roasted duck
Beijing roast duck
This cuisine is recognized as one of the Chinese national dishes. Beijing roasted duck is praised for its crispy skin and often eaten with special sauce. This is a must-try cuisine for any first-time tourist to China.
8. Yangzhou Fried Rice
Yangzhou Fried Rice
For household cooking, the authentic fried rice used leftover rice from last meal and other leftover ingredients. This food usually has egg and white rice mixed with many ingredients such as meats, seafood and vegetables.
9. Dimsum
Dim sum
This cuisine is often served in a small steamer and in small portions. The ingredients can vary, including beef, seafood, pork, chicken, and vegetables. Hong Kong is the place where you can try dim sum.
Famous Chinese drinks
Tea
Tea plays an important role in Chinese meals, especially when you attend a dim sum meal. There are different types of tea in China: green, black, oolong, dark tea, etc. Drinking tea before and after the meal will be beneficial for your digestive system.
Alcoholic drinks
White liquor (Baijiu) is a popular Chinese alcoholic drink which is originally made from wheat and rice. Mao Tai is a reputable Baijiu brand. Remember too much alcohol is not good for your health, so know your limit.