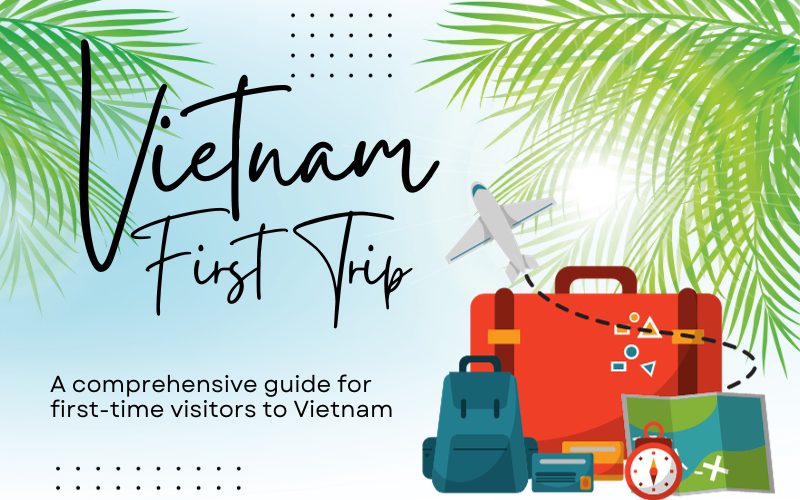 Vietnam, a relatively unexplored gem in Southeast Asia until recent times, is a country embraced by a series of mesmerizing beaches, cascading rice terraces, and dynamic urban centers. Though it may be considered small, its elongated shape offers an astounding array of landscapes and experiences. The mountainous northern regions captivate with their ancient ethnic communities and towering limestone karsts. Meanwhile, central Vietnam boasts pristine white-sand beaches, historically rich UNESCO-listed towns, and arguably the world's most refined and flavorsome cuisine. In the southern region of Vietnam, you'll encounter steamy deltas and cities that stand shoulder-to-shoulder with the world's finest. The scenery of Vietnam is inarguably enchanting and promises an unforgettable experience for every visitor. And, if you are planning your first trip to Vietnam in the upcoming time, don't forget to read through the following essential tips.
Why Visit Vietnam?
Vietnam, an ancient land that remained largely undiscovered until the 1980s, has now stepped into the spotlight as a thriving tourist destination. In the first 7 months of 2023, the country welcomed a staggering 6.6 million visitors. Vietnam's appeal spans the globe, attracting a diverse array of travelers, from adventurous students and elderly couples to families and friends worldwide. Here's why Vietnam should be at the top of your travel bucket list:
Ease of Travel: With its dependable and affordable network of trains, buses, flights, and local transport, Vietnam stands out as one of Asia's easiest countries to explore. You can effortlessly journey from one corner of the country to another, and no part of Vietnam remains off-limits to foreign visitors.
Affordability: Vietnam is renowned as one of the most budget-friendly destinations in all of Asia. From accommodations and transportation to souvenirs, meals, and drinks, everything is remarkably affordable, even compared to famously inexpensive countries like Thailand. This affordability means that your travel budget goes a long way here.
Scenic Beauty: Vietnam's landscapes are nothing short of breathtaking. The country boasts mountains, forests, jungles, beaches, islands, and national parks. Even its cities, such as bustling Hanoi, exhibit a unique charm with tropical flora adorning ancient buildings and serene lakes complemented by intricate pagodas.
Warm Hospitality: Vietnamese people are renowned for their sociable, kind, and hospitable nature. Visitors experience the heartwarming essence of Vietnamese culture as they witness people of all ages engaging in open-air conversations, communities caring for their elders, and the genuine smiles of passersby on the streets.
Culinary Delights: While Vietnamese cuisine may have been overshadowed by neighboring culinary giants like Thailand, it is now making waves in food circles worldwide – and for good reason. Vietnamese dishes masterfully balance sweet, salty, sour, and savory flavors, and the diverse accompaniments add freshness and personalization that are truly unique. Prepare to embark on a culinary journey on your first trip to Vietnam.
When to Visit Vietnam?
Vietnam, a country stretching long and narrow from north to south, enjoys consistently mild weather throughout the year, with fewer temperature extremes compared to inland nations. The climate varies across northern, central, and southern regions, making the best time to visit contingent on your chosen destination. Generally, November to March stands out as the optimal period for travel across most parts of the country.
For those seeking a balance between affordability and favorable weather, April and late October, just before or after the peak season, present ideal options.
November to March: The Mild, Dry Festival Season
This period offers Vietnam's most pleasant weather, making it ideal for travel. Additionally, it coincides with festive holidays like Christmas, New Year, and Tet (Vietnamese New Year, occurring in January or February). However, this peak season sees high demand for accommodations and increased tour costs. To secure your plans, it's advisable to book your tour at least three months in advance.
April to October: The Hot, Rainy Low Season
Exploring Vietnam during the rainy season brings cost savings and fewer crowds. Thanks to the country's coastal geography, rain is typically intermittent, mainly occurring in the late afternoon or evening, leaving ample daytime for activities. To beat the afternoon heat, outdoor pursuits are best enjoyed in the morning, and carrying rain gear is recommended. Typhoons are possible in July and August in northern Vietnam and in October in the central region. Therefore, maintaining a flexible itinerary and obtaining travel insurance can help with necessary adjustments.
>>> Read our article on The Best Time to Visit Vietnam for more detailed information on the country's weather.
How Many Days for Your First Trip to Vietnam?
As a first-time visitor to Vietnam, we recommend you spend at least 10 days in the country to explore its top tourist destinations, including Hanoi, Ha Long Bay, and Ho Chi Minh City; for example our 10-day tour of Vietnam Cultural Sites. For a shorter itinerary, 8 days in Vietnam is also possible.
If time permits, we highlight we invite you to spend an extra 4 or 5 days in the country. If you have 15 days, for instance, just spend 4 days in Ho Chi Minh City, 2 days in Da Lat, 3 days in Nha Trang – Da Nang – Hoi An, 2 days in Hue, and 4 days in Hanoi. See the suggested full itinerary here.
If you have 2 – 3 weeks, spend your whole time in Vietnam with our Vietnam Highlight Tour 21 Days or involve Vietnam with one more country on your trip, for example, Vietnam – Thailand, Vietnam – Laos, or Vietnam – Laos – Cambodia.
Where to Go on Your First Vietnam Trip?
Vietnam offers a plethora of enchanting destinations, making it a daunting task to select the perfect ones for first-time travelers. Drawing upon our extensive knowledge of Vietnam and valuable feedback from our customers, we highly recommend exploring Hanoi and Halong Bay in the northern region, discovering the charm of Hoi An and Danang in the central part of the country, and immersing yourself in the vibrant energy of Ho Chi Minh City while delving into the wonders of the Mekong Delta in the southern region during your first trip to Vietnam.
Hanoi – The Capital City Rich in History & Culture
When planning your Vietnam itinerary, Hanoi, the nation's capital, should undoubtedly be a top priority. For aficionados of history and culture, several indispensable attractions await, including the Vietnam Museum of Ethnology, the grave Ho Chi Minh Mausoleum, and the iconic One Pillar Pagoda. To truly savor the essence of Hanoi, visiting the bustling Old Quarter is essential. Here, you'll be immersed in the local way of life and tantalized by the flavors of authentic Vietnamese cuisine. Don't miss the opportunity to witness Vietnam's traditional water puppet show, a captivating experience suitable for both adults and children alike. If time allows, consider embarking on one or two-day excursions to explore the enchanting surroundings of Hanoi, such as the picturesque Ninh Binh or the tranquil Mai Chau. These ventures promise to enrich your Hanoi adventure further.
>>> Every wonderful thing you can do in Hanoi is well crafted in our Hanoi city tours. Just check it out and choose the one that best fits your preference.
Ha Long Bay – A UNESCO World Heritage Site of Vietnam
Halong Bay stands as an essential destination in Vietnam, offering breathtaking landscapes and a plethora of activities suitable for both families and couples. Yet, the key to an extraordinary experience lies in selecting the perfect Ha Long Bay cruise. If you're like us and prefer intimate, personalized experiences over large, impersonal tours, opt for a smaller cruise ship. For those seeking to celebrate special occasions like anniversaries or birthdays, we can arrange an entire houseboat exclusively for your family or partner. To relish a more serene atmosphere with fewer boats in your vicinity, consider a cruise that takes you to Bai Tu Long or Lan Ha Bay, both of which are secluded and less crowded compared to the main bay. Remarkably, all three bays offer similar awe-inspiring vistas and a comparable array of activities, ensuring you won't miss out on the Halong Bay magic!
Hoi An – A Charming Ancient Town in Central Vietnam
Hoi An, nestled in the heart of central Vietnam, is an absolute must-visit for first-time visitors to Vietnam. This charming ancient town boasts impeccably preserved architecture, enchanting lantern-lit streets, and a bustling culinary scene. Strolling through Hoi An offers a glimpse into its rich history, with its ancient pagodas, temples, and traditional shops. It's a chance to savor the unhurried pace of life that defines this town. For families traveling with children, don't miss the opportunity to learn the art of crafting traditional lanterns. It's an engaging activity that the whole family can enjoy, especially during the enchanting monthly lantern festival held on full moon days. If you have the time, dedicate half a day to exploring a local market and participating in a cooking class, where you can master the secrets of Vietnamese cuisine.
Ho Chi Minh City – The Most Bustling Vietnam Metropolis
Ho Chi Minh City, the largest urban center in southern Vietnam, ranks as one of the country's primary gateways for first-time travelers. You should allocate at least one or two days to explore this dynamic metropolis, where colonial and contemporary architecture harmoniously coexist, and a rich cultural tapestry awaits discovery.
Immerse yourself in the history of the Vietnam War through world-class museums and the legendary Cu Chi Tunnels. Sip coffee while perched atop towering skyline landmarks, or savor the vibrant street food scene for an authentic taste of the city's culinary delights.
Mekong Delta – A Vibrant Area with Rustic Life
Known as the rice bowl of Vietnam, the Mekong Delta teems with rustic vitality, offering a glimpse into a world of bustling floating markets, verdant rice paddies, and bountiful orchards. Whether you opt for a leisurely boat excursion or prefer to explore the villages on two wheels, you're guaranteed an authentic immersion into local life. Located just a 2-3 hours' drive away from Ho Chi Minh City, a day trip to the Mekong Delta or an overnight stay opens doors to early-morning floating markets, renowned for their traditional and authentic charm.
Decide Your Budget & Travel Style
With easy transportation and an abundance of things to discover, Vietnam is exactly a haven for self-guided backpackers, even if it is the first time in Vietnam. However, if you are a couple or go with your kids, it is better to use a private guided tour service. This way, you can customize your tour itinerary depending on your interests and personal preferences. You will still feel enjoyed, personalized, and most importantly stress-free for unforeseen situations on the road.
And, of course, your Vietnam travel budget will largely depend on your travel style. The most significant portion of your tour expenses is often international flights. Given the wide range of airfare options for various routes, it's advisable to conduct a thorough comparison before finalizing your booking. Vietnam's domestic flights are notably budget-friendly, with economy-class tickets typically priced at around US$80 during the low season. Similar affordability extends to airfares from Vietnam to other Southeast Asian countries.
Accommodation costs in Vietnam exhibit significant variability, ranging from guesthouses to deluxe hotels. To navigate Vietnam's distinct hotel rating system, it's helpful to categorize them as 'Comfortable'/'Boutique' (US$50–100 per room), 'Luxury' (US$150–200 per room), or 'Guesthouses' (starting from US$10 per room). Food expenses offer flexibility as well. You can savor Vietnam's street food for as little as US$1–2 per meal, indulge in upmarket cuisine for approximately US$20–50 per meal, or opt for options in between.
For reference, here are price estimates for a private tour accommodating two people during the peak season:
A moderate budget typically averages around US$200–250 per day per person, encompassing 4- or 5-star hotels, domestic airfares, attractions, guides, and transfers.
With a higher budget of US$250–350 per day per person, you can enjoy added comfort, including 5-star or premium hotels, domestic airfares, attractions, guides, and transfers.
For a family excursion involving two adults and 2–3 children spanning two weeks in Vietnam or Southeast Asia, the cost typically ranges from US$8,000 to US$15,000 per family, excluding international flights to/from America or Europe.
Check out the Vietnam Visa Policy
Every visitor entering Vietnam needs a valid passport with at least two blank pages for stamping. If you are from Korea, Japan, Sweden, Finland, Norway, Denmark, the United Kingdom, France, Germany, Russia, Italy, and Belarus, you will enjoy the visa exemption policy for 45 days.
In case you are not a citizen of the above country, you can apply for a Vietnam e-Visa. This type of Vietnam visa is applied to all countries and is valid for 90 days, instead of 30 days as before. To apply for a Vietnam e-Visa, please do as following.
Step 1: Prepare your personal documents, including one 4×6 passport photo, a valid passport, jpg images of your passport data, address in Vietnam, points of entry/exit, and a debit/credit card for paying the visa fee.
Step 2: Enter the website of the Immigration Department of Vietnam, click "E-visa Issuance", followed by "Outside Vietnam foreigners."
Step 3: Fill in all the blanks and then pay US$25 for the visa fee.
Step 4: Copy the document code, which you will use to allocate your visa online after 3 working days. Download and print out at least 2 copies.
>>> For more information on Vietnam visa policy, please check out our article here.
What to Pack for Your First Trip to Vietnam?
For a flawless journey through Vietnam, meticulous packing and a good knowledge of the country's customs are imperative. Here's a comprehensive packing guide to ensure a seamless adventure:
Essential Documents: Don't leave home without your passport, Vietnam Visa (if required), travel insurance, flight tickets, and all travel confirmation vouchers. Store photos of your passport separately and keep your trip details up-to-date.
Clothing and Luggage: Pack attire suitable for the season of your travel. Consider a light jacket, comfortable footwear, and versatile clothing, as you'll traverse regions with varying climates. Be mindful of dress codes; avoid overly revealing clothing as it's not permitted in pagodas and temples.
Money: Vietnam has a widespread network of ATMs, so carrying excessive cash is unnecessary. You can withdraw Vietnamese Dong at favorable exchange rates. Keep small denominations for minor expenses and transportation.
Personal Items: While you can bring personal items like a travel hairdryer, bath towel, shaving kit, and toiletries from home, you'll find these readily available in Vietnam's convenience stores and most hotels/hostels. The only thing you should remember is to carry essential toiletries in your daypack during outdoor excursions.
Electrical Gear: Ensure you have a smartphone or iPad, as internet connectivity and Wi-Fi are ubiquitous in Vietnam. With a 220V voltage standard in the country, bring an electrical adapter if your devices use a different voltage. Don't forget chargers and a pre-charged battery for extended journeys.
By adhering to these guidelines, your first trip to Vietnam will be well-prepared, smooth, and hassle-free. For other detailed information on accommodation, transportation, food, and drinks, you can find our well-listed Vietnam travel tips. Don't hesitate to contact us or comment in the following if you have any questions. Our team at IDC Travel is always eager to help.
Read more: