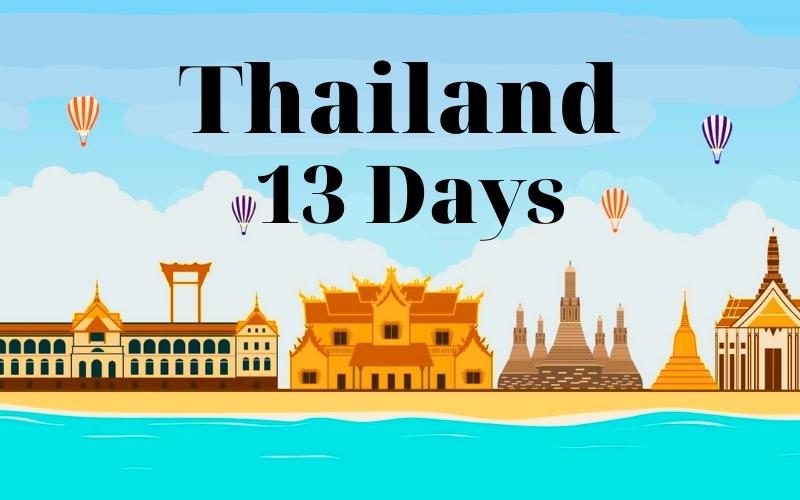 Thailand is a beautiful country with rich culture and gorgeous nature. Whether you are looking for relaxation, cultural discovery, or an unforgettable adventure, Thailand has it all. From sensational landscapes to cultural trips, thrills to well-being, there is something for everyone. Prepare your own 13 days in Thailand now! Whether you are traveling with family, as a couple, or alone, and whether it is your first time in Thailand or not, you will have all you need, from suggested itineraries to budget estimation for your trip.
Is 13 Days Enough to Explore Thailand?
We have a suggestion for 9 days in Thailand, and it has covered enough of Thailand's attractions, from temples to the sandy beaches, and still got time for some activities such as cooking class or zipline gliding. However, with 13 days, you can explore Thailand deeper. Spend time in the local markets and learn about the daily life of the Thai, explore this nation's culture through shows and sports events, and admire the magnificent nature in the national parks and the unique architectural features of the temples. If it's a beach vacation you are looking for, relax on the beach of Phuket, Krabi, and Koh Samui and have fun with a list of water sports and explore activities.
Must-Visit Destinations in Thailand
Thailand has it all, from the high mountains up North to the warm, sunny beaches of the Andaman Sea in the South, not just diverse in nature, there are many ancient and beautiful temples and ruins with high cultural values or ethnic minority villages with colorful clothes and customs.
Cultural Destinations in Thailand
Not just Bangkok with the Grand Palace and temples like Wat Arun, Wat Pho, and Wat Phra Kaew, once you go out of the capital, you will see that Thailand is rich with many attractions, such as the UNESCO-listed heritage Ayutthaya or the ancient northern city Chiang Mai with temples and ruins from the Lanna culture and the ethnic hill tribes on the mountain with many customs and unique lifestyle. There are many things to do as well, from a cycling tour to a farm to a cooking class with the locals. Thailand is such a diverse nation that should be discovered deeper, whether you prefer culture, history, or local traditions.
Natural Attractions in Thailand
Thailand is a beautiful and diverse country. Its natural sites offer an infinity of breathtaking landscapes, ranging from majestic mountains to sunny beaches. What makes Thailand's nature so impressive are lush forests, crystal clear waterfalls, paradise islands, diverse wildlife, and pristine beaches. The mountains of Chiang Mai are very majestic, the Erawan waterfalls are ideal for a day of hiking. In addition, the Phi Phi Islands and Koh Samui are world-famous for their natural beauty, and the beaches of Phuket are pleasant for relaxing in the sun. Whether you are a nature lover, an avid hiker or simply looking for a relaxing getaway.
Itinerary Suggestions for Your 13 Days in Thailand
Option 1: 13 Days Thailand Itinerary Idea for Nature Lovers
In Thailand, you will have a chance to experience its beautiful landscapes like fantastic waterfalls, and hill tribes, and explore the beautiful islands and beaches by canoe, kayak, and speedboat. Below is a 13-day Thailand itinerary which is ideal for those who want to experience the must-sees of the adventurous and hidden gems surrounding the cities of Bangkok, Chiang Mai, Phuket, etc. Every day will surely be an unforgettable experience.
Day 1-3 in Bangkok: Explore the capital and visit the ancient ruins in Ayutthaya.
Day 4-6 in Chiang Mai: Discover Doi Inthanon National Park and other highlights of Chiang Mai
Day 7-8 in Khao Sok National Park: Relax on Cheow Lan Lake and spend the night in a floating bungalow.
Day 9 with Khao Sok Biking Tour: Explore Khao Sok on a bike. Meet the children at a local school, and visit a family-run organic farm and a mushroom farm. Take a break, and stop by the Monkey Temple on your way back.
Day 10-12 in Khao Lak: Enjoy water sports, discover the jungle, rafting through rapids, and glide above the trees on a zipline.
Day 13 to Departure: Your driver will drop you at Phuket Airport for your departure flight
>>> For the detailed program, please check our 13 Days Adventure Tour throughout Thailand. If this is not the thing you are looking for, you can consider 13 Days Discover Andaman Island in Thailand here.
Option 2: Thailand 13 Days Itinerary for Cultural Lovers
As mentioned above, Thailand is truly a paradise for cultural enthusiasts with sacred temples and palaces spreading around the country. If you want to get a deeper insight into the rich culture of this country, you can also consider visiting its museums. You are sure to be overwhelmed by their magnificence. Also, don't forget to sample Thailand's traditional cuisine and even street foods to fully understand this country's long-lasting history.
Day 1-3: Discover Bangkok's famous tourist destinations and join a cooking class
Day 4: Explore Ayutthaya Historical Park
Day 5-8: Visit major attractions of Khao Yai, Khon Kaen, Phitsanulok, and Sukhothai
Day 9 – 13: Transfer to Chiang Mai, get on a temple tour around the city, visit a hill tribe community for cultural lessons, and take part in a cooking class with a local chef.
>>> The comprehensive itinerary of this Thailand 13 Days Culture and Culinary Discovery is presented here. 
If you visit Thailand for the first time and want to well-combine cultural destinations with natural adventure, you can refer to our Thailand's Main Attractions 13 Days tour or our list of Thailand Classic Tours for more itineraries and duration of your preference.
Option 3: Vietnam & Thailand Tour
Located in a prime location in Southeast Asia, visitors to Thailand can easily combine it with other Indochinese countries, such as Laos, Cambodia, Vietnam, Myanmar, etc. It will be not only a chance to discover Indochina in depth but also a way to save fees for international flights. Below is a suggestion for Vietnam – Thailand combined tour:
Day 1-3: Discover the main attractions of Hanoi – the capital of Vietnam and its surrounding area.
Day 4-5: Overnight cruise on Lan Ha Bay, observe the limestone karst formations, visit the Dark & Bright Cave, and fly to Ho Chi Minh City.
Day 6: Visit Cu Chi Tunnel & Ho Chi Minh City's highlights such as the Notre Dame Cathedral and the Central Post Office, and the Independence Palace.
Day 7: Mekong Delta Boat Trip & Fly to Bangkok
Day 8-9: In Bangkok, visit Ayutthaya Historical Park and explore Ko Kret's Wat Poramai Yikawat – a local museum. Stroll through Bangkok's markets.
Day 10-12: Explore Khao Laem Ya National Park, trek through the forest, and try some water sports like diving, snorkeling, or fishing and kayaking and relax on the beach.
Day 13: Departure.
>>> The amazing Thailand & Vietnam 13 days tour is presented here. For more options, please refer to our full list of well-planned Vietnam – Thailand tours.
Budget Estimation for A 13-day Thailand Tour
Thailand is not an expensive destination. It is a profitable country to travel. For many things, Thailand is very affordable. Moreover, this country can suit all kinds of budgets, from economical to luxurious. You can get a full meal for 1-2 USD at a food stall, decent accommodation for 10 USD or less, and take a bus or the subway for less than 1 USD. For better quality, the price goes up, but it is still a very good deal compared to traveling to Western countries. Here is an estimated budget for a 13 days trip to Thailand:
Essential Fees
International Flights to Thailand
The price of plane tickets can vary significantly based on factors such as the date of the flight, and the airline's choice. Transfers from nearby Asian countries, like Vietnam, can sometimes offer cheaper options. Typically, flight prices tend to be lower during the low season, which is from April to October, compared to the summer months. It's always a good idea to compare prices across different airlines and booking platforms to find the best deals for your specific travel needs.
Getting around Thailand
Flying is the fastest transportation for traveling between cities in Thailand, with fares typically ranging from US$30 to US$100 for economy-class seats. Ferry or speedboat services are commonly used to travel between islands like Phuket and the Phi Phi Islands, with fares starting from around US$15. The train is great for intercity travel, with fares ranging from US$8 to US$72. Buses are also a cost-effective mode of transportation, with fares typically ranging from US$6 to US$20.
Within cities, public transport is very affordable. In Bangkok, for example, buses and the MRT/BTS (metro) can be accessed for around US$0.50 to US$1. Taxis have a minimum charge of US$1, you should insist on using the meter to avoid any pricing disagreements. Tuk-tuks, a popular mode of transportation, usually cost around US$0.50 to US$1 for a 10-minute, 0.5-mile journey, make sure to bargain with the driver before you hop on for a good deal.
IDC Travel also offers private car rental with drivers service all over the country at a reasonable price (from US$45).
Accommodation in Thailand
There are plenty of places to stay in Thailand for any type of travel budget. Accommodation tends to eat up the majority of the budget on your 13-day Thailand tour, but it's still very affordable compared to other destinations around the world.
Cheap Guesthouse/hotel: Thailand has many guesthouses that look like small, simple, cheap hotels. You can find a basic double room for a budget between $15-30 per night.
Mid-range Hotel: A nice hotel with a pool and lots of amenities can cost as little as $20 per night, although the average cost is between $30 and $60 per night.
Luxury Hotel: There are many luxury, high-class hotels in Thailand, especially traveling to the islands, you can find stunning beachfront suites that will meet all your needs. Top luxury hotels in Thailand can cost between $100 and 300 per night.
Others Optional Fees
Eating Out in Thailand
Street food stalls offer a wide range of unique Thai dishes like pad thai, som tam, and many more, typically costing around US$1-2 per portion. If you prefer dining in a decent restaurant, a full meal should cost around US$10 per person. For a luxurious fine-dining experience, upscale restaurants may charge around US$50-60 per person.
Visiting Fees And Activity Costs in Thailand
After paying for all the necessities, like food, transportation, and accommodation, you can start planning your budget for the fun stuff! The possibilities for adventure in Thailand are endless and you should at least participate in a few fun activities during your stay. The quality of your visit simply depends on how much you are willing to spend.
Here is a quick list of some of the most popular activities in Thailand that you might be interested in trying.
Island excursion: 30-100 USD
Diving or snorkeling trip: 50-150 USD
Thai massage: 5-15 USD per hour
Muay Thai boxing match: 10-20 USD
Ladyboy cabaret show: 15-25 USD
Cooking class: 30 USD-60 USD
Guided tour of the temple: 20-70 USD
Many museums and temples in Thailand are free of charge, so definitely don't miss them for an insight into Thailand's culture and history.
Saving Tips When Visiting Thailand
Below are some tips that can save you money before and while traveling to Thailand:
Visit Thailand during the low season (April to October) to avoid tourist crowds and enjoy potentially cheaper services.
Check websites like Skyscanner or Google Flights for the cheapest departure dates for an entire month.
Go local: Take local buses, eat street food, and drink local beer.
Get the most from Thai's happy hours: Many restaurants and bars have happy-hour promotions such as buy 2 get 1, etc.
Get some mobile

travel apps

on your phone to save some extra money by promotions, vouchers for food delivery, and booking taxis/motorbikes to make the most out of your trip.
We hope these 13 days Thailand itinerary suggestions have provided you with valuable insights for planning your trip to Thailand. For more interesting ideas, you can refer to our list of well-prepared Thailand tours. If you require assistance in organizing a tailor-made trip to Thailand while ensuring your safety, feel free to contact us for more information and support.
Read more: