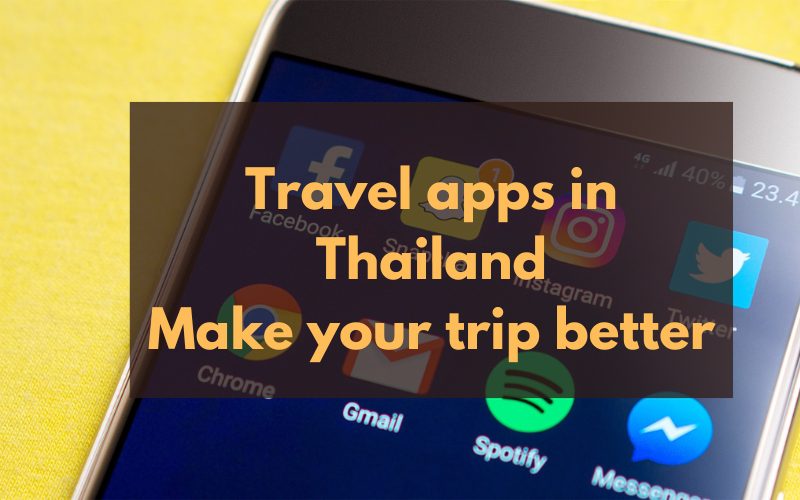 When you are so familiar with the tourist destinations in your country and want to choose a new one, Thailand is a great choice. However, the difference in language and expression will make you confused when choosing hotel booking services or shopping while traveling. Sometimes, because you are a foreigner, you may be forced to pay high prices when booking transportation or get lost while traveling. That will make your trip a lot worse. With the development of modern technology, it is really not too difficult for you to choose self-sufficient travel to Thailand when using some online apps. In this article, IDC Travel will introduce and recommend useful travel apps in Thailand to help you equip yourself with the most helpful information. What's more, use these apps to make your travel trip both cost-effective and time-saving and bring the best experience.
Travel Apps in Thailand – for Accommodations 
With the development of tourism, it will not be too difficult for you to book a hotel or a homestay. Therefore, we suggest that you use one of the following two apps to choose the most suitable place to stay when you arrive in Thailand.
Agoda
A comfortable place to rest after spending a lot of time traveling to Thailand will help you get off to a good start at the beginning of your trip. So you need to prepare before coming to Thailand – book a hotel room. To book a hotel room at a discount, you should spend some time on online booking websites. However, even if you want to find a cheap hotel, safety, convenience and personal style must still be a priority.
Agoda is the convergence of all consumer selection criteria classified by destination category, price segment and accommodation style. In addition, there are many Agoda features such as image search filters, map locators, detailed accommodation information and especially direct consumer reviews. Thanks to those benefits, you can choose the best hotel with the most reasonable cost.
In addition, Agoda often provides discount codes and incentives for members to register for hotel rental services or to book flight tickets. In Bangkok alone, Agoda has offered and worked with nearly 4000 hotels, villas and hostels for rent of all kinds.
Airbnb
If you do not know how to negotiate and research hotel prices carefully before coming to Thailand, booking a room directly at the hotel's reception will be very complicated. Then, you have to pay through the nose. However, in the list of travel apps in Thailand that IDC Travel researched, Airbnb may be a very necessary application for you.
Airbnb is an application that works on the form of online room rental from tenants to renters. Therefore, this application will not be able to provide you with too many hotels but will give you an interesting experience when trying to rent private apartments, villas or homestays. When you choose accommodations at Airbnb, you can cook and party without meeting the staff, receptionist and general services like in a hotel.
Thailand Travel Apps – for Transportations 
Do you know what the scariest thing about traveling abroad is? That is misguided. Moreover, to ask for directions in Thailand, you must also equip yourself with a certain Thai vocabulary. That is very difficult and time-consuming. So the following apps for transportations will be a great support for your Thailand journey.
Grab
This app is a ride-hailing application that is very popular in Southeast Asia, including Thailand. This application has the advantage of helping users move to their destination quickly and easily with just a few simple steps on the phone. Currently, Grab deploys multiple transportation services to optimize convenience for consumers such as:
Taxi: This is a popular form of transportation for tourists when coming to Thailand. There is a variety of vehicles from 4-7 seats suitable for your choice. The great thing about this traveling app in Thailand is that the application always approximates the distance traveled and the location of the driver and provides the driver's transparent information.

Bike: You can freely explore and move anywhere in Thailand at a reasonable price when choosing this ride-hailing service.

Car: This form is quite similar to GrabTaxi, but instead of estimating the price, the price of the car will always be booked by you.

Rent: If you want to transfer continuously to explore Thailand, this form is very suitable for your choice. Grab will provide you with many preferential hourly packages and travel with a variety of stops.
BTS Skytrain
In Bangkok, people often use public transport, mainly Buses, Skytrain, and subway.
BTS Sky Train is one of the must-use travel apps in Thailand that we recommend to you. With a dense overhead tram system, you only have to spend a few baht to easily move to tourist destinations in Thailand. What's more, the waiting time for a train is just about 3-5 minutes, and the train will arrive on time as previously announced. Then, you can already enjoy the panoramic view of the magnificent city of Thailand.
Using the BTS SkyTrain application is very simple. Only when you download this application, the system will automatically provide the most detailed instructions on station directions.
Bangkok MRT
The Bangkok MRT subway system serves 18 stations. Furthermore, this system stretches for 20km in the shape of a horseshoe from Hua Lamphong in the south to Bang Sue in the north. You just need to wait less than 10 minutes for a train to take you through the beautiful cities of Thailand.
The convenience of this traveling app in Thailand is that every train you wait for can take you to popular destinations. They are Kamphaengphet (Chatuchak weekend market, and Tor Kor market and Rod Fai market), Sukhumvit (BTS station, Silom (Saladaeng BTS Skytrain Station, PatPong Night Market, Lumpini Park) and Hua Lamphong (Chinatown and Central Railway Station).
Thailand Travel Apps – for Foods 
Food Panda
This app is one of the most famous ordering food apps in Thailand. There are countless famous delicious dishes along with a shipper system across famous cities. You just need to enter the name of the dish in the search box. After that, there will be countless choices between famous restaurants that are highly rated on the application system. Therefore, you will choose for yourself the dish worth trying the most.
Food Panda's delivery service is also appreciated for its ability to deliver fast, keep food hot and pack orders carefully. However, during peak hours, the delay in the process of preparing dishes will also happen, but Food Panda will always take timely measures to not make users uncomfortable.
GET
Integrated with services like Grab, GET is an app that Thais trust in for providing excellent food delivery. GET includes a chain of famous restaurants, food shops and typical street foods. Therefore, you can freely choose the variety of Thai cuisine you want to enjoy.
In addition, using GET means that you can receive attractive promotions for new customers. Thanks to that, you not only enjoy delicious dishes but also save money and time.
7-Eleven TH
This is a supermarket brand with many retail chains spread throughout Thailand. And as expected of consumers, 7-Eleven TH has set foot in the field of e-commerce platforms with the contribution to traveling apps in Thailand.
With this app, you can freely choose your favorite products without having to directly search for them in the stores. By adding to the cart and choosing the right payment method, you will receive your order within 30.
For travelers who are new customers of the 7-Eleven TH app, you can get some great savings coupons and shopping deals.
Thailand Travel Apps – for Friend
Facebook & Messenger
Thai people are probably big fans of social media. According to statistics, Bangkok is the city with the highest number of Facebook users in the world. Facebook and Messenger apps are great choices so you can make friends and get to know people in this country.
Installing and using these two apps is simple, but you should familiarize yourself with them before starting this trip. If you can make friends in Thailand, your upcoming trip will be much more wonderful and fun.
Instagram
The second most popular application after Facebook in Thailand is probably Instagram. What's more, each Instagram account will be linked to a Facebook account so you can easily create an Instagram account.
Thai people think that Instagram allows them to post any of their pictures and videos on social networks publicly. Moreover, if you use Instagram, you may have the opportunity to follow tourism and cuisine by searching for Thailand hashtags.
Following each other and messaging via Instagram is quite easy so you should consider using this app.
Other helpful travel apps in Thailand
SayHi Translate
This is one of the popular apps traveling in Thailand if you don't like Google Translate which is word-by-word translation. Use this application if you want to exchange information with Thai people. The translations that are closest to the meaning that Thai people want to convey.
How to use the application is also very easy to manipulate. You just need to follow the instructions from the first time that the app provides. And the next time everything will become a lot easier.
Conclusion
Traveling independently to Thailand may encounter many obstacles if you do not equip yourself with enough knowledge. However, no matter how many options you have planned, when you arrive in Thailand, there will still be inconveniences that you cannot solve in time.
Furthermore, the travel apps in Thailand can only help you shorten a part of your search time and travel costs. However, if you select tours from IDC Travel, you do not waste time preparing any services. Thailand Tours & Travel Packages for 2023 with countless choices and preferential prices will be the best choice for you when traveling to Thailand.
Please contact us to check out the special Thailand tours that we have to offer or you can choose the places you want to visit, we will give you the best suggestions and packages.