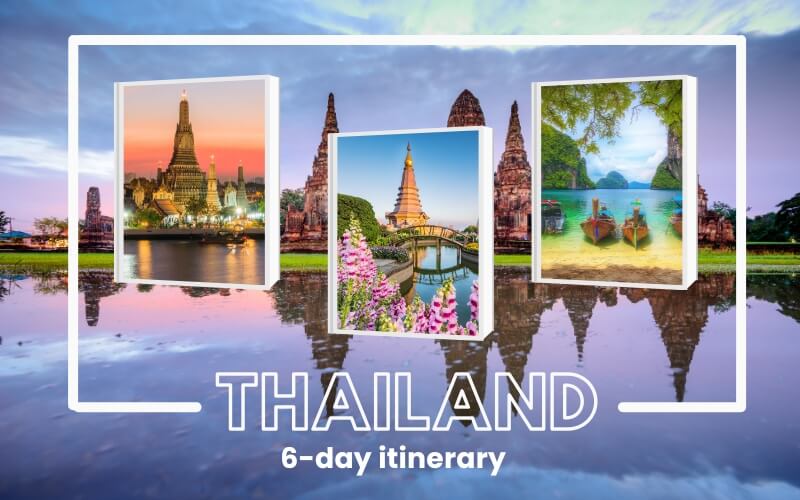 Thailand is known as one of the premier tourist paradises in Asia. This beautiful country is not only famous for its unique architecture and stunning resorts, but it also attracts visitors with cultural performances, traditional markets, bustling shopping malls, and many other delicious delicacies and interesting souvenirs.
With plenty of things to see, do and try, for those who have never been to Thailand or don't have much time to explore it all, our recommended Thailand 6 days itinerary will help you plan the best trip. With the right schedule, you can have some of Thailand's most fascinating and unmissable experiences. And here is the 6 days itinerary in Thailand and the planned budget.
Are 6 days in Thailand enough?
Thailand 6 days itinerary will be an interesting and rewarding experience. Of course, 6 days is not long enough to visit all the destinations or eat all the delicacies, but you can still explore some of the most famous and iconic places in the country.
For 6 days, you can focus on a specific region of Thailand, such as Bangkok and its surroundings, in the north or south of the country. Or you can plan themed trips, choose to visit impressive temples, ruins, and historical structures, or indulge in beautiful islands.
Best Places to Visit in Thailand
Bangkok and its surroundings
Bangkok is the first destination whenever you're considering traveling to Thailand because international flights to Thailand land in this modern capital. Moreover, it has the most necessary things for everyone, from comfortable hotels, bustling shopping malls, quality restaurants, and bars to traditional markets, temples, palaces, or museums and galleries. At the same time, there are both "new towns" and "old towns" in Bangkok.
Bangkok is also often an excellent starting point to continue the journey to other tourist destinations such as the ancient capital of Ayutthaya in Thailand or the famous floating markets such as Damnoen Saduak Floating Market, Amphawa Floating Market, or the Taling Chang Floating Market.
North Thailand
On your 6-day trip to Thailand, consider traveling from Bangkok to the quieter north. Chiang Mai and Chiang Rai are the most cited tourist destinations with old temples, vast fields, forests, and majestic waterfalls. The Golden Triangle of Chiang Rai, where the 3 countries of Laos, Myanmar, and Thailand come together along the Mekong River, is also a must-see place.
>>> Read more: Top 15 Must-Visit Temples in Chiang Mai, Thailand
South Thailand – Paradise of beach and island
Thailand attracts numerous tourists every summer, thanks to its beautiful white sand beaches, cool water, and picturesque natural landscapes. You can spend the whole trip relaxing by the sea, enjoying the sunrise and sunset, swimming, snorkeling, or discovering the life of the fishing villages. In already popular destinations like Phuket or Krabi, you'll experience a wide range of high-quality activities and services, while in smaller or larger islands, you can enjoy a calm and peaceful atmosphere, away from the noise.
Itinerary Suggestions for 6 days in Thailand
Itinerary 1: Colorful Journey from Bangkok to Chiang Rai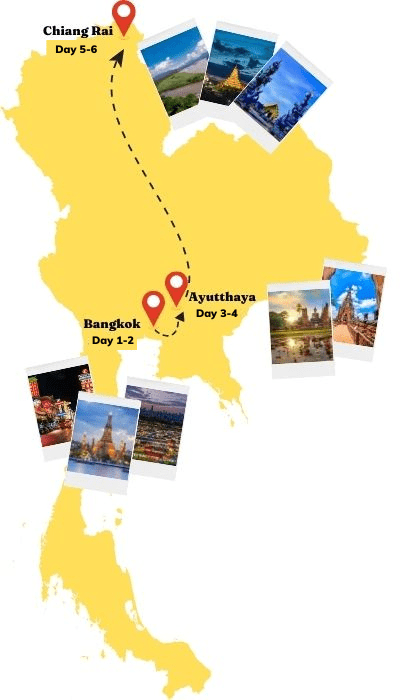 Enjoy a colorful journey on Thailand 6 days trip in which you will mainly visit the famous temples steeped in the culture of Bangkok, the ancient capital of Ayutthaya and Chiang Rai province. This less-than-a-week Thailand itinerary allows you to explore only 3 main points of the country, but it is enough to give you a general overview of Thai culture and religion, in particular Buddhism.
Day 1-2: You will begin your journey in Bangkok. On the first day, after checking into the hotel, you will explore the capital at your leisure. The next day, you will take a guided tour of the city.
Must-sees include shopping at the modern Siam Paragon Mall or the traditional Chatuchak Market, watching iconic kickboxing matches or puppet shows, and visiting The Grand Palace or important temples such as Wat Traimit, Wat Pho, and Wat Arun.
Day 3: This will be your day to immerse yourself in the history and culture of Ayutthaya, the ancient capital of Thailand. Take a long-tail boat to explore the city, you will be amazed and enchanted by Bang Pa-In's magnificent Summer Palace, Wat Niwet Thammaprawat – the most iconic Buddhist temple of this region with Gothic architecture or Wat Yai Chaimongkol and Wat Mahathat where the Buddha's face emerges from a tree.
You'll head to the Muslim Quarter to sample unusual local delicacies like roti and return to Bangkok by private car at the end of the day.
Day 4-5: Leave the central area in search of something new and head north of the country to Chiang Rai. You will have 3 days to visit the blue temple Wat Rong Suea Ten, learn about local history through the Opium Museum or the Black House, and explore the geography of the Golden Triangle – the junction of the borders of Thailand, Laos, and Myanmar along the Mekong.
In the evening, we suggest you visit the night market to sample delicious street food or buy typical souvenirs for your loved ones at reasonable prices.
Day 6: During your free time in the morning, you can explore at your leisure before your return.
>>> See our detailed itinerary: 6 Days Thailand Temple Tour to Bangkok & Chiang Rai
Itinerary 2: Islands Hopping from Bangkok to Ko Kood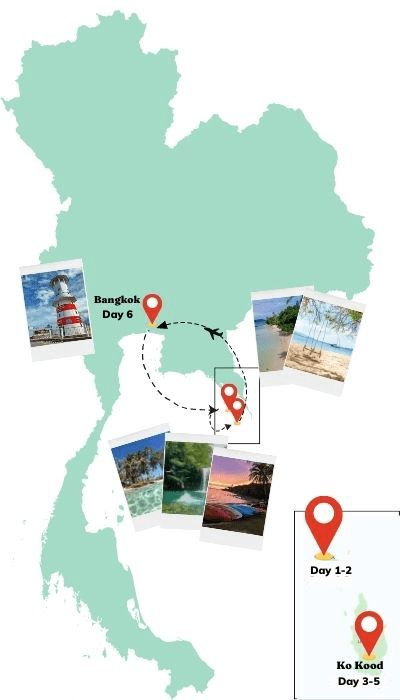 With this 6-day itinerary in the beautiful islands of Thailand, you will have the opportunity to relax and immerse yourself in nature. Thailand is the ideal rendezvous for beach holidays. Not the famous tourist beaches of Phuket or Krabi, we suggest in this itinerary the lesser-known beaches of Ko Mak and Ko Kood, which still offer impressive experiences.
Day 1-2: You will begin your beach exploration by speedboat from Laem Ngop Pier in Bangkok to Ko Mak Island. This beautiful island is covered with coconut palms and rubber trees. The small roads of the island are only allowed for a few motorcycles and trucks. Therefore, bicycles become the perfect way to explore beaches and cities.
You can also observe the life of colorful sea creatures underwater while snorkeling in the cool water and explore the daily life of locals in traditional fishing villages. Suan Yai Ao is 3 km long where there are fewer resorts, allowing you to enjoy the peaceful atmosphere and breathtaking sunsets.
Day 3-5: The island of Ko Kood, in the far east of Thailand, shares a border with Cambodia and is also the furthest island from the mainland. With an area of ​​about 50 square miles and an 80 km long beach, Ko Kood is the second-largest island in Ko Chang National Park.
Sightseeing activities will be more adventurous, such as hiking through the forest, swimming in a 3-tiered waterfall, or doing water sports. There are also ideal places for families because they're less crowded beaches with shallow water for children.
Besides Klong Chao, you will visit Ao Tapao, one of the longest beaches on the island, where you can walk to the Rat Bamrung Buddhist Temple.
Day 6: You will have a morning to relax and explore on your own before heading back to Bangkok. Spending your free morning on the morning beach and watching the sunrise is an interesting activity that will be suggested to you. Then, you'll be transferred to Laem Ngop Pier by ferry and arrive at Bangkok Airport.
>>> See our detailed itinerary: Island Hopping For 6 Days In Thailand
Itinerary 3: Vibrant Bangkok City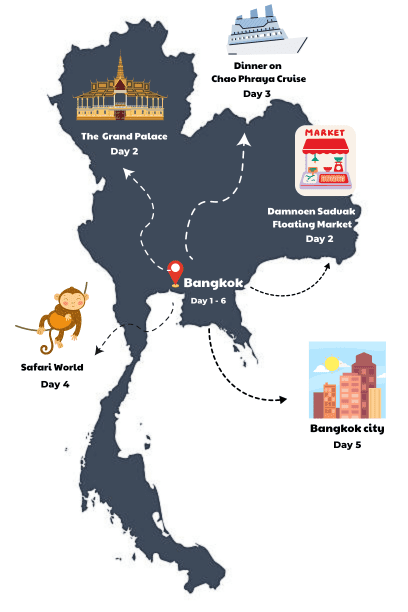 With 6 days in Thailand, it is also a good idea to focus on a single region of this beautiful land to be able to explore the region in depth and appreciate all the attractions. Choosing Bangkok city for a trip in 6 days will make you discover a different Thailand, from unique historical relics, and exciting entertainment projects to the bustling life of local people. No need to worry that your trip won't be fun, as we suggest in the itinerary of attractions and fun intertwined with destinations to learn.
Day 1: Upon arrival in Bangkok, you will discover many interesting facts while exploring the bustling city of Bangkok like a local. The special thing is that you will travel between the tourist destinations by popular means of transport used by Bangkokians such as the BTS/MRT (Bangkok Skytrain and public transport system), public boats, or buses.
In the evening, stroll through the stalls in Chinatown to taste local street food.
Day 2:  Immerse yourself in Damnoen Saduak Floating Market by riding on a small boat. Continue your journey to learn more about the history of the city by visiting the Grand Palace.
Day 3: Enjoy a candlelit dinner on a cruise floating on the Chao Phraya River with melodious music and admire the panoramic view of the vibrant city at night
Day 4:  Spend a day of aquatic adventure in Safari World. Enjoy a wonderful time with your family watching many funny performances from animals.
Day 5: Spend your last full day in Bangkok to discover this city on your own.
Day 6: It's time to say goodbye to Thailand. Return flight.
>>> See our detailed itinerary: The Perfect Tour In Bangkok 6 Days
Budget for 6 Days in Thailand
Thailand is considered a tourist paradise, not only because of the many things to see and explore but also because of the very affordable prices. You don't need to spend too much money on a memorable trip. Normally, a trip to Thailand includes the following costs:
International flight to Thailand
Airline ticket prices vary considerably depending on the date of the flight, the airline used, and the number of stopovers (direct flights are more expensive). Thai Airways is a very good company for such a long non-stop flight. Others such as Qatar Airways, Emirates, etc. are perfect for a flight with a stopover.
In general, flight prices are up to 60% cheaper in the low season, from April to October. A reservation 4 or 5 months in advance is considered quite ideal.
Domestic transportation
Next is the cost of domestic transportation, including the cost of moving from the airport to the city, between cities, or between regions in Thailand. There are many types of transport, to get around Thailand, depending on your destination, your budget, and your personal preferences.
The plane is the fastest and most popular mode of transportation chosen for travel between cities. Airline ticket prices for an economy class seat range from $30 to $100. Travel between cities can also be done by bus (fares from $6 to $20) or train (fares from $8 to $72). Traveling within cities is also quite easy when you can choose Skytrain or MRT/BTS with fares ranging from $0.5 to $1.5.
Ferries or speedboats are the main means of transport between Thai islands. For example, the cost from Phuket to the Phi Phi Islands is $15.
If you choose a taxi, you will have to choose a car with a price displayed, if not, negotiate with the driver in advance. If you're looking for a convenient alternative to explore Thailand, contact us for a private chauffeur-driven car rental nationwide with a low price starting at just $45.
Accommodation
Changing the location in the Thailand 6 days itinerary also makes you change your resting place instead of staying at the same place for 6 days and 5 nights. Depending on your preferences and budget, you can easily find out accommodation:
Inns and motels: $5 – $15/night.
Mid-Range Hotels: $20-$50/night.
Upscale hotels: $50-$200/night.
November to January or February is the peak time and the most expensive room rates. To find good accommodation during this time, we recommend planning and booking at least 6 months in advance.
Eating out in Thailand
Thai street food can be considered an experience not to be missed. Thailand offers many delicious and affordable dishes. Stroll through markets or roadside stalls for tasting famous dishes, like pad thai (Thai fried noodles) or som tam (spicy papaya salad).
A decent restaurant costs around $10-15/person. Luxury restaurants cost $50-60/person and up. Also, you can find everything you want in convenience stores called 7-Eleven.
Attractions/Activities in Thailand
Many temples and museums are open for free, such as Wat Chedi Luang in Chiang Mai. Tickets for most attractions in Thailand are quite affordable, ranging from $1 to $15. Thailand's most famous attraction, the Grand Palace in Bangkok, costs $14.
Along with the tour to explore the islands, some activities such as snorkeling, surfing, night show, etc. cost approximately $15 to $50 each time.
This is only a rough guide. We can give you specific prices based on a detailed itinerary.
With a well-planned Thailand 6 days itinerary, you can do a lot in less than a week. From city to island and mountain, from shopping center to traditional market, you won't be bored in this most popular tourist destination in Southeast Asia. At IDC Travel, we offer an abundance of Thailand tours and vacation packages for all kinds of travelers, from short to long itineraries, from classic programs to adventure ones. There are also options for family holidays and honeymoon packages. Please check it out and do not hesitate to contact us if you need a tailor-made Thailand tour itinerary. Our travel experts will work hard to satisfy your preferences.
Read more: