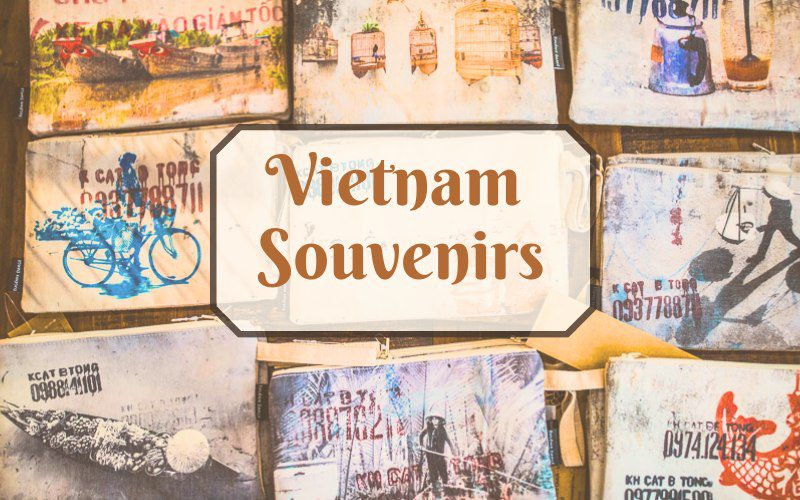 On a trip to Vietnam, you'll have the chance to experience a cultural concoction of manic markets, specialty streets, designer boutiques, and bike vendors. In Hanoi Old Quarter, you'll find everything from tribal textiles to shoes, from coffee to handicrafts, from paintings to specialty foods. The sweet haggling is part of the fun. Bring some of that experience home with these traditional gifts. Here are some recommendations for your Vietnam souvenirs and gifts.
Vietnamese Coffee – Best Vietnam Souvenir
Vietnamese coffee is what most tourists would probably recommend. After tasting specialties like "cà phê sữa đá" (sweetened milk coffee), "cà phê sữa chua" (yogurt coffee), "cà phê trứng" (egg coffee), etc. it's easy to understand why tourists love the coffee in Vietnam so much. Vietnam is also ranked 2nd in the world for coffee producers, especially its Robusta beans, and the baristas know how to get the most out of it. With only 4-$5 (or slightly more expensive depending on the type of coffee you choose), you can buy a 500g pack of Trung Nguyen coffee, the most famous brand of coffee in Vietnam, or just visit a local coffee shop as they would also sell in smaller packages. And don't forget to buy a Vietnamese coffee filter (Phin cà phê) to make an authentic cup of Vietnamese coffee. This will be an ideal souvenir from Vietnam.
Vietnamese Tea
Considering the health benefits of tea make it a thoughtful and practical souvenir. High-quality tea is grown in certain regions of Vietnam and follows a strict procedure in cultivation and process. Although Vietnam isn't the only country growing tea but the product that is freshly pickled, still preserves lots of floral is absolutely a signature of Vietnam. Lotus tea sounds like a wonderful souvenir to bring back home! The process of marinating green tea leaves inside a lotus flower can be a great story that comes with it, and the resulting tea with its unique aroma and flavor would make a great gift or a special treat for oneself.
Coconut Candies
You can easily find coconut water in many countries, but in Vietnam, we have an amazing candy that is so sweet and delicious and can't be found anywhere else. Coconut candies originated in Ben Tre province within the Mekong Delta, where coconut palms thrive. Besides the original coconut candy, there are lots of different flavors that can satisfy anyone, from cocoa, ginger, peanuts, coffee, pandan, or taro… to strong ones like durian. For the best taste, you should enjoy these sweets with a cup of tea. Almost all coconut candies are made in Ben Tre, but you can find them in any supermarket, grocery store, or souvenir shop at a reasonable price, only $1.5-4 per pack.
Vietnamese Salted or Sugared Dried Fruit (Ô Mai)
"Ô Mai" is the name we give to Vietnamese-style dried fruit. After a preliminary process, the fruits are pickled with sugar or salt, and sometimes with ginger or licorice or even chilly, then cooked until all the spices are condensed and coat the entire fruit. "Ô Mai" is also part of the traditional Tet Holiday, the Vietnamese Lunar New Year. There are many places selling "Ô Mai" in Vietnam, but the best place is Hang Duong Street in Hanoi, the place is famous for the family producers who keep passing down their work from generation to generation. The price varies from $7-10/kg depending on the types of fruits and the complexity of cooking, they public the price of the products on the containers, and you can taste everything before making your decision. "Ô Mai" sure will be great souvenirs from Vietnam that everyone in your home country would love.
Vietnamese Spices
Vietnamese herbs and spices are the perfect gifts for your loved ones at home, especially if they are really into cooking. Recognized as the basis of all culinary sensations consumed in the country, Vietnamese cuisine is loved around the world for its brilliant balance of fresh flavors, inviting aromas, and complex textures. Almost every destination in Vietnam offers regional cooking classes at varying levels of difficulty, so why not bring an authentic taste of Vietnam home? Herbal packets start at $3.
Brocade Accessories
Brocade is a type of fabric associated with the life of ethnic minorities. It is woven by hand using traditional weaving techniques. It is rich in patterns that are made directly in the weaving process. The special thing about this fabric is its material. Brocade materials are of natural origin, mainly cotton, hemp, and linen. Brocade products are very diverse such as clothes, handbags, and shoes.
Normally, these products are sold on almost all Vietnam tourist destinations for only $2-10 depending on the product, but if you want to buy genuine products, find stores that offer real handcrafted items, although they may be more expensive. Another option you can consider is to travel to the highlands up North, where most of the ethnic minorities live, to learn about their culture, see firsthand how they make it, and make your purchase on-site. Considering brocade accessories are more than just souvenirs from Vietnam, they will also have a fashion value too.
Vietnam Ceramic Products
Ceramics is an art appreciated by the Vietnamese people for millennia. Bat Trang village is famous for this kind of art for a long time, located not far from Hanoi, on the banks of the Red River. Even today, this village still keeps an excellent reputation for ceramics, with more than 600 kilns still in operation. Bat Trang ceramics are exported nationwide as well as internationally.
Despite the massive arrival of plastic objects gradually replacing ceramics in the daily life of Vietnamese families, this ancestral art has seen its cultural and historical values ​​continue to flourish through times and places. Besides Bat Trang, one can find beautiful works in the village of Chu Dau (still in the Red River delta), in the village of Than Ha (in central Vietnam, near Hoi An), or in the village of Bau Truc (in Central Vietnam, south of Hoi An). Such beautiful souvenirs from Vietnam to bring back with care, careful packaging is recommended.
Silk Products
Previously, silk was a high-end product that only the wealthy could afford, but now it is increasingly popular and is one of Vietnam's best souvenirs for tourists to buy, and it is quite affordable: about 10 dollars per meter. In Vietnam, silk is used in many Vietnamese costumes, including the traditional "áo dài". The extremely diverse and beautiful colors and patterns of Vietnamese silk will satisfy everyone. There are two places in Vietnam that are the best to buy silk: Van Phuc Silk Village in Hanoi and Hoi An Silk Village in Hoi An Ancient Town. Recently, in Hoi An they are also offering tailor service, so you can even have a silk suit in your own customized size at a very reasonable price.
Áo Dài – The Traditional Costume of Vietnam
Talk about Vietnam souvenirs we can not past the traditional costume – "áo dài", the pride of Vietnamese fashion. It is an outfit intended for women and also for men, which embodies beauty, grace, and elegance, consisting of two parts: a long-sleeved tunic that hugs the curves and pants. The costume will make you look very beautiful as it will highlight the curves, while still being discrete enough to wear to important events. It will be a great gift for you or your important women as a beautiful memory of Vietnam.
Vietnamese Conical Hat (Nón Lá) – Must-buy Vietnam Souvenir
The Vietnamese conical hat or "Nón lá" is an iconic image, reminiscent of farmers working in the rice fields or young Vietnamese girls wearing "Áo dài" walking through the streets. Made from palm fronds and bamboo, the "Nón lá" was used to protect farmers who worked in the scorching sun and heavy rains all day. Today, it is not only used in rural areas but also sell to tourists as souvenirs. The authentic, old-school hat is thick and a bit heavy. But for the souvenir, it is rather light so that tourists can easily travel with it. The shape of the "Nón lá" makes it quite difficult to carry in your luggage, our advice for you is to take it on a plane and everything is solved.
Vietnam Traditional Wooden Clogs
Not just a hat and a costume, there is also a type of footwear that are also traditional in Vietnam. They are traditional wooden clogs, usually worn with an "áo dài". These types of shoes have been part of Vietnamese culture for thousands of years, before leather and plastic shoes. Now, on Tet Holiday we can still see Vietnamese women wearing them with the traditional "Áo dài", but they are not as popular as they used to However, they still make a nice souvenir of Vietnam, even if you don't intend to wear them.
Tailored-made Garment
While staying in large cities like Hanoi and Ho Chi Minh City, you should go out and have yourself some bespoke clothing. As mentioned above, some shops in Hoi An have a tailoring service for tourists, they will take your measurements and your request before returning your items to your hotel just 2 days after at a very reasonable price, just around $ 50.
Vietnamese Bamboo And Rattan Products
Bamboo is considered a traditional plant in Vietnamese culture. A symbol of the villages of Vietnam, bamboo and its products are present throughout the country. A wide variety of bamboo products for you to choose from baskets, trays, bowls, furniture, and decorative items. You will be amazed at the beauty and the quality of these bamboo souvenirs, intricately designed by the locals.
Vietnamese "Dó" Paper Products
"Dó" paper is a unique and beautiful product of Vietnam, and "dó" paper postcards make for a wonderful and meaningful souvenir. The intricate designs and textures of the paper, combined with the personal touch of a handwritten message, make for a special and memorable gift for loved ones back home. Plus, it's a sustainable and eco-friendly option as well, as "dó" paper is made from natural materials and traditional methods. It will be a great souvenir from Vietnam.
Across Vietnam, from the North to the South, there are lots of diverse cultures, traditions, and different specialties. Therefore, each place offers a distinct experience and unique and spectacular memories. So having some souvenirs from Vietnam along your way to discovering the country will make your trip more memorable.
Do not hesitate to contact us if you want more information about a trip to Vietnam!
Read more: