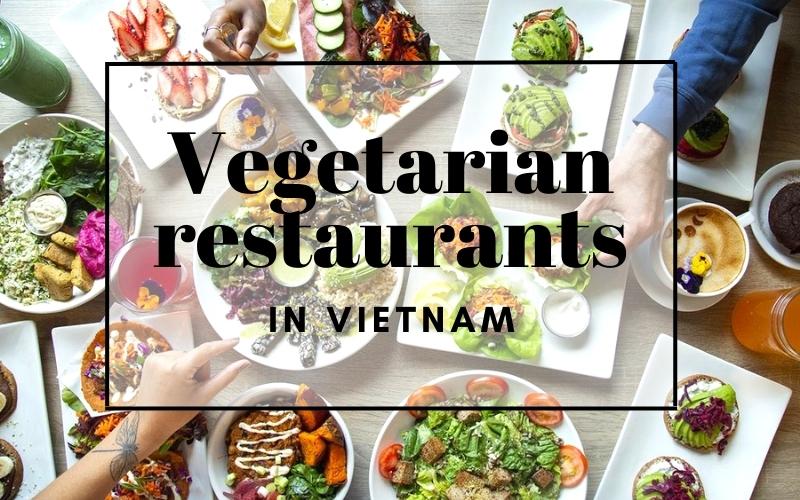 If you are planning a trip to Vietnam and worrying that Vietnamese dishes might not be suitable for a vegan, or want to alternate your daily meat-focus dishes, these Vietnam vegetarian restaurants will get you covered, wherever you are traveling to Saigon, Danang, or Hanoi or any other tourist attractions city for that matter.
Vegetarian in Vietnam
Vietnamese cuisine showcases a delightful diversity from north to south, with each city boasting its own exceptional dish. However, certain culinary delights remain universally popular throughout the country. Prepare to savor steaming bowls of aromatic noodle soups, delectable banh mi sandwiches with a satisfying crunch, and flavorful rice paper rolls filled with herbs, pickled vegetables, and lettuce. And let's not forget the robust Vietnamese coffee that can be enjoyed anywhere. These beloved Vietnamese staples are readily available across the nation, with plentiful options for vegetarians. Most Vietnamese restaurants offer a range of salads and cooked vegetables, often with a dedicated section for vegetarian dishes.
A vegetarian breakfast might feature an egg-filled banh mi or a nourishing bowl of mushroom congee. For lunch, relish a refreshing salad made with banana heart or lotus stem, accompanied by rice crackers, or indulge in rice noodles served with a hearty broth and fresh greens. Dinner is an opportunity to mix and match, with an array of options such as garlicky water spinach, fresh spring rolls, grilled eggplants, lemongrass and chili tofu, caramelized mushrooms in clay pots, vibrant five-color fried rice, and delightful Vietnamese sweet soup for dessert. Rest assured, there's no danger of going hungry as there are a lot of vegetarian restaurants in Vietnam. In fact, leaving might be the hardest part!
Top 10 Best Vietnam Vegetarian Restaurants
1. Veggie Saigon in Ho Chi Minh City
Address: 35 Nguyen Van Trang Street, District 1, Ho Chi Minh City
Opening hours: 10:00 am – 10:00 pm daily
Veggie Saigon is one the highest-rated vegetarian restaurants in Vietnam, offering a wide variety of traditional Vietnamese dishes that cater to different taste preferences. The fact that they also encourage environmental sustainability by offering a discount for bringing your own container is commendable. Come to Veggie Saigon, customers can enjoy delicious plant-based meals while also contributing to a more compassionate and sustainable food system. They are also taking steps toward environmental sustainability when giving discounts to customers who bring their own containers.
2. MUNI Vegetarian And Tea House in Ho Chi Minh City
Address: 15B Song Da Street, Ward 2, Tan Binh District, Ho Chi Minh City
Opening hours: 9:00 am – 10:00 pm daily
MUNI is a cozy and charming spot to enjoy some delicious vegan dishes and teas in a unique atmosphere. The Dragon Fruit salad, An Nhiên sticky rice, and lotus seed sweet soup with longan are must-tries dishes! And the lanterns in the evening add an extra touch of charm to the already inviting atmosphere. Even when it doesn't have an advantage in location, MUNI still has a loyal following of regulars who appreciate the restaurant's quality vegan cuisine and ambiance.
3. Prem Bistro & Café in Ho Chi Minh City
Address: 187/15, Dien Bien Phu Street, Da Kao, District 1, Ho Chi Minh City
Opening hours: 10:00 am – 3:00 pm and 5:00 pm – 10:00 pm daily
Prem Bistro is a great spot for vegetarians and vegans in District 3, offering delicious food in a comfortable atmosphere with plenty of options to choose from. The balcony and air conditioning options provide a comfortable and relaxing atmosphere for diners to enjoy their meal. The "Bowl of Prem" is a must-try dish. The combination of vegetables, spices, and hummus over caramelized onion rice brings a flavorful and exciting experience. They offer smoothies, desserts, and refreshing teas as an added bonus. Prem also offers a delivery menu for people to enjoy their meals in the comfort of their own homes. This place ranks third position in the list of best Vietnam vegetarian restaurants also thanks to the cozy and warm decoration.
4. Secret Garden in Ho Chi Minh City
Address: 158 Pasteur Street, Ben Nghe, District 1, Ho Chi Minh City
Opening hours: 11:00 am – 10:00 pm daily
Secret Garden is a delightful spot to enjoy authentic, home-cooked Vietnamese food in Ho Chi Minh's District 1. The rooftop oasis with Vietnamese-style lanterns, twinkle lights, gardens, and wooden furniture is sure to create a cozy and inviting atmosphere for diners. This restaurant offers family-style dining, making diners feel at home, and a great spot to enjoy your meals with your loved ones. Even though there are no elevators to the rooftop, a short hike is nothing compared to the quality dish and the amazing atmosphere around.
5. ANs Vegetarian Cuisine in Da Nang
Address: 169 F Truong Nu Vuong St, Hai Chau District, Da Nang
Opening hours: 8:00 am – 9:00 pm daily
ANs- Vegetarian Cuisine offers not just Vietnamese vegetarian dishes, but a range of international dishes that will appeal to a variety of tastes. The restaurant uses fresh and pure ingredients and that is reflected in the quality of their foods. The elegant and cozy atmosphere of the restaurant also adds to the dining experience, creating a welcoming and relaxing space for guests to enjoy their meals. ANs- Vegetarian Cuisine is well-known as one of the best vegetarian restaurants in Vietnam, this is surely a restaurant you shouldn't miss when coming to Da Nang.
6. Best Vietnam Vegetarian Restaurants – The Fisherman in Hoi An
Address: Cam An, An Bang Beach, Quang Nam Province
Opening hours: 8:00 am – 9:00 pm daily
Located on the beach, this restaurant sounds like the perfect place to enjoy some vegan eats while soaking up some sun. By offering a diverse range of menu items, this restaurant is showing that vegan food can be just as tasty and satisfying as traditional dishes. From fresh juices to savory burgers and fries, The Fisherman has something for everyone. This new vegan restaurant on the beach in Hoi An is something worth experiencing. The Fisherman has earned its place as one of the best Vietnam vegetarian restaurants.
7. Nourish Eatery Café and Restaurant in Hoi An
Address: 220a Nguyen Duy Hieu, Cam Chau, Hoi An, Quang Nam Province
Opening hours: 9:00 am – 4:00 pm from Tuesday to Sunday (Closed on Monday)
At Nourish Eatery, the staff was very friendly and knowledgeable about the food. The vegan burger, the smoothie bowls, the falafel bowl, the tacos, etc. All tasted so incredibly delicious! Also, a big plus, they serve affordable big glasses of tasty fruit drinks (cold-pressed juices and delicious fresh smoothies) that aren't watered down with ice. They also offer a "Build your own salad" menu and various dietary preferences by offering meat options like chicken alongside their primarily vegetarian menu. Still, all their options can be made vegan, they are ready to provide something for everyone. Nourish Eatery is a fantastic place to enjoy flavorful and healthy vegetarian and vegan meals, a place worth visiting for anyone looking for a delicious and inclusive dining experience.
8. Aummee Vegetarian Restaurant in Hanoi
Address: 26 Chau Long Street, Ba Dinh District, Hanoi
Opening hours: 10:00 am – 2:00 pm and 5:00 pm – 9:00 pm daily
Aummee serves traditional Vietnamese plant-based cuisine in an elegant and intimate setting. The restaurant located near Truc Bach Lake adds to the ambiance, providing a serene atmosphere for diners to enjoy their meal. Aummee is well-known for its eye-catching and creative presentations and preparations of its dishes. The extensive menu offers a range of fresh salads and well-presented dishes. They also have a souvenir corner selling handicrafts made by local artisans, providing diners with a unique opportunity to support local businesses and take home a special memento of their visit to Aummee.
9. An Lac Vegetarian in Hanoi
Address: 109 Tran Hung Dao Street, Hoan Kiem District, Hanoi
Opening hours: 9:00 am – 2:00 pm and 5:30 pm – 9:00 pm daily
Enjoy an all-vegan buffet for less than $5 USD in Hanoi. The buffet offers a wide range of options, from fresh fruits to mock meats and fried noodles, there are so many vegan options available, allowing people to try new dishes and enjoy delicious plant-based meals. The restaurant is very popular with the locals, some even calling it the "best all-you-can-eat buffet ever." This is also one of the must-eat restaurants for any travelers joining our health and wellness tours to Hanoi.
10. Best Vietnam Vegetarian Restaurants – Uu Dam Vegan in Hanoi
Address: 55 Nguyen Du Street, Hoan Kiem District, Hanoi
Opening hours: 9:00 am – 2:00 pm and 5:30 pm – 9:00 pm daily
Uu Dam Vegan is the place to be if you are looking for a high-end, fine-dining vegetarian/vegan experience in a calm and peaceful setting. The menu offers a variety of Vietnamese and Western dishes that are sure to please every diner with many different tastes. The experience of services and delicious meals here have earned Uu Dam its place among the best vegetarian restaurants in Vietnam.
These are the top 10 vegetarian restaurants in Vietnam spreading throughout the country. Whatever city you are visiting for your trip, don't forget to drop by one of the restaurants mentioned above to enjoy a Vietnamese vegan experience for a change. Feel free to contact us to help you plan your trip to Vietnam.
>>> Read more: Top 30 Popular Vietnamese Dishes: Must-Try Vietnamese Foods