Best time to visit Sapa
Sapa is best visited between March and May, and September and November. The weather is relatively stable at this time of year, with sunny days and cool nights. The first period is the autumn season. The weather is very pleasant for tourism at this time of year.
You can experience the dry season in the south while also having the opportunity to witness a rare moment of beauty in Sapa. Between the middle of December and early January, snow and snowfalls are common. They typically last about 1-2 days.
Best places to visit in Sapa
Mount Fansipan
Fansipan, also known as the "Roof of Indochina," is the highest mountain in the region, rising to a height of 3,143m in the heart of the Hoang Lien Son Range. Trekkers can admire the unique flora and fauna system and discover our scenic mountain passes along the way.
Ethnic Villages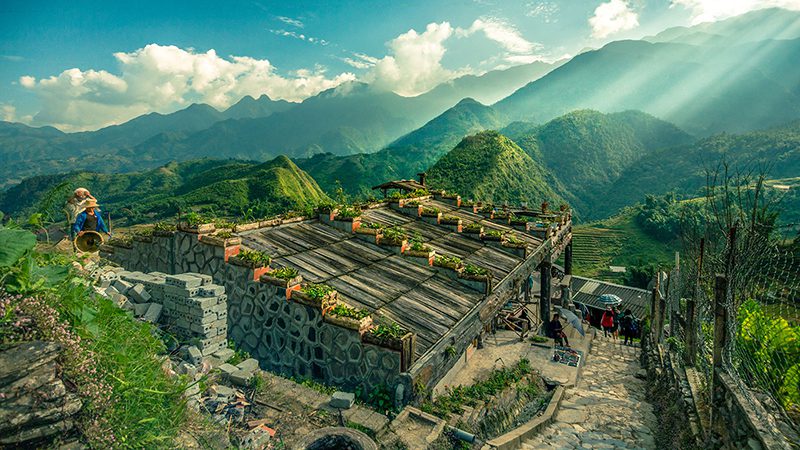 Cat Cat, Sin Chai, Ta Van, Ta Phin, Ban Ho, Y Linh Ho, and Giang Ta Chai are some unspoiled ethnic villages to visit. Cat Cat and Sin Chai are close to the town centre, whereas other villages will take more time to reach.
Ham Rong Mountain
Ham Rong Mountain, located in the town centre, is a must-see when visiting this wonderful town. Ham Rong is about 2000 meters tall and has a diverse plant and flower system. Climbing to the top of this mountain provides a panoramic view of Sapa, which is shrouded in mist and surrounded by lush green scenery of forests and rice terraces.
Sapa Church
Built in 1895, Sapa Church has retained its French Gothic architecture to this day. It is considered the most recognizable feature of the city. In front of the church is a square where locals gather to sing and dance at festivals and sell traditional brocades.
Muong Hoa Valley
Hoa Stream, which runs through Ta Van, Lao Chai, and Hao Thao villages, is the valley's defining feature. This area has been designated as a national treasure in need of local protection.
Best food in
Sapa
 Five-color sticky rice (xôi ngũ sắc)
This is the Tay ethnic people's traditional dish. It gets its name from the fact that it has five colours. According to their beliefs, these five colours represent the five elements of life: yellow is earth, green is plant, red is fire, white is metal, and purple is water. This colourful sticky rice is made without the use of any chemicals; only natural leaves and flowers are used.
Salmon
It may sound strange, but in Sapa, you can really find fresh and delicious salmon. Sapa has successfully bred salmon varieties from Scandinavia all year round thanks to the cool climate. Sapa salmon is nutrient-rich, low-fat, and delicious. Salmon can be prepared in a variety of ways, including grilled salmon, salad, sashimi, baked salmon, and curried salmon.
 'Carried-under-arm' pork (lợn cắp nách)
Because the pig is small, it is said to be 'carried under arm'. Because these pigs are raised in the hills or forests, their meat is tender and low in fat.
Dried Buffalo Meat (Thit Trau Gac Bep)
It is also known as dried buffalo meat or smoked buffalo meat. It was initially invented to preserve food during rainy days. The meat is usually seasoned with salt, garlic, pepper, and ginger by the black Thai people.
We hope the above article provides you with useful information about Sapa. If you are interested in Sapa tours, don't hesitate to contact us.