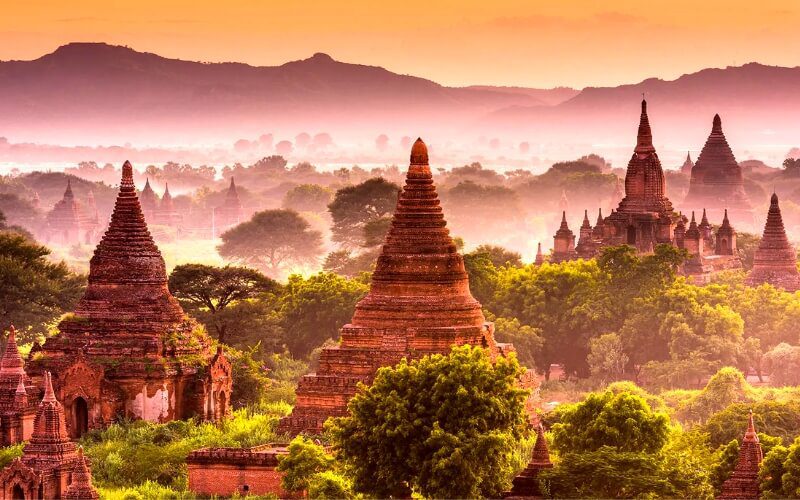 Located approximately 600 kilometers to the north of Yangon, on the banks of the Irrawaddy River, Mandalay is home to a myriad of Buddhist monasteries and stunning examples of Myanmar's famous masonry. It was once the capital of Myanmar's last independent kingdom and is the second-largest city in the country. 3 days in Mandalay is enough for you to discover this cultural center of Myanmar. Check out the following article for the best travel advice and suggested itineraries.
Best Time to Visit Mandalay
If you're planning a trip to Mandalay, the ideal time to visit would be between October and January. During these months, the weather is pleasant with manageable humidity levels, and it's not excessively hot. It's a great time to enjoy a boat cruise along the Irrawaddy River, which is a popular activity in Mandalay. From late February, summer gradually sets in, and the months of March to May are the hottest. Monsoon season starts in Mandalay towards the end of July and continues until September, bringing heavy downpours and occasionally causing floods in the city.
What to Do in 3 Days in Mandalay
1. Climb Mandalay Hill
Mandalay Hill is a famous tourist spot located to the north of downtown Mandalay. Rising 230 meters above sea level, it is adorned with numerous pagodas and Buddhist temples and offers a breathtaking panoramic view of the city. Visitors can enjoy stunning sunrise and sunset views, making it a must-visit attraction during a trip to Mandalay. Climbing to the top of Mandalay Hill to witness these views is an unforgettable experience that visitors should not miss while in Mandalay.
2. Admire Mandalay Palace
A visit to Mandalay Palace is a must for anyone interested in Burmese history and architecture. It is renowned as the final residence of the Burmese monarchy, situated within a 413-hectare fortified fortress and surrounded by a picturesque moat. The palace was home to the last two kings of Myanmar – King Mindo and King Thibaw. The fortified wall system stretches 2 km in length and features 48 artillery launchers. There are 12 doors representing the 12 zodiac signs, with each side of the wall having three doors placed equidistantly from the corners. The moat even had a spike system to ensnare invaders, showcasing its strategic design.
3. Visit U-Bein Bridge
U Bein bridge, located in the ancient city of Amarapura in Mandalay, is considered the longest teakwood bridge in the world, stretching over 1200m through Taungthaman Lake. Built-in the mid-1800s, it is also the oldest teakwood bridge still in existence. Made entirely of wood, the bridge has 1000 pillars and thousands of pallets. It was named after Amarapura's mayor, U Bein, who suggested using the unused wooden sticks from the palace to construct the bridge.
4. Stop by Mingun Pagoda
The remarkable Mingun Pagoda, also known as the Pahtodawgyi ruins, is a massive structure built in the 18th century and meant to be the largest temple in the country. The Pagoda can be easily accessed with a short ferry ride over the Irrawaddy river, followed by a walk on a footpath around the structure.
Climbing the flight of stairs will lead you to the top of the building where you can enjoy breathtaking views of the whole area. The ruined doorways of the rectangular building make for great photographs. One of the doorways even has a huge crack caused by an earthquake, making it feel like an Indiana Jones set. Although the interior of the building is sealed off, you can still walk inside and admire the collapsed structure that extends about one meter deep. Nearby is the world's largest ringing bell, weighing 90 tons, and the Hsinbyume white pagoda, both fascinating places to visit.
5. Discover Kuthodaw Pagoda
Situated at the base of Mandalay Hill, the Kuthodaw Pagoda is a Buddhist stupa constructed during the reign of King Mindon Min in 1857 as part of the traditional foundations of the new royal city of Mandalay. King Mindon was concerned that the British invasion would lead to the loss of the teachings of Gautama Buddha. Therefore, he had the idea of preserving the entire text of the Tipitaka Pali Canon of Theravada Buddhism by engraving them in enormous stone slabs. Each slab is a meter wide, a meter and a half tall, and 13 centimeters thick, with a total of 730 slabs. They are housed in its own shrine called kyauksa gu, which has a precious gem on top, and they are arranged around the central golden pagoda. These 730 marble slabs are collectively known as the "world's largest book."
6. Explore Shwenandaw Kyaung Monastery
Shwenandaw Kyaung is a remarkable example of teak architecture from the 19th century and a masterpiece of intricate woodcarving art depicting Buddhist mythology. Originally part of the Amarapura royal palace, it was built by King Mindon's artisans and adorned with gold-encrusted leaves and glass. However, it was removed in 1857 and transported to Mandalay's palaces. Later, in 1879, the King had it reconstructed in a teak structure, fearing being haunted by evil spirits after his father's passing.
Today, Shwenandaw Kyaung is a monastery and a popular tourist attraction with skillfully crafted sculptures and engravings on its exterior and interior depicting Buddhist myths and stories. Visitors can take a rickshaw to explore this valuable piece of Mandalay's history.
>>> Read more: Popular Temples in Myanmar: The Top 10 You Should Visit
Suggested 3 Days in Mandalay Itineraries
Visiting famous Buddha temples must be a priority when you visit Mandalay. Tourist attractions such as Mandalay Palace, Shwenandaw Kyaung Monastery, Mingun Pagoda, and Kuthodaw Pagoda should always be included in your Mandalay itinerary. If not, your trip to Mandalay will not be incomplete.
Option 1: Mandalay Spiritual Adventure
Day 1: Watch the sunset at U Bein Bridge on Taungthaman Lake
Day 2: Visit Kandawgyi National Botanical Gardens and Forestry Museum
Day 3: Admire the magnificence of Shwenandaw Kyaung Monastery, Kuthodaw Pagoda, and Mingun Pagoda and departure.
After 3 days in Mandalay, you can come back home or continue to visit other tourist destinations in Myanmar, such as Bagan, Inle Lake, Yangon, etc. If you have enough time and are affordable, you can spend up to 10 days discovering Myanmar's spiritual spots. Or, visit Mandalay in 3 days and then continue with 3 days in Bagan.
Option 2: Mandalay Exotic Retreat
Day 1: You visit the Mahagandayon Monastery and Golden Palace to learn about Buddhist literature. Then, move to U Bein Bridge, Mahamuni Pagoda and Kuthodaw Pagoda.
Day 2: Boat along the Ayeyarwaddy River, en-route visit Settawya Pagoda and Mingun Pahtotawgyi before entering the world-famous Mingun Bell and Myatheintan Pagoda
Day 3: Morning shopping at Nyaung U Market before paying a visit to Shwezigon Pagoda, Ananda temple, and finally the Oak-Kyaung Monastery.
For a grand sightseeing experience, you can combine a visit to Mandalay's heritage sites with time unwinding at similar ones in Northern Vietnam, such as Hanoi Old Quarter, Ha Long Bay, the Ancient Royal capital in Ninh Binh province, etc. These Myanmar and Northern Vietnam Exotic Retreats make up a perfect tour to explore the culture of two countries in just one trip.
What to Eat on Mandalay Trip
1. Mont Di (Noodle Salad)
Mont Di is a renowned breakfast dish not only in Mandalay but also throughout Myanmar. It comprises thick rice noodles mixed with chicken, fish balls, onions, and a few other ingredients. The white rice noodles are turned yellow by adding chicken pea flour, red chili paste, and oil. Mont Di shops offer two different sizes of rice noodles: Nan Lat (medium-sized) and Nan Gyi (large-sized). While Nan Lat is popular in Yangon and other regions, only Mandalay locals eat Nan Gyi. When visiting Mandalay, be sure to try this delicious and scrumptious breakfast dish.
2. Mandalay Htoe Moat and La Mote
Htoe Moat is a sweet glutinous rice cake topped with cashew nuts, raisins, and cream butter. However, if you prefer less sweetness, you can order the plain version without the cream butter and other fruit toppings. La Moat originated from the traditional Chinese moon cake but has developed its own unique taste and style over the past century. Both cakes are made using roasted glutinous wheat flour to make a soft outer dough covering. A paste made from sweet bean or white sugar mixed with margarine is inserted into the middle before baking.
These are definitely must-eat foods in Mandalay. Visitors can even buy them as gifts for their family and friends.
3. Lemon Fish
If you're looking for a delicious dish to try in Mandalay, be sure to order the Lemon Fish – the steamed fresh fish with garlic and tangy lime. This appetizing dish is sure to satisfy even the most discerning taste buds with its sweet, tangy, sour, and slightly spicy flavors.
4. Wat Thar Dote Htoe
Pork skewers simmered in light soy sauce are popular street food in Burmese cuisine, called Wat Thar Dote Htoe. These skewers are not just meat but also come from other parts of the pig, such as the lung, heart, intestine, kidney, and tongue, typically served with garlic and chili sauce.
Wat Thar Dote Htoe is sold in many stalls along Mandalay streets. You will find various trays of pork sticks, just choose ones you like and enjoy with vegetables and a salad. At the end of the meal, the servers will count the number of sticks and charge accordingly.
Mandalay Travel Tips
Mandalay is the cultural capital of Myanmar, founded by King Mindon as the center for Buddhist teachings. Despite losing its name as the 'Golden City', it remains a significant cultural hub with famous attractions such as the Mandalay Palace, Mandalay Hill, the world's oldest teakwood bridge – U-Bein, and breathtaking pagodas. The city is home to 300,000 monks and has undergone remarkable developments in recent years, attracting visitors from all over the world.
Planning a trip to Mandalay, you need to consider the best time to visit, transportation, what to pack, and so on. For detailed information, you can refer to our Mandalay Travel Guide or 15 Things to Know Before Visiting Myanmar.
For more suggested 3 days in Mandalay itineraries, you can refer to our Myanmar tours or contact us directly for a tailor-made trip to Mandalay.