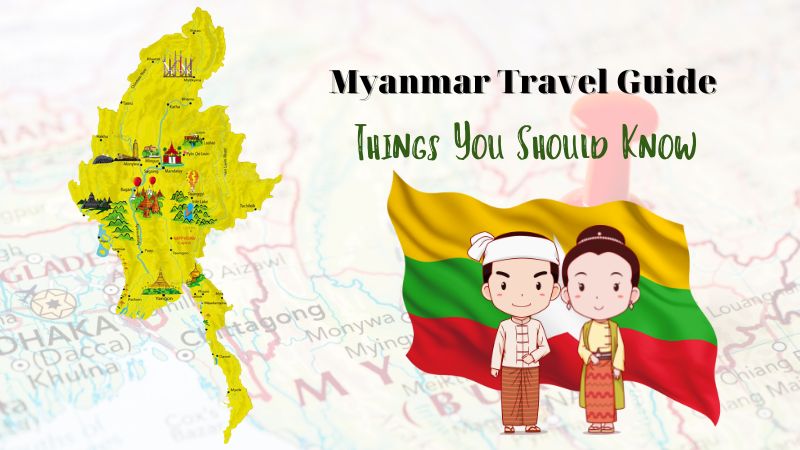 When you first step into a new place for the first time, visitors are often wondering and curious about a lot of things they may experience on the new land. In this article, we will travel to Myanmar, the homeland of famous places such as Yangon, Bagan or Mandalay,…Here are our Myanmar Travel Guide with 15 things to know before traveling to Myanmar in 2022:
Get prepare for the necessary documents
Above all, the first thing you should get is the Myanmar visa. To enter Myanmar after the outbreak of COVID-19 cases, visitors must be fully vaccinated and deliver a passport valid for 6 months to apply for a visa. An e-tourist visa costs $50. The maximum stay in Myanmar is less than 28 days from the time of entry. 
All foreign visitors before coming to Myanmar must have a Visa (visa) issued by the Myanmar Embassy or Consulate and must be valid for entry and exit. Besides, just don't forget to bring a printed copy of your acceptance letter when entering and leaving Myanmar.
The Must-go tourist spots in Myanmar
The ancient capital of Bagan is a must-see destination in the Myanmar backpacking itinerary. This place became extremely famous with 2000 temples and stupas, which preserves a lot of beautiful architecture and Buddhist history in Myanmar. Tourists can rent a bicycle or a horse-drawn carriage to visit and admire all the beautiful scenes in Bagan. 
Lake Inle, also known as Nyaungshwe, is one of Myanmar's most popular tourist destinations. Visitors can take a one-day boat tour to experience the locals' life in a floating village, as well as fishermen fishing on the narrowboats, and numerous pagodas and monasteries. 
Shwedagon Pagoda, the most important pilgrimage place. The most memorable thing of Shwedagon Pagoda is the ancient architecture and is inlaid with up to 90 tons of gold around the wall, the top of the tower is encrusted with thousands of 76-carat diamonds. Visitors must experience the mystical atmosphere with the pagoda lit up by spotlights.
The Mergui Archipelago retains its wild and rustic beauty. It consists of 800 large and small coral ecological islands with different shapes and colors. In order to experience the Mergui, travelers can rent a kayak or a boat from the locals. Tourists can go kayaking, snorkeling, take boat trips, set sail and go diving in Mergui, in order to relax and enjoy the impressive scenery.
Do not overspend the travel budget
Many tourists get hooked on shopping when they first travel abroad. However, you should not get caught up in this situation because surely it will destroy the original travel plan, as well as making travelers pay for the extra baggage on the return date and affect the other expense in the trip. 
It is best to spend money only to buy necessary and unique items or souvenirs bearing the imprint of Myanmar.
What to avoid in Myanmar
The very first thing is never touch one's head or use your feet to point at someone. Because in Myanmar, the head is considered to be the most sacred, and the feet are believed to be the dirty part.
Second, do not use your left hand. Myanmar people believe that the left hand should only be used for hygiene activities, so it is not clean. Therefore, they use their right hand to eat and drink. Next to the dining table will always place a basin of water for everyone to wash their hands before dining. 
Third, do not stay at hotels that are not registered with the government agency. All foreign visitors entering Myanmar must declare the hotel or motel they will be staying at. So, if you accidentally land an unlicensed address by the government, you will most likely be detained and not allowed to enter the country.
Fourth, always be available and bring cash when traveling to Myanmar. Myanmar has very few ATMs and almost all services are used in cash. So visitors should bring cash, avoid making money crumpled or having strange traces. Credit cards can only be used at high-end hotels and restaurants.
The finest time to visit Myanmar
One of the frequently searched things about Myanmar Travel Guide is when to visit this country. And the ideal time to travel to Myanmar is autumn, which is the period from November to the end of February. This time is considered one of the most beautiful seasons of the year in Myanmar.
This time will last until the beginning of the year's dry season from March to April. The months of July, August and September are the seasons with a low number of visitors because at this time Myanmar enters the rainy season, making it difficult to visit the places, inconvenient and unsafe when the traffic system has not developed strongly.
Get to know Myanmar culture
The Burmese people have their own, strong culture. First thing first, thanaka. Women in Myanmar use Thanaka as make-up powder on their face, neck and hands to protect themselves from the sun.
Both men and women in Myanmar wear traditional skirts, also known as "longyi" skirts. The only difference is the way of tying, men tie the skirt in the front, and women fold it at the side.
In traditional Myanmar villages, temples are the center of cultural life. Monks are revered and people always kneel before them to show their respect. The initiation ceremony called shinbyu is the ceremony that marks the most crucial maturity of a boy when he enters a monastery for a short period of time. Girls also have an ear piercing ceremony when they reach adulthood. Myanmar culture is most evident in villages where local festivals are held throughout the year, the most important of which is the temple ceremony.
Is Myanmar a safe destination?
Safety is one of the top priorities for travelers when they look for the Myanmar Travel Guide. And Myanmar is safe in places where foreign travelers are allowed to visit. The incidents of street robbery and pickpockets, although occurring, are quite rare in Myanmar.
In fact, the only areas in Myanmar that have been considered dangerous are the off-limits areas. However, the government has already limited these conflict places to tourists. Luckily they do not overlap with places of interest like Bagan, Taung Kalat, Inle Lake, etc.
Budget in Burma
Always at the top of the most important things of Myanmar Travel Guide before traveling to Myanmar, there are expenses that every traveler should know. For accommodation, visitors often paid around 110.000 Kyat for each double room with breakfast included. For food, it will be extremely cheap if visitors eat in local restaurants in Myanmar. This is the best way to enjoy authentic dishes, which only cost around 4000 Kyat per dish with a drink. For traveling, motorcycle rental costs around 5000 Kyat, bus prices cost between around 8000 Kyat to 22.000 Kyats. Grab taxis usually cost 7000 Kyats for a one hour journey
Besides, visitors should also know some of the prices of well-known destinations in Myanmar, such as Bagan with an entrance fee of 25000 Kyats, or Shwedagon Pagoda with a cost around 10.000 Kyats.
Knowing about Myanmar's Kyat
Kyat is known as the main currency used in Myanmar. In Myanmar, the use of Kyat money is not absolute, international tourists still use USD, however Kyat money is still the most popular. ATMs are not commonly used when touring Myanmar, so visitors should carry cash to pay for local things. 
For Myanmar currency, visitors should change to USD first, then travel to Myanmar and change USD to kyat to get a better price. You can look up the exchange rate between kyat and USD via this link.
A place to stay in Myanmar
Myanmar is increasingly a hot tourist destination and faces a shortage of accommodations, especially in popular tourist areas such as Yangon and Bagan, so most hotels are generally more expensive. Most hotels and hostels have their prices in US dollars, however, they'll accept payment in both US dollars and kyat for visitors. However, in some places, paying for a room in kyat was cheaper. 
It will be less expensive for travelers to stay in homestays. But the accommodation and facilities are usually pretty basic in homestays in Myanmar. Visitors can share the bathroom, and could have to bathe with a bucket of water.
What to eat in Myanmar
What to eat is one of the important things in Myanmar Travel Guide. The food here is usually quite greasy and spicy, so it may not be too suitable for visitors who can't eat greasy and spicy food. The prices of the dishes are also quite affordable. A popular meal ranges from 7,000 to 10,000 Kyat. 
The most popular Myanmar food is Laphet Thohk. The sour and bitter leaves are mixed with shredded cabbage, sliced tomatoes, nuts and peas. Besides, Mohinga is the unofficial national dish of Myanmar. The recipe to make this dish is quite complicated, it requires delicious noodles, the broth is stewed from fresh fish, herbs and chives. Mohinga is the favorite dish of many tourists.
Travel between places in Myanmar
One of the most convenient means of transport that you can choose is a taxi. Ticket prices range from 5000 – 6000 Kyat for 1 hour. In addition, you can choose a bus that is both cheap and has good service.
Almost all taxi companies have spacious seats and almost all buses have sockets for charging phones. This is considered very convenient for you to ride while you can charge your phone battery.
In addition, travelers always took a night bus instead of flying because the cost was much lower to take night buses than flights around Myanmar.
Common scams in Myanmar
Be careful when buying gems. This place is famous for precious stones, especially gems and jade, but many scams still take place every day. If visitors decide to purchase a gemstone, be sure the gem has an official receipt or certification from a licensed government dealer. That's because visitors will need to show that certificate when they leave the country or they may get into legal trouble.
How to stay in touch
For Internet connection, some hotels provide internet but the price is very high, and visitors also need to contact the hotel reception if they prefer the hotel's wifi. In addition, the internet connection is extremely slow in Myanmar's cafes, except for the shops in the city center.
For public phones, travelers can hardly find any public phone booths in the city. All outbound calls are controlled and allowed by the government.
Keep in touch with the Embassy
Tourists must save the Embassy phone number and register information for the embassy when traveling to Myanmar. They can register their personal information with the embassy or consulate so that they can assist in emergencies such as natural disasters or political turmoil.
Hope that our Myanmar Travel Guide will help you have important informations about Myanmar before you travel to this beautiful country. If you have any questions or want a tailor-made tour in Myanmar, do not hesitate to contact us now.
Will you put Myanmar on your bucket list? Get your ticket now and you will be totally captivated by the best and most attractive Myanmar.