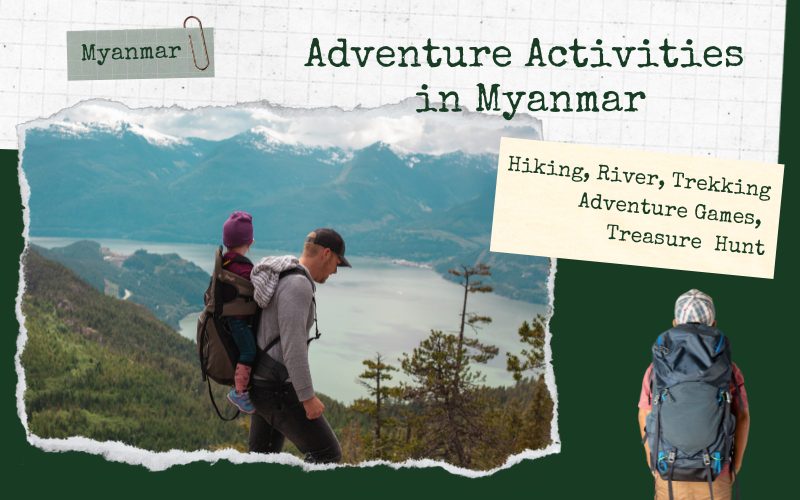 Myanmar, a stunning nation, boasts a plethora of exciting adventure activities that cater to thrill-seekers and outdoor enthusiasts. From leaping off cascading waterfalls to navigating the exhilarating rapids of the Nam Lang River through white water rafting, each adventure in Myanmar leaves you with a sense of renewed vitality. Among the cherished activities that captivate visitors are embarking on a trek from Inle Lake to Kalaw, indulging in rock climbing adventures at Hpa-An, and exploring the depths of Shark Cave through diving. These adventure activities in Myanmar offer a unique and thrilling way to experience the natural beauty, cultural heritage, and hidden gems of this beautiful country. Be sure to choose the activities that match your interests and embark on an unforgettable adventure in this captivating country.
Best Time for Adventure Tours in Myanmar
The best time for participating in adventure activities in Myanmar largely depends on the specific activities and regions you plan to explore. Generally, Myanmar experiences three distinct seasons: the cool and dry season, the hot season, and the rainy season.
Cool and Dry Season (From October to February): This is considered the best time for adventure tours in Myanmar as the weather is pleasant with cooler temperatures and minimal rainfall. It's ideal for activities such as trekking, cycling, rock climbing, hot air ballooning, and wildlife safaris. It's also a great time to visit coastal areas for diving and snorkeling.
Hot Season (From March to May): During this period, Myanmar experiences high temperatures and dry conditions. While it can be quite hot, adventure activities like kayaking in Inle Lake or water rafting on rivers can still be enjoyed. Coastal regions, such as Ngapali Beach, are popular for water sports during this time.
Rainy Season (From June to September): This season brings heavy rainfall and increased humidity to Myanmar. Therefore, adventure activities might be limited due to weather conditions. Trekking and outdoor activities in hilly regions may be challenging and restricted due to muddy trails and landslides. However, it can be a good time for off-season travel with fewer crowds.
Must-Try Adventure Activities in Myanmar
Swim at Nantmongyi Waterfall
Nestled in the township of Pinlaung, Myanmar, Nantmongyi Waterfall is an exquisite gem off the well-trodden path. This destination beckons adventurers to venture beyond the beaten trails and discover its allure. With its crystal clear waters cascading gracefully, Nantmongyi Waterfall casts a spellbinding spell on all who visit. Be ready for a journey to this mesmerizing wonder, where the transparent currents weave through the breathtaking falls, creating a picturesque sight to behold. As you swim along the river, you'll be enchanted by the surrounding jungle oasis. Nantmongyi Waterfall is exactly a place where nature's secrets are revealed to those willing to explore its hidden depths.
Explore Pyin Oo Lwin Floral Town
Pyin Oo Lwin, known as the Town of Flowers, attracts visitors with its scenic splendor and a plethora of exploration opportunities at every twist and turn. This former British colonial town holds treasures waiting to be discovered. Head east of the town and immerse yourself in the tranquil embrace of Pwe Gauk Falls, a series of small waterfalls that serve as idyllic retreats for relaxation. Venture southwest to encounter the breathtaking Dat Taw Gyaint waterfall, where pristine waters splash into a crystalline pool, inviting visitors to indulge in a refreshing swim.
No visit to Pyin Oo Lwin is complete without a visit to the town's enchanting botanical gardens, the National Kandawgyi Gardens. Discover a cornucopia of English plants, wander through the fragrant rose garden, and marvel at the exotic orchid garden. Within this sanctuary, you'll also find three captivating museums, including the fossils museum, the petrified wood museum, and the butterfly museum. Embark on a leisurely nature walk through the gardens, meandering past serene lakes and winding pathways.
Discover the Fishing Technique of Inle Lake
Inle Lake is renowned for its extraordinary fishermen, who employ a distinctive method to catch fish in the shallows. Belonging to the Intha tribe, these skilled fishermen balance on one leg at the boat's edge while entwining the other leg around the oar. This intricate technique demands exceptional strength and balance, showcasing their remarkable abilities. Immerse yourself in the enchanting beauty of Inle Lake as you glide across its waters on a traditional long-tail boat. Along the way, you can admire the captivating sights of floating gardens and bustling local markets. Witness the fascinating leg-rowing fishermen, a distinctive technique found only in this region. Embrace the serene ambiance of the lake and encounter traditional Shan villages, where time seems to stand still. Let the allure of Inle Lake transport you to a world of tranquility and cultural richness.
Trek from Inle Lake to Kalaw
Trekking is a highly favorite activity in Myanmar, and if a one-day adventure in Inle Lake isn't enough to satiate your wish, the trekking route from Inle Lake to Kalaw is a perfect choice. Spanning from two days to a week, this trail allows you to embark on a captivating journey. Beginning at Inle Lake, you'll traverse the rolling hills of Shan State, immersing yourself in the stunning natural scenery. Along the way, you'll have the chance to stay in local Pa'O villages, experiencing their warm hospitality and cultural traditions firsthand. In addition, visit to serene Buddhist monasteries will provide moments of tranquility and spiritual reflection. For those seeking more challenges, the route between Baw Nin Khone and Than Dang offers an exciting option. By taking this demanding path, you'll have the chance to spend a night at the renowned Tithein Monastery.
Hike through the Putao Landscape
Step into a realm of awe-inspiring beauty as you embark on a hiking adventure through the Himalayan landscape of Putao. Nestled amidst the grandeur of nature, Putao offers a haven for explorers seeking to immerse themselves in the pristine beauty of the region.
You can traverse the rugged trails that wind through this enchanting terrain, revealing breathtaking vistas at every turn. As you ascend, be prepared to be captivated by the towering peaks, cascading waterfalls, and verdant valleys that stretch as far as the eye can see. The Himalayan landscape of Putao unfolds like a majestic tapestry, inviting you to unravel its secrets through each step you take. Besides, you'll also encounter diverse flora and fauna, from vibrant orchids and rhododendrons to rare wild animals such as the majestic snow leopards and red pandas.
Jungle Trek in Ngapali
Indulge in the mesmerizing beauty of Ngapali Bay as you embark on an unforgettable jungle trekking adventure. Ngapali is not only a famous place for Myanmar beach holidays, but it also brings you to the vibrant wildlife of Myanmar's lush jungles. With Ngapali's jungle treks, you can escape into the wilderness and witness the wonders of nature firsthand. Feel the thrill of exploration as you traverse through the diverse landscapes, encountering exotic wildlife and discovering hidden gems along the way. These treks offer a perfect solution for those wondering what to do in Myanmar, providing an exhilarating adventure in the timberlands. To ensure a safe and immersive experience, it is highly recommended to join guided tours that will navigate you through the dense timberland.
White Water Rafting in Kachin State
Experience the exhilaration of white water rafting in Kachin State as you embark on two of the most sought-after river expeditions: the Nam Lang River and the Malikha River. These unforgettable journeys will leave you in awe of the natural wonders that surround you.
The Nam Lang River excursion promises an adrenaline adventure as you navigate Class 3 and 4 rapids coursing through forested canyons. Immerse yourself in the untouched beauty of the surroundings and gain insights into the traditional way of life that has endured for centuries. This journey offers a thrilling blend of excitement and cultural immersion, making it one of the most captivating adventure activities in Myanmar. For a scenic and memorable expedition, the Malikha River is the best choice. This voyage combines a picturesque river gorge cruise with a visit to the charming village of Manchanbaw. From there, you'll venture downstream, weaving through forested hills and encountering stretches of pristine white river beaches. Keep an eye out for villagers engaged in the gold panning, adding a touch of intrigue to your journey.
Visit Temples in Bagan by Bicycle
Bagan, Myanmar's renowned ancient city, has long captivated the hearts of tourists. However, instead of merely joining the crowds, why not embark on a thrilling adventure and explore the area by bike? Biking around the temples of Bagan offers a magnificent opportunity to delve deeper into this ancient city's treasures.
With its sprawling expanse, biking through the temples of Bagan enables you to cover more hidden gems that might otherwise remain unseen. Along the scenic paths, you'll have the chance to discover hidden corners and embrace a more intimate connection with the remarkable heritage that surrounds you. To enhance your experience, consider renting a bike in the late afternoon. The cooler temperatures create a comfortable environment for exploration. As you pedal through the enchanting landscape, be prepared to witness breathtaking temple views that are iconic to Bagan's allure.
>>> Immerse in the historical and spiritual spirit of Bagan's temples with our suggested itineraries and travel tips for 3 days in Bagan.
Hot Air Balloon in Bagan
Riding a hot air balloon over Bagan is one of the highly recommended adventure activities for tourists to truly appreciate the splendor of Myanmar. Observing Bagan from the sky offers a unique perspective and allows you to witness the vast expanse of temples dotting the horizon. The experience of floating above the ancient ruins during sunrise or sunset, when the soft light bathes the temples in a golden glow, is particularly awe-inspiring. Compared to hot air balloon rides in various countries worldwide, the price of indulging in this remarkable activity in Bagan is remarkably reasonable. Let yourself be swept away by the wonder that awaits you as you float above the enchanting landscape of ancient temples and pagodas.
Motorbike/Bike Adventure in Shan State
Renting a motorbike or bike, and embarking on an adventurous journey through the scenic landscapes of Shan State will be an incredible experience! The region is known for its stunning natural beauty, charming hill tribe villages, and winding mountain roads that offer breathtaking views. Experience the thrill of riding a motorbike and embark on an exciting expedition through the captivating landscapes of Shan State. Prepare yourself for an exhilarating ride along twisting mountain roads, where every twist and turn reveals breathtaking vistas. You'll explore the hidden gems of hill tribe villages, immersing yourself in their rich culture and traditions. Allow the enchanting beauty of the Shan Hills to captivate your senses as you venture through this picturesque region. Join our tour to explore the best of this destination.
Rock Climbing in Hpa-An
For those seeking an exhilarating physical challenge, rock climbing is one of the must-try adventure activities in Myanmar. Climbing enthusiasts from around the world flock to this country, drawn by its expanding rock-climbing scene. Among the many climbing destinations, Hpa-An stands out as an exceptional choice.
Hpa-An offers a picturesque backdrop for rock climbing, with a range of routes suitable for climbers of various skill levels. From moderate to expert, there is something for everyone. One of the prominent climbing sites is located near Bayin Nyi Cave, adding an extra touch of allure to your climbing experience. Bayin Nyi is a remarkable Buddhist temple complex nestled on a mesmerizing karst formation. As you ascend, you'll be treated to panoramic views of the complex and the surrounding magnificent landscapes.
Explore the Mergui Archipelago
Nestled in the pristine waters, the Mergui archipelago is hailed as one of the world's dreamiest destinations, where untouched beauty awaits those seeking an escape. Join a tour in the Mergui archipelago, you can immerse yourself in a realm of serenity as you navigate through the archipelago's idyllic islands. With each step, be prepared to be mesmerized by the picture-perfect beaches with powdery white sands that meet crystal-clear turquoise waters. You can dive into the depths of the azure sea and be greeted by colorful schools of fish, graceful manta rays, and even majestic whale sharks. Snorkel along the coral gardens, discovering a kaleidoscope of hues beneath the surface. For more challenges, venture ashore and uncover secluded coves, where lush jungles and towering palm trees provide a backdrop of tropical splendor. Encounter diverse wildlife, from rare bird species to playful monkeys, as you trek through the archipelago's verdant forests.
Kayaking off Myanmar's Southern Tip
Get ready to indulge in a world of adventure as you set off on a sea kayaking expedition off Myanmar's southern tip. This exhilarating experience promises breathtaking landscapes, hidden coves, and a chance to explore the coastal wonders of this captivating region.
Launch your kayak into the sparkling waters and feel the freedom as you navigate along the pristine coastline. The southern tip of Myanmar reveals a tapestry of natural beauty, with towering limestone cliffs, secluded beaches, and crystal-clear turquoise waters that stretch as far as the eye can see. As you paddle, discover secluded coves and pristine bays, perfect for a refreshing dip or a moment of peaceful reflection. You'll marvel at the vibrant marine life that thrives beneath the surface, as colorful coral reefs teem with tropical fish, graceful sea turtles, and a kaleidoscope of marine biodiversity.
Diving Adventure at Shark Cave
When traveling to Myanmar, don't forget to immerse yourself in the wonders of the Myeik Archipelago, a captivating diving destination boasting over 800 islands off the coast of Myanmar. Among the many remarkable sites, Shark Cave stands as a must-visit location for divers seeking an underwater paradise. Shark Cave beckons divers who revel in the allure of nooks and captivating swim-throughs. Discover a labyrinth of small underwater caves, transforming the site into an exhilarating playground for exploration. As you navigate through these hidden passages, you'll be greeted by a bustling marine ecosystem that seeks shelter within this unique environment. Among the marine creatures that grace these waters, the majestic tawny nurse sharks take center stage. Keep an eye out for the elegant grey reef sharks as well, respecting their space and allowing them to freely navigate their habitat undisturbed. Coming here, you can also witness the vibrant tapestry of colorful coral reefs and sponges that adorn the underwater landscape. Within this enchanting garden, you'll encounter moray eels, shrimps, and a myriad of nudibranchs.
Myanmar presents a wide array of exhilarating adventure activities that are bound to captivate and satisfy adventure enthusiasts. Whether you have a preference for hiking, engaging in thrilling water sports, or embarking on cultural explorations, Myanmar has an abundance of options to cater to every adventurer's desires. Contact us for more details about the diverse and exciting experiences that await you in this captivating country.
Read more: