Northern Vietnam is the cradle of Vietnamese culture and history. This land has been over 3000 years in the history of our country and has witnessed all the blood, tears, victory and happiness. At present, all these memories are well preserved in the relics, temples, pagodas and museums that spread everywhere, have become proof of the long history of the country and the favorite attractions of tourists. In addition, the diversity of culture is also a strong point of the North.
Sharing the border with 2 countries (China and Laos) and having different geographical features with coastal areas, deltas, central regions, highlands and mountains, the culture here is diverse with 25 cities and provinces, about 20 ethnic groups using different languages, traditions and ways of life. By booking a North Vietnam tour, you will have the chance to experience a glimpse of this colorful and mysterious land, and of course, there will be no regrets.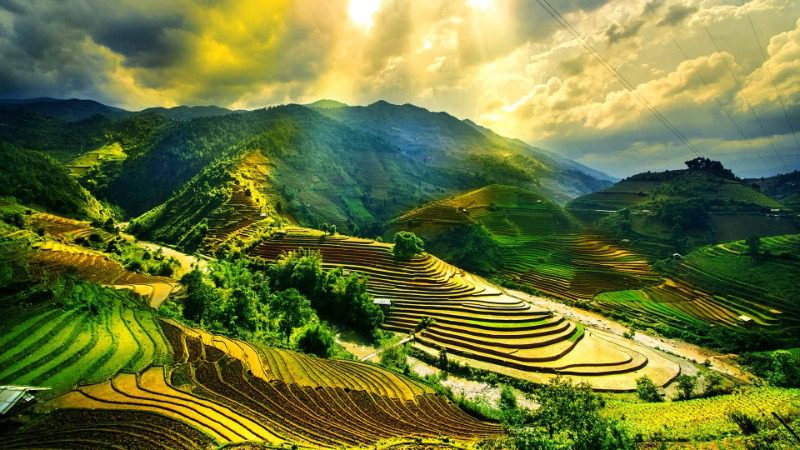 North Vietnam Route
North – West – 6 provinces
Lao Cai, Yen Bai, Dien Bien, Hoa Binh, Lai Chau, Son La.
North – East – 9 provinces
Ha Giang, Cao Bang, Bac Kan, Lang Son, Tuyen Quang, Thai Nguyen, Phu Tho, Bac Giang, Quang Ninh
Red River Delta – 10 provinces
Bac Ninh, Ha Nam, Ha Noi, Hai Duong, Hai Phong, Hung Yen, Nam Dinh, Ninh Binh, Thai Binh, Vinh Phuc.
Hanoi: the capital of Vietnam, the largest city in the North.
There are many types of tourist routes available in the north, from short to long, from relaxing to adventurous, we will learn some details below:
Short Itinerary (4-5 Days): Perfect for a leisure trip between Hanoi and Halong Bay where you don't have to embark on an adventure to explore the bay, a comfortable overnight cruise can totally take you to help. The cultural tour is also best if you decide to travel in a short time to the north to learn more about local tradition, religion, way of life and stories, such as Hanoi or Sapa.
Long route (7 – 14 days): in-depth overview of the northern part, ideal for an adventure tour on a motorcycle or on a hike.
You can take a motorbike tour in Hanoi instead of using a private car, shuttle or walking to get around the city or taste delicious street food at night. Your heart also beats faster on a motorcycle tour through mountainous areas with small roads and dangerous winding passes.
The type of trek is the typical circuit in the remote region of northern Vietnam. Depending on your abilities, you can choose to choose from easy to difficult trekking with different destinations and routes.
On the other hand, Sapa seems to be a highlight for treks in Northern Vietnam and is the challenging destination for any trekker with routes that can be so long, exciting and challenging that it takes you 3-4 days to conquer.
Far North itinerary (> 15 days): available for those who want to discover all regions of Northern Vietnam to learn culture, history and experience local life. You will cross from Hanoi, Halong, Ninh Binh, Mai Chau, Son La, Sapa to Ha Giang, Dong Van, Meo Vac, Babe Lake…
If you cannot find a suitable tour, do not hesitate to contact our travel consultant who can provide you with more information and help you to draw up a perfect plan.