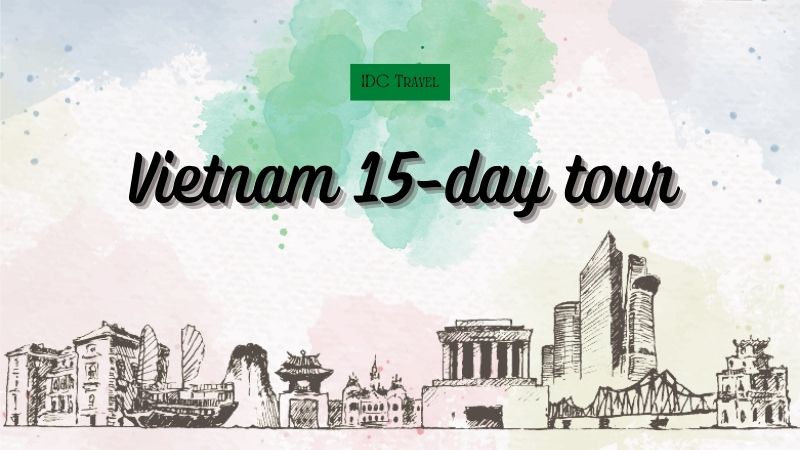 Vietnam is a captivating and picturesque country, beckoning every travel style. Embarking on a 15-day itinerary in Vietnam will provide ample opportunities to connect with its warm-hearted locals, relish delectable traditional cuisine, and immerse yourself in a wealth of incredible experiences and thrilling activities in this S-shaped nation. If you're considering a Vietnam 15-day tour, allow us to assist you with a comprehensive itinerary, outlining the myriad activities to enjoy during your 15-day sojourn in this enchanting country.
Why Visit Vietnam in 15 Days?
In just 15 days, you can savor the finest highlights of Vietnam, allowing you to delve into its diverse landscapes, rich culture, and delectable cuisine. Vietnam, a country stretching from bustling urban centers to serene mountainous regions, offers a myriad of experiences.
Your 15-day itinerary for Vietnam should traverse three distinctive regions of Vietnam: the Northern, Central, and Southern parts. Throughout this adventure, you'll have the opportunity to explore the vibrant attractions of Hanoi, embark on an enchanting overnight cruise through Halong Bay, unwind on the pristine beaches of Da Nang, and immerse yourself in the cultural treasures of Hue and the historic charm of Hoi An. Venturing southward, your itinerary will also lead you to the wonders of the Mekong Delta region and the bustling metropolis of Ho Chi Minh City. Wondering how, continue reading this article!
Striking Places to Visit in Vietnam in 15 Days
Hanoi
Hanoi, with its contrasting allure and challenges, is an essential stop for anyone looking to delve into the heart of Vietnamese culture and history. Amidst the motorbike frenzy, pollution, and the perpetual cacophony of street vendors, some may find themselves overwhelmed. However, for those seeking an immersive experience in authentic Vietnamese urban life, Hanoi offers an ideal destination.
The historic Hanoi Old Quarter exudes a captivating, time-worn charm that beckons exploration. History enthusiasts will discover a treasure trove of knowledge within its confines, including a plethora of outstanding museums. The Vietnam Museum of Ethnology and the Vietnam National Fine Art Museum provide captivating insights into the country's diverse artistic heritage, while the Ho Chi Minh Mausoleum stands as a significant tribute to the visionary founder of modern Vietnam.
Ha Long Bay
Halong Bay, with its mesmerizing seascape, is undeniably among the world's top destinations, a UNESCO World Heritage Site that promises enchanting maritime vistas. Within this bay, a myriad of limestone islands grace the waters, sculpted into rugged peaks by the relentless forces of wind and water over eons.
To truly appreciate Halong Bay's magnificent scenery, a boat excursion is essential. Opting for an overnight tour is highly recommended, as the bay's iconic beauty truly unfolds over time, and a mere day trip falls short of capturing its essence.
Numerous caves pepper the bay, inviting exploration. Among them, Hang Sung Sot (Surprising Cave) stands out with its three colossal chambers, while Hang Dau Go (Dau Go Cave) captivates with its surreal stalagmites and stalactite formations. Yet, for many, the ultimate delight lies in leisurely cruising amidst the towering karsts, absorbing the ever-shifting panorama of pinnacles.
Sapa
The picturesque countryside surrounding Sapa, adorned with lush rice fields, is framed by the rugged peaks of the Hoang Lien Mountains, which are still affectionately referred to as the Tonkinese Alps, reminiscent of the French colonial era. These landscapes form the backdrop to some of Vietnam's most captivating rural panoramas.
Within the deep valleys that cradle this region, a tapestry of ethnic minorities calls this place home, including the Hmong, Giay, and Red Dzao communities. The undulating hills are meticulously terraced with rice paddies and framed by the commanding presence of Fansipan Mountain, the tallest peak in Vietnam.
Sapa reigns supreme as the premier trekking destination in Vietnam, offering an abundance of opportunities to embark on exhilarating treks and day hikes, connecting with quaint villages and reveling in the breathtaking mountain vistas. This town itself serves as the primary hub, once an old hill station, now a bustling and ever-expanding tourist center. It stands in stark contrast to the serene and sumptuous countryside that lies just beyond its bustling borders.
Hue
Hue, a city steeped in Vietnam's rich history, stands as a treasure trove of artifacts dating back to the era of the 19th-century Nguyen emperors. Nestled along the picturesque banks of the Perfume River, Hue Imperial Citadel sprawls over a vast expanse, enclosed by walls stretching 2.5 kilometers. Within its hallowed precincts, you'll encounter remarkable landmarks, including the resplendent Ngo Mon Gate, the Thai Hoa Palace adorned with intricate lacquer detailing, the elegant Dien Tho Residence where Queen Mothers resided, and the Halls of Mandarins adorned with meticulously preserved ceiling murals.
Beyond the citadel's walls, an array of historic sites awaits exploration. Opting for a riverboat cruise along the Perfume River offers a delightful means to visit these outlying gems. A day cruise can whisk you away to royal tombs and pagodas scattered along the riverbanks.
For those with limited time, the Tomb of Tu Duc ranks as a must-visit, while the Thien Mu Pagoda, with its soaring 21-meter-high tower, stands as the most revered pagoda in the vicinity.
Hoi An Ancient Town
Hoi An, a city of immense charm, boasts the most enchanting atmosphere in all of Vietnam, adorned with a wealth of impeccably preserved historic architecture. Exploring Hoi An Ancient Town is a delightful experience, as it teems with beautifully maintained merchant houses that hearken back to Hoi An's illustrious trading center era of the 15th century. During this period, the town served as a bustling meeting point for Japanese and Chinese merchants, drawn here by the allure of local silks.
Many of these venerable merchant houses have been graciously opened to the public, providing a glimpse into these bygone times. Among them, the 17th-century Tan Ky House shines with its captivating architectural and decorative elements. Hoi An's iconic Japanese Bridge, nestled at the western end of Tran Phu Street, stands as an emblem of the city. Nearby, the Assembly Hall of the Fujian Chinese Congregation graces the old town with its opulent temple.
While Hoi An boasts numerous small pagodas and museums, its true allure lies in leisurely strolling through the quaint streets of the old town, admiring the impeccably preserved facades that evoke a sense of timeless beauty.
Phong Nha – Ke Bang National Park
Phong Nha – Ke Bang National Park, a UNESCO World Heritage site, stands as a premier destination in Vietnam for the avid caving enthusiast. This park is a mesmerizing landscape of dramatic karst mountain formations, riddled with colossal caverns boasting exquisite stalactite and stalagmite formations.
Its claim to fame lies in its extensive caving opportunities, catering to a wide range of adventurers. Options include multi-day hiking and caving expeditions for the intrepid, as well as simpler half-day journeys to caves easily accessible via boat rides and modern boardwalks. The national park also offers thrilling activities such as mountain biking and trekking.
Among the park's standout attractions, the Paradise Cave, with an astonishing 31-kilometer underground expanse, and the Phong Nha Cave, accessible by boat, rank highly. Convenient half-day tours can be arranged once you arrive in the area.
However, the park's crown jewels are the Son Doong Cave, the world's largest cave, and Tu Lan Cave, renowned for its subterranean river system. To optimize your visit, plan it outside the rainy season, which typically spans from October to December when some of the park's caves are closed to the public.
Nha Trang
Nha Trang reigns supreme as Vietnam's ultimate sandy playground. Stretching for a generous six kilometers along the central city's shoreline, Nha Trang's pristine beach draws in a vibrant crowd during the summer months, including both local families and international travelers.
The beach offers an exceptional swimming experience, complete with designated swim zones and meticulously maintained lounging areas, providing the perfect setting for leisurely days basking in the sun and reveling in the soft sands.
For those seeking a break from sunbathing, the ancient Po Nagar Cham Towers await just to the north, accessible via the Xom Bong Bridge. These historic towers have served as places of worship since at least the 7th century, with some historians tracing their sacred significance even further back in time.
Additionally, visitors can explore an outstanding museum dedicated to the pioneering work of Alexandre Yersin, who not only discovered the cause of the bubonic plague but also founded Nha Trang's Pasteur Institute. This institute continues to play a vital role in conducting vaccination programs in Vietnam to this day.
Ho Chi Minh City
For enthusiasts of vibrant urban life, a visit to Ho Chi Minh City is an indispensable part of experiencing the pulse of Vietnam's bustling commercial heart. The city streets pulsate with an exhilarating blend of motorbikes and cars, while its culinary and café scene boasts cosmopolitan diversity, and its shopping opportunities are second to none in the country.
At the core of the city lies Dong Khoi, a compact and easily navigable central district that hosts the majority of the city's attractions. Here, you'll encounter the Ho Chi Minh City Museum, featuring a remarkable collection of artifacts that intricately narrate the city's history, and the magnificent Notre Dame Cathedral, a testament to late 19th-century architecture. Venture to the nearby old district of Da Kao to admire some of the most well-preserved examples of the city's French colonial architecture. Don't miss the Jade Emperor Pagoda, adorned with a mesmerizing array of Buddhist and Taoist religious iconography.
For many visitors, two must-see attractions lie slightly outside the city center along Nguyen Thi Minh Khai Street. The Reunification Palace, once known as the Independence Palace, served as the residence of South Vietnam's president. It's famed for its historical significance as the site where North Vietnam's tanks halted on April 30, 1975, officially marking the end of the war. The palace offers a captivating journey through time, with its 1960s furnishings impeccably preserved. Nearby stands the War Remnants Museum, which, while undeniably partial in its perspective, offers a stark portrayal of the harsh realities of war and the numerous atrocities committed by US Forces during the Vietnam campaign.
Mekong Delta
In the southernmost reaches of Vietnam, the mighty Mekong River ultimately embraces the sea through a labyrinth of waterways that intricately weave across the fertile floodplain. Draped in luxuriant greenery, adorned with picturesque paddy fields and serene mangroves, this region teems with vibrant local life, offering travelers a captivating tapestry to explore. Amid this enchanting landscape, chaotic floating markets beckon exploration by boat, making the delta one of the most enthralling destinations for adventurers.
Can Tho stand as the favored hub for visitors, providing convenient access to the bustling floating markets of Phong Dien and Cai Rang. Alternatively, boat excursions departing from Ca Mau offer opportunities to delve into the wonders of the U Minh Mangrove Forest and Cau Mau Nature Reserve. Nature enthusiasts and avid birdwatchers will find this corner of Vietnam a veritable paradise. It is home to both the Tra Su Bird Sanctuary Forest and the Bac Lieu Bird Sanctuary, where the beauty of the avian world takes center stage, captivating the hearts of all who visit.
Suggested Vietnam 15-Day Tour Itineraries
Itinerary 1: Classic Sightseeing Tours for Families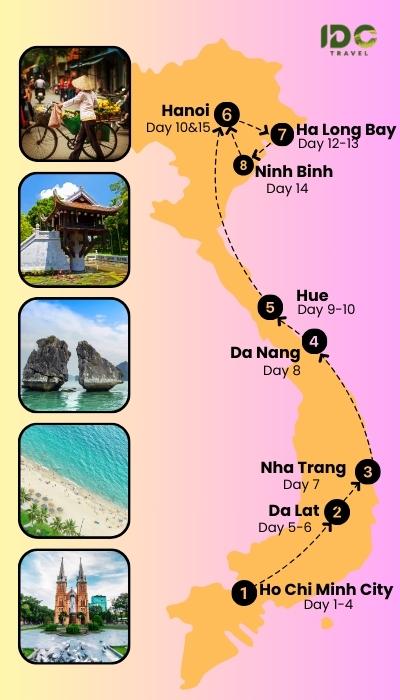 Day 1: Arrive in Ho Chi Minh City.
Day 2: Half-day Ho Chi Minh City Tour in the morning. You will be taken to visit the Reunification Palace, Notre Dame Cathedral, Saigon Post Office, and finally War Remnants Museum. In the afternoon, visit the historical Cu Chi Tunnels.
Day 3: Transfer to Mekong Delta and embark on a 2-day 1-night cruise trip.
Day 4: Morning visit Cai Rang floating market – the biggest market of this kind in the Mekong Delta. Then, return to Ho Chi Minh City.
Day 5: Fly to Da Lat and free to enjoy the cool atmosphere here.
Day 6: Enjoy a leisurely walk around Da Lat town in the morning, and visit Bao Dai Summer Residence and Lam Ty Ni Pagoda. After lunch, you will be driven to Nha Trang City.
Day 7: Embark on a day cruise to visit some coastal islands of Nha Trang, where you can sunbathe, swim, or snorkel in the clear blue water. On the way back in the late afternoon, you visit Po Nagar Cham Tower.
Day 8: Fly to Da Nang and onward travel to Hoi An Ancient Town. Take a short break before visiting the famous Japanese Covered Bridge, Chua Ong Pagoda, Tan Ky House, and the Pottery Museum.
Day 9: Head to Hue City by car through Hai Van Pass. On the way, you will visit Non Nuoc Beach and Marble Mountain. Stop at the top of Hai Van Pass to admire the stunning view of Lang Co.
Day 10: Hue City tour: you will visit Thien Mu Pagoda, the tomb of the Tu Duc Emperor, and Minh Mang's Mausoleum.
Day 11: Fly to Hanoi, and enjoy a walking tour around the Old Quarter.
Day 12: Transfer to Ha Long Bay and embark on a cruise to explore the bay's magnificent beauty. Overnight on Ha Long Bay.
Day 13: Get up early to enjoy a Tai Chi session on the sundeck before visiting the Surprising Cave or Heaven Palace Cave. Disembark from the cruise at noon and drive to Ninh Binh.
Day 14: Visit Hoa Lu Ancient Capital and Tam Coc, which is considered the Ha Long Bay on land of Vietnam. Transfer back to Hanoi in the late afternoon.
Day 15: Depart Hanoi. End of 2 weeks in Vietnam.
>>> Please check here for the detailed tour itineraries.
Similar tours:
Itinerary 2: Vietnam 15 Days Natural Adventure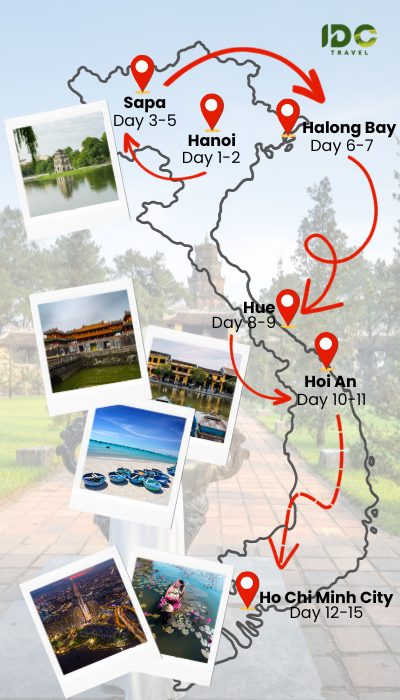 Day 1: Arrive in Hanoi.
Day 2: Hanoi city tour, visit Ho Chi Minh Mausoleum, the Temple of Literature, and Tran Quoc Pagoda. Ride a cyclo across Hoan Kiem Lake in the late afternoon before watching a water puppet show. Night train to Lao Cai.
Day 3: Arrive in Lao Cai at 06:30 and transfer to Ta Phin village in Sapa, begin the 5-hour trekking experience. Overnight in a Dao family.
Day 4: Morning stroll around Ta Phin village and afternoon visit Cat Cat village (about 5 kilometers away). Spend your night at a hotel in Sapa town.
Day 5: Depart at 07:00 to arrive at Bac Ha Market. Free shopping and have lunch on your own before taking a 1.5-hour boat excursion down the Chay River. Then, transfer back to Lao Cai for a night train to Hanoi.
Day 6: Arrive in Hanoi at 05:00 and transfer to Ha Long Bay. Embark on a 2-day cruise.
Day 7: Follow the cruise itinerary to explore Bai Tu Long Bay with a lot of interesting experiences. Disembark at noon and return to Hanoi. Night train to Hue.
Day 8: Hue City Tour. You will visit Thien Mu Pagoda, Hue Imperial Citadel, and Dong Ba Market. Overnight in Hue.
Day 9: Morning enjoy an easy cycling experience in Hue. In the afternoon, depart Hue towards A Luoi, where the bloody Vietnam-America conflict of the 19th century took place. Then, transfer to A Roang hamlet for a hot spring bathing.
Day 10: Transfer to Hoi An.
Day 11: Enjoy a walking tour around Hoi An Ancient Town, visit the famous Japanese Covered Bridge, Tan Ky Ancient House, Phuc Kien Assembly Hall, etc.
Day 12: Transfer to Da Nang and fly to Ho Chi Minh. In the afternoon, you will visit the historical Cu Chi Tunnels.
Day 13: Visit the Mekong Delta, and stop at Cai Be floating market before continuing your journey to Vinh Long. Have a 2-hour afternoon ride to explore the vast rice fields and various rural riverfront communities.
Day 14: Take a morning boat journey to the chaotic Cai Rang Floating Market, then a 2-hour drive on Delta's back roads. Return to Saigon in the afternoon.
Day 15: Depart Ho Chi Minh City.
>>> For the comprehensive tour programs, please check Vietnam Ecotourism and Adventure Tour in 15 Days
Itinerary 3: Foodie Adventure in Thailand and Vietnam in 15 Days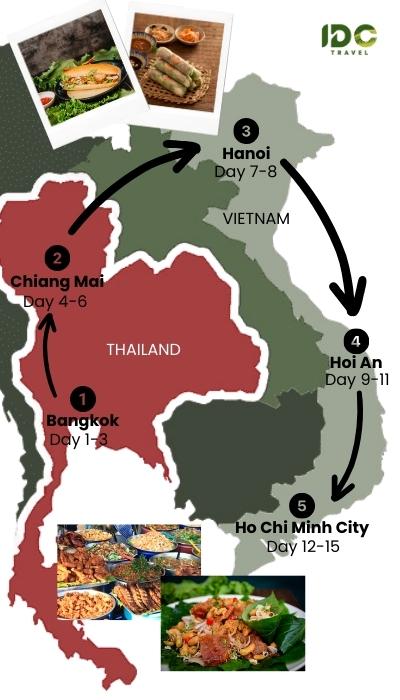 Day 1: Arrive in Bangkok.
Day 2: Full-day exploring Bangkok's highlights such as Wat Traimit, Wat Pho, the Grand Palace, and Wat Phra Kaew. Have a cruise dinner on the Chao Phraya River.
Day 3: Full day discover Bangkok street food by tuk-tuk.
Day 4: Fly to Chiang Mai. The rest of the day is yours.
Day 5: Join a cooking class in Chiang Mai, and learn how to prepare some special Thai dishes.
Day 6: Explore a local craft village in the San Kamphaeng district. Afternoon fly to Hanoi.
Day 7: Hanoi City tour, visit magical tourist destinations like Ho Chi Minh Mausoleum, Hoan Kiem Lake, and Hanoi Old Quarter. In the late afternoon, you will have a chance to enjoy a water puppet show – a traditional art form of Vietnam that has been developed for more than 800 years.
Day 8: Sample delicious Hanoi street food with a local tour guide, such as pho bo, banh mi, banh cuon, cafe trung, etc.
Day 9: Fly to Da Nang and onward travel to Hoi An.
Day 10: Join a Hoi An eco-tour with an exciting cycling tour through the picturesque countryside of Hoi An. In the afternoon, you will enjoy a boat excursion to the Bay Mau coconut forest.
Day 11: Visit Tra Que Herbal Village, and join a cooking class to learn how to make the famous spring roll "tam huu" and banh xeo.
Day 12: Fly to Ho Chi Minh City.
Day 13: Free to discover Saigon attractions and sample delicious local food at your own pace.
Day 14: Full-day Mekong Delta tour, explore Cai Be floating market, Tan Phong island, and especially enjoy the enchanting melodies of "Tai-Tu music."
Day 15: Depart Ho Chi Minh City.
>>> Check the full itinerary at our Foodie Adventure in Thailand and Vietnam for 15 Days
Above, we have introduced to you the top most thrilling places to visit in Vietnam as well as some suggested Vietnam 15-day tour itineraries. Our travel experts at IDC Travel are always eager to help you plan your trip as well as customize the tour itinerary for Vietnam in accordance with your personal preferences. So, don't hesitate to contact us for a wonderful experience in Vietnam.