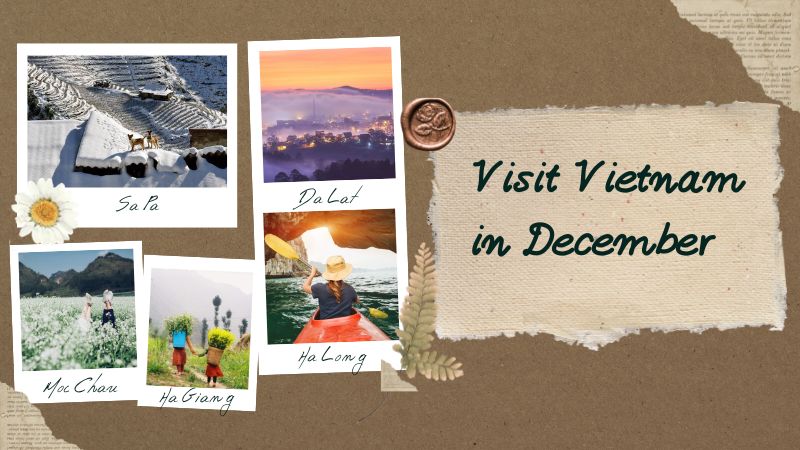 To answer your question: which are the best places to visit in Vietnam this December, the article reveals the top 5 most ideal destinations and a few handy travel tips for your references.
December in Vietnam has its special charm with blossomed flowers and mild, pleasant weather in most regions throughout the country. This hospitable season obviously gets you out of home and packs your backpacks for travels. It is all perfect even when you go hiking on highlands or enjoy a touch of wind on sunny beaches. Read this full article for a pocketful of knowledge about the best 5 travel destinations to visit this December.
Moc Chau: best place for white cauliflowers
Speaking of the most ideal destination if you visit Vietnam in December, it goes without saying that Moc Chau Plateau deserves to be in first position thanks to the escaping atmosphere and handful of exciting activities. The road from Hanoi to Moc Chau is also an aspiration for literature and poetry with its spectacular views of nature.
Aside from Da Lat, Moc Chau is also a city of flowers. Coming here in December, you can witness the flourish of tons of stunning flora and fauna. Those are Marigold, white cauliflowers, wild sunflowers, mustard flowers, and plums…just to name a few, especially the forest covered with plum trees in their full blossoms that is captivating to most visitors to Moc Chau. A vast scene of blossoms would show in Ban Ang, Ba Phach, Thong Cuong villages.
Visiting Moc Chau, engaging yourself with farmwork will entertain you and make you feel unwind. Besides, you can also enjoy mouth-watering food cooked by locals or fruit harvested on your own. Some foods for you to try are our dried-grill buffalo meat, Suoi Bang stoned snail, special taro, and salmon….
Ha Giang: must-visit destination for kale flowers
If you are after tribal culture, Ha Giang is a must-travel destination when you visit Vietnam in December. This town is a residential area of 16 brotherhood minorities with diverse, different customs and unique clothes. To encounter and explore ethnic identities, Dong Van Sunday Market is highly recommended for you since this market is the convergence of different local cultures.
Like other Northwestern towns, mountainous scenery in Ha Giang is spectacular and impressive with the yellow carpet made from kale flowers blooming and The Snake Road. Since it looks like a snake from beyond, the winding path to Moc Chau Plateau is called the Snake Road. The view is highly photogenic looking from the above. To blow your mind, we recommend you to ride a motorbike on this curling route since the scenery along the way is quite spectacular.
Also in Ha Giang, here are some sorted attractions for your reference such as Ma Pi Leng Pass, Dong Van Geopark, Quan Ba Twin Mountain…The zigzagging Ma Pi Leng Pass brings you a misty view of the narrow valley and mountainous scenery underneath.
Sapa in now
Also situated in the Northwestern region, Sapa is a part of Lao Cai province. Needless to say, being a land of spectacular and charming nature, this town is one of the best places to travel to if you visit Vietnam in December. Sapa is reckoned as the most rustic town amongst Northwestern towns with the rural villages and verdant rice terraces cultivated along the border of Hoang Lien Son Mountain.
The town is at its best in December with snowfalls, dramatic views of mountain ranges and amazing green terraces. Sapa is also one of the very few places in Vietnam that snows, the climate is extremely cold with the temperature ranging from 5 to 10, someday at night, the temperature reaches 0.
If you attempt to look for a destination to go hiking or trekking, Sapa is second to none on the list. The winding mountainous path makes this town perfect for trekking. However, some trails are dangerous, so you had better be with the local guides since it will be more sound. The locals are at home to geography and cuisine, so you are not afraid of getting lost. Remember to ask them to take you to small community-based villages. We assure you that the experience is, even more, escaping with tempting local food. In your leisure time, you can also pay a visit to some attractions such as Ta Phin, Ban Cat Cat, Ban Ta Van…
Da Lat in the midst of the fog
When it comes to December, with breezy wind and low rainfalls, Da Lat climate is supportive of your trip. This city is photogenic with a range of maple trees turning red that makes you feel like living in Canada or somewhere in Europe. In winter, the glimpse of old French-style villas in the midst of the fog, makes Da Lat more peculiar to tourists.
Beyond your expectation, there are plenty of activities for your selection such as cycling, hiking, BBQ, and camping, especially Da Lat street food is a must-try. Da Lat Market is where you can order some mouth-watering hot soya milk, grilled meat, and banh uot long ga…
In Da Lat, you may find a wide array of places to visit as this city is home to plentiful attraction sites such as Elephant Falls, Prenn Waterfall, Camly Waterfall, Golden Valley, Xuan Huong Lake, Tuyen Lam Lake, Cork Church, Bishop Cathedral of Dalat Diocese…
In December, it is relatively cold in Da Lat, so this is also the best time to see wild anemones (Ta Nung, Suoi Thong Hoa, Ham Thuan…). The temperature range is from 14 to 22 Celsius degrees. Therefore, do not forget to bring your sweaters and well-prepared winter outfits.
Ha Long: Cool time for a cruise
If you are browsing for coastal destinations, Ha Long is the best place to visit in December. Declared a UNESCO's World Heritage Site, Ha Long Bay is an iconic attraction in Vietnam. Formerly, the destination had several different names such as An Bang, Luc Thuy, Van Don. In the late 19th, it had been changed into Ha Long Bay (the descendant dragon). Overall, Ha Long Bay has 1969 islands in the archipelago. Those islands are the consequence of erosion in the Gulf of Tonkin caused by wind and water millions of years ago. Some most well-known islands are Tuan Chau, Hon Lu Huong, Ngoc Vung and so forth.
Because of the gigantic size of the archipelago, visitors had better opt for an entire day or overnight cruise ship to experience the serenity of Ha Long and discover all the pristine islands and limestone karsts. For those who are adventurous, you can register to do deep scuba diving to reach sea corals. Also near the attraction site, there is Cat Ba National Park, Me Cung cave and Monkey island that are worth visiting.
As listing out the best places to visit this December, we hope this article is definitely fruitful for not only travel-holics or anyone who has plans this winter. Wait no more, let's escape from the mundane life and plan for your itinerary right now. Vietnamese beautiful scenery awaits you to pay a visit. Contact us now for your trip to Vietnam so that you don't miss the beauty of this country in December.