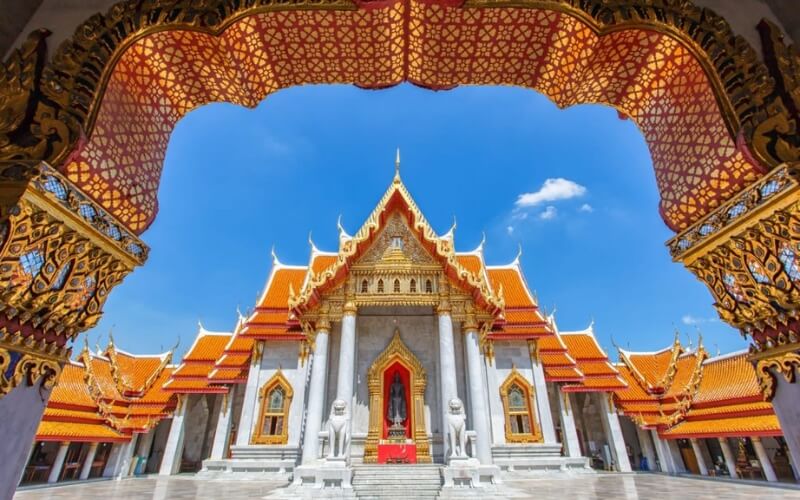 Thailand is a wonderful destination where you can live many experiences. For most visitors, this country is synonymous with good food and beautiful natural landscapes. Tourists can stroll through bustling street markets, revel in mouth-watering delicacies, enjoy local sights and sounds, marvel at vibrant urban structures, experience luxury resort towns, bask on sunny tropical beaches, or venture out into the hilly regions of Thailand. However, there is one experience rapidly gaining attention around the world – the sacred temples in Thailand that have drawn many travelers seeking inner peace.
Thailand is one of the top spiritual destinations in the world, as it is filled with a mix of cultures and religions. Of these, Buddhism is widely practiced and evidence of this can be seen across the country in the form of Buddhist temples, relics, and meditation retreats. Spiritual seekers will feel overwhelmed by the multitude of possibilities available to them. For those wanting to experience the spiritual side of this country, be sure to check out our list of most famous temples in Thailand in the following.
Buddhism in Thailand
Buddhism is the dominant religion in Thailand, nearly 95% of the Thai population is Buddhist. This religion is deeply ingrained in Thai culture and is reflected in many aspects of everyday life. Buddhist temples, known as "Wat", are present throughout the country and are often considered to be centers of spirituality and community. Buddhist monks, who live a life of prayer and meditation, are highly respected in Thai society. Buddhist rituals also play an important role in Thai life, especially those related to life cycles such as weddings and funerals.
Religious practices such as meditation and making offerings to monks are common in Thailand, even among those who are not actively practicing the religion. Many Buddhist festivals are held year-round, including Songkran (Thai New Year) and Loy Krathong (Floating Lantern Festival).
In short, Buddhism is an important part of life and culture in Thailand. Even if you don't practice any religion, visiting Buddhist temples in Thailand (wat) can be a rich cultural experience.
Most Famous Temples in Thailand
1. Wat Arun – The Temple of Dawn, Bangkok
One of the most iconic sites of Thailand and its capital, Wat Arun is an indispensable destination during your trip to Thailand. The temple is located in the Bangkok Yai ("Great Bangkok") district, on the west bank of the Chao Phraya River, and is named after the Hindu god Aruna, who represents dawn. Built during the Ayutthaya period, it housed the Emerald Buddha which was seized in Vientiane between 1778 and 1784. The view from the top of the temple is simply breathtaking, and at night the "temple of dawn" is illuminated and reflected in the dark waters of the river like a mirage.
2. Ayutthaya Historical Park
This is a must-see for history buffs and archeology admirers. This is a UNESCO World Heritage site, including 67 magnificent temples, and ruins, named Wat Mahathat, Wat Ratchanurana, Wat Lokaya Sutha, Wat Phanan Choeng, etc. Among them, check out Wat Phra Si Sanphet, which functions as a royal temple and is the most important one in the Ayutthaya Kingdom.
3. Wat Phra Kaew – The Jewel of Temples in Thailand
The Wat Phra Kaew temple complex in Thailand is not only a marvel of architecture but also serves as the spiritual center of Thai Buddhism. The complex is home to the revered Emerald Buddha, the country's most sacred image. Adjacent to the temple complex is the Grand Palace, the former royal residence, which was once a highly structured society of intricate rituals and social hierarchy. Together, the Wat Phra Kaew complex and the Grand Palace symbolize the unity of Thailand's religious and political power, making them significant cultural and historical landmarks.
4. Wat Pho – Must-visit Thailand Temple in Bangkok
Built-in 1782 during the reign of King Rama I, Wat Pho in Bangkok remains one of the most sacred temples in Thailand. Also known as the Temple of the Reclining Buddha, locals gather here to meditate, pray, and make donations and offerings. The main attraction of the temple is the large reclining Buddha that sits at the heart of the temple, built in 1848 at 46 meters long and 15 meters high.
>>> Join us on the Perfect Bangkok 4 Days Tour to explore these magnificent temples.
5. Wat Suthat – The Thailand Temple of the Giant Swing
Wat Suthat is one of the most important and oldest temples of the Rattanakosin era in Bangkok. It is one of the six temples in Thailand of the greatest importance among first-class royal temples.
Wat Suthat was built at the request of King Rama I (1782-1809) to house a 13th-century bronze Buddha sculpture from Sukhothai. The temple was completed during the reign of King Rama III (1824-1851). The murals in the main prayer hall depict the Buddha's 24 previous lives. Chinese stone carvings and eight-story hexagonal pagodas line the temple's outer walls.
6. Wat Rong Khun – The White Temple, Chiang Rai
In Northern Thailand, you can visit Wat Rong Khun, also known as the White Temple. Besides its colors, its sculptures and frescoes stand out in the landscape of religious buildings. Unlike most temples in Thailand, this one is strikingly white, symbolizing the purity of Buddhism, and is inlaid with mirror fragments to evoke the reflection of enlightenment. To get there, visitors must first pass between two giant fangs, then pass through a lake dotted with creatures from the underworld.
7. Sukhothai Historical Park
Sukhothai (or Sukothai) was the first capital of Siam (Thailand) founded in 1238, ending the Angkor Wat dynasty of the Khmer. Sukhothai, declared a World Heritage Site in 1991, is more famous for its art than its political achievements.
Sukhothai Historical Park is divided into 3 zones: the central zone, which is the most visited and probably the most interesting, the northern zone with Wat Si Chum and its enormous stone Buddha, and the western zone, which is the least visited and features the most striking temple, Wat Saphan Hin, and its standing Buddha. In the central part, Wat Mahathat is the largest and most well-known temple, featuring both sitting and standing Buddha statues, followed by Wat Sa Si, Wat Traphang Ngoen in the background, and the Khmer-style Wat Sri Sawai. You will also find a statue of King Ram Khamhaeng, the inventor of the Thai script in this spiritual place.
8. Wat Phra That Lampang Luang, Lampang
The Wat Phra That Lampang Luang, erected in the 15th century, is a gem of the Lampang province, a small town in northern Thailand. It is one of the most beautiful temples in the country and is a major tourist attraction in the region. This iconic temple is built on a small hill, surrounded by a VIII-century fortification wall that gives it the appearance of a citadel. The name "Wat Phra That Lampang Luang" means "Relic of the Great Buddha of the Temple of Lampang." According to legend, the Buddha visited the site about 2500 years ago and offered one of his hairs, which is now preserved in the temple's large chedi, along with straight bones from his forehead and neck.
9. Wat Tham Suea – Tiger Cave Temple, Krabi
The Tiger Cave Temple is an ancient cave named after the tiger who resided there. This religious place, located in the province of Krabi, is surrounded by huge limestone cliffs. People come here for its religious importance and the beauty of its landscapes. The temple was found in the southern region and is now one of the most sacred temples in Thailand. The Golden Buddha sits atop the temple with a mesmerizing view offering to people who conquer 2000 feet of the jungle.
10. Wat Prathat Doi Suthep – Most Famous Thailand Temple in Chiang Mai
Wat Phrathat Doi Suthep in Chiang Mai is a site that goes beyond its natural beauty. Located on the peak of Doi Suthep, the temple is surrounded by verdant rainforest and is part of the Doi Suthep National Park. It is adorned with intricate Thai architecture, relics, and various Buddha sculptures. Travelers can pay their respects by offering lotus flowers and lighting incense at the shrine, and meditating in sublime silence at Doi Suthep's Vipassana Meditation Center. The trek to reach this temple is through lush hilly terrain and the breathtaking panoramic views of Chiang Mai are another reason why you wouldn't want to miss this spiritual experience.
11. Doi Inthanon – A Gem of Thailand Temples in Ban Luang
If you are an avid hiker, seeking spiritual rejuvenation, and unsure of where to go in Thailand for such a fantastic fusion experience, then Doi Inthanon is the perfect excursion for you. Thailand's highest mountain houses two magnificent pagodas commemorating the last king of Chiang Mai, which also contain remnants of Buddha. Surrounded by dense, green forests, the trail leading to these temples is refreshing and offers amazing views of nature. Moreover, the climate is cool and pleasant throughout the year, and hiking through thick forests dotted with some of Chiang Mai's most spectacular waterfalls is soul-stirring – a unique way to spend time away from the daily chaos, in almost-silent surroundings. Doi Inthanon is worth a visit for a both adventurous and calming experience.
>>> Discover more interesting things about Doi Inthanon with our 7 Days Northern Thailand Discovery tour.
12. Dragon Cave Temple, Phang Nga
Located in the mountains, the cave includes meditation chambers where monks show visitors the Buddhist way of meditating, including the chanting of mantras. The dragon cave is said to have healing powers and you can see monks preparing herbal teas for medicinal purposes for their visitors. With its spectacular stalagmites and stalactites, you are sure to experience calm, peace, and quiet in one of the most spiritual places in Thailand.
Etiquette Tips to Remember while Visiting Temples in Thailand
Dress politely
Please dress respectfully when visiting temples and pagodas in Thailand. Make sure your shoulders are covered (no vests, tank tops, or spaghetti straps) and while skirts or shorts are acceptable at many temples, they should be sleek and at least knee-length. Dress rules are stricter at Thailand's most important temples and those with ties to royalty, such as Wat Phra Kaew at the Grand Palace in Bangkok. In these very busy places, visitors should dress very conservatively, with long trousers for men and a skirt/dress or pants below the knee for women.
Take off your shoes, hat, and sunglasses
Take off your shoes before entering the main temple building. Most temples have space to leave your shoes. You can continue to wear socks. The same rule applies to hats and sunglasses when entering Thailand temples.
Keep quiet
A temple is a sacred place. Many people come here to pray and meditate, so it's best to avoid loud chatter and keep your phone turned off or on silent.
Don't point fingers or toes
You should not point your fingers or toes at monks, Buddha statues, or even other people. The feet are considered the lower, dirty part of the body. For this reason, if you sit down to talk to the monk, never sit higher than him. Men should cross their legs and women should kneel with their toes pointing back.
Ask for permission before taking photos
Taking photos of the temple and Buddha images is generally allowed in Thailand. But in some places of worship, photos are not allowed. Before taking a photo, check the temple rules written outside on notice boards or just ask someone. Try not to take photos while worshipers are praying. Do not take a selfie in the temple, as it is disrespectful.
Donate when visiting Thailand temples
Almost all temples have a small box to receive donations. If you enjoy your visit, it will be good to make a small donation with a coin.
Etiquette tips for women
According to Buddhism culture, you should never touch a monk or his robes.
If you want to give something to a monk, you have to give it to a man who will pass it on to the monk, or put it somewhere; you cannot give it directly to the monk.
Women are not allowed to sit next to a monk.

In some places, notably in northern Thailand, local culture prohibits women from entering specific areas of the temple that are considered particularly sacred or auspicious. Signs in Thai and English will let you know if a place is off-limits. It may seem unfair, but it is in accordance with ancient traditions and superstitions, which play an important role in daily life in Thailand.
Ready to discover these amazing temples in Thailand? Plan your vacation with our Thailand travel guide or contact us for a tailor-made trip to Thailand.