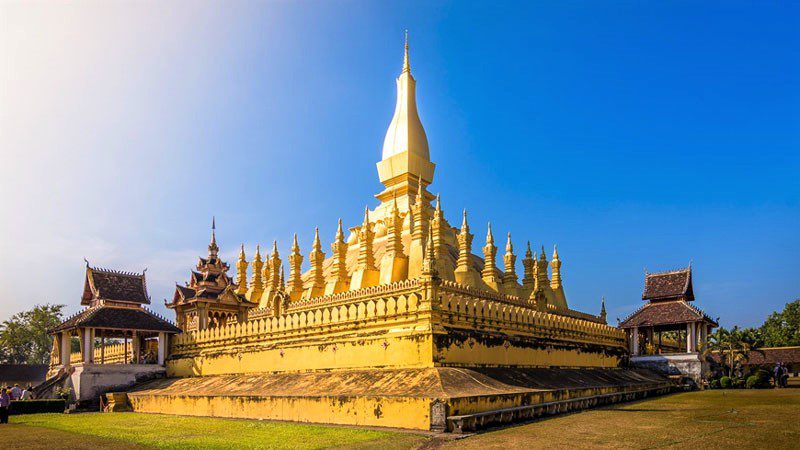 Laos is one of the most mysterious countries in Indochina. A perfect destination if you are looking for a unique experience in a country where traditions and cults have remained frozen in time, where the traces of the French presence still vibrate like a distant echo through the games of petanque or the smells of a few bakeries and where the population, as discreet as they are friendly, will welcome you to this kingdom of elephants, oversized Buddha statues and majestic temples. During your trip to Laos, do not miss the opportunity to visit and explore its temples. Below is the list of the most famous and magnificent temples in Laos, which attract thousands of visitors every year.
Buddhism in Laos
The vast majority of the Laotian population is Buddhist, so the temple plays an important role in the country's culture and daily life. People come to the temple to pay homage, pray to Buddha, and even seek advice from the monks. During Buddhist festivals, thousands of people flock to the temple to pay their respects to Buddha. Most boys will one day become monks, some for a very short period, others for many years. There is often a school on the temple site, especially in rural communities.
Amazing temples and pagodas await you throughout the country. Check out our list of the best temples to visit on your trip to Laos.
Most Famous Temples in Laos
1. Pha That Luang – Vientiane
A national symbol of Laos. An image that comes to mind when you hear about Laos is probably Pha That Luang. The most sacred monument in the country, it is believed to contain the hair of Buddha and appears on the coat of arms of Laos and its banknotes.
Pha That Luang is a 35-meter-high quadrangular stupa, entirely covered in gold. It is a "Buddhist monument," a non-figurative representation of the Buddha commemorating his death or parinirvana. The stupa is surrounded by a square cloister with two entrances and two pavilions. This is one of the must-visit temples in Laos.
Address: That Luang, Vientiane
Opening hours: 8 a.m – 12 p.m and 1 p.m – 5 p.m from Tuesday to Sunday.
2. Wat Si Saket – Vientiane
Wat Si Saket is the only temple in Laos that survived the Siamese occupation, which destroyed much of the capital in 1828. It features over 10,000 Buddha sculptures of different sizes and styles. The temple also showcases magnificent architecture and layout, and its history dates back to 1818.
Among the must-see sites are the five-level ornate roof, the drum tower, the small library with a Burmese-style roof, and the flowered ceiling of the ordination hall, which contains 7,000 images made of wood, stone, and bronze.
Address: Ave Lane Xang, Vientiane
Opening hours: 8 am – 5 p.m every day
3. Wat Si Muang – Vientiane
Wat Si Muang is the most revered Buddhist sanctuary in Vientiane, just after That Luang. Located today in the center of the city, between Setthathirath Avenue and Sam Sene Thai Avenue, it marks the location of the southeast gate of the city. Built-in 1563, it was also destroyed by Siamese invaders in 1828.
Wat Si Muang is a temple dedicated to Nang Si – a woman who sacrificed herself to protect the villagers and is considered the god who protects the city. This Buddhist temple attracts crowds of local Buddhists every day who want to benefit from its "good luck" powers. According to a general belief, if you pray for something here and simultaneously make a promise, your wish will be granted, provided you return and fulfill your promise.
Address: Bourichane Street, Vientiane
Opening hours: 8 a.m. – 12 p.m. and 1 p.m. – 4 p.m. daily
4. Haw Phra Kaew – Vientiane
Another temple worth visiting is Haw Phra Kaew or Ho Phra Keo, which is also in Vientiane. The temple was first built by King Setthathirat as a place of dedication to the royal family. Ho Phra Keo first impresses visitors with the green and beautiful garden surrounding it and the style of a traditional temple. Then, the Naga serpents placed on either side of the stairs, the gallery of bronze Buddha statues, the superb woodcarvings, and the Buddhist manuscripts will make you fall in love with this temple.
Address: Deua, Thanon Tha, Vientiane
Opening hours: 8 a.m. – 12 p.m. and 1 p.m. – 5 p.m. daily
5. Buddha Park – Vientiane
Buddha Park, also known as Wat Xieng Khuan, is one of the most remarkable historical sites in Vientiane, Laos. Located 25 kilometers southeast of Vientiane, this open-air sculpture park is a staggering display of outsider art with over 200 Hindu and Buddhist statues dotted around.
Although called Wat Xieng Khuan, Buddha Park is not really a Buddhist temple. Highlights of the park include a 40-meter reclining Buddha, Indra (a Hindu god), a two-headed elephant, and a four-armed deity riding a horse. The Buddha Park is filled with sculptures and concrete constructions, from Hindu and Buddha statues to anthropomorphic sculptures, animals, gods, and demons.
Address: Deua, Thanon Tha, Vientiane
Opening hours: 8 a.m. – 5 p.m. daily
>>> Explore the beautiful temples in Laos capital with our Vientiane Historical Highlights Tour 4 Days.
6. Wat Phou – The oldest temple in Laos
Unlike other ancient temples in Laos, Wat Phou or Vat Phu does not worship Buddha. It was built according to Khmer architecture and is dedicated to Hinduism. The reputation of this temple located at the foot of a hill comes from its historical and religious values and its amazing structure. This oldest temple in Laos is believed to have been built before the Angkor complex in Cambodia. It consists of ancient buildings with ancient carvings, decoration patterns, stone statues, and the imprint of Buddha's foot on the big stone.
For festival lovers, the Boun Wat Phou or Wat Phou Festival takes place every year on the 15th day of the third lunar month. During the festival, many traditional procedures, dances, and music performances are held, making it one of the must-see local festivals in Laos. In particular, you will have the opportunity to admire, on the last day of this three-day festival, the famous Tak Bat almsgiving ceremony, which attracts a large number of pilgrims and monks from all over the country.
Address: Muang Champassak
Opening hours: 8 a.m. – 6 p.m. daily
7. Wat Xieng Thong – Most Famous Laos Temple in Luang Prabang
Located in Luang Prabang, Wat Xieng Thong is a beautiful temple in Laos and also one of the 10 most beautiful Buddhist temples in the world according to GEO magazine. Wat Xieng Thong was built in 1560 during the reign of King Setthathirath. However, due to time and war, the temple was heavily damaged and remodeled in the 1960s.
The magnificent features of the original form are still present, for example, the two-tiered roof and the colorful decorations inside and outside the temple. Besides the restored gold lacquers added to the wall and entrance, the Buddha statue, and the mythical statues inside the temple, the mosaic of the tree of life placed on the western exterior wall is one of the most impressive points of the temple.
Address: Khem Khong, Luang Prabang
Opening hours: 8 a.m. – 6 p.m. daily
8. Wat Wisunarat – Luang Prabang
Wat Wisunarat was built in 1513 and named for King Wisunarat (Visoun), who ruled Laos from 1501 to 1520. It is the oldest Buddhist temple in Luang Prabang and served as a museum of religious arts from the city. You can see religious artifacts and precious items related to Buddhism and the royal family there.
Wat Wisunarat features traditional Laotian architecture. Its unusually shaped stupa, designed by the wife of King Wisunarat, is a unique point of interest. Although it is supposed to look like a lotus flower, locals often call it the "watermelon stupa". Another distinctive element is the European-style roof, which is sloped in a way that is unusual in Laos.
Address: Wisunarat Road, Luang Prabang
Opening hours: 6 a.m. – 6 p.m. daily
9. Wat Sene Souk Haram – Luang Prabang
Wat Sene Souk Haram or literally "Temple of 100,000 Treasures" is one of the most beautiful temples in Laos, singular for its restored paintwork in a deep ocher color, flamboyant, and sparkling with gold. Built-in 1718 by King Kitsarath with 100,000 stones from the Mekong, the temple is made up of a viharn, several koutis, a canoe shelter (where you can see a racing canoe of extreme beauty), and a drum shelter.
Wat Sene is the first monastery in the city whose viharn was covered with yellow and red tiles of modern Thai fashion.
Address: Luang Prabang
Opening hours: 8 a.m. – 6 p.m. daily
10. Wat Mai Suwannaphumaham
Wat Mai Suwannaphumaham or Wat Mai (New Monastery) is one of the largest and most beautiful temples in Luang Prabang. Its central position (opposite the night market and next to the Royal Palace) makes it one of the most visited temples of this ancient royal city.
This temple occupies a very important place for the Laotians in Luang Prabang because of its history. It has long served as a temple for the royal family and also housed the Phra Bang, which is a mystical emblem in this country. This most beautiful Laos temple was also the residence of the highest Lao Buddhist dignitary, Pra Sangkharat.
Address: Luang Prabang
Opening hours: 8 a.m. – 5 p.m. daily
11. Pak Ou Cave
A visit to the abandoned temple in Luang Prabang – the Pak Ou Caves would be a great way to learn more about Laos Buddhism and culture. The Pak Ou Cave is one of the most historic temples in Laos, a sacred site for the Laos people to pray. Located upstream of the Mekong River, 25 km from Luang Prabang in northern Laos, the Pak Ou cave is full of thousands of Buddha statues, enshrined in a rocky cliff overlooking the Mekong River.
Address: 25 km from Luang Prabang.
Opening hours: 8 a.m. – 5 p.m. daily
Etiquette Rules to Remember when Visiting Temples in Laos
Although Laos is a relaxed and laid-back country, it is still very conservative, especially when it comes to Laos temples. These are sacred places for the Laotian people, and visitors are expected to behave accordingly. To help you ensure that you are respectful, please remember these following etiquette rules when visiting a temple in Laos.
What to Wear when Visiting Laos Temples?
Laotians dress conservatively and expect visitors to dress accordingly when visiting their temples. It is preferable to dress in a simple, plain, discreet way and in discreet colors. Both men and women should wear a shirt that covers their shoulders. A T-shirt is acceptable, but a collared shirt is preferred. Women should wear a skirt that covers the knees, ideally a traditional sinh. If this option is not possible for you, you should at least wear long pants. Men should wear long pants or, at the very least, shorts that cover the knees.
How to Behave in a Temple in Laos?
Temples in Laos serve as places of worship and quiet contemplation. Please keep this in mind as you explore the temple and act respectfully by speaking softly. Most of the frescoes and wall paintings are very old, so don't touch them. If you are lucky enough to meet a monk in the temple, be respectful. To greet a monk, you must make a traditional "nop" – both hands clasped with palms and fingers touching, as in a prayer, and held with the fingertips in front of the chin in a short curtsey. It is forbidden for women to touch the monks, so do not attempt to do so. Likewise, men should avoid touching monks and not try to shake hands with them unless they offer it first.
Can You Take a Photo?
The temples of Laos are beautiful places and you can take photos of them, or photograph yourself with your friends in the temple, but please respect the dress code and behaviors described above. If you wish to take a photo of a monk, please ask for permission before doing so. If you're polite and respectful, it is very likely that he will be happy to help you.
Donations in Laos Temples
The monks live off the food given to them by the community during the morning almsgiving ceremony. Temple maintenance and repairs are funded by monetary donations from the local community and, sometimes, local businesses. Some large temples may charge an entrance fee, which is used to cover temple maintenance costs. If you want to donate to the temple, the best thing to do is to donate food during the morning almsgiving ceremony. The most appropriate foods are simple staple foods such as rice, fruits, and vegetables. If you would like to donate money, please approach the senior monk of the temple to arrange it.
Temples in Laos are beautiful places, perfect for quiet reflection and peaceful meditation. Beyond these impressive sacred places, this peaceful landlocked country also holds countless mysteries and charms waiting for you to discover. Contact us for the best advice and offers for your trip to Laos.
>>> For more information on Laos tourism, please read our Laos travel guide.