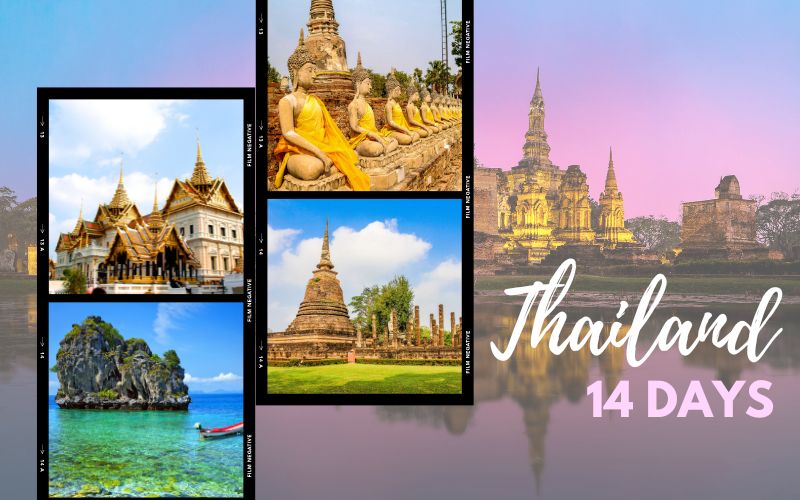 Thailand is considered the "Land of Smiles" with stunning tropical beauty, ancient historic temples, beautiful white sand beaches, a great food scene, and exciting nightlife. It certainly has a unique appeal to attract visitors from all over the world. As tourists travel from place to place, they will notice that the cuisine varies by location. Following this article, you will get useful information about different itineraries as well as cost suggestions when you are planning to spend 14 days in Thailand.
Why Visit Thailand in 14 Days?
Two weeks in Thailand allows you to see a lot in this beautiful tropical country. The only problem is that you should plan and arrange the itinerary carefully so that you do not spend too much time traveling. You don't have to explore the country in one visit, you can move slowly and focus on one area or top attractions first. With 14 days in Thailand, you can spend your time exploring Buddhist architectures of great historical significance and experience recreational activities in the beautiful countryside in Chiang Mai or Kanchanaburi. If you want to snorkel and dive into the turquoise waters of the sea, Phuket and Ko Samui is the ideal place for you.
What to See on Thailand 14 days Tour?
If you are discovering Thailand for the first time, you perhaps want to visit as many places as possible. Thailand is a wonderful country with a wide range of attractions and experiences to offer. While there's so much to see and do in 14 days in Thailand, it's also important to find a balance between entertainment and exploration that gives you enough time to admire some of the rich diversity that the incredible country has to offer.
Bangkok
Bangkok, the capital city of Thailand, is a bustling metropolis that offers a mix of modernity and traditional charm. Thanks to convenient international flight routes, Bangkok is always the first stop for tourists when traveling in Thailand. The city is full of surprises, and exploring its diverse neighborhoods, trying local street food, and immersing yourself in its vibrant culture will make for an unforgettable experience.
>>> Plan to visit Bangkok in the near future, don't forget to read our Bangkok travel guide here.
Northern Thailand
Northern Thailand is known for its stunning landscapes, rich cultural heritage, sacred temples, and charming towns. Whether you're discovering the cultural gems of Chiang Mai or Chiang Rai, embarking on a mountain hike, or soaking up the traditions of the Karen hill tribe villages, Northern Thailand offers a diverse and captivating experience for visitors. This is also the ideal place for those who love to adventure and learn about local culture.
Southern Thailand – Beach Paradise of  Southeast Asia
Southern Thailand is a tropical paradise renowned for its stunning beaches, crystal-clear waters, and vibrant marine life. This is home to many beautiful islands such as Phuket, Karbi, and Ko Phi Phi. Whether you're seeking relaxation on pristine beaches, thrilling water activities, or exploring the region's natural wonders, Southern Thailand offers an array of unforgettable experiences for all types of tourists.
Itinerary Suggestions for 14 Days in Thailand
Itinerary 1: Northern Thailand Discovery
While most Thai visitors experience the same tourist attractions, this next 2-week itinerary in Thailand will take you on a different journey to see the different parts of the country to avoid the crowds. By avoiding the crowds and traveling to "unseen" parts of Thailand, this 14-day experience gives visitors a taste of the other side of the country. Start your adventure by cycling to explore all areas of Bangkok, Chiang Rai, Kanchanaburi, and Hua Hin that most people have never seen.

Day 1: Arrive in the vibrant city of Thailand, Bangkok, you'll have free time to explore the city on your own.
Day 2: You'll follow your guide to visit the Grand Palace and Wat Pho, then enjoy a dinner cruise on the Chao Phraya River.
Day 3: You will take a bicycle tour to explore the lush jungles of Bangkrachao. In the evening, sample delicious street food in Chinatown and make a short visit to Pak Khlong Talat, the 24-hour flower market.
Day 4: Discover 2 famous daily markets of Bangkok, Siang Tai Market and Damnoen Saduak Floating Market.
Day 5: You will hike to Erawan Nation Park and swim in the natural pools of Erawan Waterfalls.
Day 6: Travel to Hua Hin and visit the bustling fishing village by tuk-tuk.
Day 7: Transfer to Kaeng Krachan National Park and explore diverse biodiversity and natural beauty.
Day 8-9: This will be your free day in Hua Hin to do whatever you want.
Day 10: Fly to Chiang Mai, visit notable temples like Wat Phra Singh, Wat Chedi Luang, and Wat Phra That Doi Suthep, or check out some bustling markets.
Day 11: Meet elephants in an ecological elephant park and afternoon food tour.
Day 12: You will have the chance to learn how to cook traditional Thai dishes in a family-friendly cooking class and explore the diversity of ingredients in Thai markets.
Day 13: An exploration of Chiang Mai Arts and Culture through a full-day tour to visit the Lanna Folklife Museum and Wat Sri Suphan Temple.
Day 14: Free time to shop for souvenirs before departing for your departure.
>>> Please check out our detailed itinerary here. Or, refer to our Thailand Classic Tours for more itineraries of this kind but with different duration and travel places.
Itinerary 2: Southern Thailand Beach Adventure
Two weeks in Thailand wouldn't be complete if you missed its beautiful beaches. In Southern Thailand, there are many wonderful islands for you to choose from. This is the perfect place to discover a different culture while enjoying the warm sunshine. This perfect 14-day itinerary is for you if you're daydreaming about white sand beaches and blue skies.

Day 1: You will land in Bangkok first, then catch another flight to Ko Samui. After check-in, you can explore the beautiful island in your space.
Day 2:  Spend a day of aquatic adventure in Angthong Marine Park, unwind on the shore, or take a refreshing swim in crystal-clear waters.
Day 3: You'll have free time in Ko Samui to swim or sunbathe on the beach.
Day 4: Boat trip to Ko Tao and Ko Nang Yuan and join a snorkeling tour to explore the underwater wonderland.
Day 5: Full-day trip to Ko Phang Nga.
Day 6: Free day to explore and relax at the beaches of Ko Samui.
Day 7: You will transfer to Surat Thani Province and drive to Khao Sok National Park. Enjoy a boat excursion to explore the renowned Four Rocks in Ratchaprapha Lake.
Day 8: You can choose to relax or embark on an adventurous journey to discover the natural landscapes of Khao Sok Park.
Day 9: Half-day hiking adventure in the forest of Khao Sok.
Day 10: Transfer to the airport and flight to Phuket. Spend your free time relaxing on beautiful beaches.
Day 11: Boat trip to Phi Phi Islands, visiting Maya Bay and Viking Cave. You can immerse yourself in the natural beauty of the area.
Day 12: You will visit some famous viewpoints of Phuket to enjoy the mesmerizing views of the Andaman Sea and the surrounding coastline. Then, continue to explore the most important Buddhist temple, Wat Chalong, and Phuket Old Town.
Day 13: Spend your last full day in Phuket to discover this city on your own.
Day 14: Say goodbye to Thailand.
>>> The comprehensive program is presented here. Seeking a more suitable vacation on the paradise beaches of Thailand? Consult our Thailand Beach Holidays.
Itinerary 3: Fanstatic Thailand Tour
Thailand has a lot to offer in terms of culture, traditions, and beautiful architecture. When you explore the temples, food carts, and vibrant markets, you'll feel like you're on a breathtaking adventure. Bangkok, Chiang Mai, and Ko Samui promise to give you a sense of relaxation even as you wander around these cities. The attractions on the trip are also very suitable if you want to experience them with your family.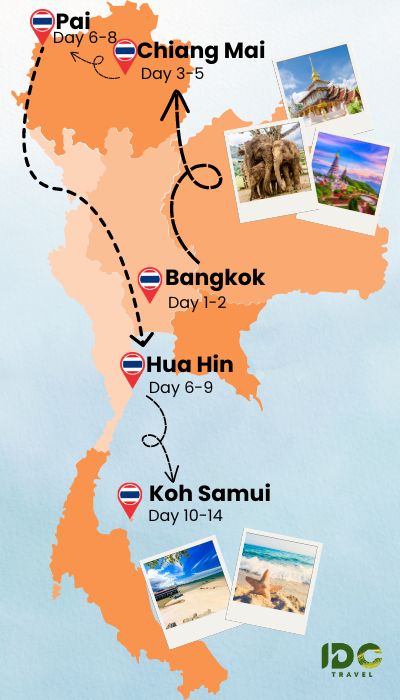 Day 1: Arrive in Bangkok, you will have free time to explore some of the iconic landmarks along the Chao Phraya River.
Day 2: This will be your day to immerse in the history and culture of Bangkok, follow your guide to visit breathtaking attractions such as the Grand Palace and Wat Pho, then join a midnight tuk-tuk food tour for dinner.
Day 3: Fly to Chiang Mai and visit Wat Doi Suthep Temple
Day 4: Day trip to Elephant Jungle Sanctuary and Karen village.
Day 5: You will reach Thailand's highest point, Doi Inthanon National Park, and continue to a lush, Wachiratharn Waterfall.
Day 6: Transfer to Pai in Mae Hong Son Province.
Day 7: Spend a full day exploring the countryside and other hidden destinations of Pai, such as Yuan Lai Viewpoint, Tham Lod Cave & Jabo Village.
Day 8: Admire the natural beauty of Chiang Mai and Surat Thani on the way to Khanom.
Day 9: You'll take a boat trip to discover the pink dolphins on Ko Nui Nork Island.
Day 10: Free time to relax on the sandy beaches of Khanom.
Day 11: You will take the ferry to Ko Samui.
Day 12: Spend a day of aquatic adventure in Angthong Marine Park.
Day 13: Spend your last full day in Thailand to discover one of the iconic beaches in Ko Samui.
Day 14: Depart Thailand.
>>> Consult the detailed program of this itinerary here.
Itinerary 4: Fascinating Multi-country Trip
Experience the best of Cambodia and Thailand with this carefully designed itinerary that seamlessly combines rich cultural exploration with blissful beach retreats. Over the course of 14 days, you'll have the opportunity to immerse yourself in the wonders of Angkor Wat, delve into the vibrant floating villages and bustling markets, and indulge in uninterrupted beach bliss. With ample time in Siem Reap, Bangkok, and Phuket, you'll have the perfect chance to unravel the unique quirks and captivating charms of each destination. Get ready for a journey that encompasses ancient marvels and idyllic island escapes.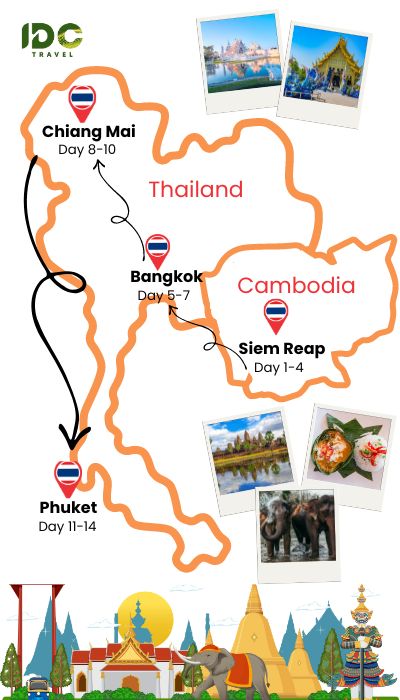 Day 1: Arrival in Siem Reap, have free time to explore the city,  and immerse yourself in the delightful cuisine of the vibrant Old Market.
Day 2: Visit the Angkor Wat Complex at sunrise, including the ancient ruins of Angkor Thom South Gate, Bayon Temple, Royal Enclosure, etc.
Day 3: Day trip to Angkor Archaeological Park, and explore historic temples like Banteay Srei and Banteay Samre.
Day 4: Day trip to Koulen Mountain and Beng Mealea, then return to Siem Reap in the late afternoon to visit the Made in Cambodia Market.
Day 5: Fly to Bangkok, and take a self-guided tour of the Chao Phraya River Cruise in the evening. Enjoy dinner and soak in the vibrant ambiance of the city.
Day 6: You will visit Wat Arun, Wat Pho temples, the Grand Palace, and Wat Phra Kaew. In the evening, you will head to Chinatown for a food tour.
Day 7: Explore the fascinating Mae Klong Railway Market and immerse yourself in the vibrant Floating Market.
Day 8:  Fly to Chiang Mai and visit the old town on your own. In the evening, you will have a Khantoke dinner with northern Thai cuisine.
Day 9: Full-day explore the enchanting city of Chiang Mai.
Day 10: Full-day explore an Elephant Jungle Sanctuary in Chiang Mai.
Day 11: Fly to Phuket and dive into the wonders of this captivating city.
Day 12: Discover Phi Phi islands, explore beaches and enjoy delicious seafood.
Day 13: Free day in Phuket.
Day 14: Depart Thailand.
>>> Check the detailed itinerary at our Unforgettable 14-day Tour to Thailand and Cambodia. For more tour programs of your preference, you can refer to our list of well-planned Thailand – Cambodia tours.
Travel Budget for 14 Days in Thailand
The budget for traveling in Thailand 14 days can vary depending on your travel style, preferences, and the level of comfort you seek. Here's a general breakdown of the expenses you can expect:
Cost of international flights to Thailand
The cost of international flights to Thailand can vary significantly depending on various factors such as the time of year, departure location, airline, class of service, and how far in advance you book. On average, flights from North America and Europe to Thailand can range from $400 to $1500 or more, depending on the departure city, time of year, and airline. Prices tend to be higher during peak travel seasons like December to February and lower during shoulder or off-peak seasons. However, flights from Asia and neighboring countries can be cheaper, ranging from $100 to $400 for a round-trip ticket.
Nevertheless, it's essential to bear in mind a few budget travel tips that can assist you in securing the most economical flight to Thailand:
Utilize the Skyscanner flight comparison tool to uncover the finest deals.
Opt for travel during the low season, typically from April to October, when flight prices are generally lower.
Consider transferring money from an Asian country, which may offer more favorable exchange rates.
Cost of Domestic transportations in Thailand
Transportation costs in Thailand can vary depending on the mode of transportation and the distance traveled.
Domestic Flights
If you're traveling between 2 destinations in the Thailand area, domestic flights can be a time-saving option. Prices for domestic flights can vary depending on the airline, route, and time of booking. As a rough estimate, the price can range from 1,000-5,000 Thai Baht ($32-$160) or more.
BTS Skytrain and MRT Subway
Bangkok has an efficient public transportation system, including the BTS Skytrain and MRT Subway. Prices for a single journey on either system typically range from 15-60 Thai Baht ($0.50-$2).
Tuk-tuks
Tuk-tuks are three-wheeled vehicles commonly used for short trips within cities. Prices are usually negotiated and can vary depending on the distance and the negotiation skills. As a rough estimate, a short tuk-tuk ride within a city might cost around 30-100 Thai Baht ($1-$3).
Taxis
Metered taxis are the most convenient transport in major cities like Bangkok and Phuket. The base fare is usually around 35-50 Thai Baht ($1-$2), and the meter increases as you travel. Longer trips within the city might cost around 100-300 Thai Baht ($3-$10), depending on the distance and traffic conditions.
Local Buses
Local buses are an economical way to travel within and between cities. Prices for shorter journeys within a city can range from 10-30 Thai Baht ($0.30-$1), while longer intercity bus trips can range from 100-500 Thai Baht ($3-$16).
Trains
Thailand has an extensive train network that connects major cities. Train fares vary depending on the class of travel and the distance traveled. For example, a second-class sleeper berth from Bangkok to Chiang Mai might cost around 700-1,200 Thai Baht ($23-$39).
Cost of Accommodation
The cost of accommodation in Thailand can vary depending on the location, type of accommodation, season, and level of comfort. Additionally, prices may be higher during peak travel seasons, such as December to February, and lower during shoulder or off-peak seasons. However, with 14 days of continuous travel in Thailand, you will likely have to change many stops and accommodations. So, refer to the information below to choose the suitable one:
Good Budget: Budget options such as guesthouses, hostels, and budget hotels can range from around 200-800 Thai Baht ($6-$26) per night, depending on the location and amenities. In popular tourist areas like Bangkok, Chiang Mai, or Phuket, prices might be slightly higher, especially during peak travel seasons.
Mid-Range Hotels: Mid-range hotels with more amenities and comfort can range from approximately 800-3,000 Thai Baht ($26-$97) per night. These hotels often offer more spacious rooms, private bathrooms, air conditioning, and additional facilities such as swimming pools or fitness centers.
Luxury Hotels and Resorts: Luxury accommodations in Thailand can range from approximately 3,000-20,000 Thai Baht ($97-$650) or more per night, depending on the location and level of luxury. These properties typically offer premium amenities, spacious rooms or villas, stunning views, and a range of facilities such as restaurants, spas, and private beach access.
To get the best deals, it's recommended to compare prices on booking websites, consider booking in advance, and be flexible with your travel dates. In addition, usually search for special promotions or discounts offered by hotels and resorts.
Cost of eating out in Thailand
Street Food: Thailand is famous for its delicious and affordable street food. You can find a wide variety of dishes, including noodles, curries, stir-fries, and snacks. Prices for street food typically range from around 30-100 Thai Baht ($1-$3) per dish. Some popular street food items like Pad Thai or Mango Sticky Rice may cost slightly more.
Local Eateries and Food Courts: Local eateries and food courts offer a mix of Thai dishes at affordable prices. You can enjoy a full meal with rice, a main dish, and a drink for around 50-150 Thai Baht ($2-$5), depending on the location and type of dish.
Mid-Range Restaurants: Mid-range restaurants in Thailand offer a wider range of cuisines and dining experiences. Prices can vary, but a meal at a mid-range restaurant can cost around 150-400 Thai Baht ($5-$13) per person, depending on the location and the type of cuisine.
High-End Restaurants: High-end or upscale restaurants in popular tourist areas or luxury hotels can be more expensive. Prices can range from 400 Thai Baht ($13) and above per person for a meal. Fine dining establishments with international cuisine or Michelin-starred restaurants may have higher prices.
Western and International Cuisine: If you want to enjoy meals at Western or international restaurants in Thailand, prices can be higher compared to local Thai cuisine. A meal can cost around 300-800 Thai Baht ($10-$26) or more per person.
Cost of Attractions/Activities in Thailand
The cost of activities in Thailand can vary widely depending on the type of activity, location, and level of luxury or exclusivity. Here are the approximate costs for various activities in Thailand to reference:
Temples and Cultural Sites: Many temples and cultural sites in Thailand have an entrance fee, typically ranging from 20-200 Thai Baht ($0.60-$6.50) per person.
National Parks and Natural Attractions: The fees vary depending on the park and location, ranging from 100-400 Thai Baht ($3-$13) per person. Popular natural attractions like waterfalls, caves, and viewpoints may also have entrance fees.
Boat Trips and Island Tours: A day trip to popular islands like Phi Phi Islands or James Bond Island can range from 1,000-2,500 Thai Baht ($32-$81) per person, while multi-day liveaboard diving trips can range from several thousand bahts to a few hundred dollars.
Water Sports: The prices for these activities depend on the location and the duration of the activity. For example, a half-day snorkeling trip might cost around 1,000-2,000 Thai Baht ($32-$65) per person.
Elephant Sanctuaries: Prices can range from 1,000-3,000 Thai Baht ($32-$97) or more per person for a half-day or full-day visit to an elephant sanctuary.
Spa and Wellness: Prices for spa treatments vary depending on the location, type of treatment, and the level of luxury. A one-hour Thai massage can range from 300-800 Thai Baht ($10-$26) or more.
>>> Prepare well for your trip to Thailand with our Thailand Travel Tips: How To Prepare For Your First Trip?
We are confident that the information provided above will contribute to making your 14 days in Thailand a truly enjoyable experience. If you have any further inquiries or require additional details, feel free to contact us.
Read more: