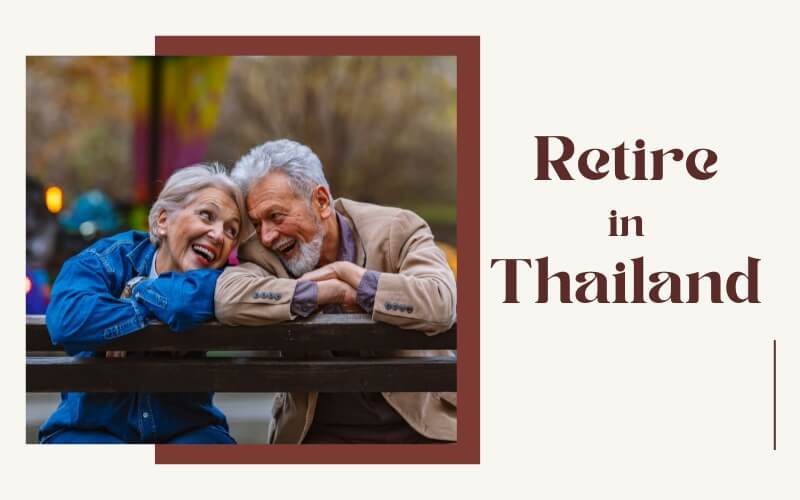 Are you yearning for early retirement in a place that provides a reasonable cost of living, outstanding healthcare, and an enriching cultural journey? If you belong to the expanding group of individuals pursuing Financial Independence and Retiring Early (FIRE), Thailand might just be the ideal place for you. Renowned for its breathtaking landscapes, tropical climate, and hospitable culture, this country has emerged as a favored choice for numerous individuals seeking a rewarding and satisfying early retirement.
Within this comprehensive article, we explore the compelling reasons that make Thailand an appealing destination for retirement and provide crucial advice for organizing your relocation.
Why Retire in Thailand?
Affordable Cost of Living
Affordability is a significant factor drawing expatriates to retire in Thailand. A couple can relish a highly comfortable lifestyle in Thailand with an approximate monthly expenditure of $1700. Within this budget, they can effortlessly secure a two-bedroom rental property, cover grocery expenses, medical costs, and utilities, enjoy dining out a few times a week, and even maintain a vehicle.
Retirees also have the option to purchase properties like condos in Thailand. While direct land ownership is restricted for foreigners, they can navigate this process seamlessly by acquiring properties through extendable leases of 30 years, ensuring a hassle-free property ownership experience.
High-quality Healthcare Service
Thailand boasts exceptional healthcare services tailored for expatriates, with costs ranging 30-50% lower compared to the same procedures in your current country. A medical examination, for instance, may only amount to approximately $14, while a dental checkup including cleaning can be obtained for around $30. Most hospitals and clinics in Thailand operate without extensive waiting periods, and many uphold the gold standard in healthcare. The doctors are highly qualified and proficient in English, eliminating any concerns about language barriers.
However, it's important to note that foreigners do not have free access to Thailand's public hospital system. These low-cost options typically provide basic coverage that does not extend outside of Thailand, making them insufficient for travel or when returning to your home country. Additionally, the coverage is not portable if one decides to move to another country, like Vietnam.
Favorable Weather
Thailand maintains a consistently humid and tropical climate throughout the year, although different regions may encounter variations in temperature, rainfall, and humidity. While it may take some expatriates a little time to acclimate to this tropical weather, it brings forth numerous advantages. The freedom to comfortably wander in shorts, dresses, and open shoes eliminates the need for layering up during winter to keep warm. Embracing outdoor living becomes a way of life in this country. Many expatriates have dubbed Thailand a paradise, owing to its delightful weather.
Friendly Local People and Rich Culture
Thailand, often referred to as the "Land of Smiles," is renowned for its hospitality and the warm nature of its people. As a constitutional monarchy, it stands as one of the few countries in the world that remained uncolonized by Europe. Buddhism serves as the primary religion, with approximately 95% of the population practicing this faith.
The everyday lives of the Thai people are imbued with compassion, serenity, and kindness. Many expatriates have expressed a sense of enhanced safety compared to their home countries, as reflected in surveys. Thailand's vibrant culture and rich history manifest in the multitude of religious and historical festivals celebrated throughout the year. These festivals serve as a means for expatriates who decide to retire in Thailand to immerse themselves in the cultural tapestry of Thailand.
Vibrant Expat Communities
Thailand has become a preferred destination for a considerable population of global nomads seeking a fulfilling retirement lifestyle. Among the various cities in Thailand, Chiang Mai stands out as a favorite spot for retirees looking to relocate. This city boasts a well-established ex-pat club, providing a supportive network that eases the transition into the country. In other cities, expatriates primarily connect through diverse Facebook groups. By forging friendships with fellow expats, you can indulge in a plethora of recreational activities such as dancing, yoga, golfing, fishing, and sailing, enhancing your experience and creating lasting memories.
Best Place to Retire in Thailand
Bangkok
Bangkok, the lively capital city of Thailand, harmoniously blends modern conveniences with a wealth of cultural traditions. Boasting a population of over 500,000 expatriates, the city exudes a diverse and cosmopolitan ambiance, becoming one of the best places to retire in Thailand. As a bustling metropolis, it offers an array of attractions, including sprawling shopping malls, gourmet restaurants, and iconic landmarks like the Grand Palace and Wat Arun. Surprisingly, the cost of living remains affordable for a capital city, with one-bedroom apartments in the city center typically ranging from $600 to $800 per month. Exploring Bangkok's renowned culinary scene is also budget-friendly, with meals at local restaurants often costing as little as $1 to $3 per serving.
>>> Visit the striking Bangkok city with major destinations such as Wat Arun, Grand Palace, Wat Pho, Jim Thompson House Museum, etc. with our Bangkok Highlights Tour in 5 Days.
Chiang Mai
Located in the mountainous region of Northern Thailand, Chiang Mai offers a more laid-back lifestyle compared to Bangkok. The city is known for its beautiful temples, cooler weather, and slower pace of life. Approximately 40,000 ex-pats reside in Chiang Mai, adding to its vibrant, multicultural atmosphere. The cost of living is even more affordable than in Bangkok, with a one-bedroom apartment in the city center costing around $300-$500 per month. Moreover, the city is known for its health-conscious dining options, with numerous organic restaurants and food markets available at very reasonable prices.
Phuket
Phuket, Thailand's largest island, captivates beach enthusiasts with its stunning shores. Renowned for its picturesque beaches, thrilling water sports, vibrant nightlife, and abundance of luxury lifestyle options, Phuket holds an undeniable allure. Around 115,000 expatriates have chosen to call Phuket home, drawn to its tropical beach-centric lifestyle and lively ex-pat community. While the cost of living in Phuket is slightly higher compared to other parts of Thailand, a one-bedroom apartment in the city center typically ranges from $400 to $700 per month. Phuket's culinary scene is a paradise for food lovers, offering a wide array of fresh seafood, international cuisines, and delectable local Thai dishes.
>>> Come and join us on a 7-Day Package to Phuket Town to understand this destination in depth before calling it home for your retirement.
Pattaya
Situated just a two-hour drive away from Bangkok, Pattaya presents an enticing blend of tranquil beachside relaxation and a vibrant urban atmosphere, a perfect place to retire in Thailand. With approximately 20,000 expatriates calling it home, Pattaya offers an array of entertainment and sports facilities, including golf clubs and water sports centers. Housing prices in Pattaya are comparable to those in Chiang Mai, with a one-bedroom apartment in the city center typically ranging from $300 to $500 per month. The city boasts a dynamic food scene, featuring a diverse selection of Thai and international restaurants, while its proximity to the sea ensures that fresh seafood remains a local specialty.
Retirement Visa in Thailand
First and foremost, it is important to note that citizens of the United States and many European countries do not require a visa for visiting Thailand. A valid passport and a return trip scheduled before entering the country are sufficient.
However, if you intend to retire in Thailand, you will need to obtain a retirement visa, also known as a Non-Immigrant Long Stay Visa. This can be done either in Thailand or at a consulate in your home country. The process for obtaining a retirement visa is relatively straightforward, although it may take time depending on your retirement plans.
To qualify for a retirement visa, you must be at least 50 years old and pass a criminal background check. You also need a valid passport with a minimum one-year validity. Additionally, you must meet specific financial requirements, which can be satisfied in several ways:
Maintain a Thai bank account with a balance of at least 800,000 baht (approximately $24,500).
Demonstrate a monthly income or pension of at least 65,000 baht (about $2,000).
Combine the above options to reach a total fund amount of at least 800,000 baht ($24,500).
If you choose the first option, it is necessary to have the required funds in the Thai bank account for at least two months before your visa application. You must provide a letter from the bank as proof of deposit.
While a retirement visa is valid for one year, it is important to report to immigration every 90 days. Failure to do so may result in the voiding of your visa. It is also important to note that a retirement visa does not permit you to work in Thailand; a work visa is required for employment. Attempting to work or volunteer with only a retirement visa may invalidate your visa.
Additionally, a retirement visa does not allow for multiple entries and exits from the country. If you plan to travel, even for a visit back to your home country, within the first year of your residence, you will need to apply for a re-entry permit. The process for obtaining a re-entry permit is relatively simple and requires an application form, a photograph of yourself, and various sections of your passport.
As your retirement visa approaches expiration, you will need to apply for a visa extension. The application for a visa extension is similar to the initial application but with additional requirements. These may include proof of address, copies of bank statements, and photographs of every page of your passport.
Residents of the United States, along with a select few other countries, have the opportunity to obtain five-year retirement visas. However, the eligibility criteria for this type of visa are more stringent. In this case, a Thai bank account balance of at least 3 million baht (approximately $90,000) is required, and the funds must have been in the account for at least 12 months prior to the application.
>>> For detailed visa information to retire in Thailand, please refer to the regulation here.
Buy/Rent Property in Thailand
When considering retirement in Thailand, one of the most significant choices you'll face is whether to rent or buy your new home. Each option has its advantages, and the decision depends on factors such as your circumstances, financial situation, and long-term plans.
Buying Property in Thailand
In Thailand, foreigners have the opportunity to own condominium units outright, although direct ownership of land is restricted. However, there are legal mechanisms available to secure control over land, such as establishing a Thai Limited Company or entering into a long-term lease agreement. For many ex-pats, purchasing a condo is the most straightforward path to property ownership in Thailand. It is crucial to engage a reputable local lawyer to guide you through the process and ensure you have a comprehensive understanding of the legal implications.
Renting in Thailand
Renting is a popular choice for retiring in Thailand due to the country's affordable rental market and the flexibility it provides. Renting allows you to explore various areas and neighborhoods before settling on your preferred location. It also eliminates the upfront costs associated with property purchases and the complexities of navigating property ownership laws as a foreigner.
Deciding Whether to Rent or Buy
The decision to rent or buy largely depends on your situation. If you prioritize flexibility and haven't committed to a long-term stay in one place, renting is likely the better option. On the other hand, if you have a clear location in mind and plan to stay for many years, buying may be a wise investment, particularly considering the potential for property prices to appreciate over time. Remember, it's crucial to conduct thorough research and potentially seek legal and financial advice before making a decision.
Finally, prepare for Your Retirement in Thailand
Relocating to a new country like Thailand is not an easy task. Apart from the significant factors like visa and finance, you also need to consider other essential things in life, such as the local country's costumes, traditions, cuisine, language, etc.
Financial Planning: Evaluate your anticipated yearly expenses and ensure that your savings and investment returns are sufficient to comfortably cover them.
Healthcare: Explore the healthcare options available in Thailand and make sure you have adequate health insurance coverage.
Language: While English is commonly spoken in urban areas and tourist destinations, acquiring basic knowledge of Thai phrases can enhance your daily life and interactions.
Thai Culture: Take the time to familiarize yourself with Thai customs and traditions, as displaying respect for the local culture is highly valued in Thailand.
By conducting thorough research and careful planning, you can ensure a smooth and enjoyable transition to retirement in Thailand, enabling you to fully embrace your early retirement in this magnificent country. Feel free to contact us if you need more information or a private consultation for your idea.