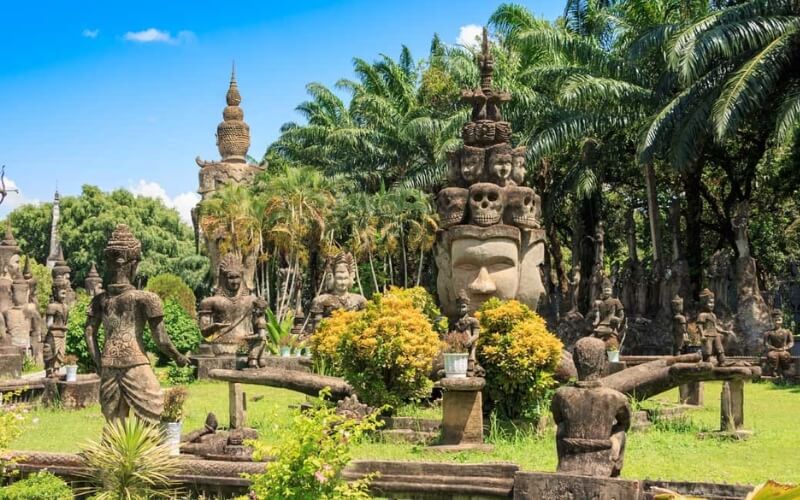 Laos is an often overlooked gem in Southeast Asia. If you enjoy discovering off-the-beaten-path destinations, then Laos will surely capture your heart. If you have less than a week to spare, it's advisable to keep your travel passion to Laos, which offers a more in-depth look at the culture and architecture of Southeast Asia. The following are some suggested itineraries for 4 days in Laos that will take you to discover something unexpected, from magnificent landscapes to gorgeous historical and cultural sites.
Best Time for 4 Days in Laos
To experience the best of Laos, it's recommended to visit between October and April when the weather is warm and dry throughout the country. During November and January, the Mekong River, the main waterway in Laos, is easily navigable due to high water levels, making river travel the best during this time. The Bolaven Plateau is also a great destination during these months. Laos' climate is influenced by its geography, and the highlands in the northern, eastern, and central regions have cool temperatures throughout the year. The 'green season' falls between late May and October, characterized by short and heavy rain showers that do not hinder exploration. In fact, this time of the year brings the country to live, with waterfalls flowing and lush scenery attracting a variety of wildlife.
>>> Read more: Laos Weather: When is the Best Time to Visit Laos?
Places to Visit during Laos Itinerary 4 Days
1. Vientiane
Taking a tour of the capital city of Vientiane is an ideal way to gain insight into the history and culture of Laos, which is made up of a vast number of ethnicities. A private full-day sightseeing tour of Vientiane City will take you to the major tourist attractions, such as the Patuxay Monument, Wat Si Saket, Wat Phra Keo, and Buddha Park.
Pha That Luang, also known as the "Great Stupa in Lao," is a prominent landmark located in Vientiane. This monument is considered to be one of the most significant in the country. The stupa comprises multiple terraces, each representing a distinct stage of Buddhist enlightenment, with the lower levels signifying the material world and the upper levels symbolizing the world of nothingness. Originally built on the ruins of a Khmer temple in the 16th century, the stupa was destroyed by a Siamese invasion in 1828 and later reconstructed by the French in 1931.
If you have enough time, it is worth stopping by the COPE Visitor Center on Boulevard Khou Vieng in Vientiane. The center provides education about the important work of offering disability services and prosthetic limbs to those affected by unexploded military devices. For a fun excursion, make sure to visit the Vientiane night market as well.
2. Luang Prabang
Luang Prabang, located on a peninsula between the Nam Khan and Mekong rivers, is one of the most enchanting cities in Southeast Asia and the top tourist destination in Laos. Before the communist takeover of the country in 1975, it was the royal capital of Laos. The main roads of Luang Prabang are adorned with a mix of golden-roofed temples, wooden houses, and old French provincial buildings that exude an old-world charm. At dawn, the streets come alive as monks from various monasteries walk along the roads, collecting rice as alms.
Wat Xieng Thong, Luang Prabang's most impressive temple, is a must-see destination during your 4 days in Laos. Constructed in 1560 by King Setthathirath and supported by the royal family during the Kingdom of Laos, it houses a unique reclining Buddha statue dating back to its construction. The statue was taken to Paris in 1931 and exhibited at the Paris Exhibition, only to be returned to Luang Prabang more than three decades later.
3. Pak Ou Caves
Situated on the banks of the Mekong River, just north of Luang Prabang, are the Pak Ou Caves, which can be accessed by road or boat. These caves are renowned for their miniature Buddha statues, with hundreds of small wooden sculptures arranged on wall shelves. The Buddhist figures, which are mostly damaged, depict a variety of themes such as meditation, teaching, peace, rain, and reclining (nirvana).
4. Vang Vieng
Located about 4 hours north of the capital city, Vang Vieng is a charming town situated on the banks of a river. The main street of the town is bustling with tourists, guest houses, bars, restaurants, tour agencies, and internet cafes. The town is famous for its breathtaking karst hill landscape that encircles it. These limestone hills attract rock climbers, while the uncharted tunnels and caverns in the area are a paradise for spelunkers. However, the most popular activity in Vang Vieng is tubing along the Nam Song River in an inner tube, enjoying the scenic beauty of the surrounding hills.
5. The Mekong River
With a length of 4,350 km (2,703 miles), the Mekong is the largest river in Southeast Asia, and Laos holds the largest share of it. Due to the mountainous terrain and lack of good roads, the river is the primary mode of transportation in the country. The Upper Mekong in Laos is renowned for being one of the most breathtaking parts of the river. One of the best ways to appreciate the scenery is by taking a boat ride from Huay Xai, located at the northern Thai border, to Luang Prabang, or vice versa.
6. Si Phan Don (4000 Islands)
Si Phan Don, which means "4,000 islands", is a picturesque group of islands located in southern Laos along a scenic stretch of the Mekong River. The Khone Falls, a series of rapids that stretch for 9.7 km (6.0 miles) of the river's length, make the Mekong impassable to river traffic in this area. Downstream of the falls, a small population of the highly endangered Irrawaddy Dolphins can be found. The three primary islands that cater to tourists are Don Det, Don Khon, and Done Kong. Visitors can find simple, family-run bungalows for lodging on Don Det and Don Khon, and bikes and kayaks are available for rent.
7. Wat Phu
The Champasak province's Wat Phu (also known as Vat Phou) is a Khmer temple complex in ruins located at the foot of Mount Phu Kao. The temple structures, which are of Hindu origin, date back to the 11th to 13th centuries. Compared to the monumental Angkor-era sites in Cambodia, Wat Phu is small, but its mystical atmosphere is enhanced by the tumbledown pavilions, enigmatic crocodile stone, and tall trees that cover much of the site. Even today, the temple remains a functioning Buddhist site.
8. Plain of Jars
The region surrounding Phonsavan, known as the Plain of Jars, is characterized by numerous giant jars of unknown origin scattered throughout the landscape. The jars are found in clusters, ranging from a few to several hundred, and are all made of hewn rock, varying in height and diameter from 1 to 3 meters. While most of the jars are plain, with no decorations, one of them features a human bas-relief carved on the exterior. Scholars studying the Plain of Jars speculate that the stone jars were used for prehistoric burial rituals.
Suggested 4 Days in Laos Itinerary
Laos is a small country in Southeast Asia and 4 days are generally enough to discover almost all of its major highlights. You can spend your whole Laos itinerary 4 days discovering one city such as Luang Prabang or Vientiane or traveling throughout the country.
Itinerary 1: Travel throughout the country
Day 1: Arrive in Vientiane and sightsee some structures of French colonial architecture
Day 2: Visit Wat Si Saket, Wat Prakeo, Pha That Luong, and Patuxay Monument. Fly to Luang Prabang
Day 3: Admire Wat Visoun, Wat Aham, Wat Sene, Wat Mai, and Wat Xieng Thong. Continue the journey to Pak Ou caves and Ban Xanghai village in the afternoon.
Day 4: Join the morning ritual of monks collecting Alms and departing.
>>> See the detailed Laos at a Glance Itinerary here. Or, extend your program to 5 days in Laos with this itinerary.
Itinerary 2: Laos itinerary 4 days in Vientiane
Day 1: Arrive in Vientiane, and visit Patuxay Monument and Pha That Luang.
Day 2: Visit Haw Phra Kaew and Buddha Park.
Day 3: Explore the People's Security Museum in the morning. In the afternoon, head to Vientiane Wat Mahathat.
Day 4: Discover the Vientiane morning market and Kaysone Phomvihane Memorial before departing.
>>> See the detailed program at Vientiane 4 days tour over historical highlights.
Itinerary 3: Thailand, Laos, and Vietnam Grand Tour
If you have enough time, why don't you try our 15-day tour through Thailand, Laos, and Vietnam? You will start your journey in Bangkok, traveling to Chiang Mai, Luang Prabang, Hanoi, Ha Long Bay, Da Nang, and Hoi An Ancient Town. You will also visit Laos in 4 days with major highlights of Luang Prabang and Kuang Si Waterfalls.
What to Eat During 4 Days in Laos
1. Khao Niaw (Sticky Rice)
Khao Niaw is a dietary staple throughout Laos, where it is consumed in larger quantities than in any other country in the world. The sticky rice is typically steamed in a cone-shaped bamboo basket and served in a covered basket along with a variety of dishes. It is customary in Laos to have sticky rice available for consumption at any time of day.
2. Tam Mak Hoong (Green Papaya Salad)
The salad made with shredded unripe papaya is known as Tam Mak Hoong and is believed to have originated in Laos, but is served in various forms throughout the region. Lao immigrants introduced the dish to Bangkok, where it gained popularity. Green Papaya Salad differs from Thailand's Som Tam in that it typically does not contain peanuts and is prepared with fermented fish sauce. It is made by pounding together a variety of ingredients, including palm sugar, lime, garlic, tomatoes, dried shrimp, chilis, and raw eggplant, using a traditional mortar and pestle.
3. Naem Khao Tod (Crispy Rice Salad)
Nam Khao Tod is also a must-eat dish during your Laos tour, consisting of deep-fried rice balls, soured pork sausage, peanuts, grated coconut, fish sauce, dried chili peppers, and other ingredients, served as a fresh salad. The salad is wrapped in individual lettuce leaves, and topped with fresh herbs and dried chilis. It is commonly served as an appetizer and is gaining popularity in the West, but for an authentic experience, it is recommended to enjoy Nam Khao Tod with locals in Laos.
Tips for First-time Travelers to Laos
If you visit Laos for the first time, always remember the following tips:
Choose the right time to visit Laos, regularly between October and April. Avoid the rainy season from May to September.
English is spoken quite well in Laos, especially in major tourist destinations such as Vientiane, Vang Vieng, and Luang Prabang.
Never talk about politics with a local while traveling in this country.
Remember to pack toilet paper and tampons as they are not easy to find in Laos. It is easier to buy pads but they may not be similar to those in Western countries.
Dress conservatively, wear clothes that can cover your knees and shoulders, long skirts, loose-fitting T-shirts, etc. to help preserve the traditions of Laos. It is the most important thing to remember when you visit Laos temples and sacred monuments.
Wear shoes that are taken off easily when visiting Laos temples.
Don't forget the bug spray to protect yourself from dengue fever which is very popular in Laos.
Don't bring too many white clothes and large rolling suitcases. You are advised to pack as light as possible because most accommodations in this country do not have elevators.
Remember to eat with your hands while having a meal with local people, so always bring hand sanitizer with you to fully enjoy the experience.
Read and learn by heart our Laos travel guide before departing.
Above are some comprehensive suggested itineraries for 4 days in Laos. Depending on your time and budget, you can extend your journey for several more days. Check our Laos tours for more ideas or contact us for a private consultation and a tailor-made trip to Laos.
Read more: