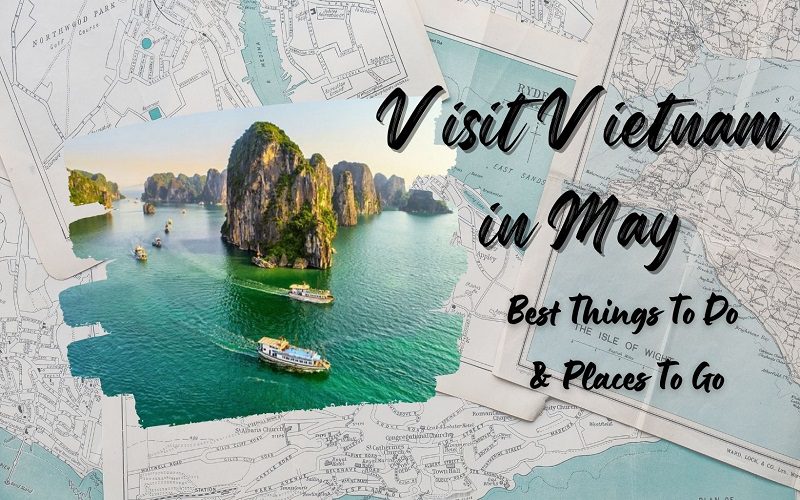 If you're planning to visit Vietnam in May, you're in luck! The temperature is pleasant and perfect for outdoor activities like picnics and beach vacations. Check out our article on Vietnam weather in May for more information.
Overview of Vietnam Weather in May
In general, May is not the best time to visit Vietnam, but it's still not too bad. 29°C – 30°C is the average temperature nationwide with no significant difference between regions. At this time, the central region is about to reach its peak heat, while the south begins to gradually turn to the rainy season, especially towards the end of the month. This season has brought a welcome relief from the humid heat of recent months. The North also begins to rain more, although the temperature continues to rise as the hot summer approaches. 
In the North: Summer is coming
May marks the arrival of summer in northern Vietnam. It gets hotter day by day, with the possibility of showers. Although the average temperature here is only 29°C this month, you can still feel the heat of summer because the hours of sunshine are much longer than the hours of rain. Fortunately, the mountainous area has not been affected by the heat of May. In fact, it is still a good month to visit some famous remote destinations such as Mu Cang Chai and Sapa. You can also go to Ha Giang, but you will need to check the weather forecast frequently as it starts to rain more.
Tip: Prepare sunscreen and apply it every 2 hours to protect yourself from the sun and high UV index.
In the Central: Ideal time to visit
Visit Vietnam in May to enjoy the best time with the beaches of Hoi An, Da Nang, and Nha Trang, with an average temperature of around 30°C. In addition, the north of Hue experiences ideal weather conditions in May. In the west of the Central Highlands and in Da Lat, there is an increase in precipitation despite several periods of drought.
Tip: Bring rain ponchos, umbrellas, flip-flops, and waterproof shoes to cope with sudden heavy showers. 
>>> Go to Central Vietnam: Check our Central Vietnam Tours
In the South: Heavy rains 
Rain is expected to increase in the South, which has helped to reduce the high temperatures of recent months. The average temperature in Southern Vietnam in May is 28°C. Rains tend to fall frequently in the afternoon, often with heavy precipitation.
Tip: Bring rain ponchos, umbrellas, flip-flops, and waterproof shoes to deal with sudden heavy rains.
>>> Learn more: Best Time to Visit Vietnam
Major events in Vietnam in May
Although May is no longer a festive period of the year, you can still attend some of the most authentic cultural events in Vietnam. 
International Workers' Day
International Workers' Day, on May 1st, is a national holiday in Vietnam. It is a day off that coincides with National Reunification Day on April 30th, making it a double holiday for the Vietnamese. And if International Workers' Day falls on a weekend, workers have the following Monday off. This day is not appropriate for long-distance travel or shopping, but travelers can enjoy a seaside stay or stroll the area. 
Buddha's Birthday
Visit Vietnam in May gives you a chance to witness the celebration of Vesak Day or Buddha's Birthday, which is celebrated on the full moon day of the fourth lunar month, either in April or May of the Gregorian calendar.
Although only about 12% of the population are Buddhists, this day holds significant importance in Vietnam as it marks the birth, enlightenment, and Nirvana of Gautam Buddha. People participate in various rituals and cultural performances on this day, including the Buddha Bathing ceremony, acts of charity, and the hoisting of the Buddhist flag. Temples are adorned with decorations, and at night, candles are lit on floating lotus flowers and released into the river. Don't miss this joyful day if you're traveling in major cities in Vietnam.
Ho Chi Minh's Birthday (May 19th)
The anniversary of national hero Ho Chi Minh, which falls on May 19th, leads to one of the largest national celebrations. The streets from Hanoi to Ho Chi Minh City are colored with flowers and banners. However, Nghe An, Uncle Ho's birthplace, is likely the most important place to celebrate the event. Visiting the village of Kim Lien to offer incense and pay tribute to Uncle Ho is a common practice among the locals. Stories of his life and his works of art are told and broadcast to the younger generation, reminding the whole country of his great contribution to Vietnam's anti-colonial struggle as well as to arts and culture.
Rain Prayer Ceremony (Mai Chau)
This is one of the most important festivals for the Muong villagers living in Mai Chau, Hoa Binh. The festival is organized to pray for favorable weather when farmers sow their first cereal seeds for the season and to express their wish for a good harvest. Villagers push their sticks toward the sky, symbolizing the Rain God waking up to prevent drought.
Hue Festival
Hue Festival is one of the main carnivals and celebrations in Vietnam, taking place every two years in April, May, or June in the city of Hue, a UNESCO World Heritage site of Vietnam. During this festival, you can discover and enjoy an amazing range of games, cultural events, and performances that take place over a week.
At this music festival in Vietnam, you will never be bored with the variety of activities available. You can witness drum and percussion dialogues, attend the Hue Poetry Festival, watch Ao Dai fashion parades, human chess, participate in boat races, fly kites, and much more. In addition to these activities, you can also enjoy art exhibitions, film screenings, acrobatics, puppetry, and street performances. These performances showcase the traditional customs practiced by the Nguyen dynasty at that time.
Best places to visit in Vietnam in May
Take a look at some of the top travel destinations in Vietnam in May:
Mai Chau – Rain Prayer Ceremony
Nature endows the Mai Chau district with many beautiful landscapes. It is a tranquil location that helps you forget about the busy and noisy city life and enjoy moments of relaxation after long working days. In May, visitors can witness the Thai people's rain praying ceremony, explore the scenic fields and villages, and purchase traditional brocade souvenirs.
>>> Read more: Mai Chau Itinerary: How to Spend 1, 2, or 3 Days in Mai Chau?
Halong Bay – Good time for cruises in May
Halong Bay, situated on the western side of the Gulf of Tonkin, is among the 29 most exquisite bays worldwide and is an excellent place to explore in Vietnam. The bay is stunning, featuring a vast sea area and 1,969 islands of varying sizes, along with numerous natural landscapes.
The period from May to June is the best time to visit Ha Long. During this time, the weather is cool, not too hot, and suitable for swimming and sightseeing. The weather in Vietnam in May is perfect for cruising Halong Bay for one or two nights. 
Hoi An – Touristique destination not to be missed
If you visit Vietnam in May, you can enjoy the beautiful climate of Hoi An, which consists of two distinct seasons: the rainy season and the dry season. This month offers fresh air that is perfect for visiting and swimming in Cu Lao Cham. Hoi An is famous for its rustic, simple, and attractive beauty. In addition to its traditional values and unique architecture, it also preserves an important cultural foundation. When you travel to Hoi An, you can discover customs, beliefs, folk art, festivals, and romantic natural landscapes. Additionally, you can experience unique cuisine with famous dishes such as Cao Lau, Mi Quang, White Rose Cake, etc.
Nha Trang – Seaside stay
The beaches in Vietnam are usually crowded during the summer, as city dwellers flock to all coastal areas, from north to south. The good news is that this mainly happens on weekends. Beach lovers should head to Nha Trang and go on weekdays to have the beaches all to themselves. Rainy days are uncommon before the end of May, and the tropical heat is just right for sunbathing without getting severe sunburns.
>>> Refer to: Nha Trang Beach 3 Days 2 Nights Tour
This guide on the weather in Vietnam in May will help you plan your vacation in this beautiful country. If you're planning a trip to Vietnam, you can check out Vietnam tours, or contact us for a private consultation.