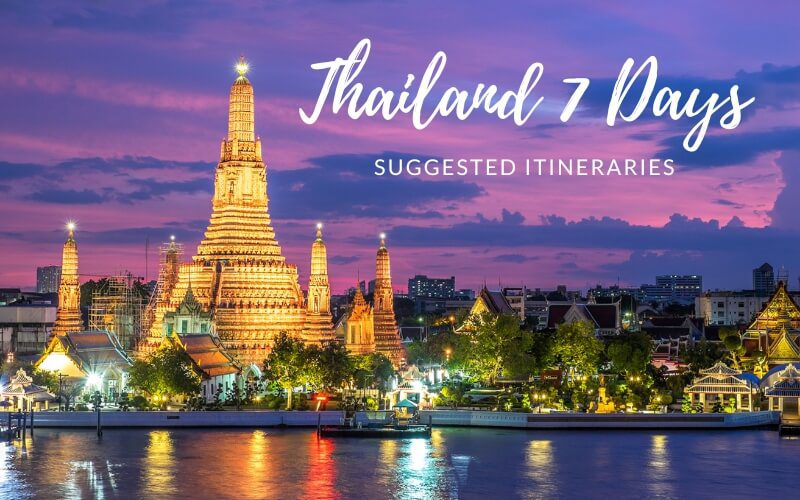 Thanks to its modern cities, pristine beaches, and impressive landscapes, it's not hard to know why Thailand is one of the most popular destinations in Southeast Asia. With such a variety of things to see and do in Thailand, many wonder if a week in Thailand is enough.
If you use your time wisely, plan a week-long Thailand itinerary in advance, and stick to it, you can cover "the essentials" of Thailand in a week. Here are our best itineraries and planned budget for a week in Thailand!
Are 7 Days in Thailand enough?
Visiting Thailand in 7 days can be an amazing and memorable experience. Of course, one week won't allow you to admire or do much everything in this fascinating country, but you will still be able to discover some of the most famous and iconic spots in the country.
During a week in Thailand, you can visit impressive temples, explore bustling markets, relax on white sand beaches, sample local food, and immerse yourself in Thai culture. In 7 days, you can focus on a specific region of Thailand, including Bangkok and its surroundings, or explore the north or south of this country.
7 Days Thailand Itinerary Suggestions
Itinerary 1: Beach Relaxation in Bangkok & Phuket
By following this 7-day itinerary, you can discover two of Thailand's most iconic destinations: Bangkok and Phuket.  Experience the best family trip in the "Land of Smiles" by exploring Bangkok's must-see sites, such as the majestic temples (Wat Pho, the Grand Palace) with culinary visits and gastronomy in Chinatown (China Town). Spend a day with the elephants in Kanchanaburi. For the rest of this tour, fly to Phuket to experience the stunning beaches and sea caves of Phang Nga Bay.
Day 1: After arriving in Bangkok, relax for a while at your hotel, then set off to explore Thailand in miniature at Muang Boran. In the evening, stroll through the stalls in Chinatown to taste local street food.
Day 2: Immerse yourself in the flower market to soak up the beauty of the colors. Continue your journey in the old city by visiting Wat Pho and the Grand Palace.
Day 3: Spend a full day at Elephants World in Kanchanaburi to see elephants in their natural habitat and experience real activities with them before heading back to the capital.
Day 4: Venture into the blue waters and sandy beaches of Phuket Island.
Day 5: Sail in Phang Nga Bay and go scuba diving.
Day 6: Relax on the beautiful beaches of Phuket Island or take part in interesting water activities.
Day 7: Free time before the return flight.
In short, by following this itinerary, you can experience the best of two worlds: the excitement of the bustling city of Bangkok and the peace of the paradisiacal beaches of Phuket. This family tour will allow you to discover the beauty and diversity of Thailand in just 7 days.
>>> See our detailed itinerary: Thailand Family Holiday: From Bangkok To Phuket In 7 Days
Itinerary 2: Adventure Travel to Chiang Mai, Khao Sok National Park & Phuket
If you like discovering Thailand's nature and culture, this itinerary in 7 days is one of the perfect choices for you. You can explore Chiang Mai's famous cuisine, interact with elephants in an ethical sanctuary, and go on a safari in the beautiful Khao Sok National Park. After that, relax on the white sand beaches of Phuket and enjoy the vibrant nightlife of this popular island. This 7-day Thailand itinerary offers an unforgettable travel experience that combines nature, culture, and relaxation, all in one week.
Day 1: Visit the old town of Chiang Mai and its temples, such as Wat Phra Singh, the 15th century Wat Chedi Luang and the mountainside Doi Suthep.
Day 2: Have an ethical experience feeding, washing, and playing in the mud with rescued elephants at a local sanctuary.
Day 3: Fly to Surat Thani, near the Taki River, then head to Khao Sok National Park to stay in a tree house and take part in a thrilling night safari in the rainforest.
Day 4: Venture to Cheow Lan Lake in Khao Sok National Park, where you can spot wildlife like leopards and hundreds of bird species.
Day 5: Head to Phuket to experience the nightlife and historic architecture. Visit the temples of the old city and taste authentic Chinese cuisine and Thai fusion cuisine.
Day 6: Free time to discover Phuket on your own
Day 7: Return flight
>>> See our detailed itinerary: Discovery of Thailand: Chiang Mai, Khao Sok, and Phuket in 7 days
Itinerary 3: Thailand Exploration with Kids
With a period of 7 days, it is also advisable to focus on a single region of Thailand to be able to explore the region in depth and appreciate all the attractions. By choosing this Chiang Mai itinerary in 7 days, you can focus on the key tourist sites and discover the hidden gems of this region. It also allows you to appreciate local traditions and immerse yourself in the culture and customs of the Northern Thailand region.
Day 1: Upon arrival in Chiang Mai, you will explore Doi Suthep to visit Wat Doi Suthep, one of the most sacred temples in the country.
Day 2: Spend a day of aquatic adventure in the beautiful Si Lanna National Park. Enjoy a wonderful time with your family at Bua Tong Waterfalls.
Day 3: Conquer Thailand's highest mountain, Doi Inthanon, and meet the Karen people to learn more about their culture and daily life.
Day 4: Cycle around the southwestern outskirts of Chiang Mai. Discover the intricate wooden carvings and handcrafted furniture at Baan Tawai and its craft market.
Day 5: Come and discover the elephants by observing them in their natural habitat and follow the routine of a mahout (elephant trainer) by feeding and caring for them in an elephant sanctuary in Mae Sa.
Day 6: Spend your last full day in Chiang Mai, enjoying Chiang Mai's other hidden gems.
Day 7: Free time before the return flight.
>>> See our detailed itinerary: Chiang Mai 7 Days Family Adventure
Budget for 7 Days in Thailand
The Thai currency is the baht. One Euro is around 38 baht and one US dollar is around 35 baht. Exchange rates can change from time to time, so visit xe.com to update the rate when you have a plan to travel.
You can choose to order the money in your country before leaving, change your money on the spot, or withdraw banknotes from an ATM. But be careful, for each withdrawal, you will have to pay a commission of 150 to 200 baht or $4~6. You can also pay with your credit card in most hotels. Be vigilant all the same and inform your bank of your stay. On site, during your vacation, be careful when withdrawing money, and keep your payment card with you.
Thailand is a very cheap country and suitable for all budgets. There are big budget variations depending on the seasons (high and low), the type of transport, the type of hotel (swimming pool or not), and the idea that you have of the trip. Depending on the level of comfort, activities, and transport (plane, train, or bus). The budget will not be the same.
International Flight to Thailand
The price of a flight allows between $800 and $1400 for an adult, (the price varies according to the number of stopovers, direct flights are more expensive). Thai Airways is a very good company for such a long non-stop flight. Golf companies (Qatar Airways, Emirates, etc…) are perfect for a flight with a stopover.
Book your flights 4 or 5 months in advance. You don't have to plan too far ahead.
Transportation in Thailand
There are several types of transport to get around Thailand, depending on the destination, budget, and individual preferences.
The plane is the fastest and most common way to travel between cities. Airline ticket prices range from $30 to $100 for an economy-class seat. Ferries or speedboats are the main means of transport between most islands, such as Phuket and the Phi Phi Islands (from $15). Travel between cities can also be done by train, with fares ranging from $8 to $72, or by bus, with fares ranging from $6 to $20.
Thai public transport within cities is very affordable. For example, in Bangkok, for only $0.50 to $1.00 you can take a bus or the MRT/BTS. Taxis charge a minimum of $1 and use their meter to avoid disagreements on prices. Tuk – tuk, on the other hand, costs between $0.5 and $1 for a 10-minute, 0.5-mile walk.
If you are looking for a convenient alternative to explore Thailand in peace, IDC Travel offers private car rental services with drivers at advantageous prices, starting from $45.
Accommodation
You will find, with a minimum budget, small and very pleasant family pensions from $15. With an average budget (between $35 and $60 per night), you will have a comfortable hotel with a swimming pool. Starting at $80 per night, there are incredible hotels that are very beautiful and comfortable with very high-quality service.
Eating Out in Thailand
Thailand has many street stalls where you can eat very well for 1 to $2 per person!
But you can also find many small restaurants for less than $4 per person. Kids love Pad Thai, a typical Thai dish, and the satay skewers are delicious. If you can't eat spicy food, don't hesitate to ask for a non-spicy version, restaurants tend to adapt to the clientele.
Of course, you will also find more gourmet restaurants (especially in Bangkok) where prices can go up to $40 per person, or even more. In addition, there are everywhere kinds of convenience stores called 7-Eleven in the city center where you can find everything you want!
7 days in Thailand will never be enough, this wonderful country will make you want to come back forever. With a well-planned itinerary in one week and an open mind, you can do a lot in Thailand. From islands to cities, from snorkeling to night markets, you won't be bored in Southeast Asia's most popular tourist destination. Contact us now to best plan your first trip to Thailand. Also, read our Thailand travel guide and remember important tips for a full experience in this country.
Read more: