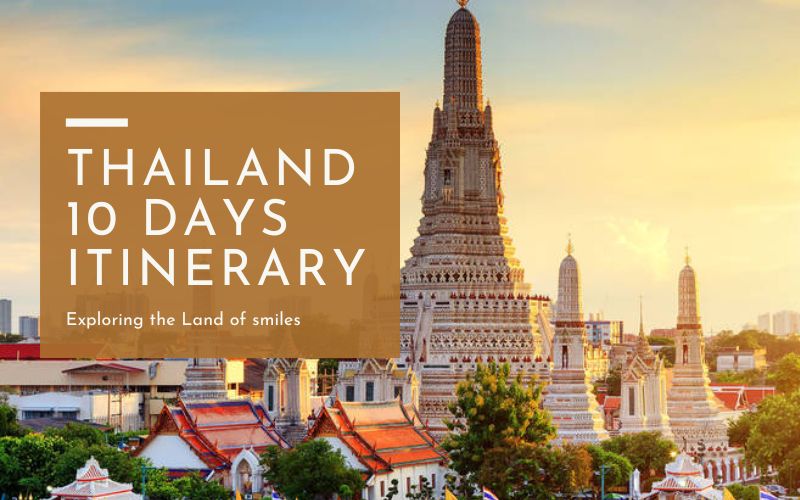 Spending 10 days in Thailand might not be long enough for you to see everything this Southeast Asian country has on offer, but it is guaranteed to be one of the most memorable trips of your life.
Bounded by the Gulf of Thailand to the east and the Andaman Sea to the west with a total coastline of 3148 km, this country is undeniably one of the world's leading travel destinations with a lot to offer.
This itinerary will allow you to discover all of Thailand's highlights, from postcard-perfect tropical beaches, to colorful temples, opulent royal palaces, and breathtaking landscapes. Besides, you can enjoy unbelievably delicious cuisine and feel the incredible friendliness of the Land of Smiles.
Brief itinerary of 10-day trip in Thailand
Day 1 -2: Discover Bangkok and around
Day 3-5: Discover Chiang Mai and around
Day 6-8: Island hopping (Krabi)
Day 9-10: Khao Sok Lake
When is the best time to visit:
The weather in Thailand can be best characterized as tropical and humid for the majority of the country during most of the year. You can visit this country all year round but the best time to travel is during the cool and dry season between November and early April.
Click Thailand travel guide for more information.
Things to know before visit
Thai cuisine is traditionally spicy and full of exotic flavors. Undeniably, enjoying street food dishes is a must-try when you visit Thailand. Top dishes are Pad Thai (stir-fried noodles)  and Khao Pad Thai (fried rice). You should also try Tom Yum Goong (hot and sour shrimp soup).
Starting from October 2022, the period of visa-free stay for tourists from over 50 countries will be increased from 30 days to 45. This is a part of the Thai Government's effort to jumpstart Thailand's tourism economy after it was decimated due to COVID-19 travel restrictions. This Southeast Asian country has also lifted all COVID restrictions for foreign tourists.
Click to learn more about Thai travel news and policies.
Most people arrive in Thailand by plane and there are 11 international airports in Thailand and the biggest are: Suvarnabhumi Airport (Bangkok), Don Mueang International Airport ( Bankok), Phuket International Airport (Phuket) and Chang Mai International Airport (Chang Mai).
It's actually very easy to get around Thailand with a lot of transportation options. The most popular travel options include train, bus, plane and boat.
In Bangkok, the traffic is quite chaotic during rush hour and Bangkok Skytrain is a very good option to travel around. Tuk Tuk is also an authentic transportation you should try when getting around Bangkok.
Many restaurants, cafés, shopping malls, and hotels will offer free WiFi to their customers, and you won't have much problem staying connected during your 10-day itinerary in Thailand.
However, if you don't want to rely on public networks, you can use an unlimited 4G WiFi router for Thailand or get a SIM card.
Buddhism is the largest religion in Thailand,. You should dress and behave property when entering any wat and temple.
Highlights of this 10-day Thailand itinerary
When following this itinerary to Thailand, you will spend the first two days discovering buzzing Bangkok, with its colorful temples and opulent royal palaces, chaotic markets, and bustling city life.
After Bangkok, you will explore the beautiful temples in Chiang Mai and enjoy adventure activities here in the next three days.
From day 6 to day 8, you will have an island hopping tour to enjoy the sand, water, and sun. The remaining two days will be the time for you to retreat to the healing power of nature.
Detailed itinerary for a Thailand 10-day trip
Day 1-2: Discover Bangkok and around
The 10-day Thailand itinerary begins in Bangkok. Although Bangkok is a love it or hate it city, it is a must-go for any first-time Thailand itinerary. Bangkok is a city that will make you feel that you could never have enough time to explore everything this city has to offer.
Generally, the first impression of this city will be the hustle and bustle, the busy and chaotic streets with Tuk Tuks weaving between heavy traffic. However, when you spend more time discovering Bangkok, you will find this city different.
The city is filled with stunning temples, buzzing markets and delicious street food. Bangkok is like a blend of ancient and super modern culture and architecture. Bangkok  is undoubtedly a perfect introduction to Thailand.
Visit Wat Pho and the Reclining Buddha
Wat Pho is a large Buddhist temple complex which is most well-known for the famous Reclining Buddha statue.The Reclining Buddha statue is over 15 meters high and 46 meters long.
Grand Place was previously home to the King. The Royal Family continues to use a portion of the complex.
The most famous in Grand Place is Wat Phra Kaew, also known as the Temple of the Emerald Buddha.
Important: The dress code at the Grand Palace is quite strict. You should cover your shoulders, elbows, and knees.
Enjoy the nightlife at Khao San Road
Khaosan Road is where you can find lots of street food, such as a delicious plate of Pad Thai, and where you can enjoy the lively bars and club scene.
Enjoy a drink at a sky bar in Bangkok for amazing city views

Take a day trip to Ayutthaya
About 80km from Bangkok, Ayutthaya is a abandoned city, now just ancient temple relics (and also a UNESCO world heritage site).
Visiting a floating market is a good way for you to learn about Thai culture and local life.
Day 3-5: Discover Chiang Mai and around
You could travel to Chiang Mai after spending two days in bustling Bangkok. A one-hour flight is available from Don Muang Airport to Chiang Mai.
This ancient city with over 300 Buddhist temples and surrounded by mountains, jungle, and waterfalls is a must-visit in the Thailand 10-day itinerary. Chiang Mai is also a perfect place for adventure lovers, with many activities on offer, such as zip-lining and mountain biking.
You can choose to visit Wat Lok Moli, one of the oldest standing temples in the city, built in the 14th century. 
After that, you can visit Wat Chiang Man because it is located not too far from Wat Lok Moli. This is the oldest temple in Chiang Mai that dates back to 1296, the same time of the foundation of the city.
You can also visit Wat Chedi Luang, one of the most iconic landmarks in Chiang Mai. Known as the "temple of the great stupa", Chedi Luang is an impressive ruined Buddhist temple that dates back to around 600 years ago.
Another temple to visit is Wat Phra Singh which was built in the 14th Century. This temple displays the stunning classic Lanna architectural style proudly with its blindingly gold chedi and several teak wood temples, all within the temple's courtyard.
Visit the White Temple (Wat Rong Khun)
Wat Rong Khun is a modern architectural masterpiece build by a local artist to gain immortal life.
You can also combine visiting the While Temple with the Golden Triangle where Myanmar, Laos and Thailand meet and take a boat trip along the Mekong River and marvel at the natural scenery in one-day tour.
Whitewater Rafting and Waterfall Trekking
Chiang Mai is obviously known a paradise for adventure lovers and whitewater rafting and waterfall trekking are popular actitivities. While whitewater rafting and waterfall trekking is a good way for you to escape the hustle and bustle of city life, you can also learn about the flora and fauna along the way.
Visit Elephant Nature Park.
At Elephant Nature Park, you will learn about and observe rescued elephants.
Day 6-8: Island hopping (Krabi)
After exploring the city life of Bangkok and adventure activities in mountainous Chiang Mai, the next three days in the Thailand 10-day itinerary will be for beach vacation.
From Chiang Mai, the next destination is Krabi. Karabi is home to some of the most stunning beaches in Thailand and also where you can enjoy adventurous activities from snorkeling to rock climbing to kayaking
Enjoy the beach and sun at at Ao Nang or Railey Beach:
You will find stunning white sand, breathtaking views and fantastic limestone cliffs.
In addition to this, you can go rock climbing above one of the many limestone cliffs and kayak around mangrove and canyon. Then you can hike up to the Railey Viewpoint for a stunning view over Krabi.
Located 43 km from the coast of Krabi, the Phi Phi Islands are a group 6 islands. Of them, two major islands are Phi Phi Don and Phi Phi Leh.
Visit Bamboo Island, which has lovely tropical beaches with silky white sand.
Besides, Koh Khai Nok, a tiny beautiful remote island with white sandy beaches and crystal water, is also a must-visit. You can also take a snorkel, go scuba diving and go kayaking and try beach yoga.
Maya Bay is also a popular destinaton. It is a stunningly beautiful bay that's sheltered by 100-metre high cliffs on 2 sides where you can enjoy beautiful beaches and soak up the ray.
Day 9-10: Khao Sok Lake
Located in Surat Thani, Khao Sok Lake offers you a chance to be close to nature and take in Thailand's raw beauty.
Khao Sok Lake, with a beautiful emerald color, stretches over an area of 165 km2 within the 739 km2 of Khao Sok National Park.
During your stay at Khao Sok Lake, you will have the opportunity to look for an array of wildlife. Besides, you can enjoy many activities such as canoeing, swimming, kayaking, and watching the sunset.
After all, two days at Khao Sok Lake is a perfect retreat for you.
Discover more Thailand tours for many other options to make the most of your 10-day itinerary in this beautiful country.
If you are planning to visit Thailand to explore nature, history, and culture, we are here to help make your trip easy and fun.