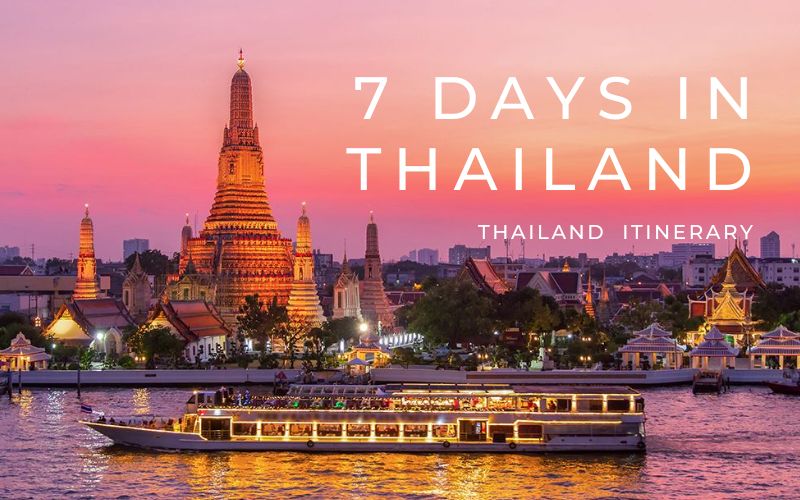 Thailand is a mysterious and fascinating country that is full of elements that combine into a unique culture, along with lots of tropical landscapes and extremely attractive natural beaches. And a Thailand itinerary 7 days trip is a short period to discover the typical beauty of the country. Going on a Thailand tour, visitors will be immersed in the clear blue sea, shop to their heart's content at major commercial centers, admire the majestic, Pedestrian shows in Pattaya style, and many other interesting things are waiting for visitors here. 
Experience going to Thailand itinerary 7 days
Thailand has 3 regions: North (ancient Thai culture), Central (modern city culture), and South (sea and islands). If you can extend it for 3 more days, you will enjoy a more interesting tour. Travel in Thailand 7 days is not as hard as you think!
The best time to make a plan for visiting Thailand
November is recommended for visitors intending to relax at the beautiful west coast beaches, and June is for those who want to visit some of the country's cultural highlights. So your Thailand itinerary 7 days will be perfect between November and the spring season.
It can be said that the best time to visit Thailand depends on where you want to go. In the south, the climate varies between the east and west coasts. The weather on the east coast is good in most months of the year, with the lowest rainfall in January and February and the highest in November. Based on this, you can determine the right time and the best way to set foot in this beautiful country.
A brief of your Thailand itinerary for 7 days
Visit Bangkok on days 1st–3rd.

Indulging in Kanchanaburi on days 4th and 5th.

Phuket on the 6th and 7th. 
Details of your Thailand itinerary for 7 days
Day 1st–3rd: Bangkok
Bangkok is served by two major airports for international travelers: Suvarnabhumi Airport (BKK) and Don Mueang Airport (DMK), if flying into Bangkok. Travel in Thailand 7 days would be a great memory for you!
Suvarnabhumi International Airport, which serves the majority of international flights, is the primary international airport. In comparison to Don Mueang Airport, public transportation is more convenient. You can enter the city using the following methods:
The Airport Rail Link from Suvarnabhumi to Phaya Thai Station costs approximately THB 45. You can get to your hotel by transferring to the nearest BTS line.

From 6 am to 6 pm, buses run every 30 minutes from Khaosan Road. The bus departs from Gate 7 on the first floor of the passenger terminal and costs approximately THB 60.

Taxi or Grab: The fare to the city center is approximately 400 THB, depending on the distance. You should make sure to request a taxi with a meter. Alternatively, the e-hailing service Grab is also quite convenient with the app.

Private airport transportation from Suvarnabhumi International Airport 
Bangkok is a busy city, and it's critical to understand the best ways to get around. Bangkok's traffic is chaotic, with terrible traffic jams. In order to avoid the Bangkok rush hour, it is always best to research the best transportation options. The Bangkok tourist attractions are not entirely covered by the subway system, so keep that in mind. When traveling around the city, you'll still need to figure out how to get around. When you start a Thailand itinerary 7 days or a Thailand itinerary, Bangkok should be your first place to visit.
Day 4th-5th: Kanchanaburi
Many people chose Kanchanaburi because of its proximity to the controversial Tiger Temple, where visitors could take pictures with and pet tigers. But as time has gone on, more people are becoming aware of how cruel it is to treat animals in this way, and they now prefer to travel to Kanchanaburi because of its fascinating history and culture. 
When you get here, head straight for a healthy lunch and do activities at Village Farm to Cafe by the riverfront. Travel in Thailand 7 days is a short period for you to explore here.
The Death Railway Museum is an engaging opportunity to learn more about the circumstances here during the war, the bridge, and the terrible treatment of the Allied prisoners of war while building the bridge. You can visit Thailand within 7 days.
Assuming you still have time to kill and aren't sick of going to museums. In that case, a nice alternative is the Hell Fire Pass Interpretative Museum, which emphasizes how local laborers and Allied prisoners of war built the pass.
Appreciate the balance of the evening while dining in awe-inspiring green surroundings at the lovely outdoor Dejtosapak Restaurant.
In the evening, you might choose to end the day with a raft trip provided by the restaurant. Spend your first night in Kanchanaburi at your favorite resort after finishing.
Day 6th-7th:
If you can't resist the need to explore, head to Phuket Old Town, which features stunning architecture and a ton of adorable cafes and shops where you might spend hours on foot. Visit Thailand 7 days are almost over, but you'll get a happy long last time!
The Phi Phi Islands, which are roughly 50 kilometers from Phuket, require first-time visitors to allot a full day for their visit. This captivating collection of six islands rises majestically out of the water, showcasing their breathtaking limestone cliffs.
Instead of using the slow ferry, hire a speedboat to see all the islands quickly. If you want a relaxing vacation, try a different island and spend the day swimming and snorkeling there. 
So it seems like the perfect time to spend the day relaxing in the Pearl of the Andaman Sea and exploring the dramatic coast at your own pace. Your Thailand itinerary 7 days sounds interesting, even though it is the end of the trip, right?
If going island-hopping is the reason you're in Phuket, you may rent a speedboat or go on a cruise that takes you around Phang Nga Bay.
The Green Elephant Sanctuary Park is the most moral place to view these beautiful animals in their natural setting. In addition to swimming with them, you can also feed and clean them here.
Are you looking for a Thailand itinerary 7 days? Don't hesitate to contact us for tailor-made Thailand tours! Our team is at your disposal to create your own itinerary according to your style and desires.