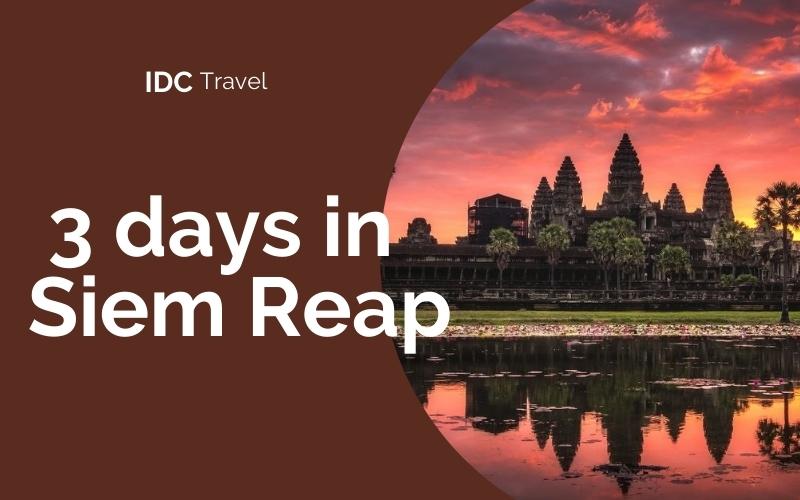 The reason tourists visit Siem Reap is its massive temple complex. The town, however, has much more to offer than just temples. These 3 days in Seam Reap will show you how to plan the perfect trip to Siem Reap. It explains how you can see most of Siem Reap's attractions in a short time without rushing.
Where is Siem Reap?
Due to the temples and ruins that the Khmer Empire has left behind, Siem Reap, a small city that is sometimes referred to as a town, is known as an "ancient world" in Cambodia (Angkor Empire).
It is approximately an hour's flight from Cambodia's capital city, Phnom Penh. For a vacation or tour, you can schedule a Siem Riep 3 day Itinerary.
Intriguingly, Siem Reap has a pub street with hipster pubs and great places to socialize with the locals. Several markets also sell traditional crafts as well as delectable street food.
When is the best time to visit Siem Reap in 3 days?
Cambodia, like many Southeast Asian countries, has a tropical climate.
The northeast monsoon season runs from December to April, and the southwest monsoon season runs from May to November. The latter, with high humidity and abundant rain, is the one to avoid.
December and January are the driest and busiest months for tourism. Travel from February to April to avoid the crowds and have the perfect vacation for Siem Reap 3 day Itinerary.
What currency is used in Cambodia?
Although the Riel is Cambodia's official currency, US dollars are widely accepted. Atms dispense US dollars, and you can pay for purchases in either currency; a change of less than $1 USD is given in Riel.
You need to remember that Riel is a non-convertible currency outside of Cambodia, so use all of your Riel before leaving on a Siem Riep 3 day Itinerary or any days tour to Cambodia.
Car rental with driver in Cambodia
If you're thinking of visiting Cambodia, you probably want to know what kind of transportation is available. 
Cambodia offers a wide variety of transportation options. According to the authors, flying and renting a car are two of the most practical modes of transportation in the Siem Reap 3 day Itinerary.
Cambodia car rental with driver services is your best choice if you like to go on adventures and want to be independent while you're traveling.
Siem Reap 3 day Itinerary
Day 1 in Siem Reap
Siem Reap City has a lot to offer! It's a culturally rich town with plenty of authentic Khmer cuisine, arts and crafts, and traditional markets. You will have a lot of fun when you visit Siem Reap in 3 days.
Chae Ngek, located in the heart of town, is a good choice for lunch if you're looking for authentic and delectable Cambodian dishes.
I enjoyed the food so much that I ate there almost every day! Make a point of trying one of their curries. Explore the Angkor National Museum
The Angkor National Museum is a must-see before visiting Angkor Wat and the rest of the park. The museum explores the Khmer Kingdom era and teaches you about Khmer culture.
View the sunset from Phnom Bakheng
Many people are unaware that the Angkor Archaeological Park is free after 5:30 p.m. After 5 p.m., go to the Angkor Pass Ticket Counters to purchase your one-day pass for the following day. This should cost you $37 USD.
You need to show your ticket to a staff member at the park's entrance, but they will not clip your ticket after 5:30 p.m.
Phnom Bakheng is one of the best places to watch the sunset. Siem Reap 3 day Itinerary would be the romantic trip you'll have.
Siem Reap Night Markets
As the sun sets, Siem Reap's night markets come to life.
Simply make your way from one to the next while you sample food and browse souvenir shops. Markets start to open at around 4 or 5 o'clock.
Finally, you return home for an early night in preparation for the next day's sunrise viewing at Angkor Archaeological Park.
Day 2 in Siem Reap
The bright sunrise with Angkor Wat silhouetted in the foreground is breathtaking.
Make an effort not to sleep in an extra 10 minutes because you will end up standing behind a lot of people. Even though it is very early, hundreds of people will want to see the sunrise.
When you arrive, it will be pitch black, so turn on your phone torch and follow the other tourists to the sunrise spot, then wait patiently for the sun to rise.
After that, take a stroll through Angkor Wat, completing either the short or long loop.
You should remember to book some activities, such as golf, to make your vacation more interesting.
A massage can help you unwind
Visiting the temples of Angkor for the day requires a lot of walking. Siem Reap 3 day Itinerary would be fun and unforgettable.
A traditional foot massage or even a full body massage is an excellent way to relax your tired muscles after climbing the steep steps of Angkor's temples. There are numerous massage parlors in Siem Reap.
Get a drink on Pub Street
Pub Street is the hotspot in Siem Reap. The street is lined with bars and restaurants that cater to all types of visitors.
There are more upscale restaurants for wine and dining, but there are also street stalls selling anything and everything, hipster bars with live music, and nightclubs for backpackers and partygoers.
Day 3 in Siem Reap
Because of its proximity to the massive Tonle Sap Lake, Siem Reap is an excellent location for visiting one of these floating villages.
Floating villages have quickly gained popularity in tourism, which means that the more popular villages have lost sight of their authenticity in order to make money through tourism.
Check out an Apsara dance performance
You probably spent your final evening in Siem Reap watching a traditional dance performance. Apsara is a Cambodian ballet tradition that dates back hundreds of years.
The spirit, or Apsara, who is dressed in white and leads her subordinates in colored skirts, is the dance's leader.
There are a few locations where you can see an Apsara dance performance. They usually take place in the evening and include a gourmet dinner. How to visit Siem Reap in 3 days is a normal question for you if you follow the right guide.
Do you want to spend 3 day in Siem Reap? Please do not hesitate to contact us for custom Cambodia tours! Our team is available to help you design your own itinerary based on your preferences and style.