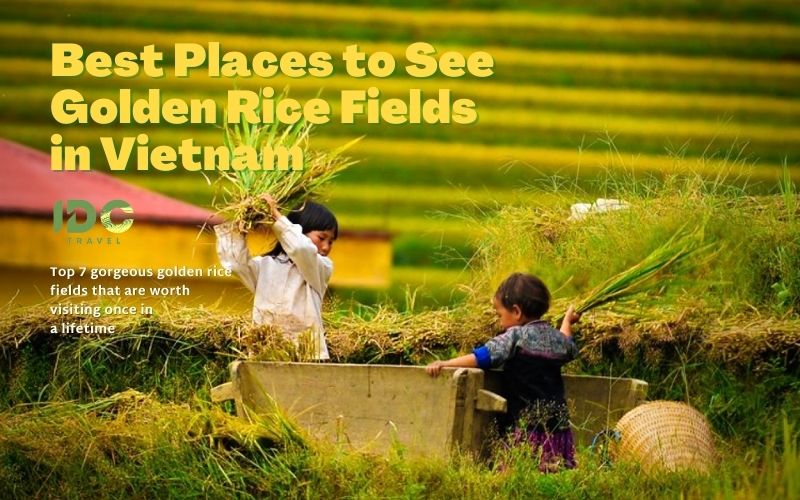 Why is it worth visiting Vietnam's rice fields?
Vietnam is primarily an agricultural country. Farmers have cultivated rice and it has been a staple food for centuries. In fact, endless Vietnam's rice fields are among the most significant and unique attractions in Indochina. Excellent rice fields can be found in many parts of the country, from north to south. The lowlands are densely forested with rice fields, and the high hills and terraced fields carved out of the fertile soil are breathtakingly beautiful.
The change of seasons is especially noticeable at the end of September and the beginning of October, and it also marks the start of the travel season. In mid to late September, the famous rice paddies begin to thin out, blanketing the landscape in a stunning greenish-yellow. A never-before-seen landscape. What are the best places in Vietnam to see golden rice paddies? Let's go find them!
1. Tam Coc rice fields (Ninh Binh)

Tam Coc is located in Ninh Binh province, about 100 kilometers south of Hanoi, and can be easily visited on a day trip from the capital's hustle and bustle. It comes as no surprise that Tam Coc is one of the best Vietnam's rice fields. This is a glamorous land with unique landscapes and myths, similar to the famous Halong Bay. Except you're not sailing on a junk or the sea, but rather on a small rowing boat through submerged rice fields.
If you don't like boats and want to see the area in a different way, you can cycle around it (and get perhaps even more impressive views). Aside from the breathtaking scenery, you will have the opportunity to observe rural life.
Best time to visit Tam Coc rice fields: May-June
The locals here only grow one rice crop per year. As a result, the best time to visit Tam Coc – Bich Dong is during the rice harvest. This location is surrounded by beautiful golden rice fields from mid-May to the end of June every year. Visitors will be able to fully appreciate the gleaming new rice space in the morning sun. Many people have fallen in love with this picturesque landscape.
2. Bac Son Valley (Lang Son)
If you love taking photo of Vietnam's rice fields, this location is one of the most popular photographic locations for golden rice fields. Bac Son Valley is located in the rural Bac Son district of Lang Son province in Vietnam's northeast region, approximately 250 kilometers from Hanoi. The valley is surrounded by breathtaking mountains where you can hike and enjoy the scenery. Six ethnic groups live in this mountainous region, including the Tay, Kinh, Dao, Nung, and H'Mong. It is primarily an agricultural area.
Bac Son Valley is an ideal place for rice planting due to its flat surface, climate, and rich soil. Let's hike to one of the surrounding mountain peaks for panoramic views of the breathtaking landscape to experience the pinnacle of Bac Son's beauty!
Best time to visit Bac Son rice fields: August-September
The Bac Son Valley is flat and well-suited for irrigation. Rice is thus grown in two harvests, half a month to a month later than in most other regions. It is worth noting that rice is not grown at the same time in Bac Son, so there are fields to be harvested, others to be harvested later, and others still in the process of being transplanted. This process results in a unique color palette of different types of rice field. Bac Son residents frequently harvest rice quickly and not all at once, resulting in strange shapes in the entire Bac Son rice field during the ripe rice season.
The best time to visit Bac Son is during the ripe rice season, which runs from late July to mid-November each year. The rice fields of Bac Son appear to form a golden carpet at this time of year, mingling with the colors of the sun, sky, and clouds that hover around the high peaks, adorning the peaceful villages along the river's meanders.
3. Sapa golden rice terraces (Sapa)
If you enjoy trekking, don't miss Sapa while in Vietnam. Sa Pa is a mountain town near the Chinese border in northwest Vietnam. It is famous for the mountain and the terraces considered the most beautiful Vietnam's rice fields. The region is rich in natural beauty as well as cultural significance. It is home to a number of tribal groups that cultivate rice terraces, including the Black Hmong, Red Dao, Pho Lu, and Giay. The area around the city rises in elevation and descends into breathtaking rice terraces. Rice cultivation has been part of the hill tribes' way of life for hundreds of years.
The rice terraces, which are among the most popular tourist attractions, are located between the city and Mount Fansipan in the Muong Hoa Valley. The rice terraces are thought to have been built in the 15th century. Everywhere you look, there is incredible beauty that both overwhelms and inspires you. A trek in Sapa takes you to hill tribe villages perched atop beautiful green rice terraces with stunning mountain views, and gives you a glimpse into the homes and lives of the area's ethnic groups.
Best time to visit Sapa Rice Terraces: September-October
Sapa only has one rice harvest per year, in the summer and autumn. People began to plant the seeds in May. The rice fields are transformed into giant mirrors that reflect the mountains and the sky at this time of year. The rice is ripe and ready for harvest in September and October. Visitors should come to Sapa in early September to see the beauty of the ripe rice season with the most spectacular and poetic scenery. At this time of year, visitors to Sapa can easily admire the ripe golden rice fields that stretch endlessly along the roads leading to the village.
4. Y Ty rice terraces (Lao Cai)
If you want to avoid crowds, the Ty rice terraces are your best choice.
Y Ty, located in the high mountain region of Ban Xat district, Lao Cai province, is quickly becoming a popular destination for photographers looking to capture the breathtaking view of rice terraces and majestic mountains surrounded by a mesmerizing sea of clouds. Several indigenous tribes, including the Hmong, Giay, and Ha Nhi, live in this picturesque town.
Joining a guided trek that leads from the village to village is the best way to enjoy the beauty of the cascading terraces and immerse yourself in the culture of the local Y Ty tribes.
Best time to visit Y Ty rice terraces: August-September
The water season, like the rice terraces of Sapa, occurs every May and June. Minority ethnic groups begin planting rice on terraced fields at this time. In July, the fields are a vibrant green. The best time to visit the Y Ty rice terraces is at the end of August and beginning of September, when the rice fields take on a fascinating golden appearance.
5. Mu Cang Chai (Yen Bai)
Mu Cang Chai is a rural district in Yen Bai province with beautiful rice terraces and one of top visited Vietnam's rice fields. Several ethnic minorities, including the Hmong, Dao, and Thai, live in this quiet and remote region. Their traditional culture and way of life are still practiced today.
The rice terraces that cover 2200 hectares of sloping hills are visible from Mu Cang Chai. Mu Cang Chai's rice terraces were designated as Special National Heritage on December 31, 2019.
Trekking, cycling, and field work with farmers are all options for admiring the beautiful landscape of Mu Cang Chai's rice fields. Some travelers choose homestays with local tribes to learn about their unique culture and lifestyle in Vietnam's rice paddies for an authentic travel experience.
From September to October is the best time to visit Mu Cang Chai Rice Terraces. At this point, the entire landscape of mountainous rice fields has turned golden and is ready for harvest.
Best time to visit Mu Cang Chai Rice Terraces: September-October
Mu Cang Chai has only one rice harvest per year, the Mong take advantage of the first showers of summer to direct water from the mountains to the fields. April and May are the season of the waters when the terraced green fields are still iridescent and sparkle in the color of the water reflecting the sky.
During the mid-harvest, from June to August, the entire huge rice terrace of Mu Cang Chai is covered with a lovely and peaceful carpet of green rice. The harvesting season is from September to October, the best time to take a photo of a rice terrace when the whole landscape of mountainous rice fields turns golden in color and is ready to harvest.
6. Pu Luong golden rice field (Thanh Hoa)
This sight in Thanh Hoa is one of the must-see Vietnam's rice fields and a popular weekend getaway for city dwellers.
In this nature reserve, you can admire breathtaking landscapes of rice paddies, tranquil rainforests, majestic mountains, and a diverse collection of flora and fauna. The rice fields of Pu Luong are unique in that you can see bamboo water wheels in the landscape, which adds to the enchantment. These water wheels are essential for watering the rice fields and ensuring their success.
Trekking with a local guide is the best way to see the untouched beauty of Pu Luong's golden rice fields and natural splendors. If you are not a fan of trekking, you can walk or cycle around the golden rice paddies and mingle with the locals.
Best time to visit Pu Luong rice fields: May and September
The rice fields of Pu Luong have two harvests a year.
The best time to visit the Pu Luong rice fields is between May and September, when you will be greeted by an amazing sight of the rice fields' golden carpet.
7. Mekong Delta
The Mekong Delta, which covers an area of 40,000 square kilometers in southern Vietnam, has many spectacular rice field landscapes. The rice paddies of the Mekong Delta, also known as Asia's "rice bowl," contribute 70% of national rice production due to fertile soil and numerous river networks.
You might be surprised to learn that rice terraces exist in the beautiful province of An Giang in the Mekong Delta, where this type of rice terrace is the iconic mark of northern Vietnam's mountainous region. Hike up Mount Ta Pa to take in the panoramic views of An Giang's rice terraces. Mount Co To, a popular tourist attraction with tranquil forests, Khmer temples, and local guesthouses, is another equally impressive mountain in An Giang.
Best time to visit Mekong Delta rice fields: August
The best time to visit the Mekong Delta's rice fields is in August, when the rice fields turn a golden color, signaling the beginning of harvest season.
Nonetheless, the rice fields of the Mekong Delta attract tourists all year. Expect to see crowds wherever you go in this bustling region.
Vietnam's rice fields provide spectacular views and allow visitors to immerse themselves in the unique culture and traditions of its native tribes. Save the list of these most beautiful golden rice paddies in Vietnam to immerse yourself in the authentic natural beauty of this magnificent country on a Vietnam tour!