Lang Son is a mountainous province in Northeast Vietnam that serves as the country's border. The province is situated on the left bank of the Ky Cung River, next to the Ky Lua Market, which is accessible via the Ky Cung Bridge. Visitors can see the picturesque beauty and grandeur of the mountains from the bridge, one of which resembles a woman holding a baby. Lang Son is a must-see destination on your Northern Vietnam tour due to its many unique cultural values.
General Information
This is a frontier mountainous province in Northeast Vietnam, about 154 kilometers by road and 165 kilometers by railway from Hanoi. Lang Son, a province in Vietnam's far north, shares a border with Guangxi province in China, making it a strategically important location for the country, not to mention the scenic beauty of the magnificent waterfalls and virgin forests. Furthermore, the land's history dates back thousands of years, providing you with numerous opportunities to learn about Vietnam's history and ancient culture.
The Lang Son terrain consists of low mountains and hills that cover more than 80% of the province's total land area. The average elevation is 252 meters above sea level. In the winter, there is sometimes snow on Mau Son Peak, which is also the highest point in Lang Son. Lang Son is fertile for productive harvests due to the complex network of rivers that run through the province, including the Ky Cung, Ba Thin, Bac Giang, Bac Khe, Thuong, Hoa, and Trung rivers.
Lang Son Weather and Best Time to Visit
Lang Son is a typical tropical monsoon climate pattern in Northern Vietnam. The climate is cool and temperate, with an annual average temperature of 21.5 degrees Celsius. Because Lang Son is in the northeast, the average rainfall is 1200-1600mm. Summer is the warmest month of the year, with July and August being the hottest months. However, due to the cool temperatures and low chance of rain, most tourists prefer to visit in October, followed by January and June.
With the cool temperatures and low chance of rain in Lang Son, there are two peak tourism seasons. The most important season is from May to August when the weather is pleasant and cool. When the rice is harvested, the second peak season in Lang Son begins in mid-November. Come here between late November and February to experience the ice and cold on Mau Son Mountain, which only happens once in a while.
Getting to and around Lang Son
By road
Traveling by train to Lang Son is simple and convenient. It will also provide you with an exciting experience. It takes approximately 3-4 hours to travel to Lang Son. Gia Lam station is the best place to buy tickets. Lang Son Railway Station is a railway station in Lang Son. One-way train tickets range between 70,000 and 110,000 VND ($3 and $4 per person, hard seat).
By private car
We highly recommend hiring a private car with a driver for your convenience. Here is the route from Hanoi to Hai Phong: Hanoi Old Quarter -> Chuong Duong Bridge -> Nguyen Van Cu Street -> Turn right onto National Road 5 -> Turn left onto Thanh Tri Bridge -> Phu Dong Bridge -> National road no. 18 -> Bac Giang -> Lang Son, or take National road 5 then turn onto National road 1A.
By bus
Buses can be found easily in Lang Son. It takes about 4-5 hours to travel by bus. The one-way bus ticket costs about 240,000 VND ($10). 
Bus station in Lang Son – The North of Lang Son (QL 1A, Cao Loc)

Bus station in Hanoi – Nuoc Ngam Station (Km 8, Giai Phong Street)
Where to stay in Lang Son
Because it is a developing city, accommodation facilities will be limited. Many new 3-star and 4-star hotels have recently been built in Lang Son Vietnam, making your stay more luxurious. Vinpearl Hotel Lang Son is one of the few high-quality options in Lang Son that is suitable for both business and leisure travelers (Sheraton Lang Son). Homestay is an excellent option for budget-conscious travelers who want to experience the authentic local way of life. Lang Son has a lot of homestays that are reasonably priced. Guesthouses are popular lodging options in rural areas.
What to See in Lang Son
The province should be proud of its diverse cultures and historic relics. Furthermore, nature has bestowed many scenic spots that capture the hearts of thousands of tourists who visit each year.
Chi Lang Pass
This passage documents significant historical events in Vietnam as evidence of the Vietnamese heroic spirit in the face of northern invasions. The Chi Lang District passage is 110 kilometers north of Hanoi, 60 kilometers south of the Chinese border, and 4 kilometers south of Lang Son City.
Due to the passage's rugged topography, which is formed by two mountain ranges: the Kai Kinh to the west and the Bao Dai to the east, and is bounded by rocky mountain peaks at both ends of the mountain ranges, those wishing to pass through and access Vietnamese land are at a loss.
Tam Thanh Cave
Tam Thanh cave, Tam Thanh Ward, Lang Son City, Lang Son Province. Many poets have been inspired by this cave, including Ngo Thi Si, a famous Vietnamese poet who carved one of his texts on the grotto wall praising the magnificent natural beauty of the area.
The cave is 400m long with entrances on both sides of the mountain. There are various sections on the inside. An opening in the ceiling at the cave's corner, in particular, is the entrance point for magical lights to pass through and shine on a stage. Visitors can take a walk to nearby Vong Phu mountain (which means 'waiting for the husband').
Nhi Thanh Cave
Nhi Thanh is the second largest cave in Lang Son City, measuring 300m in length and having two entrances on both sides of the mountain. The cave is quite large inside, with many corners and stalactites of various shapes. A stream runs through the cave as well.
Nhi Thanh cave, which was first used for worship in the 18th century, now houses a Buddhist chapel. Inside the cave, the intricate structures create a complex of chapels and oratories dedicated to Buddha and other holy figures.
The Citadel of Mac Dynasty
This is a military structural monument depicting feudal Vietnam. In the 16th and 17th centuries, Mac Kinh Cung built the Mac Dynasty Citadel to fight the Le – Trinh Dynasty. And this was the critical military base for halting the only route connecting the north and south.
The remnants of the Mac Dynasty Citadel today consist of two walls measuring approximately 300 meters in length and 1 meter in width. They are made of large stones and stand between two canyons.
You will see a panoramic view of Lang Son City with lush green rice paddies, rural villages, and many houses next to each other after climbing 100 steep steps from the bottom of the hill to the gate. The Mac Citadel is a must-see attraction in Lang Son, Vietnam.
Mau Son Mountain
Mau Son is naturally featured to be a real paradise in Lang Son with the mild climate and cool temperature (15.60oC) and a great deal of spacious and luxurious villas, which is an attractive factor for a tour to Vietnam. It is located in Loc Binh District, Lang Son Province, and 30km far from Lang Son City to the East at an altitude of 1,541m above sea level.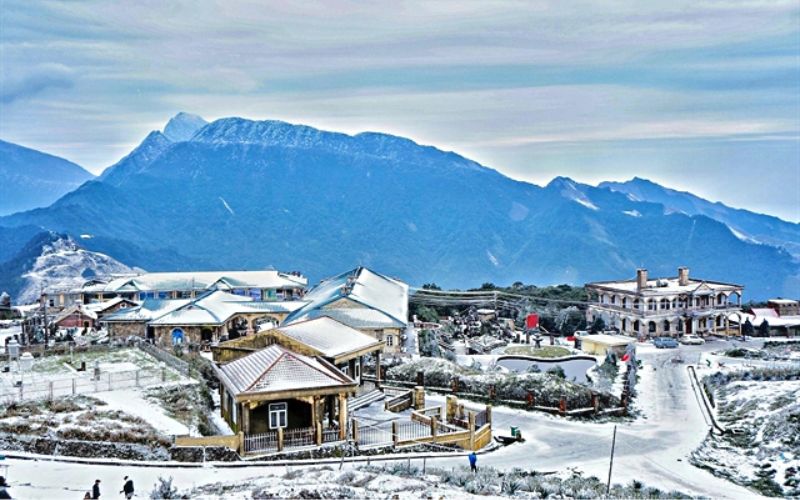 There, you can see the old French works, which were partially destroyed during the war. These old villas, however, are worth seeing and photographing because of their unique and appealing architecture.
Furthermore, the ethnic minorities who live nearby are all friendly and considerate. The majority of them are Dao and Tay peoples whose livelihoods are based on livestock production and agriculture. Prepare to converse and interact with them along the way. If you are fortunate enough to visit during their festival days, you will be able to participate in a variety of traditional activities such as eating, worship customs, costume wearing, and so on.
There are many well-equipped and reasonably priced motels in Mau Son, with prices ranging from VND 120,000 to 200,000 dong for a double room.
To Thi Mountain
To Thi Mountain is associated with the folklore of To Thi, a local woman. She ascended the mountain, holding her baby, to await her husband's return from the battlefield. This location has become a place of worship for the locals over the years. In the 16th century, the Mac family fortified To Thi Mountain by erecting a wall around it. You can still climb the rocks and follow the path of the former fortress if you visit the mountain today.
What to Eat in Lang Son
Khau nhuc (Lipu Taro meat)
This food was brought to Lang Son by the Tay and Nung ethnic groups from ancient China. Because this food takes a long time to prepare, it is commonly served on a plate that resembles an upended basket at weddings, funerals, and longevity celebrations of the local ethnic minority tribes. The pork loin strips are woven together and cover a core of steamed taro.
To make this dish, residents marinate roasted pork loin for 15 minutes with herbs such as cinnamon, anise, pepper, chili, and basil. Two must-have ingredients for this dish are "Mac mat," a local sweet and aromatic plant, and Tau soi leaves, a pickled herb used by the Tay ethnic groups.
Roast duck
Roast duck is a popular dish in China, particularly in Hong Kong. However, Vietnam has its own roast duck recipe worthy of international recognition. This type of dish is also available in Lang Son and is well worth the attention of international tourists visiting Vietnam.
This dish's distinct and delectable flavor stems from a perfect mixture of finely chopped onion, garlic, chili, pepper, cardamom, anise, and a local herd known as "moc mat." To make the food more visually appealing, the duck is dipped in honey-laced water before being roasted over coals for 15 minutes and then deep-fried for another 15 minutes. After cooking, the thin, crispy skin has a fatty feel to it.
Sour Pho
Among all Vietnamese traditional cuisines, Pho is without a doubt the most well-known. However, there is a wide range of different types of Pho in Vietnam, one of which is Sour Pho (Pho Chua). This special dish, originally from Lang Son, is the result of the country's many cultures interacting. This specialty is prepared in an intricate yet intriguing manner. To fully appreciate the flavor and aroma of a bowl of Sour Pho, eat it slowly.
Even though Sour Pho can now be found in many restaurants throughout Northern Vietnam, the most delicious one must be found in That Khe, Lang Son. Sour Pho is most popular in the summer and fall. It is regarded as the pride of the Lang Son people. As a result, when a special guest pays a visit to a Lang Son family, it is always served.
Grilled meatball
This dish may be less popular than others, but it must leave an impression on anyone who tries it for the first time. The meatballs are about the size of a wrist and are wrapped in three layers of green banana leaves for one to two days before being grilled over red, hot coals.
The food's ingredients include pork meat, pork skin, and Thinh, a traditional Vietnamese dish. First, clean the pork and cut it into small and long pieces. The pork skin is then boiled and shaved. Following that, pork meat, pork skin, and Thinh are combined and wrapped in banana leaves. The meatballs are finally grilled. The burned leaves are removed before tasting.
Steamed rice rolls
Many Vietnamese people prefer steamed rice rolls for breakfast. When visiting Lang Son, you can not only enjoy the usual rice rolls but also the famous egg rolls. Rice flour is also used to coat this egg roll dish. Instead of meat and mushrooms, the chef cracks an egg in the center of the steamer and covers the pot to cook the egg. Fold the cake and place it on a plate using a bamboo stick. Above the plate of rolls, there is a sprinkling of golden brown minced meat.
The broth served with rice egg rolls is not the typical fish sauce broth. However, it contains a small amount of dry-roasted ground meat, which is sprinkled with chopped cilantro and then poured over the fish sauce with onion fat to taste. Especially for cuisine standards, each restaurant has an extra jar of soaked bamboo shoots with chili on the table for customers to freely add to their bowl of sauce.
We hope the above article has been helpful in providing you with information about Lang Son. Please contact us if you are interested in Lang Son tours!