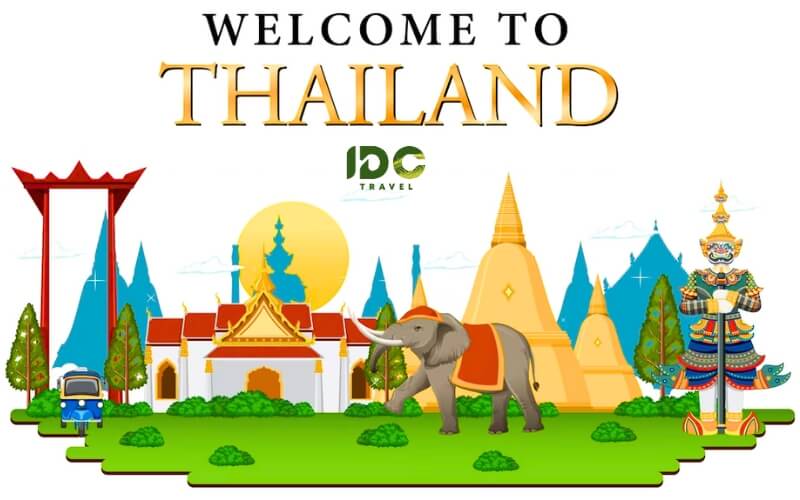 Thailand, known as the "land of smiles," is a cultural and historical treasure trove, boasting stunning golden temples, beautiful beaches, world-renowned cuisine, and a welcoming population. It's no wonder it ranks as the top travel destination in Southeast Asia. Whether you're seeking a romantic getaway or a family vacation, Thailand has something to offer. To get started, read through the following Thailand travel tips to best prepare for your trips to Thailand.
Since 2022, the capital of Thailand, Bangkok has changed its name to Krung Thep Maha Nakhon, commonly Krung Thep.
1. Visa and Passport for Your Trip to Thailand
Passport
It seems obvious, but it should still be remembered if you want to prepare for your Thailand vacation. Your passport must still be valid for at least 6 months from the arrival date, so check it now in case you need to apply. Also, prepare several photocopies (+ scan) of your passport, which will be useful for your hotel check-in, the rental of a vehicle, etc.
Visa
Stay of 30 days or less
For a stay in Thailand of 30 days or less, you can benefit from a visa exemption if you are a citizen of one of these countries: France, Germany, England, Australia, Belgium, Canada, Denmark, the United Arab Emirates, Finland, Indonesia, Italy, Japan, Luxembourg, Malaysia, Monaco, Netherlands, Portugal, Singapore, Switzerland, Turkey, the United States, etc. This list does not stop, click here for the complete list and check whether you are entitled to this policy.
Eligible persons receive an exemption each time they enter Thailand. If you travel outside the country during the 30-day period, your initial exemption is canceled and you receive a new 30-day exemption upon your return. This means that you will receive a new visa waiver each time you enter Thailand. The exemption is granted a maximum of twice per year in case of entry by land or sea, but it is not limited when entering the country by air.
Stay longer than 30 days
If you plan to visit Thailand for more than 30 days, you will need a tourist visa that authorizes a stay of 60 days, extendable by 30 days on-site, i.e. a possible total duration of 3 months in Thailand. Please note, if you have stayed more than 90 days in Thailand in the last 6 months, the application may be refused.
There are several kinds of tourist visas to Thailand:
Single Entry Visa: Allow foreign citizens to enter Thailand only once for tourism, leisure, or medical reasons. It is perfect for those looking to relax or take a scuba diving or Muay Thai lesson. Entry can be by air, land, or sea.
Multiple entry visa: Allow its holder to stay in Thailand for up to 60 days per visit. A person can visit the southern islands of Thailand, relax on the beach and learn to scuba dive for two months; fly to Vietnam and enjoy the attractions of Saigon for a week or two; then return to the mountains of Northern Thailand to experience animal sanctuaries, Lanna culture, and delicious Thai cuisine. With a multiple-entry visa, one can enter the country by air, land, or sea. Many people arrive by plane and then leave by train or boat.
How to get a Thailand visa
Apply for a Thai visa in one of the following ways:
Obtain a visa on arrival (VOA)
Apply for an E-Visa online via this link
Apply for a Thai visa through a Thai embassy/consulate in the native country
Extend your tourist visa
If you enter Thailand through an airport or border gate, the immigration department will issue you a stamp authorizing your stay for 60 days. You must leave the country before the expiry date of the stamp. However, the residence permit can be extended if you want to spend more time in Thailand. You can apply for an extension of stay at a local immigration office. A tourist visa can be extended for another 30 days with an extra cost of 1900 baht.
2. Best Time to Visit Thailand
Seasons in Thailand
Thailand generally experiences a tropical climate, except near the Malaysian border in the southern end of the country, where it is of equatorial type. Overall, the majority of Thailand experiences two seasons with local variations.
Rainy season
From May to October, it is the rainy season in Thailand. The hot and humid air from the Indian Ocean brings in easterly winds, causing an abundance of rainfall in the country. Nonetheless, it enjoys beautiful periods of sunshine between two storms, which last between 1 and 3 hours per day. Note that the north experiences more intense precipitation than the south, and slightly lower temperatures. During this season, the high humidity can also cause some negative feelings.
Dry season
The rest of the year, from November to April, is the dry season. The wind blows from the north and precipitation is very low, especially in December, January, and February. While the temperatures are pleasant between November and March, ranging from 25°C to 30°C depending on the region, the end of the dry season is usually scorching. Temperatures often exceed 40°C, and even the nights remain hot, with the thermometer struggling to drop below 25°C. Note that the heat wave is often less intense in the south.
When to visit Thailand?
Generally, if you stay in Thailand from November to March, you will avoid both the rainy season and the heatwave at the end of the dry one. Furthermore, these are obviously the busiest months for tourists. With temperatures ranging from 25°C to 30°C depending on the region, you will enjoy pleasant weather and clear skies.
Geographically, the best time to visit Thailand is:
Northern Thailand: The hot season, from March to May
Northeast: From October to February
Central Thailand: The coolest season from October to January
Southern Thailand: The dry season from November to April
In any case, it is advisable to avoid the months of September and October because of heavy typhoons.
3. Thailand Travel Tips – Budget your Travel
Thailand is surprisingly affordable, which is why it is particularly popular to visit. The initial major cost is usually the airfare for your international flights. Upon arrival in Thailand, your costs will vary greatly depending on the type of traveler you want to be.
Thailand is a country that caters to all budgets! From budget-friendly hotels to high-end resorts, street food to gourmet dinners for hundreds of people, and free beaches to expensive tours, Thailand has it all!
As a rough guide, the prices for a private tour for a group of 2 people during high season are:
With an average budget, visiting Thailand usually costs between $150 and $200 per day per person (including 4-star hotels, domestic flights in Thailand, attractions, guides, and transfers).
For a higher budget of $200 to $250 per day per person, you can enjoy greater comfort (including 5-star hotels, domestic flights in Thailand, attractions, guides, and transfers).
For a 2-week family trip (2 adults and 2 or 3 children) in Thailand or Southeast Asia, you can expect to pay between $10,000 and $15,000 per family, not including international flights to/from America or Europe.
Should you tip in Thailand?
It's not a common practice, but it's appreciated by baggage handlers, hotel and restaurant staff, drivers, and guides. If you're satisfied with the service or provider, why not do as in Europe? Typically in Thailand, you can leave between 20 and 40 baht as a tip. Of course, depending on the price of the service and your level of satisfaction, leaving 100 baht won't break the bank.
4. Travel Independently or Join a Guided Tour?
Thailand is quite easily accessible for backpackers to travel independently, but choosing the most appropriate hotels and organizing all the best activities for you, while looking for good value for money and quality service, takes a lot of time (not to mention effort).
A private guided tour is an excellent way to maximize your time, eliminate any frustration related to planning and travel, and ensure a smoother, stress-free, and more enjoyable trip. Work with our travel advisor to create an itinerary that fits your schedule and focuses on the places and experiences that matter most to you. Our experts can not only provide wonderful Thailand travel tips and help you review thousands of hotels and restaurants to find the one that suits you, whether for couples or families but also quickly offer alternative solutions in case of changes.
5. How Many Days to Spend in Thailand?
The length of your Thailand tour is fully depended on what you want to do and visit, you can go for a week, three weeks, or even two months. This country is full of stunning landscapes, activities, and an exceptional culture for you to discover.
IDC Travel suggests planning at least a week for your first trip to Thailand to see an array of highlights from the three main cities.
7-10 days: Bangkok (2-3 days), Chiang Mai (2-3 days), and a southern island like Phuket or Koh Samui (3-4 days). Check out our sample itinerary for inspiration at  7 Days Northern Thailand Discover. To experience more of Thailand, such as charming Chiang Rai and a national park, you'll need a few extra days.
If you have more time, let's say 2 or 3 weeks, you have many more options! Check out our list of comprehensive Thailand tours for more details.
Furthermore, for 2-3 weeks, you may consider visiting Thailand with one or two nearby countries. Try our Thailand, Cambodia, and Vietnam in 18 days: a trip to remember for an extravagant experience.
6. Places to Visit in Thailand
Thailand can be divided into three main regions for travelers:
Northern Thailand for nature, elephants, and local villages
The central plains for Bangkok and city breaks
Southern Thailand for the great beaches.
With our Thailand travel tips collected from travel experts and customers, we recommend visiting Bangkok, Chiang Mai, and one or two southern beaches for your first trip, extending to Chiang Rai and/or a national park if you have enough time.
Bangkok – A blend of modernity and tradition
Bangkok is the capital of the country and the first city to visit for every tourist to Thailand. It is a city that offers a unique blend of modernity and tradition, making it a perfect destination for Thailand family holidays or couple trips.
For those wishing to learn more about the splendid architecture and temples of Thailand, the Grand Palace, Wat Arun, and Wat Pho are must-see attractions. In the family or as a couple, a foodie excursion to discover the sophisticated flavors of Bangkok's old district and Chinatown will make for a deliciously memorable experience. Your trip wouldn't be complete without a cruise along Bangkok's ancient canals and a visit to a floating market, giving you a glimpse into an outdated way of life.
For a special experience and a bit of privacy, you can spend a night in a houseboat in Kanchanaburi.
Chiang Mai – Northern Rose
Chiang Mai, known as the "Rose of the North", is a wonderful destination for a family or honeymoon in Thailand, offering culture, history, relaxation, and strong emotions.
You can start your trip with a visit to the famous temple Wat Phra That Doi Suthep, which offers breathtaking views of the city and its surroundings. Then explore the old town and its many street markets, such as the Night Bazaar.
Encountering elephants is usually at the top of the list of things to do in Chiang Mai, whether with children or as a couple. Just a half-day tour is enough for you to feed the elephants, walk, and play with them in the mud of a bathing pool.
Chiang Rai – A Representative of Northern Lanna culture
Wat Rong Khun, designed and built by Ajarn Chalermchai Kositpipat, stands out with its exquisite white architecture, as well as Mingmuang Temple which is the oldest temple in Chiang Rai; the Wat Rong Suea Ten Huay Pla Kang Temple and the Baan Museum which are home to several collections of artwork by Ajarn Thawan Thanchanee. Those loving nature can ride to see the sunrise over the Mekong River and the sea of mist in the morning at Doi Pha Tang. Feel the cold and see the 360-degree sea of mist in Phu Chi Dao. Admire the winter flowers in Mae Fah Luang Gardens, around Doi Tung Palace. Moreover, Chiang Rai is on the border between Thailand, Myanmar, and Laos, which allows tourists to see both banks of the Mekong River in the golden triangle and visit the market of Mae Sai – Tha Khi Lek, as well as the border between Thailand and Burma.
Phuket, Koh Samui
Your trip to Thailand wouldn't be complete without visiting at least one or two of its beautiful islands. The only question is which island to choose from all the ones on the west and east coasts of Thailand.
Phuket, along with Krabi and Koh Phi Phi on the Andaman Sea (west coast), is particularly popular with families for its variety of exciting activities and family-friendly hotel options. Ko Samui, along with Ko Pha-Ngan and Ko Tao on the east coast, is very popular with couples, as it is home to luxury resorts and has a quieter vibe.
>>> Read more: Top 15 Best Beaches in Thailand: From tranquil paradises to vibrant parties
Khao Sok National Park
To enrich your stay in Thailand, you should consider including a national park in your trip, for example, Khao Sok.
Located north of Phuket, Khao Sok National Park is home to some of the oldest rainforests on the planet. Guided activities include jungle treks and boat trips on scenic Cheow Lan Lake. Spending a night in a "treehouse" (treetop lodge) could be a unique and unforgettable experience for your children. For couples, there is the special and romantic experience of staying in a luxury tent surrounded by the rainforest.
7. How to Get to/around Thailand
Getting to Thailand
The plane is the most practical means of transport to get to Thailand not only from Europe, Central Asia, or Southeast Asia but also from the Arabian Peninsula. Thanks to the appearance of many international airports in the country, it is possible to go directly to your destination in Bangkok, Phuket, Chiang Mai, Chiang Rai, Hat Yai, Koh Samui, or even Pattaya.
Other means of transport such as car, boat, and train allow you to travel to Thailand from neighboring countries. It can be reached by car from Malaysia, Burma, Cambodia, and Laos. You can also take the boat or the train from Malaysia to get there, but these options are rather reserved for daring travelers.
Getting around Thailand
Getting around Thailand is very easy as there are many means of transportation. Please note that driving is on the left, which may distract you at first.
Plane: To travel within the country, the fastest way is by plane. Most major cities have an airport and are well-served. There are also many low-cost flights to visit to enjoy.
Motorcycle: Extremely widespread mode of transport in Thailand, the two-wheeler is a means of transport commonly used to move in Thailand. You will find two-wheeled taxi services in all cities of the country. A race should normally cost you around 50 THB, but your farang facies can cost you up to 100 more. It's up to you to negotiate the best prices.
Tuk-tuk: A kind of hybrid mix between a motorcycle and a small covered van. The average cost of a ride is 100-150 THB. Do not hesitate to negotiate before getting into the vehicle.
Song-taew: The Songtaew is a minibus that travels along predefined routes and stops on demand to pick up and drop off passengers. You will therefore have to signal to the driver of the songtaew if you wish to board. Otherwise, he'll just let you through. The average cost of your ride is 30-40 THB.
Car rental: We must never lose sight of the fact that in Thailand, we drive on the left – a parameter that further complicates your experience in the Land of Smiles. However, renting a car in Thailand (with a driver) allows you to make the most of your travel to Thailand in complete safety. Contact us for more details.
Taxi: In Thailand, taxis are plentiful. Some operate with a kilometer-based meter (taximeters); others will offer you a price for the ride. As a general rule, prefer taximeters as they will cost you much less.
Bus: The majority of cities in Thailand have a more or less developed urban bus network. You should expect to pay 15-25 THB for a one-way trip on the line of your choice. The comfort is basic and the ride can be a real adventure for your buttocks and your back.
Train: The train is another economical way, although the Thai railway network is now aging and slow. This transport allows you to observe the landscapes of the countryside while resting.
Boat: To reach the islands, it is essential to take the boat, either from the coast or from the airports of Phuket and Koh Samui. A ferry or speed boat is possible.
Subway (only in Bangkok, including Skytrain and MRT): Skytrain refers to Bangkok's elevated metro network. Air-conditioned, comfortable, and fast, it will cost you between 15 and 40 THB depending on the distance you travel. Don't worry too much as the stops are announced in Thai and English. This city also has an underground metro system (MRT – Metropolitan Rapid Transit) with fares roughly similar to those of the Skytrain.
8. Thailand Travel Tips on Choosing Accommodations
There are several accommodation options in Thailand, depending on your budget and your desires:
The bungalows: Made from wood or oven bamboo, sometimes only with a mattress and a small bathroom. This accommodation is cheap and very widespread. Prices vary from $3.29 to $60.24, depending on the comfort of the bungalow.
Guest houses: Very pleasant, they are family-owned and composed of several rooms and often run by locals. A moment of sharing not to be missed and suitable for small budgets.
Hostels: Made up of dormitories and double rooms, and common areas, they are an ideal place to meet people with a tight budget. In the south of the country, the quality of the nightlife activities remains moderate, and hostels are sometimes places for partying. Prices range from $2.19 to $38.33.
Hotels: Suitable for all budgets, with small family hotels, resorts, and luxury hotels. Prices vary from $5.48 to more than $1095.05.
9. Things to Prepare for Your Trip to Thailand
Clothes
Because of its warm climate, packing for Thailand is actually quite easy and light. In general, Thais dress more conservatively, especially in the southern part of the country where Islam is prevalent and locals often wear headscarves. Of course, you can wear your bikini at the beach but don't do so when shopping at markets or in malls. One of the most important Thailand travel tips to keep in mind is choosing light-colored and breathable fabrics such as linen or cotton. Quick-drying fabrics are always a plus during Thailand's hot and humid days.
Opt for longer robes that cover your knees and shoulders when visiting temples and sacred places, as well as sandals that are easy to slip on and off, as you won't be able to wear your shoes inside the temple grounds. Add sunglasses, a good sun hat, and reef-safe sunscreen, and you're ready for a vacation in the South of Thailand.
If you plan to go to northern Thailand for trekking in the mountains, waterproof hiking shoes and a light water-resistant jacket will do the trick. Leave your valuables, jewelry, and jeans at home if you want to make the most of your travel to the Land of Smiles!
Important papers
Passport: Check whether it has a blank page and is valid for more than 6 months from the arrival date.
Visa: Required for stays longer than 30 days.
Vaccines: Universal vaccines, typhoid fever, Japanese encephalitis, hepatitis A.
International driving license in case of travel by car.
Photocopies of your important papers such as identity cards, passport, plane tickets, etc. Scatter them in your luggage and do not store them with the originals! Alternatively, you can keep digital copies on your phone/laptop or in the cloud.
Travel Insurance and notes on important Thailand travel tips
10. Thailand Travel Tips for First-time Visitors
Wat, what is it?
In common parlance in Thailand, a wat means any place of worship (except for a mosque or a synagogue). Thailand is a country of temples, from the most magnificent to the smallest, but if you try to visit them all, you will quickly get tired. Instead, limit your visits to must-sees like Wat Pho and Wat Phra Kaeo in Bangkok and Wat Phra Si Sanphet in Ayutthaya. Remember that Thailand is so much more than architectural splendor, the street and the beach are just as much part of the experience.
Street food
Street food is abundant, of great quality, and surprisingly cheap. But it can also be a fast track to food poisoning. Take reasonable precautions, such as washing your hands before and after, and most importantly eating where there are many people!
Be aware of scams
You may sometimes feel like someone is trying to scam you on every street corner in Thailand, so it's best to be vigilant. Don't trust friendly people who come up to you on the street with information about holidays and closed temples; instead, check with your hotel. Always agree on a price before getting into a tuk-tuk and insist on the taxi meter being used to measure the length of the trip. This is also one of the most important Thailand travel tips to remember.
Respect the culture
The head is considered the most sacred part of the body, while the feet are the worst. Do not touch the head of a Thai in any way and do not point your feet (especially the soles) towards anyone or a sacred image, especially that of the Buddha or the king.
>>> Prepare for your trip to Thailand with more useful Thailand travel tips from our travel guide here.
There are so many things to see and do in Thailand. From beautiful beaches, challenging mountain hikes, and mouth-watering cuisine, this country is an ideal destination for travelers of all preferences. Ready to discover this amazing country, remember to learn by heart the above Thailand travel tips, and don't hesitate to contact us for a private consultation and a tailor-made Thailand trip.