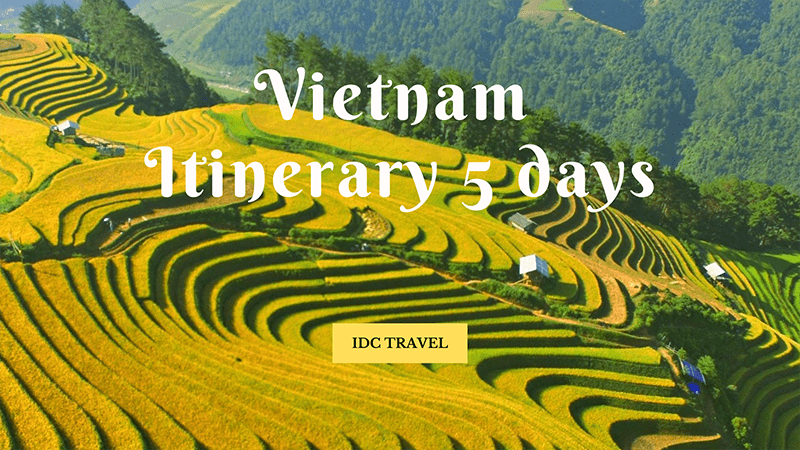 Vietnam country is an S-shaped strip of land running from North to South with unique natural scenery, each region attracts tourists with its unique beauty. The North Vietnam has a friendly but also majestic appearance of a thousand-year-old capital, the Central and South are dynamic with economic activities. Travel enthusiasts who want to experience the regional features to the fullest can take reference from Vietnam itinerary 5 days. IDC Travel guarantee you to have your best holiday memory.
Highlights of Vietnam itinerary 5 days
This itinerary will give you the complete and unforgettable experience in Vietnam as the following:
The tour gives you a chance to see the unique beauty of Long Bien Bridge – a witness of history a period of French colonies.

Experience the beauty that is both dynamic and ancient in Ha Long with swimming activities and watching caves.

You can get to know more about Sa Pa town covered with clouds or the Mong ethnic group and the local craft products

Not only do you enjoy the beauty, but you also commemorate a historical time in Ninh Binh by visiting King Dinh Tien Hoang and King Le Dai Hanh.

Learn about Hanoi 36 streets and enjoy local cuisine and meet friendly people in the capital.
Summary of the 5-day tour
Day 1: Arrival in Hanoi

Day 2: Hanoi -Ha Long

Day 3: Hanoi – Ninh Binh

Day 4: Ninh Binh – Sa Pa

Day 5: Sa Pa – Hanoi
Detailed of the Itineraries
Day 1: Arrival in Hanoi
For the first day in Vietnam, we suggest you visit the capital Hanoi, Vietnam. Hanoi bears many marks of the resistance war, typically the Long Bien bridge – a historical witness.  The bridge connects the two districts of Long Bien and Hoan Kiem, crossing the Red River.
Those who carry a poetic soul cannot miss the sunset on Long Bien Bridge. A magical yet profound natural setting combined with European style will bring an unforgettable experience. The most effective and convenient way to explore Long Bien Bridge is a motorbike, not only that, but riding a motorbike, you can enjoy the panoramic view of the city and breathe the fresh air here fully. Today, this bridge is the most beautiful photography spot in Hanoi.
The most romantic place in Hanoi, especially West Lake, is Tay Ho district.  Some places you must visit here is Phu Tay Ho – the temple of Princess Lieu Hanh. You may want to offer incense and merit to pray for a year of good luck and harmony. On weekends, young Hanoians often come here to paddle SUP West Lake, a favorite sport in the summer.
Going to Hanoi, you must try golf club with a wide selection of quality golf courses around the capital to have more of luxury experience.
Day 2: Ha Noi – Ha Long
Your Vietnam itinerary 5 days cannot miss the destination of Ha Long (Quang Binh). On your second day, Ha Long is an ideal place. Ha Long tourist attractions always attract tourists because it owns world natural heritages that have been recognized by UNESCO many times.
One of the amazing places you must set your foot is Tuan Chau Island. Tuan Chau is a modern and high-class area. It is famous for the largest man-made yacht port system in Vietnam, beautiful beaches and unique entertainment areas. Activities you may want to join are participating beach plays such as windsurfing, jet skiing, kayaking… or team building games on the beach; watching musical foutain which lasts about 40 minutes per performance. At the large-scale amusement park, you can see miniature world wonders, lovable characters appearing in Walt Disney productions.
Another tourist attraction in Ha Long is Bai Chay – a famous artificial sea area of Quang Ninh. Blue sea water, white sandbank brings a feeling of authenticity to visitors. The services we can utilize are as freshwater coating, beverage service, parking service are listed at affordable prices. All give visitors comfort and peace after the fatigue of life.
Day 3: Ha Noi – Ninh Binh
The third day in Vietnam, Hoa Lu ancient capital in Ninh Binh province will be the next place to be on your list. This is not only recognized by UNESCO as one of the four core areas of the Trang An World Heritage complex but also  been designated as an important architectural site by the Vietnamese government. There are many places here that attract thousands of tourists every year, such as:
Temple of King Le Dai Hanh and King Dinh Tien Hoang are national historical and cultural relics. With the historical, cultural and scientific values of the festivals here, the Minister of Culture, Sports and Tourism decided to put the two temples on the List of Intangible National Cultural Heritages in 2014.

Bai Dinh pagoda complex, a place that hold many records, they are the temple has the highest and heaviest bronze Buddha image in Vietnam, the pagoda has the largest well in Vietnam Male, pagoda has the most La Han statues in Vietnam, … This is such a place that make your itinerary in Vietnam unforgettable.
Tam Coc is  is likened to Ha Long Bay on land. Tam Coc, which refers to the three caves, they are Ca cave, Hai cave, and Ba cave. The Ngo Dong River, which cuts through the highlands, is responsible for creating the three caves. The boat voyage takes roughly two hours both ways.
Day 4: Ninh Binh- Sa Pa
Sapa has a diverse culture and is imbued with national identity. To experience this culture, visitors can go to Cat Cat villages which is 2km away from Sa Pa town. Here, you can explore the lives of the Mong ethnic people and traditional craft villages, buy souvenirs woven from brocade such as towels, shirts, skirts, bags, …
One more place to continue your itinerary is Tien Sa waterfall. To get to the village, visitors can walk, rent motorbikes or bicycles, most tourists choose to go on foot to see the beautiful scenery. The waterfall is surrounded by a peaceful natural scene that makes us feel relaxed and extremely comfortable. The green terraced fields blend with the laughter of the people and the flow of tourists to create an extremely lively environment.
We highly recommend you visit Ham Rong Mountain with San May Peak – the highest place of Ham Rong Mountain. You can have the panoramic view of the whole Sa Pa from above.
Day 5: Sa Pa – Hanoi
Come back to Hanoi as the last destination of your 5 days itinerary in Vietnam. The last day, you will be able to explore more of Hanoi Capital.  Ngoc Son temple is an ideal place for you. The temple was built according to the architecture of the letter Tam, the space in the temple is beautifully decorated with sacred objects and couplets, visitors will admire the architectural masterpiece that is in harmony with religion, sacred and ancient.
It will be missing if you don't explore Hanoi Old Quarter. It is located to the west and north of Hoan Kiem Lake and is a densely populated place with 36 streets. Each street here mainly focuses on selling a certain type of item: Hang Ma Street sells worship items, toys for the Mid-Autumn Festival, Christmas; Hang Buom Street sells confectionery for Tet holiday, …
Other Itinerary Vietnam 5 days
If visitors are familiar with the poetic atmosphere of the North, a Vietnam 5-day tour in the South is not a bad choice. Vietnam 5-day tour will give you an unforgettable experience and knowledge about the fast pace of life here.
Ho Chi Minh City is an indispensable destination on our list. The interesting activity to start the journey is playing golf at Tan Son Nhat Golf Course with PGA standard will bring a luxurious experience. You have many options because the system of golf courses in Ho Chi Minh City is quite diverse. Busy commercial centers or symbols of Ho Chi Minh City can be the next places on the list, including The Crescent Mall, Bitexco Financial Tower, Cho Ben Thanh, …
Tay Ninh Holy See is an important religious work of Cao Dai religion. The unique feature of Tay Ninh Holy See's architecture is the combination of styles of many religious civilizations in the world. All gates are carved with images of the Four Spirits (dragon, unicorn, turtle, phoenix) and lotus flowers.
Useful information before travelling to Vietnam
Best time to visit Vietnam
Travel to Vietnam is feasible all year long. Winter is the ideal season because storms are more frequent in summer, but prices are less. So, your needs truly determine the optimum moment.
November through April is an excellent time to travel if you want to enjoy nice weather. However, if you prefer a summer vacation, you can go during the summer for a significantly lesser cost. Airline tickets, lodging, and vacation packages are all significantly less expensive from April through June.
>> Click Best time to visit Vietnam to have an overview of Vietnam weather.
Vietnam Visa
Traveling in Vietnam 5 days, you can benefit from Vietnam visa exemption. Germany, France, Italy, Spain, the United Kingdom, Russia, Japan, Republic of Korea, Denmark, Sweden, Norway, Finland, and Belarus are among the recipients. If the stay does not exceed 5 days from the date of arrival, inhabitants of the aforementioned nations will not be required to apply for a visa.
>> Learn more about Visa to enter Vietnam: Vietnam Visa
Travel Insurance
Travel insurance is imperative for visiting any country, including Vietnam. This is quite likely the most significant piece of advice for traveling in Vietnam.
Vietnam is a relatively safe country, but it's still a good idea to be ready for the unexpected. And not simply flights are included. Your trip to Vietnam could be seriously ruined by food poisoning, an accident while participating in an adventurous activity, losing your valuables, or even missing a flight, to name just a few possible mishaps.
It is highly advised to be prepared for unforeseen circumstances.
Packing List for 5 days in Vietnam
In any case, pack those following items with you to be completely ready and not burden yourself:
Wear long clothing to avoid sunburn, bug bites, and chilly evenings. Additionally, visitors must cover their arms and legs when visiting temples and pagodas.

To enjoy the sun and feel comfortable, wear shorts. If you intend to swim in the East Sea, wear a swimsuit.

A wide-brimmed hat or cap to shield yourself from the sun because the sun in Vietnam is intense. Therefore, bring a decent pair of shades and stay hydrated all the time.

Bring flip flops when entering pagodas, private homes when necessary

If you intend to take a short hike, use closed-toe shoes or walking shoes.

If you don't want to purchase a raincoat, bring a waterproof jacket.
Vietnam Currency
Vietnamese's currency is Dong, additionally, we prefer cash across the nation. However, Vietnam also has a huge market for dollars. US money are accepted by merchants, drivers, hotels, and eateries. Even some hotels, goods, and plane tickets have US dollar prices.
>>> Discover also Vietnam itinerary: Ideas, Schedule, Budget, Tips
You are looking for a Vietnam Tour? Don't hesitate to contact us for a tailor-made tour in Vietnam! To design your own plan in line with your rhythm and style, feel free to contact our team.