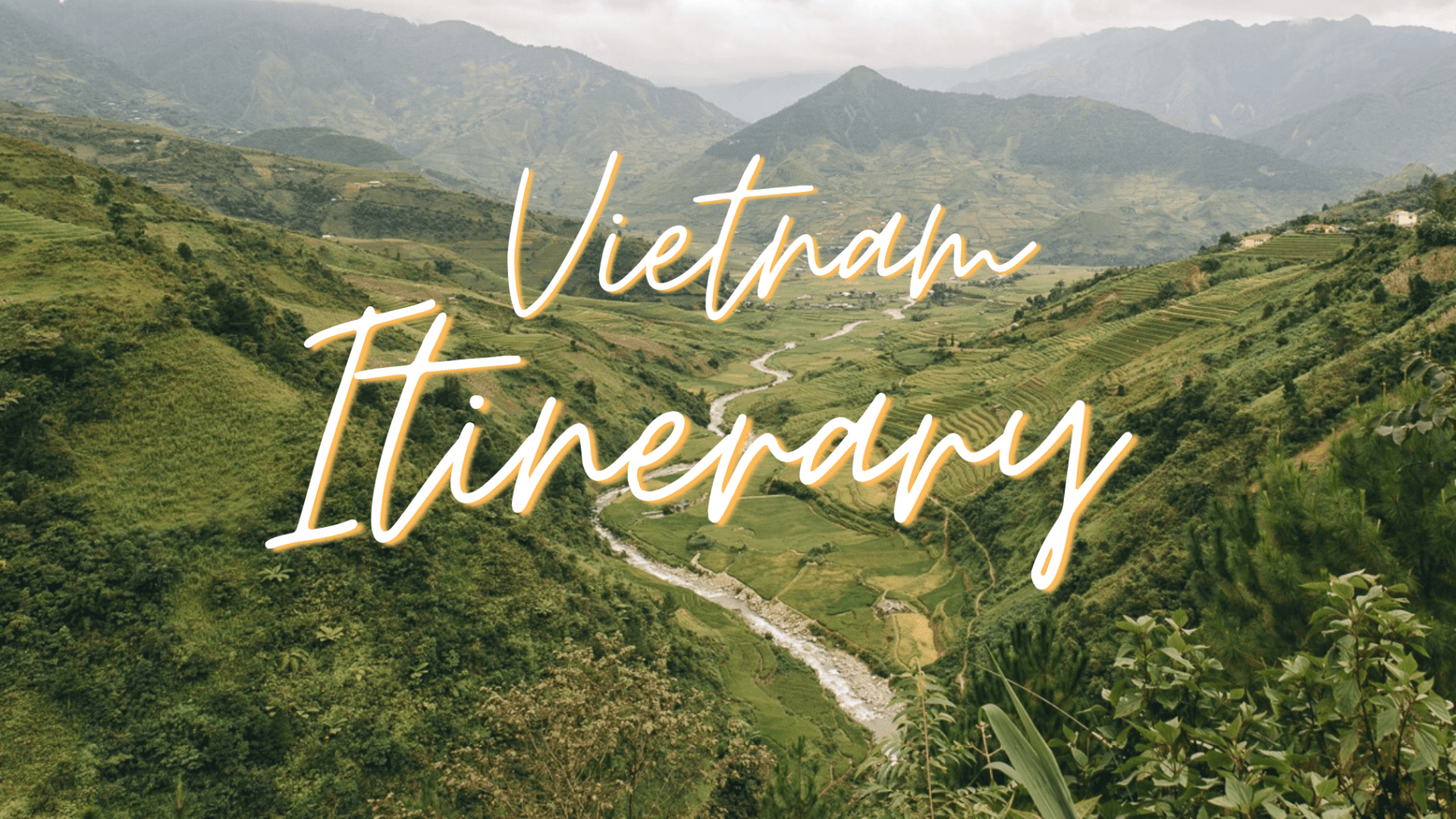 Vietnam is a remarkable combination of natural beauty and cultural diversity. You can choose to travel to Vietnam for a variety of reasons, such as a beach vacation, a motorcycle adventure tour, your honeymoon, or just a trip to see the entire S-shaped nation from North to South. Since the country has so much to offer, you may be confused when planning to visit. This is why our Vietnam itinerary is here to help: in this post, we'll suggest some itineraries for you to consider if you're planning a 1, 2, or 3-week trip to Vietnam.
How many days is enough to travel in Vietnam?
Most people who visit Vietnam for the first time may wonder, "How many days is enough for Vietnam?" Although Vietnam has many interesting destinations, you can still visit the whole country based on your planned duration.However, if you want to go from North to South or vice versa, you should spend a minimum of 7 days (1 week), and the ideal duration is about 2 weeks. With a 3-week itinerary, you can deeply enjoy Vietnam's beautiful landscapes and also dive into its rich historical culture.
Best time to visit Vietnam
The weather in Vietnam changes from one region to another, making travel planning difficult. Vietnam has three different climatic zones: north, middle, and south. This makes it difficult to establish a time that works for the entire country. However, spring is often the best season to visit Vietnam for pleasant weather throughout the nation. The finest months are generally March and April.
For a detailed overview of the weather in Vietnam, you can read our ultimate weather guide: Best time to visit Vietnam
Things you should know before visiting Vietnam
Visa
Depending on where you live, you may or may not require a visa for Vietnam. Even those who are exempt are only permitted to visit Vietnam for a brief time without a visa. Regardless of their nationality, everyone requires a visa to enter Vietnam for more than 15 days. So remember to apply for a Vietnam Visa before you go. It may be hard for you to tinker all by yourself. For recommendations, you can use the Vietnam Visa on Arrival service to save time.
Transportations
Vietnam's transportation system is developing quickly in both quantity and quality. As a result, traveling within Vietnam has become much easier. However, if it is your first time visiting Vietnam, here is some information:
The most popular transportation mode is the motorcycle (scooter). If you are an adventure lover, using a motorcycle would be a great idea.
Visit: Vietnam Adventure motorcycle tours for more information.
If you're traveling with a group of friends or family, it seems unsuitable to use motorcycles. So you can use public transportation. Buses, taxis, or MRT are easy to find in big cities like Hanoi, Da Nang, Ho Chi Minh City, etc. In the rural areas, using public transportation is very inconvenient. The best choice for people who travel in a group is to rent a private car.
Get a travel insurance
Travel insurance is essential for visiting any country, including Vietnam. This is arguably the most important Vietnam travel tip to remember.
Although Vietnam is a relatively safe country, it is important to be prepared for unforeseen circumstances. And that doesn't just include flights. Food poisoning, injury during an adventure activity, loss of your valuables, or even missing a flight are just some of the things that can really ruin your trip to Vietnam.
The thing is, you never know what can happen. And being prepared for unexpected situations is highly recommended.
Learn some useful Vietnamese words
Even though all the schools in Vietnam now use English as one of the main subjects, most Vietnamese don't practice it much, especially those in rural areas. Therefore, learning some Vietnamese words will be helpful in case you need help in Vietnam.
The travel agent is your friend.
Visiting Vietnam for the first time may cause you stress and problems. Additionally, not all Vietnamese can speak English fluently, especially in some rural areas, so when you have a problem, finding support from locals is hard even though they are so friendly and willing to help. Booking services from a travel agent is a great idea. It will be very helpful whether you have a problem in Vietnam or not. IDC Travel is happy to accompany you during your trip. Let our company become your travel buddy when you visit Indochina.
Buy a Vietnamese SIM card
You can buy a Vietnamese SIM card at the arrival airport for around $10. When you are out of money, you can buy a phone card at any street corner. You can also use free apps to make calls and send text messages if Wi-Fi is available. However, be sure to disable roaming before using Wi-Fi. Viettel, Vinaphone, Mobiphone are the three most popular mobile network operators in Vietnam. They all offer different types of SIM cards depending on your needs, but we recommend Viettel due to its availability in more remote provinces.
Clothes
The weather in Vietnam varies among regions, so preparing appropriate clothes is necessary for you to fully enjoy your trip. You should take it even more seriously if you plan to travel around the whole country from North to South.
Check out: Best time to visit Vietnam
Having all the aspects above checked, you are ready to visit Vietnam. Let's move to the detailed recommended Vietnam itinerary in 1, 2, or 3 weeks.
Vietnam itinerary in 1 week: A journey from North to South
If you are worried that 1 week is not enough for you to travel all over the country, we are here to help. This itinerary will recommend all the key destinations that you should put on your priority list if you have no more than 7 days, and also some extensions if you have an extra 1 or 2 days.
Hanoi (1 or 2 days)
Start your journey in Vietnam by visiting Hanoi, the nation's capital. Spend your time exploring the city's Old Quarter and indulging in mouthwatering pho. The must-sees include the Ho Chi Minh Mausoleum, Hoan Kiem Lake, Hanoi's equivalent of Central Park's reservoir, and Hoa Lo Prison, which was first run by French colonists to house political prisoners and later used to hold American POWs during the Vietnam War. Depending on your visit duration and preferences, you can arrange your own schedule.
We also have a suggestion here: How to spend 1,2,3 days in Hanoi.
Ha Long Bay ( 1 night)
Halong Bay is a UNESCO World Heritage Site. It is one of the most well-liked tourist destinations in Vietnam. Thousands of limestone islands, beautiful beaches, caverns, and floating settlements may be found across the breathtaking bay. The Bay of the Descending Dragons is how the Vietnamese refer to it.
Going on a cruise is the best way to explore the islands.
IDC Travel offers many cruise options, which will transport you from Hanoi to Halong Bay, allow you to spend the night on a boat, and then transport you back to Hanoi the next day.
Booking a cruise now: click here
Hue (1 day)
The history of Hue's terracotta town may be traced back to the Nguyen Lords, who built it in the 18th century. It was formerly known as the "imperial city" and has two UNESCO World Heritage Sites in addition to having roughly 200,000 citizens.
Hue is becoming a well-liked crossing point between North and Central Vietnam. It features a thriving local market that draws consumers from Hanoi, China, Laos, and Cambodia. In addition to the standard tourist attractions like the Royal Citadel and Thien Mu Pagoda, there are several hill tribe ethnic communities that are wonderful to see if time allows.
Da Nang(2 days)
If you're seeking to unwind a bit, the city of Da Nang (formerly known as Danang) is the ideal location. It is full of opulent beachside resorts. Due to the recent completion of the Golden Bridge, a massive bridge that seems to be supported by two hands, Da Nang is seeing an increase in tourism.
Additionally, it serves as the southern entrance to the breathtaking journey over the Hai Van Pass. However, there is a ton more to see and do in this bustling city, so schedule a few days here as part of your vacation. You may embark on a trek through the Marble Mountains, witness a dragon bridge exhale fire, indulge in mouthwatering food, or simply unwind on the beach.
Hoi An (1 day)
Hoi An, a charming city in Vietnam, has the most preserved traditional architecture overall. You can get a sense of these times since many of the ancient merchant homes have been made accessible to the public. The greatest has to be Tan Ky House, from the 17th century, which has remarkable architectural and ornamental features.
The charming Japanese Bridge, which is located at the western end of Tran Phu Street, serves as the main emblem of Hoi An. Close by, the Assembly Hall of the Fujian Chinese Congregation is the most elaborately designed temple in the old town. Although the town is full of little pagodas and museums, the best way to experience Hoi An's appeal is to stroll through the narrow alleyways of the old quarter and take in its beautifully preserved façade.
Ho Chi Minh City (1 or 2 days)
For those who enjoy urban life, no trip to Vietnam would be complete without stopping at Ho Chi Minh City, the bustling economic center of the nation. The restaurant and café scene are tremendously diverse, the streets are insanely congested with motorbikes and automobiles, and the shopping is among the greatest in the nation. The majority of the city's attractions are concentrated in Dong Khoi, the district's core area, which is compact and simple to navigate.
Read more: Ho Chi Minh itinerary: What to do and see in 1,2,3 days
Extension choices
For those who have already visited Vietnam or for those who don't like being crowded by tourists.
Ninh Binh
The town of Ninh Binh, which is located southeast of Hanoi, serves as a base for tourists to explore the surroundings. Because the state and its capital city share the slightly confusing name of Ninh Binh, when people speak to this region of Vietnam they frequently mean the whole Ninh Binh district, which includes a number of cities, villages, and important landmarks.
Con Dao Island
Con Dao presents classic Vietnamese architecture that spans three centuries and depicts a Vietnam that is fast fading. This region is unique due to the Portuguese buildings, Japanese temple, Cu Chi tunnel, and magnificent French prison, or Citadelle, from 1849 that make up the village. Honeymooners and adventurous couples who wish to see a number of off-the-beaten-path locations can choose paradise.
Quy Nhon
When visiting central Vietnam, the majority of tourists typically go to Danang, Hoi An, and Hue. Quy Nhon, which is also known as Qui Nhon in Vietnamese, should be appreciated more. Between Hoi An and Nha Trang in the Binh Dinh Province, Quy Nhon is a sleepy coastal town with beaches, delectable seafood, stunning scenery, historical sites, and few visitors. It offers a wide range of activities to suit all tourists.
Mekong Delta
Between Ho Chi Minh City and Cambodia, in southwest Vietnam, the Mekong Delta is a network of tributaries. The reason the waters are so murky is somewhat explained by the fact that the river itself originates in the Himalayas and travels through China, Myanmar, Thailand, and Cambodia before reaching Vietnam.
You can see how important the delta region is to the Vietnamese economy and cuisine because more than half of the country's rice and seafood are produced there. From the well-known floating markets to the sizable agricultural sectors, the area's way of life is centered around the water. A wide range of fruits, flowers, and cattle are raised there.
Recommended tour from North to South in 1 week:
Vietnam itinerary in 1 week: An adventure in The North
Within 1 week, you can fully enjoy North Vietnam, both the beautiful landscape and the rich culture . Some places that you can't miss are Hanoi, Ha Long Bay, Ninh Binh,… which have already been mentioned. Here are some more places you can add to your Vietnam itinerary.
Mai Chau (1 day)
Mai Chau is a district in the center of the Ha Bnh Province that is home to rich vegetation, stunning mountains, and a thriving culture. If you want to experience one of the various cultures that have settled in Northern Vietnam, it is a fantastic spot to visit. Seven different ethnic groups call Mai Chau home, including the Hmong, Zao, Muong, Hoa, Viet, White Thai, and Tay. In addition to its lush slopes, Mai Chau is famous for its stilt dwellings. These buildings are built 3 meters (10 feet) off the ground, and animals frequently find shelter in them when fleeing bad weather.
Ha Giang (2 days)
Ha Giang is one of the most isolated provinces in the nation. The Province, which is close to the Chinese border, is renowned for its granite mountains and verdant woods. It's a fantastic place to study ethnic variety and engage in outdoor pursuits like hiking and camping. Ha Giang has hundreds of breathtaking vantage points because it is such a beautiful region. Few, though, can match Ma Pi Leng Pass. Residents of Ha Giang frequently travel to these weekly or monthly events to visit outdoor markets. The Dong Van Market, which takes place on Sundays, is one of the most exciting.
Sapa (1 or 2 days)
The multicultural population of the alpine town of Sapa is renowned, as is its proximity to breathtaking surroundings. The Hmong, the Dao, the Muong, and the Tay are just a few of the many hill tribes who call Sapa home. The village also has a stunning view of the Muong Hoa Valley and its breathtaking terraced rice fields. Go to Sapa for an overnight walk or a homestay if you want a closer look at the locals and their customs. You may take a trip to the farther-flung villages, stay the night, and interact with the local hill tribes while eating and learning.
Extension choices
Bac Ha
The settlement of Bac Ha is within a few kilometers of the Chinese border. Bac Ha is a small town, so the best way to get a feel for it during the week is to visit the town square. There are a few neighborhood restaurants that serve delectable, affordable food, and there are several shops selling handcrafted items. The Sunday market, on the other hand, is what makes Bac Ha genuinely worthwhile. Every Sunday, locals from all around the area congregate in Bac Ha, which turns into a riot of color, sound, and excitement. It's a great chance to witness a variety of nationalities in one picturesque location since the local hill tribes' people gather here to purchase and sell.
Tam Coc
On paper, Tam Coc looks like rice fields surrounded by limestone cliffs and other natural features. Tam Coc is actually one of the most breathtakingly lovely places in the whole of the region. A rowboat may be used to travel around the lush green fields and in between towering limestone cliffs, which is the best way to explore. Even better, the river itself dug three tunnels through the mountains that you'll float through. From your boat, vendors may attract (or repel) you with regional trinkets and handicrafts.
Central Vietnam is often overlooked and traversed quickly on a North to South Vietnam tour. However, this region of the country has many hidden treasures to offer you, such as magnificent beaches, historical sites recognized by UNESCO, and tasty cuisine. With this week-long central Vietnam itinerary, we explore the cities – Danang, Hoi An, Hue, and other hidden gems in the region and share the best things to do here.
Besides the famous destinations such as Danang, Hoi An, and Hue, which were already mentioned in the tour across the whole country, With 1 week in Central Vietnam, you can visit some hidden places as follows:
Buon Ma Thuot: Coffee Capital
Buon Ma Thuot offers travelers the beauty of cool nature, characterized by a temperate climate and waterfalls, rivers, lakes, and national parks. Buon Ma Thuot comes from ethnic minorities whose centuries-old traditions are well preserved. Thus, the visitor should not miss a memorable night by sharing a traditional dance with a local ethnic group by the fireside.
Pleiku-Gia Lai: the province of majestic waterfalls
Located in Gia Lai Province, central Vietnam, Pleiku is 337 km from Da Nang and 304 km from Nha Trang.The city of Pleiku has many tourist sites to see. Tourists will mainly go to Bien Ho Lake, Yaly Falls, or Gia Lai, and the Ho Chi Minh Museum. Other sites like the Phu Cuong Waterfalls or the Fossilized Tree Park will also attract visitors.
Vietnamese itinerary in 1 week in South Vietnam
The South of Vietnam is a classic stage in a Vietnamese itinerary. If you have a one-week stay in the South, you can fully explore the beauty that nature bestows on the southern region of the country. Ho Chi Minh City, Mekong Delta are the main spots, so don't miss it. Another option to add to your tour is Phu Quoc Island.
Phu Quoc Island (2-3 days or more)
If the island of Phu Quoc, nicknamed "the pearl of Asia" or even "the emerald island", is famous for being the paradise island of Vietnam, it is because it has all the attributes! White sand beaches lined with coconut palms, turquoise sea, wild nature…! All you have to do is drop your suitcases there to end your stay in South Vietnam or simply enjoy a seaside stay! In addition to its beautiful beaches, conducive to relaxation and idleness, Phu Quoc conceals natural treasures to discover during the many activities offered on site. In short, it's the ideal place to spend a family holiday or a honeymoon !
Vietnam itinerary in 2 weeks: Across Vietnam
With 2 weeks, you not only have more time to extend the stay duration in the place that you like, but you can also visit some of the extended places mentioned. Besides all the destinations mentioned, here are some other options for your trip.
Phong Nha Cave
Phong Nha is a haven for adventurers. The biggest caverns in the world have been carved out by millions of years of water; flowing rivers weave through ancient karsts; and jungle-covered mountains create an unearthly environment.
Massive caverns may be the major attraction, but if you stay a little longer, you'll find hiking trails, rural lanes, and rivers that are ideal for kayaking at Phong Nha-Ke Bang National Park. Phong Nha is still in its infancy despite being the #1 adventure destination in Vietnam. The moment is here to arrive. You'll feel like you have the woods to yourself, the inhabitants are kind, and the caverns are in excellent condition.
Nha Trang
Both domestic and foreign visitors have been drawn to the Vietnamese beach city of Nha Trang for many years. Nha Trang boasts large lengths of coastline and is most renowned for its scuba diving, but the city also has a rich historical and cultural legacy that is well worth exploring.
While the Long Son Pagoda and its dragon mosaics are a terrific stop if you wish to combine a temple visit with a great view over the city, the Nha Trang beaches are incredibly gorgeous and offer a backdrop of towering rock cliffs.
Vietnam itinerary in 2 weeks: Discovery Country from North to South
Two weeks will allow you to appreciate some of the most beautiful and emblematic landscapes of Vietnam such as those of the mythical Halong Bay , the grandiose rice terraces, territory of many ethnic minorities in Sapa, Bac Ha or the lush delta of Mekong .
Traveling to Vietnam for 2 weeks means discovering an amazing culture while strolling through historic cities: Hanoi the capital, the imperial city of Hue , the ancient market town of Hoi An and the bustling southern metropolis Ho Chi Minh City . .
For each stop, we offer you a stay of 2 days or more if the weather allows you to fully immerse yourself in the beauty of nature and the life of the locals.
Popular Tours:
Additionally, you can customize your own tour by combining  1 week in the North and 1 week in the central or 1 week in the central and 1 week in the south to enjoy your 2 weeks.
Vietnamese itinerary in 3 weeks: Travel from North to South
3 weeks in Vietnam means exploring rich and varied landscapes, worthy of the most beautiful postcards, that you don't see anywhere else: a sunset tickling the ghostly rocks of Halong Bay , the amphitheaters of artisanal rice terraces in Sapa , the traditional wooden houses on stilts in Ha Giang , the mind-blowing nature of Dong Van , the green and fruity Mekong delta …
The Vietnamese itinerary in 3 weeks is to discover an incredibly rich and exciting culture, unlike our Western way of life. The history of Vietnam is fascinating, it transpires through the people who like to share it, through cities like Hanoi , Saigon or Hue , Hoi An through some of the most beautiful cultural sites in Southeast Asia such as the site archaeological site of My Son classified by Unesco.
By traveling to Vietnam in 3 weeks, you will be able to meet hospitable peoples, proud of its traditions and culture, rich in 54 ethnic minorities fiercely attached to their ancestral traditions.
Known routes:
Vietnamese Itinerary – Taste Adventure
Vietnam is divided into three main regions: North, Center and South. Thus, Vietnamese cuisines bring the distinct cultures of the 3 regions. So, your trip to Vietnam will be truly a taste adventure, as the country is truly a culinary paradise that will serve you many wonderful flavors.
Pho
Pho is unquestionably the dish from Vietnam that is most renowned worldwide, and when eaten in Vietnam, it lives up to its illustrious reputation. Pho in Vietnam is pure enchantment and is named for the flat, fettuccine-like Pho noodles that fill the dish. Ironically, though, the flavor of Vietnamese noodle soup varies depending on where you eat it.
Bun Cha
Bun Cha, a longtime local favorite, gained international attention when President Barack Obama and Anthony Bourdain donned their aprons and dipped rice vermicelli noodles (bún) into tiny bowls containing a grilled mixture of whole and ground pork drenched in Nuoc Cham , a sweet yet savory sauce made with ingredients like fish sauce, sugar, and vinegar. Who can blame them? Eating Bun Cha is enjoyable, thus they both enjoyed the experience.
Banh cuon
Banh Cuon is an inexpensive and entertaining breakfast choice for days when you're not feeling like soup, and it was created in Northern Vietnam but is now sold all throughout the nation. These steamed rice buns are served with a bowl of sweet dipping sauce and a stuffing of flavorful pork and mushrooms.
Don't seek out a posh Vietnamese eatery to enjoy Banh Cuon. Instead, seek for a busy Banh Cuon stall where the crew, who are almost always women, prepares the rice flour rolls by ladling the pancake-like rice flour batter onto specialized circular griddles. Because Banh Cuon is so inexpensive, it's a terrific "off the beaten path" dining option.
Banh mi
The Banh Mi sandwich originated in southern Vietnam, supposedly in Saigon. Despite being available throughout in Vietnam, the tastiest Banh Mi sandwiches may be found in the country's southern and central towns.While more seasoned vendors have permanent locations, the majority of banh mi sellers operate off of movable metal food carts to serve the famous dish. Every Banh Mi seller, regardless of cart or store, sells baguettes stuffed with a variety of meats, paté, cucumbers, and other delicious ingredients.
Mi Quang
Despite being relatively unknown on a global scale, Mi Quang has enormous popularity in Da Nang, the country's commercial center. The local favorite is inexpensive and widely accessible in Da Nang.
For those who have never had it, Mi Quang is a rice noodle meal that includes thick wide rice noodles along with a selection of ingredients including pork, chicken, shrimp, quail eggs, mussels, and eel in a soupy, meaty broth. Typically, Mi Quang is served with a large side serving of greens, as well as a variety of sauces such fish sauce and chilies
How much will a Vietnam trip cost you?
A trip to Vietnam may cost more or less depending on your objectives. Nevertheless, regardless of your plan, there are some ongoing expenses that you must cover.
Visa
If you want to get a Vietnam visa on arrival, you must definitely have an approval letter approved by a Vietnam registered travel agency. The fee you need to pay for an approval letter is about $17.
At the arrival airport in Vietnam, you will fill out a visa application form and have the visa stamped with your own letter of Vietnam visa on arrival, your original passport, and stamping fee. The cost will start at $25 depending on how long you stay.
Transportations
Flights: The most common way to travel from a foreign country to Vietnam is by taking a flight. Obviously, you need to pay for the ticket, and if you want to travel within Vietnam by flight, you need to think about the cost of domestic flights too.
International flights: Depending on your country, the airlines you choose, and the time that you travel, there are a variety of prices for flight tickets. Usually, the price ranges from $150 to $900.(one- way ticket)
Domestic flights: Domestic flights will vary from $60-$100 (one- way ticket)
Booking flights at the cheapest price: Flights to Vietnam
Public Transportation: To travel around Vietnam, you can choose public transportation since buses and taxis are easy to get in the big cities in Vietnam.
| | | |
| --- | --- | --- |
| Transportation | Bus | Taxi |
| Price | 7000 – 10000 vnd | 15000-20000 vnd/ km |
Car rental: Renting a private car in Vietnam is very affordable if you travel with a group of friends or family. It's convenient because you can travel all together independently. Renting a private car for a day costs $47 to $100 with local drivers.
You can find Vietnam car rentals at the best prices: here.
Accomodation
The cost of accommodation in Vietnam will be ideal for tourists on a tight budget. In every corner of the nation, there are many affordable possibilities. But if you want to enjoy a luxurious, relaxing trip, there are numerous choices too.
Homestays: If you are exploring Vietnam with a friend or your significant other, hiring a homestay is a smart and economical choice. These are often small, locally owned hotels with a limited number of rooms. You will have a tidy room with a private bathroom. Despite the outdated nature of the furniture. It is much more of a regional experience where it is customary to remove your shoes before entering the building and where you will frequently be accompanied by families as you enter and depart.
Hotels( 2-3 stars): If you like a little luxury but typically cannot afford it in Western nations. Then you will adore Vietnam to the fullest. Numerous inexpensive motels beginning at $20.00 per night are available here. Although it is far less expensive than you can get anywhere else on the globe, brand-name hotels will be more expensive. You'll receive consistently superior service and live in the lap of luxury.
Luxury Hotel (4-5 stars) : If you have a comfortable budget for accommodation in Vietnam, choosing a luxury hotel or resort will give you one of the most unforgettable experiences. The price for luxury accommodations varies from $80-$600
Vietnam has many things to offer you, from nature to culture and history. But, which Vietnamese itinerary? Unmissable sites or off the beaten track, cultural activities or nature? In fact, everything will depend on your desires because this trip to Vietnam is above all yours! If you are unsure which Vietnamese itinerary is reasonable, please contact us to properly plan a trip that suits your time and wishes, and even your budget!