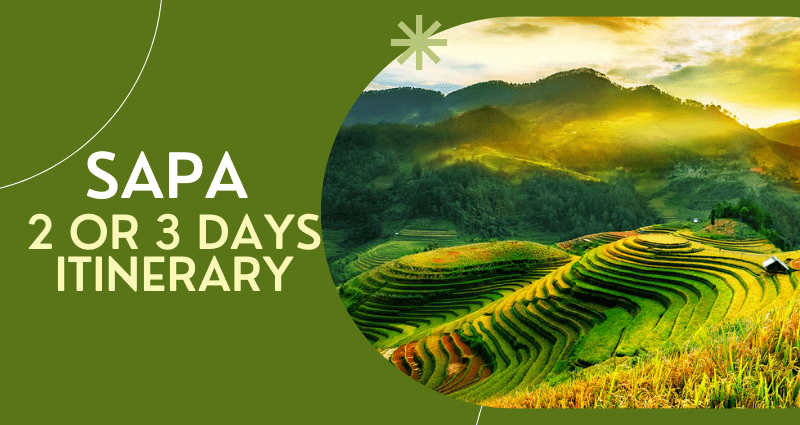 Sapa is home to breathtaking mountain scenery, lush rice terraces, distinctive stilt villages, native ethnic minorities, and Fansipan, the highest point in Indochina. It deserves to be among the most visited places in North Vietnam. A trip to Sapa and its surroundings should last at least two days, though a third day is not unnecessary because Sapa has so much to offer. If you still have no ideas about where to visit, what to do here, find useful information in the following article: Trip to Sapa: The Best Two and three days itinerary
Best time to visit Sapa
No matter when you arrive, Sapa won't let you down. However, for the majority of visitors, the ideal months to go are March through May or September through November. The weather is moderate throughout the day, there are fewer tourists, and there is less rain during these months, making it the most unhurried and genuine time to visit Sapa.
The best time to photograph ripe rice fields is in October if you want to get beautiful pictures. Peach and cherry blossoms are in bloom in February. The terraces turn green with newly planted rice paddy in May.
Travel between April and early June, or September and early October if you're a hiker. You will enjoy the greatest views from the mountain tops during these months, and the routes will be dry and simple to ascend.
Sapa in 2 days: A Classic Sapa Itinerary
Two days is the minimum for a trip to Sapa and its surroundings since getting there takes time and there are many things to do in this incredible region. For hiking enthusiasts, the two days can be used to go hiking in the majestic valleys of Sapa. Two days of walking in the deep valleys of Sapa from where superb rice terraces tumble.
Day 1: Sapa Town, Cat Cat Village, Silver Waterfall
Sapa is a small but colorful town where you can see different ethnic minority groups. They have their own traditional clothes, customs and habits, and their own language. These people, mostly women and children, come down to Sapa town to sell their products such as embroidery, silverware, and handicrafts.
You can walk around Sapa town to explore Sapa Church , Sapa Market , Sapa Museum in the morning tour. This is a chance for you to learn more about the Sapa lifestyle, meet local people, talk with them, etc. Interestingly, local people can speak English very well.
You can spend the afternoon in Cat Cat village , one of the most beautiful villages in Sapa, surrounded by rice terraces and green hills. Along the way to Cat Cat village, Tourists can also witness the picturesque scenes of Sapa, including the mighty mountains, huge forests, amazing terraced fields, beautiful valleys, and dazzling waterfalls. Arriving at the village, you will have the chance to see a big waterfall on the stream and the old hydroelectric power station built by the French, enjoy the Cat Cat waterfall, and visit the H'mong house, learn about the culture and way of life.
The Silver Waterfall is a must see when traveling to Sapa. About 12 km from the city center, tourists can get there by motorbike or car in just 30 minutes. It is upstream of the Muong Hoa stream, located at the foot of Ô Quy Pass.
At the top, the water rises, creating mysterious wisps of mist that surprise tourists. The crash of the water against the rocks gives it a whitish tint. It offers breathtaking views of the green rice fields, surrounding mountains and forests of Hoàng Liên National Park. Its poetic charm touches visitors who come here to enjoy the peaceful atmosphere. An ideal setting for taking pictures.
This day is an easy trek, so it is suitable for families with children or tourists who do not want a long and difficult trek.
In the evening, you have free time to explore Sapa town at night on your own.
We recommend overnighting at a Hmong or Dao homestay on your two-day trek to Sapa. This great opportunity will allow you to learn more about the habits and customs of these ethnic groups.
Day 2: Short hike to hill tribes (Lao Chai, Ta Van and Ta Phin).
In the morning, you will walk to Ta Phin village , where the Red Dao people live. The first thing you will see when entering this village are the red Dao women gathering together, holding spools of thread and colorful fabrics in their hands. The village is famous for its brocade, and its nickname is "the brocade village."  The brocade products here are eye-catching with many bright colors and patterns, such as bags, scarves, handbags, skirts, and even backpacks and coats. Buying their products is a way to support the local population.
For more unique encounters, particularly while meeting the locals, you will join the journey through lush valleys to Lao Chai and Ta Van villages in the afternoon. These two villages, which are shrouded in hazy clouds and have lovely rice fields and a natural ecology, provide breathtaking views and fascinating cultural experiences. When you visit the villages, you can get a glimpse into the lives of the locals, observe how they go about their daily tasks of farming and animal care amidst beautiful natural settings, and see how each tribe's culture has been meticulously preserved in the form of their crafts, traditions, and clothing. The local kids will be thrilled if you bring them some refreshments.
Sapa in 3 days: Dominating "the roof of Indochina"
Please refer to the schedule below for a 2-day vacation to Sapa for the first two days.
On your third day in Sapa, you will have the opportunity to summit Mount Fansipan.
Fansipan, the highest mountain in Vietnam and the "roof of Indochina," stands proud at 3,143 m.
From Sapa town, you can ride the Muong Hoa mountain railway. It runs 1.7 kilometers from Sapa Station to Hoang Lien Station (the departure station of Fansipan Ropeway).
You'll ride the train through Vietnam's greatest rose valley (Muong Hoa Valley).
The cost of the mountain ticket is 100,000 VND each way.
You can go to the top of Indochina by cable car in 15 minutes from Hoang Lien station.
While seated in the cable car cabin, you may take in the grandeur of the Muong Hoa valley as well as the rich and varied vegetation of the Hoang Lien Son mountain range.
A return ticket costs 750,000 VND for an adult and 550,000 VND for a child.
Reaching the peak requires climbing about 600 steps after exiting the cable car. There are numerous places to sit down along the comfortable and simple to follow path.
For 70,000 VND/one way, you can get a round-trip ticket on the mountain train if you don't want to walk the stairs.
Must-try food in Sapa
Apart from its majestic landscapes, cool climate, and culture, Sapa is also known as the gastronomic paradise of northwest Vietnam. If you visit Sapa, apart from enjoying the beautiful scenery, you must try the local cuisine.
Thang Co (horse meat soup)
Recognized as an awful food due to its unpleasant smell, thang co is actually a favorite of many travelers, even a few are addicted to its very "special" smell! It is a traditional dish of the Hmong people of Sapa and is believed to have first appeared over 200 years ago.
Thang co literally means soup cooked in a large pot. The main ingredients are the meat, bones, blood, and organs of the horse, combined with more than 20 botanical herbs, including cardamom, lemongrass, ginger, star anise, cinnamon twig and the plant thang co (special taste named according to the dish).
Previously, this dish was only served on special occasions such as Tet (Vietnamese New Year). However, with the rapid development of tourism, thang co has become more popular than ever, and you can see it on the menus of every restaurant in Sapa.
Com Lam (tube of fried rice in bamboo)
It is a cheap but delicious specialty of Sapa. Com means rice. Lam is a word from the Thai tribe, meaning fried. Com lam means fried rice, but this rice is special because it is fried in bamboo tubes. All restaurants in Sapa offer this dish.
In the past, life in northwest Vietnam was so difficult that the indigenous people did not have pots and pans to cook with. So they came up with a method to cook rice without a pan: bamboo tubes. First, the tubes are filled with sticky rice and water with a little salt, then covered with banana leaves. The bamboo is then fried over a fire and continuously turned until the rice is cooked through.
In Sapa, they are usually eaten with skewers of grilled pork or chicken.
Mam da
Many people think that the "mam da" dish only exists in legendary tales. However, this vegetable is eaten in restaurants in Sapa, highly appreciated by gourmets and sought after by Hanoians despite its high cost.
It is a kind of local cabbage known for its smell and flavor, which far outweighs ordinary cabbage. Once placed in boiling water, it is dipped in a soy sauce or fish sauce with a boiled egg to taste.
Mam da is grown in the high mountains of Sapa and is harvested between November and April. It is accompanied by sautéed buffalo meat and San Lung alcohol, the ancestral drink of the Dao Rouge.
Cuon Sui
This popular Sapa dish is made with rice vermicelli, dried maranta, beef, pepper, and peanuts. It is served with aromatic herbs and a special sauce made from various spices. Everything is to be mixed well to taste for breakfast. This version of spicy pho salad invites you to savor all the seasons, in complicity with the freshness of Sapa.
Thit trau gac bep (smoked buffalo)
Trau gac bep literally means buffalo meat hanging in the kitchen. The Black Thai people of Sapa marinate and then dry bison meat. This dish aims to sustain them throughout the rainy season. The meat is hung for smoking for about eight months to a year and then lowered to be grilled, baked, or cooked in many dishes.
The smoke from cooking gives this dish a distinct smell. Its exceptional and spicy flavor will offer you a memorable taste break during a trip to Sapa.
Black chicken
The name of the dish comes from the unique color of the chicken, which is known for its crunchy backbone and notably irresistible flavor. Its most alluring version is undoubtedly the black chicken with grilled honey. The key to the dish is the marinade with honey and local spices, which gives it a delicious flavor. It is used with pepper and lemon salt without the absence of mint.
Tips for visiting Sapa
Exploring a new city is exciting, but it will cause you some problems if you don't pay attention to the cultural differences. To make your trip run smoothly, here are 5 things not to do in Sapa:
Don't wear white linen clothes
If you are wondering why! You should be aware that this is a customary funeral-specific outfit. By wearing it, you then run the risk of appearing unfit.
Avoid villages with flower bouquets tied to the entrance
This symbol, which is typically found on a pole or an animal bone, denotes that the village holds a ritual to drive out evil spirits. Visits are therefore prohibited in most cases. Please check back later.
Be as respectful as possible
The people of Sapa are kind and very respectful! If you want to take advantage of their generosity, you have to behave like them. Be calm and modest.
Do not take pictures without a permit, especially of children.
Vietnam, especially Sapa, does not forbid photography. Locals might interpret this differently, though. It is therefore necessary to ask everyone's opinion before taking their photo.
Never play with, pet, or embrace kids in the street.
Last but not least, take note of this final piece of advice—it's crucial! In fact, these actions are thought to be a means of instilling fear in children or spreading disease among them. Despite how adorable they are, keep your distance from kids you don't know.
Sapa is renowned for its breathtaking landscapes, lovely villages, impressive rice fields, and ethnic cultures. You can spend 2, 3 days, even a week there and still have a lot to discover. Please do not hesitate to contact us to plan your trip to Sapa!