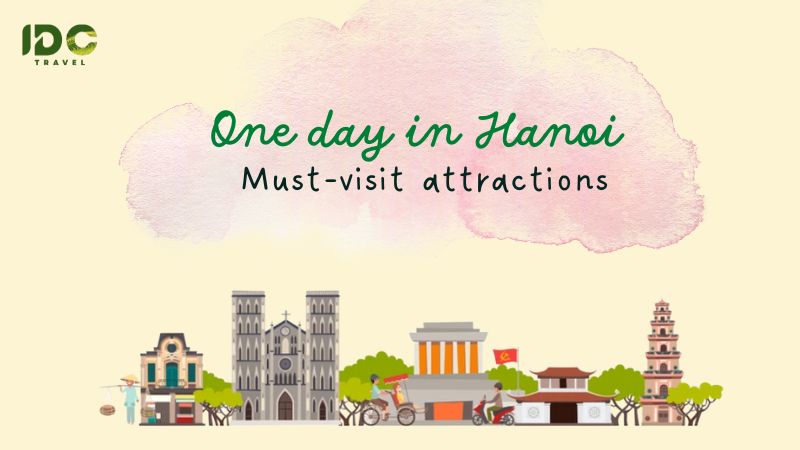 When talking about Hanoi – The capital is more than 1000 years old. Not only famous for its long history, rich identity and traditional culture, this land is also known as one of the destinations that attracts a large number of domestic and foreign visitors. But with only 1 day to experience all the "must-come" places, "must-try" foods, "must-do" activities in this city, what would you do? We are here to give you the most suitable options that you cannot miss if you only have 1 day in Hanoi. Follow us and don't skip other ideas travel to Hanoi with us at how to spend 1,2,3 days in Hanoi
What is the best time to go to Hanoi?
If you only have 1 day in Hanoi, You must definitely come to Hanoi in autumn. The autumn in Hanoi has been rewritten in most of the famous poetic Nho mua thu Ha Noi, mentioned as a destination not to be missed. During the period from August to October, the weather is cool, with light winds, the temperature difference is from 26 to 30 degrees Celsious. This is the wonderful time to walk on romantic yellow leaves falling on the streets of Hanoi.
"Must-come" places:
Thang Long Imperial Citadel:
 The Imperial Citadel of Thang Long is a complex of relics connected to the growth of Thang Long-Hanoi that built by kings throughout history. This is also the most significant relic in Vietnam's network of historical places. Visitors can visit famous locations such the historical site at 18 Hoang Dieu, Doan Mon, Kinh Thien Palace, and Bac Mon (Cua Bac citadel) when they visit Thang Long Imperial Citadel.
Your 1 day trip in Hanoi in the morning can start with a visit to the Imperial Citadel of Thang Long. On a cool autumn morning, walking down the corridors of the Imperial Citadel to watch the yellow leaves fall, don't forget to take some romantic photos for yourself as a souvenir!!
 Long Bien Bridge is the first steel bridge across the Red River connecting the two districts of Hoan Kiem and Long Bien of Hanoi. The bridge was built by the French from 1898 to 1902 under the then Governor General of Indochina, Doumer. The bridge is 2290m ​​long across the river and 896m leading bridge, the bridge consists of 19 steel beam spans placed on 20 pillars with unique architecture. The bridge is designed with a single track running in the middle and two lanes for bicycles and pedestrians on both sides.

This is a historic site with a long history and ancient features from the old war that few places can still keep it, Long Bien Bridge attracts a large number of tourists every year.
"Must-try" foods:
Stuffed Pancake (Banh Cuon):
Starting A day in Hanoi with Banh Cuon – One of the most popular dishes of all time. The crust is made from rice flour, steamed by the chef in a special way, making the crust thin but very chewy and sweet, served with meat or egg and fish sauce mixed separately. Hot plate of banh cuon served with spring rolls, rolls, meat, … dotted with fish sauce and salad, eating a little more herbs has become a typical culinary feature of Vietnam.
The Oxford Dictionary provides an introduction to this food. The star of this dish, often known as "Vietnamese banh mi," is its filling. You only need grilled pork, liver, and carrots topped with sauces and spices to make a fantastic baguette. Try to come up with one adjective to describe this delicious Vietnamese food, such as crunchy, tasty, or succulent. Vietnamese people can enjoy this dish at any time. Because of the convenience, delicious, cheap but extremely nutritious. Coming to Vietnam without trying this dish would be a big omission for your day in Hanoi.
There is no denying the popularity and special taste of Pho Hanoi. The main ingredients of pho are pho noodles and broth, mixed with spices such as pepper, lemon, chili sauce … and accompanying vegetables such as coriander, coriander, and basil. Pho is traditionally made from rice flour, coated in thin sheets and then cut into fibers.
The broth for pho is usually a broth that is simmered from beef bones, wormwood with a variety of spices including cinnamon, anise, grilled ginger, cardamom, cloves, coriander seeds, and roasted dried onions.
After finishing the broth, put the pho noodles in a bowl and then pour over boiling water, then put the broth in a bowl that has prepared noodles, beef and green onions in it, you can enjoy it. Should be used hot to feel all the special flavor of Hanoi Pho. After a long day  with many activites by eating a bowl of pho is a best option to finish your day in Hanoi.
 "Must-do" activites:
Bat Trang pottery village:
Bat Trang pottery village is located in two villages, Bat Trang and Giao Cao, on the left bank of the Red River, now Bat Trang commune, Gia Lam district, Hanoi. The pottery village is more than 10km southeast of Hanoi city center. Bat Trang pottery village is famous for many unique, high-quality and extremely high-class ceramic products. However, this pottery village is not only famous for domestic people but also considered a popular tourist destination for foreign tourists. Coming to Bat Trang pottery village, we can experience pottery making and fermenting activities. In addition, the artists here will support you to create your own works.
>>>> And those are our recommendations,  you can refer a detailed plan for 1 day in Hanoi itinerary at Hanoi full day tour.