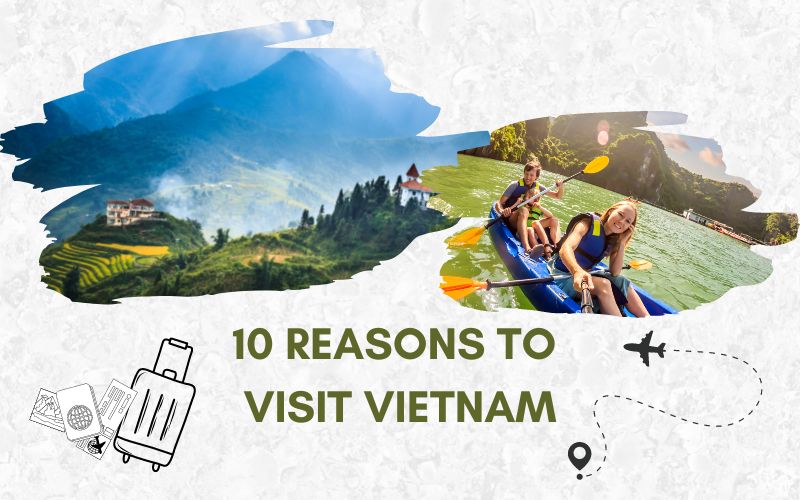 These 10 reasons to visit Vietnam are a good starting point to describe what many travelers love most about Vietnam. Some highlights you may be familiar with (World Heritage, street food), while others may come as a surprise. So many great reasons to start dreaming and planning your trip to Vietnam.
If you are looking for some good reasons to visit Vietnam, here are some of the most popular ones:
1. Safe Destination
One of the main concerns of travelers is to choose a safe destination. You should be reassured, because Vietnam, according to International SOS, a travel security services company, is in the "low risk" category in Asia. No matter when you come to Vietnam, the places you visit, whether you travel alone or with your family, this country ensures that you are always safe.
Thanks to the application of strict measures and the respect of these decisions by locals, Vietnam has obtained admirable fruits in the fight against the spread of the virus. These efforts by the government and the people have made the country a great destination after the Covid-19 pandemic, according to Travel + Leisure, an American travel magazine. Moreover, Vietnam is ranked in the top five remarkable post-pandemic destinations in Asia by the American news agency AP. In this country, everyone can connect, relax and travel safely.
2. Simplified and fast formality
Citizens of most foreign countries must have a valid visa to travel to Vietnam. Residents of certain countries that have signed a visa waiver agreement with Vietnam do not need to apply for a Vietnam visa for a certain period and for specific purposes.
There are currently three ways to apply for a Vietnam visa: apply for a visa at the Vietnam embassy in your home country or on arrival. For visas on arrival, our local travel agency will send you an approval letter. Of course, this type of visa is more convenient and takes less time. But please note that it only applies to those who come to Vietnam by air.
Another choice is to apply for a Vietnam visa online. All you need to do is fill in your personal information and pay your request online. This will simplify your arrival and save you time.
Please see Visa Vietnam see more information.
3. History 4000 years eve
Are you a lover of history and culture? Then surely this is one of your reasons to visit Vietnam. Our country is one of the oldest cultures in Southeast Asia – dating back to 2000 CE. Its complicated history began with the indigenous Dong Son culture thousands of years ago. Archaeological sites of this culture are scattered in the Red River Delta and the north-central part of the country. Most of its typical artifacts are displayed in the National Museum of Vietnam History and the Thanh Hoa Province Museum. Throughout its development, the country was also influenced by Chinese, Khmer and Indian cultures, as well as French colonialism.
Vietnam is a land of legends. Millennia of invasions and conflicts have shaped Vietnamese culture into what you see today. In Vietnam, you don't have to go far to find treasures from another time. They are scattered throughout the countryside and hidden in cities, as well as in eight UNESCO World Heritage Sites.
The timeless capital city of Hanoi is a gold mine for history buffs, with its pagodas, gates and ancient houses blending into the fabric of the Old Quarter. In central Vietnam, the former imperial city of Hue is dotted with the tombs of feudal kings and their forgotten palaces. To the south, the immense system of Cu Chi tunnels bears witness to the greatness of the country during the Vietnam War. Come to Vietnam to hear the sacred stories, and the great battles that made the country as resilient as it is today.
4. World Heritage
Vietnam has 8 World Heritage sites! It is not surprising that the country is regularly in many rankings of the most famous destinations in the world when. They are found from the north to the center of the country, creating landscapes rich in the sense of sight. According to World Travel Award, Vietnam is nominated for the World's No. 1 Heritage Destination 2020, the second year in a row Vietnam has been honored in this category.
Halong Bay
This is one of the reasons to visit Vietnam and especially for North Vietnam Tours. Located in the Gulf of Tonkin, Ha Long Bay has around 1,600 large and small islands. You will marvel at a spectacular seascape with limestone columns. Most of the islands are uninhabited and undisturbed by humans. Its exceptional biodiversity makes it an irresistible attraction for tourists. During your trip to Vietnam, don't miss Halong Bay to hear the legend of the dragon's descent.
The central sector of the imperial city of Thang Long – Hanoi
The imperial city of Thang Long, built in the 11th century by the Ly dynasty, represents the independence of Dai Viet. It was built on the remains of a 7th century Chinese citadel, on the arid lands of the Red River Delta in Hanoi. The monument is the seat of continuous regional political power for almost thirteen centuries. The architectural works of the Imperial City and the remains of the archaeological site of the 18th Hoang Dieu represent a culture originating from Southeast Asia specific to the region of the lower Red River, where influences from China in the north and the ancient Kingdom of Champa in the South.
Trang An landscape complex
This is the place you must visit in Vietnam and especially fpr North Vietnam Tours, located on the southern bank of the Red River Delta, Trang An is a breathtaking landscape with limestone peaks interspersed with valleys, some flooded and surrounded by steep cliffs. Scientists have discovered archaeological traces of human activity there dating back around 30,000 years. The complex also includes Hoa Lu, the ancient capital of Vietnam in the 10th and 11th centuries, as well as temples, pagodas and landscapes of rice fields, villages and sacred sites.
Phong Nha Ke Bang National Park
Inscribed on the World Heritage List in 2003, Phong Nha Ke Bang National Park covers an area of ​​85,754 hectares. It now covers an area of ​​123,326 hectares (46% increase) and adjoins the Hin Namno Nature Reserve of the Lao People's Democratic Republic. The park features a landscape of karst plateaus and tropical forests, which is geologically diverse and offers spectacular views, including multiple underground caves and rivers. It is home to great biodiversity and many endemic species. On April 14, 2022, Son Dong, the largest natural cave in the world was honored by Google Doodle to commemorate the discovery of the site in 2009.
All the monuments of Hue
Built as the capital of Vietnam in 1802, the city of Hue was not only a political center but also a cultural and religious center under the Nguyen Dynasty until 1945. The Perfume River meanders through the capital, the Imperial Citadel, the Forbidden City and the Inner Citadel, adding poetic beauty to this unique feudal capital.
Hoi An old town
Hoi An is an exceptionally well-preserved example of a city that served as a Southeast Asian trading port from the 15th to 19th centuries. Its buildings and the layout of its streets reflect the indigenous traditions as well as the foreign influences that have created this unique heritage.
My Son Sanctuary
From the 4th to the 13th century, the coastal region of contemporary Vietnam has retained a unique culture, associated with its spiritual roots with Hinduism. This relationship is illustrated by the remains of an impressive series of shrines, at the center of a remarkable site, which was for most of its existence the religious and political capital of the Kingdom of Champa.
The Citadel of the Ho Dynasty
The 14th century Ho Dynasty Citadel was built according to the principles of feng shui. It bears witness to the brilliant development of neo-Confucianism in Vietnam at the end of the 14th century and its spread to other regions of the Far East. It is located in a landscape with panoramas of great beauty on an axis connecting the Tuong Son and Don Son mountains in a plain between the Ma and Buoi rivers. The buildings of the Imperial Citadel represent an outstanding example of the new imperial style in Southeast Asia.
>>> View more about our Vietnam Holiday Packages
5. Diverse culture
Vietnamese culture is one of the oldest cultures in the world and has undergone changes for almost 4000 years. It has its own characters and its development is parallel to that of Chinese culture, under French influences, notably architecture, Catholicism.
54 ethnicities
Vietnam is a multi-ethnic country with more than fifty distinct groups (54 in total). Each of them has its own language, its own lifestyle and its own cultural heritage. They are signs to recognize the culture of the other. The cultural nuances of each ethnic group integrated into the national culture have made the country's culture diverse, truly a rich cultural garden with many colors and flavors. Come to Vietnam to meet them and immerse yourself in 54 different colors of the country.
Tradition rich in identities
The interference of many great civilizations China, India and indigenous civilizations, has created a country rich in traditions and diverse identities including ancestor worship. The cultural tradition of the past is still well-preserved. When you visit Vietnam, you can easily see altars in historical sites, temples and all Vietnamese houses. The Vietnamese, regardless of their religious denomination, practice ancestor worship and have an ancestor altar at home, which testifies to the importance that Vietnamese culture places on filial piety.
Ancestor worship holds a very important position in Vietnamese spiritual life. Especially during the New Year, standing in front of the ancestral altar, with faint smoke, deep in the human spirit, everyone turns to the source and spirituality. Vietnamese invite ancestors, grandparents, relatives, and deceased people, and gods to worship, pay respect to the born. They wish a prosperous new year, full of hope, happiness, and success.
Traditional costumes
In general, Vietnamese costumes are very diverse. Each Vietnamese ethnic group has its own style of dress. Over thousands of years, the traditional costumes of Vietnamese ethnic groups have changed a lot. However, each ethnic group still retains its distinct characteristics. For example, "Áo Tứ thân" in the plain, short dresses in the mountains, and "Ao Bà Ba" in the south….. However, the "Ao Dai" (long dress), the origin of "Ao Giao lãnh" is the Vietnam traditional common costume. This costume appears in all national and international elements. The "Ao Dai" is also one of the symbols of Vietnam…
6. Tasty and refined cuisine
One of the main reasons to visit Vietnam is its very rich and diverse cuisine. The 3 regions have their own ethnicities and climates, so the dishes and spices change too. Like yin and yang, Vietnamese cuisine relies on a balance between ingredients and spices. The bowl of rice clearly remains the centerpiece of each dish, with the rest being cooked according to regional traditions.
One of the things that seduce travelers is its street food, an art of living, a unique moment. Eating in the street will allow you to taste various Vietnamese culinary specialties. You will also be surprising and tasty by immersing yourself in the local culture. Two popular street foods in Vietnam, pho and banh mi, have made it into the Oxford English Dictionary. On March 24, 2020, Google changed the logo (Google Doodle) on its homepage to honor the bánh mì (Vietnamese sandwich) in 12 countries.
During a trip to Vietnam in 2016, former US President Barack Obama and celebrity chef Anthony Bourdain had the opportunity to sample some of Hanoi's famous street food such as bun cha. And this chef himself has some advice for those planning to travel to Vietnam. Go to the traditional markets to discover the best rustic Vietnamese dishes at the cheapest prices. Here, each stall sells only one dish from yesteryear, the recipe is passed down from generation to generation.
It is indisputable that you will not be able to think of what to eat during your trip to Vietnam. The country offers you irresistible specialties from morning to evening.
7. Best coffee in the world
Vietnam is the world's second-largest coffee producer in 2020, after Brazil. Coffee lovers during their trip to Vietnam, find their pulse beating faster every time they drink Vietnamese coffee. It's not easy to put the cup back on the table, once you've taken your first sip. Extra strong, flavorful coffee will keep you up all day. French explorers pioneered coffee making in Vietnam. But the Vietnamese people have taken the whole production of high-quality coffee to another level. For many Vietnamese, coffee is now part of their life. If you haven't tasted a cup of coffee, your day hasn't started yet in Vietnam.
The Vietnamese developed a distinct taste with the introduction of coffees, including egg coffee, a special drink of Hanoi. An ultra-gourmet specialty of Hanoians, this coffee is a must-have not to be missed during your trip to the capital. The current owner of the famous Giang Café in Hanoi claims that it was his father (Nguyên Van Giang) who created the recipe for Vietnamese egg coffee. In the late 1940s, due to a milk shortage, he reportedly replaced milk with beaten eggs. And that's how the recipe for egg coffee was born.
Another very appealing coffee is Vietnamese iced coffee. It is an addictive soft drink made from Vietnamese coffee and condensed milk. Pour a little condensed milk (or more if you like sweet coffee) into a coffee cup. Place a metal coffee filter on it and let the coffee flow slowly.
That's why coffee has become one of the reasons to visit Vietnam and don't forget to enjoy a cup of coffee during your Vietnam tours!
8. Many heavenly beaches
Reasons to visit Vietnam?  Definitely to be lounging on the beautiful beaches from north to south of Vietnam. With a coastline of about 3,000 kilometers, Vietnam offers beautiful white sand beaches, clear soils, as well as almost virgin islands with extremely rugged mountain landscapes.
Ranked 27th out of 156 countries with sea in the world, Vietnam has a large coastal area in Southeast Asia. The country is also one of the 12 countries with the most beautiful bays in the world, namely Ha Long Bay and Nha Trang Bay.
Vietnam has formed 3 maritime tourism centers attractive to international tourists including Ha Long Bay (Quang Ninh), Da Nang, and Nha Trang (Khanh Hoa) with modern 4-5 star accommodation facilities for your luxury travel, beach tours, or MICE tourism (congress tourism, seminars).
Beach in Danang
It is one of the 20 cleanest cities in the world. The city is also considered the best city to live in the country. Da Nang is a coastal city with a coastline of over 90 kilometers. It is no wonder that the city is lined with beautiful beaches such as My Khe, Son Tra, Non-Nuoc… Da Nang is one of the six most attractive beaches on the planet elected by Forbes magazine.
Beach in Nha Trang
Nha Trang, surrounded by turquoise waters, sandy beaches and seabed mountains is one of the most beautiful beaches in southern Vietnam. Wellness services, in particular the mineral mud bath, are developing more and more.
Beach on Phu Quoc Island
Located off the southwest coast of Vietnam in the Gulf of Siam, the island of Phu Quoc is full of wild nature and beautiful beaches, ideal for a wellness stay. This tropical island fascinates you with its purity. Its refreshing waterfalls rival the beauty of the beaches of Paradisia, lined with coconut palms and turquoise waters. Nicknamed "the island of pearls", the island of Phu Quoc offers you beautiful walks and a multitude of nautical activities.
>>> See more Vietnam Beach Tours & Holidays Packages
9. Cheap fare
One of the reasons to visit Vietnam is that this country is considered an ideal destination for a cheap trip. In fact, the country is one of the low-cost of living destinations compared to western countries and especially other countries in the region. For backpackers, there are various hostels and guesthouses in most cities. Costs are even lower at street restaurants, which are often considered the best in the world. Hanoi, Ho Chi Minh City, and Hoi An feature prominently in the list of the ten cheapest places to travel in the 2019 Backpackers Index compiled by Price of Travel, the world's largest travel cost database.
According to Happy Lifestyle Journal, you can enjoy a luxury stay in a 5-star hotel in Vietnam for the same price as a stay in a 3-star hotel in New York. With the same budget, during your trip to Vietnam, you can enjoy the most luxurious and wonderful services. There is no reason not to choose Vietnam as your next luxury travel destination with this amazing Vietnam trip cost !
10. Friendly and welcoming population
Conviviality is one of the reasons for traveling to Vietnam. Hospitality is present in every corner of Vietnam, from urban cities to rural countryside According to Espresso Communication, Vietnam is among the top 10 countries recognized as having the friendliest and most welcoming people in the world. The country will bring visitors meaningful journeys and authentic experiences. You will feel safe and comfortable while visiting Vietnam. You can ask for directions, go shopping without worrying about the problem of furious and scowling faces. The Vietnamese respect their hosts. During a trip to Vietnam, do not be surprised if you are invited to drink tea, coffee, rice wine or attend a wedding party by the locals.
With the Top 10 of the best reasons to visit Vietnam above, did they make you love our country? Do not hesitate to contact us to plan your trip to Vietnam as soon as possible. Let come and discover Vietnam your way. Our country always welcomes you!