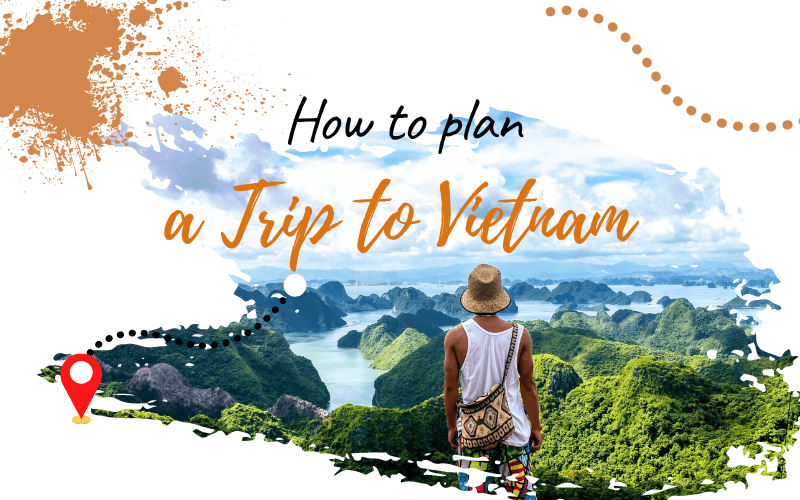 Vietnam has relaxed its entry requirements from March 16, 2022. All travelers to Vietnam are now exempt from Covid-19 related conditions. If you are looking for helping plan a trip to Vietnam, don't hesitate to take a look on this article ! The following travel guide will help you plan your perfect trip to Vietnam, even if it's your first trip to Vietnam.
1. Why should you travel to Vietnam?
The answer is that it is a "safe and good value option". Without spending too much money, you will be repaid with guaranteed good experiences, such as tasting good Vietnamese food, relaxing on the beaches, meeting friendly locals and getting a taste of Vietnamese culture. All of these will make every penny and day spent worth it.
Vietnam is absolutely safe for all types of travelers. The country has never been the victim of a terrorist attack. In fact, Vietnam is rated safer than 140 countries when it comes to terrorism. The political situation is stable and crime is relatively low. In addition, in 2021, Vietnam is ranked, according to a report by Expat Explorer, in the top 5 countries to expatriate to live happily in Asia-Pacific. If you are foreign tourist, the Vietnamese always welcome you warmly.
2. How to get a Vietnam visa?
The visa exemption is applied from March 15, 2022, until March 14, 2025, for 13 countries: Germany, France, Italy, Spain, United Kingdom, Russia, Japan, the Republic of Korea, Denmark, Sweden, Norway, Finland, and Belarus, and for stays of 15 days.
If you are from America, Canada, Australia or about 80 other countries which are not on the list of visa-exempt countries, you need to apply for a visa to enter Vietnam. It usually costs around 25 USD for a single entry visa (30 days). The double-entry or multiple-entry visa costs more. 3 options for travelers to get a Vietnam visa:
Apply for a visa at the Vietnamese Embassy in your home country
Apply visa on arrival. We will send you an approval letter, which you will present at Vietnam International Airport.
Apply for the electronic visa (e-visa). You must complete the visa application form and make the payment online.
>>> Please see Visa Vietnam to see more information.
3. When is the best time to travel to Vietnam?
For mild, dry weather: December to March
For less crowds and cheap: March to October
As a long and narrow country, stretching from north to south, with a long coastline, the climate is pleasantly milder all year round, with fewer temperature extremes than in inland countries.
Mild, dry season and festival season: December-March
This season enjoys the most pleasant climate in Vietnam. You can also have the chance to immerse yourself in the atmospheric festivals and celebrations, such as Christmas, New Year and Tet (Vietnamese New Year, in January or February).
In this high season, hotels are easily full and the price of tours increases accordingly. Due to high demand, it is advisable to plan your trip at least three months in advance.
Hot, dry and flowering season: March-April
This period is the best time to visit for those who wish to find a compromise between price and time.
Blooming flowers weave a stunning picture: red kapok, yellow rapeseed blossoms, white plum blossoms and pink peach blossoms. You can meet them in the countryside of northern Vietnam or in the flower villages of Hoi An.
Hot, rainy and low season: May-November
By visiting Vietnam during the rainy season, you can enjoy lower prices (200-400 USD less per person for a 10-day tour) and fewer crowds.
Thanks to its long, S-shaped coastal geography, rainy days are not often persistent. Precipitation mainly occurs in the afternoon or evening, allowing you to enjoy most of the day. It is recommended to practice outdoor activities in the morning and bring rain gear.
Typhoons are likely to occur in July and August in northern Vietnam, but in October in the center of the country. Thus, a flexible itinerary and the purchase of travel insurance are useful for making possible adjustments.
> See Best time to go to Vietnam for more information on weather in Vietnam
4. Vietnam travel budget
To plan a trip to Vietnam, budget is a concerning issue for all travelers to get ready earlier. As you know, no matter if it's a budget trip to Vietnam from India or from England, or the USA, it's always on the list of the lowest budget compared to other Asian countries.
The official currency of Vietnam is the Vietnamese dong (abbreviated as VND). The US dollar to VND exchange rate is currently hovering around 1:23000 (updated 2022). This rate may vary from time to time. You can check the exchange rate via this link.
US dollars and credit cards (like Visa and MasterCard) can be used in major cities, including shopping malls, fancy restaurants and 4-5 star hotels.
However, it is much wiser to have VND with you for small expenses/purchases from street vendors, taxi drivers and local traders.
You can withdraw money from ATMs, but you may have to pay two commissions (one by the local bank and the other by your issuing bank). It is therefore better to bring a few US dollars in cash and then change them at the airport, in banks or hotels.
International flights may represent the largest portion of your trip costs. The price of plane tickets varies a lot according to the routes. So do a comparison before you book.
Vietnam domestic flights are very affordable. For example, a single plane ticket costs only around 80 USD in economy class during low season. Air fares between Vietnam and other Southeast Asian countries are similar.
When arriving in Vietnam, you can enjoy a private day tour for 100-150 USD per person. The larger your group is, the lower the price is. Your professional guide and conscientious driving will brighten up your trip.
Hotel room rates vary from guesthouses to luxury hotels. Since the Vietnamese system is different from the international hotel star rating system, it is best to classify Vietnamese hotels into the following categories: "Comfortable"/"Boutique" (50-100 USD per room), "Luxury" (150- 200 USD per room) or "Guesthouse (from 10 USD per room)".
If you want to find something to eat, you can choose to sample street food for just $1-2 per meal or deluxe cuisine for $20-50 per meal, or anything in between.
5. Where to visit in Vietnam?
Hanoi and Ho Chi Minh City are considered gateways for connections to your international flights. The following cities are the main destinations, should be noted when you plan a trip to Vietnam:
Hanoi is rich in history and street food.
As the capital of Vietnam, Hanoi is a must-see during a trip to Vietnam.
Get up early, jog around Hoan Kiem Lake and wave to the locals to experience Hanoi's most peaceful and authentic life. After enjoying a bowl of pho, cycle through the Old Quarter, browse the local market, and sip a cup of coffee at a sidewalk café.
Halong Bay is always on the list of favorite destinations for travelers for its island scenery.
Listed as a UNESCO World Heritage Site, Halong Bay is one of the most beautiful natural sites in Vietnam. Its unique and breathtaking seascape attracts honeymooners for their honeymoons.
Board a luxury cruise, visit special floating villages and go kayaking. In the late afternoon, stretch out on a lounge chair with your favorite drink by your side, enjoy the cool sea breeze and watch the sun slowly set…
Hoi An, a thousand-year-old city, attracts thousands of visitors, known for its exquisite Ao dai/costume making and historical relics.
Hoi An in central Vietnam is a wonderful place to relax on the beach, take cooking classes, visit historical buildings, as well as explore the countryside.
As the City of Lanterns, the ancient city is charming at night, illuminated by beautiful lanterns. You can learn Vietnamese lanterns and how to make them. If you are traveling on a full moon day, you can participate in local traditions and float paper lanterns.
Ho Chi Minh City represents modern Vietnam.
The largest city in southern Vietnam, Ho Chi Minh City is a wonderful place for urban travelers and foodies.
You can learn about the Vietnam War in world-class museums and the Cu Chi tunnels, have a cup of coffee on top of high-rise buildings or sample street food.
After dark, stroll through the vibrant nightlife. Sit on a stool, order local beers and taste the delicious barbecue.
The Mekong Delta, 2-3 hours drive from Ho Chi Minh City, presents a harmony between life and nature.
Plan a trip to Vietnam or Asia should not miss out this extraordinary experience. It's The Mekong Delta, Vietnam's rice bowl: bustling floating markets, verdant rice paddies and fruit gardens. Whether you take a boat trip or a bike tour through the villages, you'll get a glimpse of authentic local life.
Just a 2-3 hour drive from Ho Chi Minh City, you have the option of taking a day trip to the Mekong Delta or spending the night there to attend the floating markets (traditional and authentic) at early morning.
>> Read also Top 10 of the best packages in Vietnam
6. What to bring to Vietnam?
Necessary papers to bring
Passport (must still be valid at least 6 months after your return date)
Visa (if trip over 15 days)
Driving license from your country and international driving license (if you have it)
Credit card and/or small denominations (only banknotes are exchangeable, not coins)
Plan of your trip
Travel insurance
Clothes
In the North, you will find mountainous regions, suitable for hiking. So don't forget to add to your Vietnam travel checklist good walking shoes, a windbreaker with a hood (it's even better if it's foldable, you'll save more space), and, depending on the season, a cardigan that's not too thick.
If you are planning a beach vacation or a cruise in Halong Bay, swimwear and sarongs are must-haves on your packing list for a trip to Vietnam, not to mention a nice pair of sandals as well. walking around and a pair of flip flops for the beach. Also remember to protect yourself from the sun's rays by taking a cap or sun hat with you.
If you plan to visit religious places and sites, remember to bring a top covering your shoulders and a bottom covering your legs, otherwise you will be refused entry because your outfit will be considered too light.
Finally, Vietnam is a country with a high level of humidity, for unaccustomed travelers, there is no point in taking clothes with too tight cuts, such as skinny jeans, which will prove to be unpleasant to wear. Choose clothes with flowing fabrics and loose cuts in your list of clothes for a trip to Vietnam, in order to let your skin breathe and suffer less from this destabilizing humid heat.
7. Transportations
To go to Vietnam, the plane remains the best means of transport, the safest and the most practical. Currently, many airlines operate flights to most western countries. You can easily fly directly from your home country to Vietnam, while for some countries your flight to Vietnam requires at least 1 stopover.
International trains are available from neighboring countries: China, Laos and Cambodia. We suggest you apply for your visa before leaving your home country, as visa on arrival is not applied when arriving in Vietnam by land.
For those who like relaxing trips, cruises are a great idea. International cruises pass through the most beautiful places in Vietnam, such as Halong Bay, Mekong Delta, etc.
Between tourist destinations
Domestic flights
The main domestic airlines are Vietnam Airlines, the best airline in Vietnam, and VietJet Air – a private low-cost airline. Almost all major cities in Vietnam are accessible by air, such as Hai Phong, Hue, Da Nang (the nearest airport to Hoi An), Nha Trang, Da Lat, Can Tho and Phu Quoc.
Car
The car is the means of transport most used by tourists. There are two types of cars: taxis and private cars. Taxi is easy to find in Vietnam, especially in the cities.
Also, if you are traveling to an uncrowded or remote location, it is difficult to find a taxi, so in this case, you will be advised to hire a private car with a driver. You can contact a local travel agency and provide them with the necessary information. She will give you advice before confirmation, the price and the itinerary are also fixed before departure. IDC Travel also offers you  car rental packages in Vietnam with a driver. Our drivers are professional and can adapt to any unforeseen situation.
Train
The rail network is improving year by year, but traditional trains have certain limitations, including service comfort. It is best to book a tourist cabin. These are air-conditioned cabins with 2 or 4 beds sold by companies to redecorate and redecorate the interior.
Motorbike
Vietnam recognizes the international license since January 1, 2015, the rental of scooters and motorcycles over 50cc is currently legal and possible. If you don't have a driver's license, the moto-taxi (xe om) is a better option. In major cities, you can order a motorcycle taxi via a smartphone application, such as Grab, Gojek or Be.
Bike
In cities and flat regions, especially deltas, cycling is an excellent way to visit in complete freedom.
In large cities and many tourist sites such as Tam Coc or Mai Chau in the North, many hotels make them available to their customers free of charge.
Pedicap
The most ecological means of transport: no engine, no smoke, no noise. You will be advised to take a pedicab tour in the district of Hanoi, Hoi An, Hue, etc. Any traveler needs to note this in their must-do things when they plan a trip to Vietnam because you can't find it in anywhere else now in the world. It's rare. Please try it out.!
Boat/Cruise
For some destinations like Ha Long Bay, the Mekong Delta, and Tam Coc (Ninh Binh)… you can only get there by cruise or small boat. Or for Phu Quoc Island, if you don't choose the flight, you can take a speed boat. The type and quality of boats also vary greatly depending on terrain, budget, and tour route. IDC travel offers you some tours like Halong Bay Cruises, Mekong River Cruises which make you do nothing except bring your luggage and get on the boat. We'll do all for you.
8. Housing in Vietnam
Finding accommodation in Vietnam is no longer a difficulty, as they are more and more numerous and varied. Indeed, you will easily find accommodation of all categories of hotels and homestays, … in major cities and popular destinations. Moving away from the cities, in recent years, a new form of low-cost accommodation has been developing strongly: guest house. They are generally charming houses on stilts, located in minority villages, ethnic Thais, Tay, Dao, Giay… It is an excellent experience if you want to immerse yourself in local life and culture.
9. How to organize your itinerary in Vietnam?
Vietnam has so many stunning destinations that no traveler can miss, otherwise, that would be a big pity. Spending several days in Vietnam surely is not enough to discover this land. However, IDC travel offers you a lot of variations to help you choose the most suitable for your schedule. You can decide to start your trip in our capital – Hanoi or the modern city Ho chi Minh with the suggested tours below:
For 8 to 10 days: Even with a short time, but you still can visit the most beautiful must visited destination like Hanoi, Halong Bay, Ninh Binh, Da Nang, Hoi An, Ho Chi Minh city, Mekong Delta… Depend on your time, you can choose but it is guaranteed that you will see the best things in Vietnam in this trip with 10-day tour from Hanoi to Ho Chi Minh  or 8-day tour from Ho Chi Minh to Hanoi.
From 10 days to 15 days: This period of time is the best for an excursion in Vietnam with many tours for you to choose. Including the destinations in the above tours, here we offer more beautiful places like Nha Trang with beautiful beaches, Dalat with full of colorful flowers or come to Hue – imperial city of Vietnam with 15-day tour from Ho chi Minh to Hanoi. If you're fan of mountainous vibes, be sure that you will not miss out this places in the North of Vietnam like Sapa and sipping some coffee or tasting " Phở Việt Nam" on the boat in Cai Rang Float Market. This experience is so valuable that you may not see in any country else via 14-day tour from Hanoi to Ho Chi Minh. If visitors wants to relax more in the most attractive beaches in the world located in Vietnam, you can refer 14 day tour discovering beautiful beaches in Vietnam.
From 15-20 days: This period of time is even more than "good" for an amazing trip in Vietnam. If you can't spend several months in Vietnam, a tour 17 days across vietnam is also the best choice for you to see all what you need to see in this beautiful country, from a luxury cruise trip in Halong Bay, or experience the night trail trip through the green high mountain in Sapa,  enjoying the culture in Mekong Delta -typical in Asia, or learn about Vietnam history in one of the most famous historic place. The last but not the least, which is our highlight, highly recommended if you have much time in Vietnam around 20 days, the tour of 21 days with all things, all beautiful places we mentioned above, will not let you down.
10. Vietnam Travel Tips
Planning a trip to Vietnam must be included some tips which help you reduce any risks or more easier to wander in this land without any unexpected problem. Check out some of the tips below so you can have the best experience in Vietnam:
Although Vietnam is a relatively safe country, it is important to be prepared for unforeseen circumstances. And it's not just petty theft. Food poisoning, injury during an adventure activity, loss of valuables or even missing a flight are just some of the things that can really ruin your trip to Vietnam.
Getting a local sim card or pocket Wifi is highly encouraged (especially if you are a first time visitor to Vietnam).
Learn a few phrases in Vietnamese
English is widely spoken in most touristic places, but you can learn some key phrases in Vietnamese that will make your trip much more enjoyable and maybe even impress a few locals: Xin chao (Hello), Tam Biet (Goodbye ), Cam on (Thank you), Vang, da (Yes), Khong (No),…
Wear appropriate clothing in religious establishments
Visitors are advised to dress modestly at all religious sites, not topless, or wear shorts, shorts or other inappropriate clothing.
Above is the most necessary information for your trip to Vietnam. Do not hesitate to contact us to plan your first trip to this beautiful country.
After reading all of this above, we believe that you can become a professional Vietnam trip planner who can also recommend for their friends if they need to plan a trip to Vietnam for the first time.
Don't hesitate to contact us and let us help you plan a trip to Vietnam!