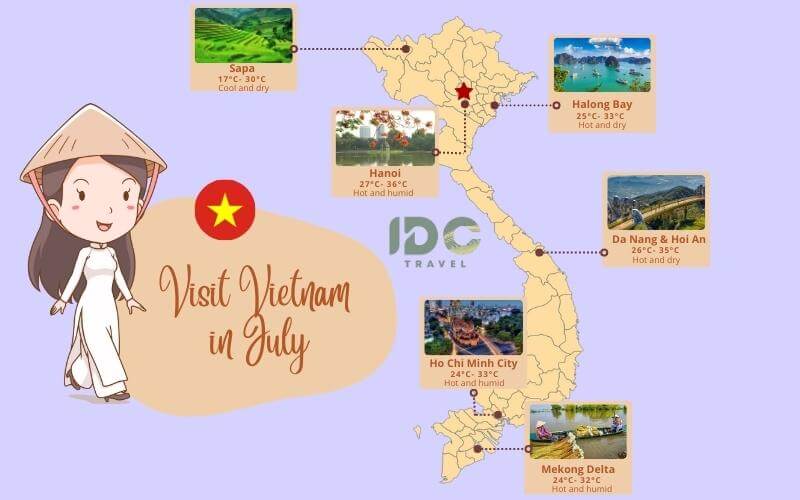 July reflects June and presents mixed weather conditions. The north and the south of Vietnam are currently experiencing the monsoon rainy season. On the other hand, the coastal plain and islands in the central part of the country still enjoy the scorching sun, and their beaches remain the main attractions of the country in July. International visitors are relatively few, but Vietnamese families travel in droves. If you're planning to visit Vietnam in July, go over this article for the best places that Vietnamese people visit this month and see what motivates them to continue traveling during the hottest month of the year!
Overview of Vietnam

weather

in July
If you're planning to visit Vietnam in July, be prepared for hot and humid weather. The country is located entirely in the tropical belt in the Northern Hemisphere, favoring a tropical climate rather than an equatorial one. Therefore, the temperature in Vietnam in July is quite high, ranging from 33°C to 35°C on average. However, there can be exceptional spikes with temperatures as low as 12°C and as high as 40°C. Southern provinces of Vietnam are closer to the equator. They tend to have warmer weather, which can reach as high as 43°C. 
Although Vietnam experiences high temperatures in July, it is possible to cope with them. The temperature usually drops to around 24°C at night, making it more pleasant to engage in outdoor activities. Therefore, you can organize exciting evening events during your stay.
Depending on your exact destination, you may encounter more or less rainfall. The average amount of rainfall observed in Vietnam in July is 97mm, and it may have between 6 and 24 rainy days. Some regions of the country may experience less rainfall than others. The temperature difference between different parts of the country is high and the number of rainy days can vary greatly. Therefore, it is best to check the weather forecast at your destination before you go. 
>>> Read more: Best Time to Visit Vietnam
In the North: Heavy rains
The northern part of Vietnam receives most of its heavy rains in July and August, and hiking is not recommended as the rain soaks the mountains. Temperatures in northern Vietnam remain at their peak this month, with a stifling and very humid average of 30°C (86°F) in Hanoi.
Tip: Mosquitoes are at their peak – bring plenty of insect repellent and rain gear. 
In the Central: Beautiful, dry, and sometimes rainy
The beaches and low-lying coastal areas in central Vietnam are still in a rain shadow zone that will last until August, promising dry and sunny weather. Temperatures are at their peak this month (with an average of around 31°C/88°F in Hue, the hottest part of the country).
The summer monsoons bring a lot of rain to the Central Highlands, making July not a good month for trekking but perfectly suitable for spending time on the beaches. If you are looking for sunlight, bring sunscreen and be prepared for crowded beaches, especially on weekends, as July is in the middle of the high season for domestic travel, when Vietnamese families take their summer vacations. 
Tip: Bring sunscreen and rain gear. 
In the South: Hot and heavy rains
July is one of the rainiest months in Ho Chi Minh City and the Mekong Delta, with daily downpours. The average temperature drops to around 27°C (80°F), but highs can still reach 32°/90°F. These showers usually take place in the afternoon, but you can still count on many sunny and dry hours.
Tip: Bring sunglasses, summer hats, sunscreen, portable mini-fans, a lightweight coat to cover your skin from the sun, spare umbrella or raincoat to avoid getting wet in case of unexpected rain.
Major events in Vietnam in July
What's more exciting on a trip than enjoying the cultural festivals where you're going? Check out two major festivals in July not to be missed that Vietnamese people celebrate this month.
War Invalids and Martyrs Day (July 27th)
During your trip to Vietnam in July, you will immerse yourself in the proud and grateful atmosphere of the entire nation towards millions of heroes who died for the country, war invalids, families with meritorious services to the revolution, all compatriots who fought valiantly, sacrificed themselves, and greatly contributed to the glorious revolutionary cause of the nation. On War Invalids and Martyrs Day, various commemorative activities are organized throughout the country, such as burning incense sticks and candles at the Martyrs Cemetery, visiting and giving gifts to deserving individuals and heroic Vietnamese mothers, etc. Take advantage of this month to travel to Vietnam and immerse yourself in the heroic and legendary history of the country! 
Tra Co Festival
The coastal city of Mong Cai celebrates the one-week Tra Co festival, from the 30th day of the fifth lunar month to the 6th day of the sixth lunar month, which falls in July according to the Gregorian calendar. The Tra Co festival is held at the Tra Co communal house, which is decorated with antiques. Vietnamese people honor the spiritual guardian of the community, whose sanctuary was built under the Ly dynasty. After ritual processions, there are cooking competitions, calligraphy contests, tug-of-war, stilt-walking, and other fun games. 
Best places to visit Vietnam in July
Sapa – Admire the green terraced rice fields
Sapa, the mountainous region of Vietnam, is a perfect escape from the heart of Hanoi and its surrounding. The temperature in Sapa is always lower than in Hanoi thanks to its altitude of 1600m above sea level. You can enjoy temperatures ranging from 18°C to 24°C with 5 hours of sunshine per day. The many spots of rain that fall this month make you feel fresh and forget about the summer heat. By visiting Sapa in this period, tourists can admire the beauty of the green terraced rice fields, and contemplate and capture the beauty of this unique farming method. Fansipan mountain, local markets, Muong Hoa Valley, and waterfalls are some of the many places not to be missed.
Halong Bay- Participate in water activities
July is not the rainiest month, and you can benefit from many promotions on cruises in Halong Bay if you visit Vietnam in July. Halong Bay receives many hours of sunshine at this time (7-5 hours per day) with light rain or scattered showers. You will feel much more comfortable and cooler when the rain comes. Feel free to participate in some water activities, such as kayaking, swimming, and snorkeling, etc., or explore a quieter and less busy area of Vung Vieng and Cua Van fishing villages. Visiting Halong Bay in July, remember to bring sunscreen, swimsuits, hats, caps, and sunglasses to protect yourself from the summer heat.
Phong Nha Ke Bang – Enjoy outdoor activities
Visit Vietnam in July and explore Phong Nha Ke Bang National Park, a World Heritage Site and biosphere home to hundreds of species of flora and fauna. July is the dry season in Quang Binh with an average temperature of 24 degrees Celsius. The weather is beautiful and sunny during the day, which is perfect for sightseeing and outdoor activities. At night, it becomes cool due to the regulation of the East Sea. When visiting this national park, tourists enjoy exploring the caves, trekking, cycling on the Ho Chi Minh Road, or camping inside a cave. 
Da Lat – Immerse in a romantic setting
Da Lat, also known as the "City of love", is another delightful destination for you to visit in Vietnam in July. This city has a cool climate all year round thanks to the elevation of about 1500m above sea level. While other parts of the country may experience hot weather, Da Lat's climate is truly comfortable. July is the peak season for travel to Da Lat, and the price of hotel accommodation reservations may be increased; therefore, remember to plan your trip early. Xuan Huong Lake, Than Tho Lake, Love Valley, and Phu Dong Thien Vuong Street are some of the best places to visit.
Phu Quoc Island – Enjoy the peaceful sea
Phu Quoc, the largest island in Vietnam, is another ideal destination for a beach vacation. This island boasts beautiful landscapes and rich natural resources. Tourists who come here will appreciate its peaceful sea and long sandy beaches. It is also a perfect destination for tourists who want to participate in fascinating activities, such as kayaking, scuba diving, horseback riding off the beaten track, strolling on the beautiful beach, and tasting delicious fresh seafood.
In conclusion, the month of July is an ideal time for beach and mountain enthusiasts to visit Vietnam. With over 3000 kilometers of coastline from the north to the south, visitors won't be disappointed with this vacation. Contact us to plan a trip to Vietnam or check our Vietnam tours to take advantage of summer promotions.