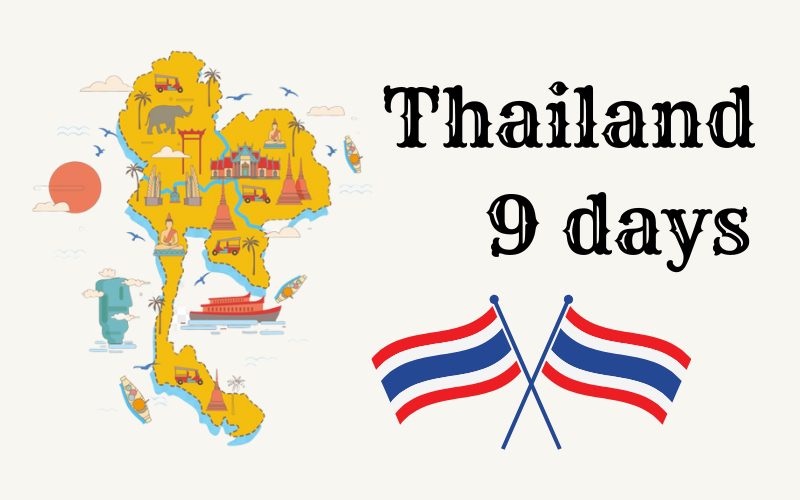 Thailand is a must-visit country in Southeast Asia. Not just majestic temples and sandy beaches, this country always has something for travelers. Even if you haven't been to Thailand before, or you are planning your second trip and want to maximize your experience in a limited time, or just want to explore Thailand differently, take it easy with our well-planned tour programs in the following. Go on to find out what awaits in 9 days in Thailand and how you can prepare for your trip.
Best Places to Visit in 9 Days Thailand
Bangkok and Its Surroundings
Most international and internal flights take off and land in Bangkok, but the capital city is more than just a transition, spend 2–3 days here and discover all the attractions like Wat Arun, and the Grand Palace, and try out some street foods in the night market or Chinatown. The surrounding area of Bangkok also has lots of attractions too, can mention the Damnoen Suduak Floating Market, Ayutthaya, and Kanchanaburi. Spend some of your time and cruise along the canals to embrace the daily life of the Thais people.
>>> Planning to visit the capital of Thailand, don't forget to read the Bangkok travel guide here in advance.
Northern Thailand
The picturesque mountainous region of Northern Thailand holds a special place in the hearts of many travelers seeking a memorable experience in the country. Its top destinations exude an enduringly positive ambiance throughout the year. Enriched by the cultural influences of the Lanna, Shan, Karen, and other indigenous ethnic groups, the region radiates a warm and friendly atmosphere, enhancing the overall pleasure of visiting.
Thanks to the slightly cooler climate, Northern Thailand offers unique indulgences that may be harder to find elsewhere in the country. Delight in the richness of real coffee, explore tea plantations, discover vineyards, and relish the sweetness of locally grown strawberries. Furthermore, the festivals in the northern region are grander in scale. Loi Krathong/Yi Peng and Songkran, the vibrant celebrations of the Thai New Year water fight, are embraced with exceptional fervor, surpassing festivities found in other parts of Thailand.
Southern Thailand
Thailand is well known for its beautiful sandy beaches. If you are uncertain of where should you go first, luckily our itinerary ideas will solve them. The popular destinations in the South are Phuket and Krabi, you can do more than just lie on the beach or swim or snorkel. You can venture into the jungle of Phuket, go hiking, and explore the Old Town and the night market. Another destination in the South is Koh Samui and the two poetic islands Koh Pha Ngan and Koh Tao.
9 Days in Thailand Itinerary Suggestions
Itinerary 1: Northern Thailand 9 Days Discovery Tour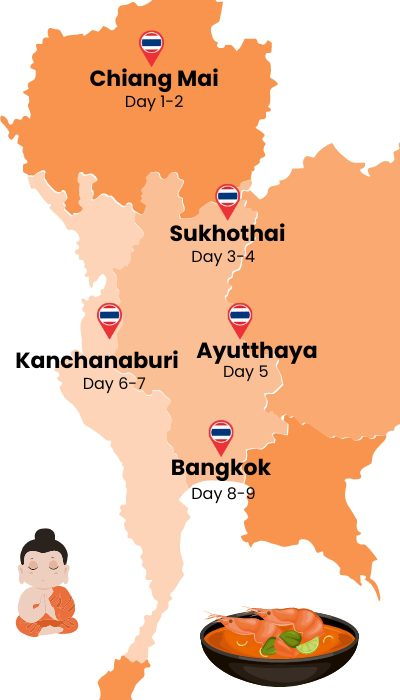 Thailand is a big country with mountains in the North and islands in the South, in accordance with a diversity of activities for tourists, from hiking mountainous trails to climbing waterfalls, canoeing, and snorkeling in the crystal clear water.
Day 1 – Arrive in Chiang Mai, and visit the busy night market of the Night Bazaar and the temples in the Old Town.
Day 2 – Explore Temples & Hill Tribe Village: Travel uphill and be amazed by the beauty of the temples on the mountains, and see the Hill Tribe village to learn about their customs and culture.
Day 3 – Explore Sukhothai: Continue to Sukhothai, visit the ancient capital of Haripunchai Kingdom then drive to Baan Umong to try their delicious Umong Longan wine.
Day 4 – Explore Sukhothai: Ride a bicycle around Sukhothai with your guide, learn about the land's history through visits to temples, and then learn about the local's ancient craftsmanship.
Day 5 – Visit Ayutthaya: Travel down to Ayutthaya and visit Ayutthaya Historical Park, a heritage listed as UNESCO's ancient archaeological site. Here, you will discover more than 300 historical sites, including Buddhist temples, palaces, monasteries, and statues.
Day 6 – Kanchanaburi: Travel toward Kanchanaburi and see the 7 tiers of Erawan Falls. Join a trekking tour of around 2.5 hours (1.5 hours going up and 1 hour going down). Don't like trekking, you can ride a bike to visit magnificent natural lakes in the surroundings.
Day 7 – Kanchanaburi: Visit the Kanchanaburi museum and a train ride on "The Death Railway".
Day 8 – Explore Bangkok: Go out and discover the floating markets of Bangkok. Today you will see all the iconic sites of Bangkok such as The Grand Palace, Wat Arun, and Wat Pho.
Day 9 – Departure.
>>> Please see the detailed itinerary here. Want to know more about similar tours, you can check out our Thailand classic tours at this link or our Thailand family holidays here.
Itinerary 2: Island Hopping in Southern Thailand 9 Days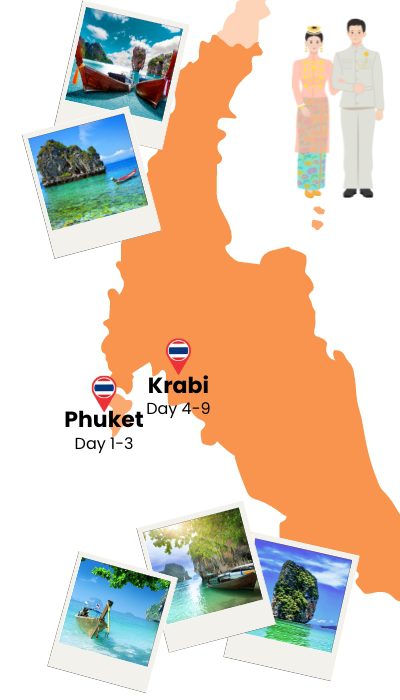 It will be a big mistake if you visit Thailand without discovering its stunning beaches. Those arriving in this country for the first time can combine beach relaxation with other historical and adventure activities. However, if you are a true beach lover or have visited Thailand several times, you can spend your whole trip discovering Thailand's beaches and islands. From Pattaya to Phuket, Krabi, etc., there are many interesting things for you to do despite how many days on spend on the beach. Below is a suggested itinerary for your beach holiday in Thailand.
Day 1: Arrive in Phuket and spend time relaxing on Freedom Beach
Day 2: Discover Phi Phi Island and nearby attractions such as Pileh Lagoon and Viking Cave. You will also have a chance to snorkel on Monkey Beach or Bamboo Island.
Day 3: Day trip to Phang Nga Bay, pay a visit to Panak Island, Hong Island, and Khao Phong Kan.
Day 4: Transfer to Raily in Krabi
Day 5: Discover Tup Island, Ko Kai (also known as Chicken Island). Have lunch on Poda Island before continuing the journey to Phranang Beach.
Day 6: A full day on Railay Beach
Day 7: Enjoy an adventure in Krabi, hike the Wat Kaew and Thung Teao Forest Park
Day 8: Full-day discover Krabi's highlights, including the Khao Phra Bang Khram Wildlife Sanctuary and Krabi Hot Springs
Day 9: Depart Krabi
>>> For the detailed itinerary, please read our detailed program here. Interested in more beach relaxation in Thailand with different duration and itineraries, you can refer to our list of best Thailand beach holidays.
Itinerary 3: Around Thailand 9 Days Package Tour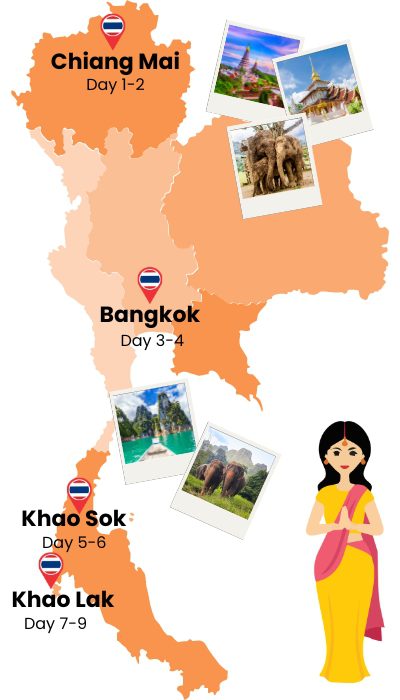 Day 1 – Chiang Mai: Landed in Chiang Mai and discovered the Old Town temples and market.
Day 2 – Chiang Mai: Join your guide on a motorbike journey and visit the rural countryside of Chiang Mai, stop at a traditional camp, and then the elephant sanctuary. Have dinner at a local's house and taste the traditional Khantoke.
Day 3 – Bangkok: Leave Chiang Mai for your visit to Bangkok, free day tour.
Day 4 – Bangkok bicycle tour: Ride through Bang Krachao, which is also known as "The Green Lung of Bangkok". Visit a small temple, school, Muay Thai boxing gym, and a park. Visit the Royal Palace, Wat Pho, and Chinatown in the afternoon.
Day 5 – Khao Sok: You will leave Bangkok by plane to Khao Sok National Park, and cruise on one of the oldest forms of transportation in Thailand, the bamboo raft. Explore the park through many hiking trails and learn to make traditional Thai dishes in an evening cooking class.
Day 6 – Khao Sok: Boat trip on Cheow Lan Lake and discover the wonderful wildlife.
Day 7 – Khao Lak: Explore the Old Town of Takua Pa and the "Little Amazon" then relax with a dinner on the beach.
Day 8 – Khao Lak: Spend a full day on Similan Islands snorkeling and discover the amazing coral reefs and underwater life.
Day 9 – Departure.
>>> The detailed program of this classic tour is shown here.
Similar tours:
Itinerary 4: 9 Days Thailand & Cambodia Excursion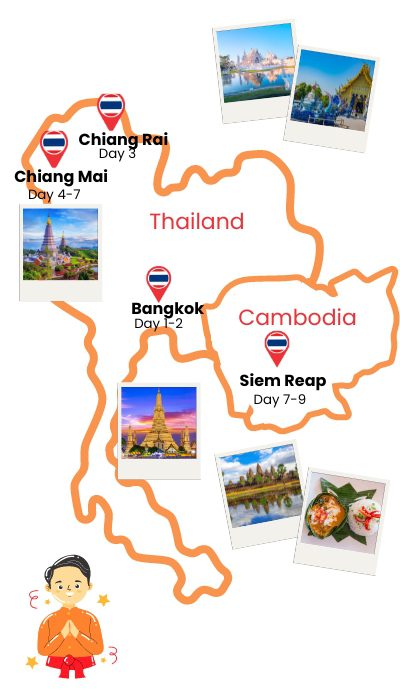 With 9 days in Southeast Asia, you can visit two countries within one trip. For example, 9 days in Thailand and Cambodia. It is your chance to discover the beautiful temples and shrines in Bangkok to the mountainous cities of Chiang Mai and Chiang Rai, then visit the majestic Angkor Wat.
Day 1: Rest in Bangkok and explore the city at your own pace, drop by the highly recommended Chinatown, Siam Paragon shopping center, or Warehouse 30 Art Center.
Day 2: Bangkok full-day tour, visit the most famous attractions: Wat Traimit with the Golden Buddha Statue, Wat Pho with the giant Reclining Buddha, the Grand Palace, and the iconic Emerald Buddha. Last stop at the Temple of Dawn – Wat Arun.
Day 3 – Travel to Chiang Rai: Landed in Chiang Rai, have the rest of the day to prepare and rest after your flight, you can go out and see the city by yourself, the Blue Temple is a site you shouldn't miss, also the Night Bazaar with lots of items for sale and delicious street food.
Day 4 – Visit the Golden Triangle: Stop at the Opium Museum to see exhibits of the opium industry in Northern Thailand before traveling to Chiang Mai.
Day 5 – Happy Elephant Sanctuary: Today you will learn about these friendly giants and spend the day feeding them and playing with them then join the elephant in a mud bath in the afternoon.
Day 6 –  Cycling around Chiang Mai: Meet the local gardeners and farmers, and breathe in the daily life of the people of Chiang Mai.
Day 7 – Transfer to Siem Reap: After your flight, feel free to wander around, visit the Artisans Angkor and see the traditional crafts.
Day 8 – Explore the Angkor Wat Complex, starting with watching the sunrise from the complex, and continuing with the attractions and sites around, some popular ones are Bayon Temple, the Royal Enclosure, the Elephant Terrace, etc.
Day 9 – Departure.
Budget for Your 9 Days in Thailand
Thailand is a friendly nation and not an expensive one for tourists. Many things in Thailand are affordable and the fee for accommodation, food, and services are reasonable too. The chart below will help you imagine better the cost of a trip to Thailand:
This is only a brief guide that is most suitable if you don't have any particular demands or requirements. Contact us for a more specific budget suggestion that will be more suitable for your own trip to Thailand.
International flight to Thailand
The price of plane tickets can indeed vary significantly based on factors such as the date of the flight, and the airline's choice. Transfers from nearby Asian countries, like Vietnam, can sometimes offer cheaper options. Typically, flight prices tend to be lower during the low season, which is from April to October, compared to the summer months. We would advise you to book early during the high season to secure the best connections and potentially better prices.
It's always a good idea to compare prices across different airlines and booking platforms to find the best deals for your specific travel needs.
Travel around Thailand
Flying is often the fastest and most popular mode of transportation between cities in Thailand, with fares typically ranging from US$30 to US$100 for economy-class seats. Ferry or speedboat services are commonly used to travel between islands like Phuket and the Phi Phi Islands, with fares starting from around US$15. The train is another option for intercity travel, with fares ranging from US$8 to US$72, depending on the class of service. Buses are also a cost-effective mode of transportation, with fares typically ranging from US$6 to US$20.
Within cities, Thai public transport is known for being affordable. In Bangkok, for example, buses and the MRT/BTS (metro) can be accessed for around US$0.50 to US$1. Taxis have a minimum charge of US$1, and it's important to insist on using the meter to avoid any pricing disagreements. Tuk-tuks, a popular mode of transportation, usually cost around US$0.50 to US$1 for a 10-minute, 0.5-mile journey.
Minimizing transportation expenses by using local transport and honing your negotiation skills can definitely help you save money during your Thailand 9 days tour. Not only will this save you money, but it will also provide an opportunity to experience the daily life and culture of Thailand more intimately.
IDC Travel also offers private car rental with drivers service all over the country at a reasonable price (from US$45).
Accommodation in Thailand
Luxury accommodation would cost around US$50 and US$200 per night. The commons generally cost from US$20 to US$50 per night, guesthouses and hostels will be better, from US$5 to US$15. The high season from November to January/February will be very busy. We would recommend you book in advance to ensure your stay if you visit Thailand in peak season. During the low season, prices can be lots lower.
Some accommodations in Thailand you can consider:
The Okura Prestige, Bangkok: 5*
Anantara Riverside Bangkok Resort: 5*
Khum Phaya Resort & Spa, Chiang Mai: 4*
Meliá Chiang Mai: 5*
Silavadee Pool Spa Resort, Koh Samui: 5*
Eating Out in Thailand
Street food stalls offer a wide range of unique Thai dishes like pad thai, som tam, and many more, typically costing around US$1-2 per serving. If you prefer dining in a decent restaurant, you can expect to spend around US$10-15 per person. For a more luxurious dining experience, upscale restaurants may charge around US$50-60 per person or more.
When it comes to beverages, fresh juices are readily available on the roadside for around US$0.50-1.00. If you're looking for alcohol, convenience stores like 7-Eleven often offer the best deals. A bottle of beer can cost around US$2 at these stores, while prices at bars and restaurants tend to be slightly higher, ranging from US$3-4 per bottle.
Cost of Attractions and Activities in Thailand
Tickets for most tourist sites in Thailand are quite affordable, typically ranging from US$1 to US$15. The popular Grand Palace in Bangkok, for example, costs THB 500 (equivalent to US$14). Many museums and temples in Thailand are free of charge, including the popular Wat Chedi Luang in Chiang Mai. Engaging in beach activities or attending entertainment shows, such as snorkeling or night shows, may cost around US$15-50 per activity.
With 9 days in Thailand, you'll have enough time to explore the country's renowned attractions and experience its diverse natural beauty, from the scenic mountains of the north to the sunny beaches of the south. We hope this article has provided you with valuable insights for planning your 9 days Thailand itinerary. For more interesting ideas, you can refer to our list of well-prepared Thailand tours. And, don't forget to read our Thailand travel guide for an overview of the country's highly-developed tourism. If you need assistance in organizing a tailor-made trip to Thailand while ensuring your safety, feel free to contact us for more information and support.
Read more: