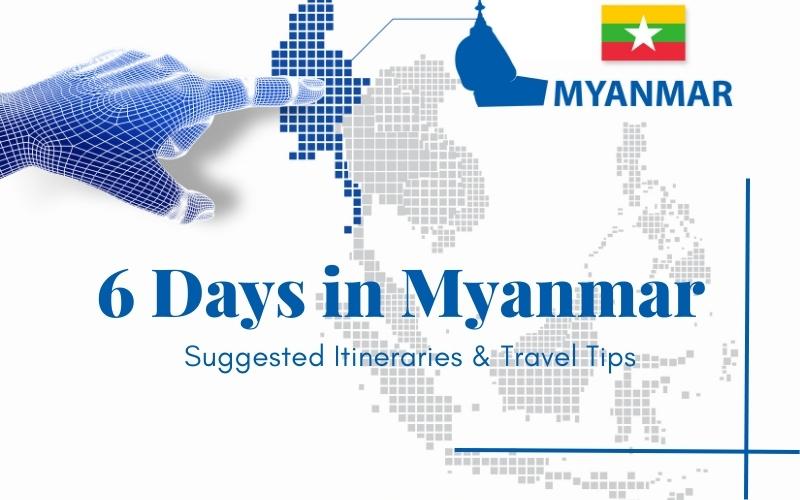 Myanmar, or Burma, indeed has a rich cultural heritage and diverse natural landscapes that have attracted tourists from around the world. The country offers a unique blend of historical sites, stunning landscapes, and a vibrant local culture that has fascinated travelers for many years. If you're new to Myanmar or have limited time to explore, our suggested 6 days in Myanmar Itinerary is designed to make the most of your journey. With a well-planned schedule, you'll have the opportunity to witness and engage in some of the country's most captivating and essential experiences. Whether it's your first visit or a time-constrained trip, this itinerary will help you maximize your time and create lasting memories in Myanmar for 6 days.
Are 6 Days Enough for a Myanmar Trip?
6 days in Myanmar promise a captivating and fulfilling experience. In reality, 6 days may not be enough for you to explore all destinations or indulge in every culinary delight, but you can still immerse yourself in some of the country's renowned and iconic attractions.
With a 6-day timeframe, you can opt to concentrate on a specific region of Myanmar. Consider exploring Yangon, the former capital, and its environs in either the northern or southern part of the country. Alternatively, you can plan thematic journeys, focusing on remarkable temples, ancient ruins, and historical edifices, or luxuriating in the breathtaking beauty of the beaches.
>> Please check out our Myanmar travel guide here for more information.
Steps to Plan a 6-Day Trip to Myanmar
Choose the Best Time for Traveling
Myanmar experiences a tropical monsoon climate with three distinct seasons: the hot season, the rainy season, and the cool season.
Hot Season (From March to May): The hot season in Myanmar is characterized by high temperatures and dry conditions. Temperatures can soar, particularly in central Myanmar and the plains, with average highs ranging from 35°C to 40°C (95°F to 104°F). Coastal areas and higher elevations tend to be slightly cooler. This season is generally considered the least favorable for outdoor activities due to the intense heat.
Rainy Season (From June to October): The rainy season brings frequent rainfall and high humidity to most parts of Myanmar. The monsoon rains start in the south and gradually move northward. Central and southern regions, including Yangon and Bagan, experience heavy downpours. The rainfall decreases as you head towards northern regions like Mandalay and Bagan. Temperatures during this season range from 25°C to 35°C (77°F to 95°F) on average, with some relief from the heat due to cloud cover and rain.
Cool Season (From November to February): The cool season is considered the best time to visit Myanmar as temperatures are more pleasant and the weather is generally dry. Days are warm, and evenings can be cool, especially in higher elevations. Average temperatures range from 20°C to 30°C (68°F to 86°F) in most parts of the country. This season is popular among tourists, so it can be relatively busy at popular destinations.
Choose Suitable Places to Visit
Sacred temples and pagodas
Myanmar is indeed renowned for its rich cultural heritage and impressive collection of temples and pagodas. The country has a long and fascinating history, with a diverse mix of ethnic groups and a strong Buddhist influence. Myanmar has many popular Buddhist temples, large and small, which are both sacred places of worship and tourist attractions. The temples are beautifully decorated and very colorful buildings of different sizes and architectural styles. Thanks to its rich cultural heritage and impressive collection of temples and pagodas, the country becomes a popular destination for travelers seeking to explore and appreciate history, architecture, and spirituality.
The most famous temples and pagodas:
Shwedagon Pagoda
Shwezigon Pagoda
Chaukhtatgyi Buddha Temple
Ananda Temple
Sulamani Temple
Phaungdawoo Pagoda
Shwe Indein Temple
Scenic beaches and islands
Myanmar is renowned not only for its rich cultural heritage but also for its breathtaking beaches and islands. While the coastal regions of Myanmar have received comparatively less attention than those of other Southeast Asian countries, there are numerous mesmerizing beach destinations and water activities that are truly worth exploring. The range of activities available is diverse, catering to sunbathers, swimmers, snorkelers, and water sports enthusiasts alike. These enticing beaches consistently draw in beach lovers of all kinds, including families on vacation, thrill-seekers, couples, and individuals seeking a tranquil space amidst picturesque landscapes.
The most popular beaches and islands:
Ngapali Beach
Ngwe Saung Beach
Mergui Archipelago
Lampi Island
Thande Beach
Lively Handicraft Villages
Myanmar boasts numerous handicraft villages that provide visitors with a distinctive experience. These villages are renowned for their expertise in traditional craftsmanship and the creation of a wide range of artisanal products. Each village specializes in a specific craft, from weaving, pottery, wood carving to lacquerware. By exploring these villages, you not only get to admire the artistic abilities of the local craftsmen but also contribute to the preservation of traditional crafts and bring home one-of-a-kind souvenirs.
Apart from its temples, beaches, and handicraft villages, Myanmar offers a wealth of attractions, including captivating mountains, bustling markets, and vibrant festivals. To create a well-rounded itinerary, you can consider incorporating these elements alongside the country's key tourist destinations in the central, northern, and southern regions. Explore the cultural treasures of Yangon, experience the royal heritage of Mandalay, discover the enchanting caves of Pindaya, immerse yourself in the tranquility of Inle Lake, and marvel at the ancient wonders of Bagan – The sanctuary was recognized by UNESCO as a world cultural heritage in 2019.
Decide if You Want to Travel in A Group or Independently
Are you planning to visit Myanmar alone, as a couple, with family, or with a group of friends?
Myanmar offers something for everyone, making it an ideal destination for all types of travelers. If you're planning a romantic honeymoon, you can immerse yourselves in the beauty of nature and cultural exploration. Alternatively, indulge in a serene cruise where you and your partner can witness breathtaking sunsets on the beach while enjoying a candlelit dinner. For families with children, a cultural tour that includes a boat trip, visits to vibrant floating villages, and bustling markets will create cherished memories for everyone. Lastly, if you prefer to explore Myanmar at your own pace, there are plenty of options for solo adventurers, such as hiking, biking, or snorkeling in the captivating islands, mountains, or jungles.
Prepare luggage and useful information
When traveling to another country, it is inevitable to pack a lot of things in your luggage. In addition, Myanmar is a country in the Southeast with a very different climate and culture. In addition to mandatory procedures or travel insurance, the things you should prepare to put in your suitcase will be:
Tissues and wet wipes
Appropriate clothing for temples and palaces
Hats, umbrellas, sun protection clothing and sunscreen
Bottles of water
Insect sprays
Tourist SIM card
Besides, if you're traveling alone, remember to download some useful apps in Myanmar to make sure you can contact the relevant departments in case of any bad situations.
Myanmar 6 Days Itinerary Suggestions
Adventure and Beach Combination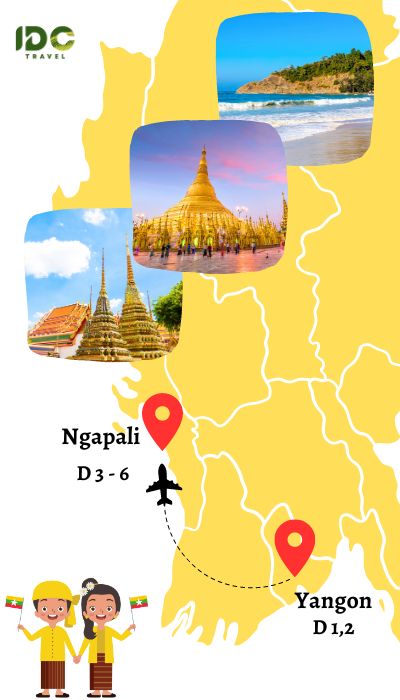 Summer in Yangon and Ngapali Beach is an excellent choice for a memorable visit to Myanmar. For 6 days in Myanmar, you'll have the opportunity to explore stunning pagodas and temples, delve into pristine white sand beaches, and swim in turquoise waters. Snorkeling amidst vibrant marine life and engaging in thrilling water activities will add excitement to your trip. Additionally, you'll have the chance to witness impressive architectural marvels and savor delicious meals right on the beach. Yangon and Ngapali Beach promise a perfect blend of cultural beauty and coastal adventures for an unforgettable vacation in Myanmar.
Day 1: Arrival in Yangon, you will have free time to discover the city in your own way.
Day 2: You will have a day of adventure by train to some famous pagodas and markets of Yangon, including Chaukhtatgyi Buddha Temple, Shwedagon Pagoda, and Bogyoke Market.
Day 3: Fly to Ngapali Beach and relax.
Day 4: You will be free to do whatever you want to relax or snorkel on a long beautiful beach with white sand and pristine clear water.
Day 5: Explore the offshore island on a boat trip and meet a small fishing village to learn more about the local life of fishermen.
Day 6: Take a short flight to Yangon Airport. It's time to say goodbye to Myanmar and you'll board the flight home.
>>> Consult our detailed Myanmar Adventure & Beach Vacation 6 Days for more details.
Similar itineraries:
Discovery of Myanmar Culture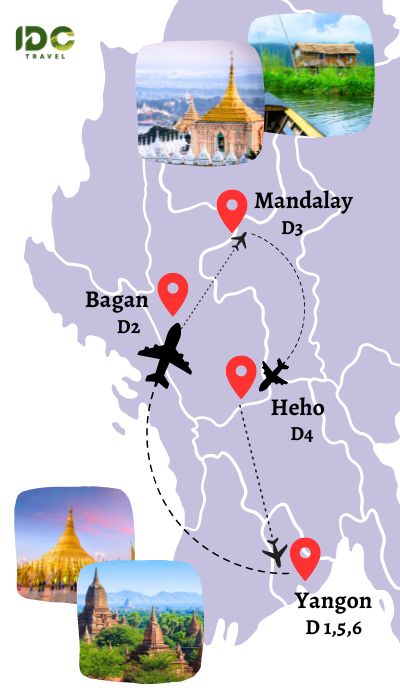 A 6-day cultural journey lets you learn the secrets of ancient times, meet welcoming locals, and learn about folklore also traditional craft techniques that have stood the test of time. With many tours in Myanmar, you're sure to pick the one that's right for you to experience true cultural immersion.
Day 1: Arrive in Yangon, you will be transferred to the hotel or take a visit to some famous pagodas of the city such as Chauk Htat Gyi Pagoda and Shwedagon Pagoda. Watch the sunset in the late afternoon before returning to your hotel for leisure time.
Day 2: Fly to Bagan in the morning. You will have a full day to explore the main highlights of the ancient city. Start at Nyaung-Oo morning market, then meet several temples, including Shwezigon Pagoda, Ananda Temple, Sulamani Temple, and more.
Day 3: You'll take a short flight to Mandalay. Then, visit the U Bein teak bridge in Amarapura and a traditional hand-woven silk workshop. along the way to the center of Mandalay. Once in Mandalay, you'll explore Mahamuni Pagoda and Shwenandaw Palace.  Stop at Zay-Cho Market to indulge in traditional specialties and learn about local life.
Day 4: Fly to Heho and take a boat trip to Inle Lake. Coming here, you can meet friendly locals and find out the special fishing methods of the people in Inle Lake. From there, you also have the opportunity to observe traditional handicrafts, such as silk weaving on wooden handlooms, and visit a blacksmith shop along the lake.
Day 5: Catch another flight back to Yangon. You'll have a full-day tour to discover the mysterious temples and pagodas of Yangon. Immerse yourself in a space filled with culture and spirituality. Spend the afternoon in Bogyoke Market to meet locals, savor foods, and shop for souvenirs.
Day 6: You will be transferred to Yangon Airport for your departure flight.
>>> You can read the detailed itinerary here.
Historical Discovery Trip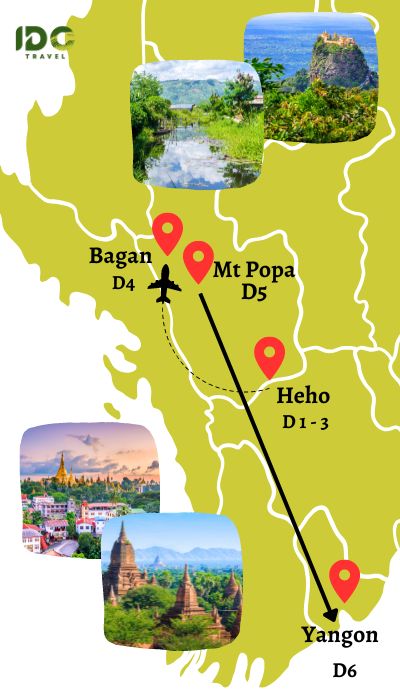 Myanmar's rich heritage and captivating past are exemplified by its abundant historical treasures. The country beckons visitors with its array of ancient cities, archaeological sites, religious landmarks, and cultural gems. Whether exploring the remarkable historical sites of Yangon, Mandalay, or Bagan, you always have the opportunity to take a mesmerizing journey through time. Each step unveils the depth of Myanmar's heritage, leaving visitors in awe of the grandeur and significance that define its history.
Day 1: Arrival in Yangon and take a flight to Heho. From here, you'll be transferred to Inle Lake for relaxing.
Day 2: Visit several famous sites in Inle Lake, including Phaungdawoo Pagoda, Ngaphechaung, and Nam Pan traditional village.
Day 3: Boat trip to vibrant "Five Day Market" in the morning, then stop to visit Shwe Indein Temple. Afterward, fly to Bagan and enjoy leisurely time.
Day 4: Immerse yourself in the historical space of ancient Bagan. You'll have a chance to learn about history and hear mysterious stories surrounding famous temples.
Day 5: Visit enchanting Mt Popa and transfer to Yangon.
Day 6: Aboard the circular train around the city and make a stop at some main highlights of Yangon, including Shwedagon Pagoda, Sule Pagoda, Emmanuel Church, Chaukhtatgyi Pagoda, and more.
>>> Consult the details of this itinerary here. 
Similar itineraries:
Myanmar Adventure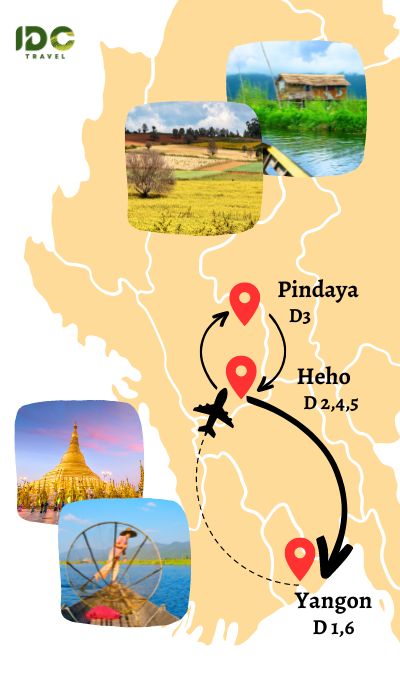 Myanmar's adventure by bicycle offers a unique and exhilarating way to explore this enchanting country. With its diverse landscapes, rich cultural heritage, and welcoming locals, Myanmar presents an ideal setting for an unforgettable cycling experience. Throughout your Myanmar adventure by bicycle, you'll have the opportunity to interact with friendly locals, sample delicious cuisine, and marvel at the country's breathtaking landscapes. It's an immersive and active way to experience the beauty and authenticity of Myanmar while creating unforgettable memories along the way.
Day 1: Arrival in Yangon and start a full-day tour to visit some famous destinations such as Post Office, Mahabandoola Garden, and Independence Monument. Enjoy the sunset at Shwedagon Pagoda.
Day 2: Fly to Heho. Then, you'll take a bike ride through the rolling hills, rice fields, and lush forests of Shan State and enjoy breathtaking countryside scenery.
Day 3: Ride to Pindaya Cave and continue to Kalaw by riding through rice fields, pine forests, and hill tribe villages.
Day 4: After having breakfast at the hotel, ride to a nearby village to enjoy the authentic rural scenery and continue to Inle Lake.
Day 5: Start a boat along Inle Lake and witness the traditional fishing methods of the leg-rowing technique. Continue a boat trip to visit several highlights such as Phaung Daw Oo Pagoda, Nga Phe Chaung monastery, and Kyun-Hmyaw floating garden.
Day 6: Return to Yangon Airport and depart.
>>> Our tour program is in detail here.
Budget for 6 Days in Myanmar
Backpacking
The cost of backpacking in Myanmar for 6 days can vary depending on your travel style, accommodation preferences, food choices, transportation options, and activities you plan to engage in.
Accommodation: Budget accommodations like hostels and guesthouses can range from $10 to $30 per night, depending on the location and amenities. A 6-night stay could cost you around $60 to $180.
Transportation: Local transportation within cities like Yangon or Mandalay can be relatively inexpensive, with taxi rides starting at around $1 to $2. For longer distances, buses are a common and affordable option, with fares ranging from $5 to $20, depending on the distance. A rough estimate for transportation expenses for 6 days could be around $50 to $100.
Food: Local street food and local restaurants are generally affordable in Myanmar. On average, you can expect to spend around $5 to $15 per meal, depending on the type of establishment and your choices. For a 6-day period, budgeting $10 to $20 per day for food should be reasonable, totaling $60 to $120.
Activities: Myanmar offers various attractions and activities, such as visiting pagodas, exploring markets, trekking, and boat trips. Entrance fees and activity costs can vary, but budgeting around $10 to $30 per day for activities should be a good estimate. So for 6 days, that would be approximately $60 to $180.
Miscellaneous: It's always a good idea to set aside some extra money for miscellaneous expenses, such as souvenirs, snacks, or unforeseen costs. Budgeting around $50 to $100 for miscellaneous expenses for 6 days should be a reasonable estimate.
Mid-range budget
If you're looking for a mid-range travel experience in Myanmar for 6 days, including slightly better accommodation and dining options, you can consider the estimates provided through our detailed list. A rough total for a mid-range 6-day trip to Myanmar could range from approximately $630 to $1,540.
Accommodation: Mid-range hotels or guesthouses in Myanmar can offer more comfortable amenities and better service. Prices can range from $40 to $100 per night, depending on the location and quality of the establishment. For a 6-night stay, you can expect to spend approximately $240 to $600.
Transportation: Similar to the budget option, local transportation costs remain relatively affordable. Taxi rides within cities can start at around $2 to $5. For longer distances, buses or domestic flights may be more comfortable options. The estimated transportation costs for 6 days would be around $50 to $100, depending on your chosen mode of transport.
Food: With a mid-range budget, you can enjoy a mix of local cuisine and slightly higher-end dining experiences. Prices for meals at mid-range restaurants can range from $10 to $25 per person. Budgeting around $20 to $40 per day for food expenses would be reasonable, resulting in approximately $120 to $240 for 6 days.
Activities: Myanmar offers a range of activities and attractions, and some may require entrance fees or guided tours. The costs can vary widely depending on the specific activities you choose. Budgeting around $20 to $50 per day for activities should cover most mid-range options, resulting in approximately $120 to $300 for 6 days.
Miscellaneous: It's always wise to have some extra funds available for unexpected expenses, souvenirs, or additional activities. Allocating around $100 to $200 for miscellaneous expenses over 6 days should be sufficient.
Luxury budget
For everyone who is planning a luxury trip to Myanmar and looking for upscale accommodation, fine dining experiences, and luxury services, here's an estimate of the costs:
Accommodation: High-end hotels, resorts, or luxury boutique accommodations in Myanmar can offer luxurious amenities and services. Prices can range from $150 to $500 or more per night, depending on the location and level of luxury. For a 6-night stay, you can expect to spend approximately $900 to $3,000 or more.
Transportation: Private transfers, chauffeur services, or domestic flights can enhance your travel experience with convenience and comfort. The cost of transportation can vary significantly depending on your choices and destinations. Budgeting around $200 to $500 for transportation expenses for 6 days should cover luxury options.
Food: High-end restaurants, rooftop bars, and gourmet dining experiences can be found in major cities like Yangon or Mandalay. Prices for meals at upscale establishments can range from $30 to $100 or more per person. Budgeting around $100 to $200 per day for food expenses would be reasonable, resulting in approximately $600 to $1,200 for 6 days.
Activities: Luxury experiences in Myanmar may include private guided tours, exclusive access to cultural sites, spa treatments, or yacht excursions. The costs for these activities can vary significantly. Budgeting around $200 to $500 per day for activities should cover most high-end options, resulting in approximately $1,200 to $3,000 for 6 days.
Miscellaneous: As with any trip, having extra funds available for unexpected expenses, shopping for luxury items, or additional experiences is advisable. Allocating around $300 to $500 for miscellaneous expenses over 6 days should be sufficient.
A rough total for a high-budget trip for 6 days in Myanmar could range from approximately $3,100 to $8,700 or more. Keep in mind that these are estimated costs, and the actual expenses can vary based on your specific preferences, choices, and any additional luxurious services or experiences you opt for during your trip. We are also able to provide you with precise pricing tailored to your personalized 6-day Myanmar itinerary.
Our comprehensive Myanmar travel tips have provided you with 6-day itineraries showcasing the best attractions, activities, estimated costs, and useful tips. Don't hesitate to leave us a message now to begin planning your first custom-made journey to this beautiful country.
Read more: