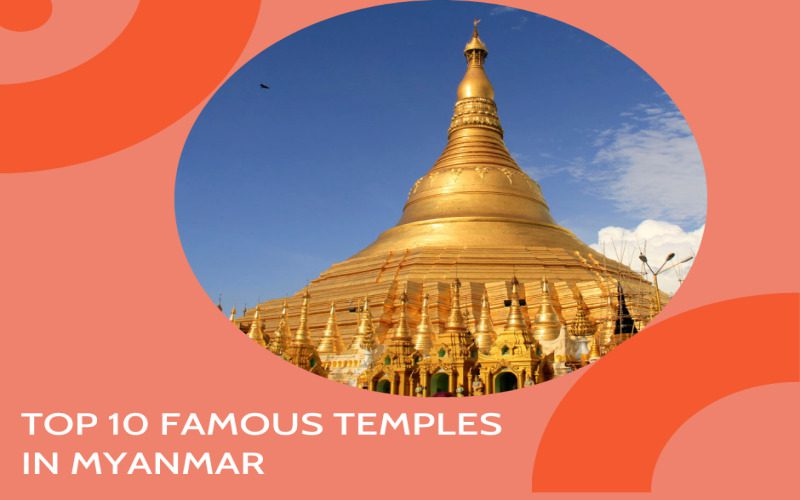 There are so many beautiful and unique temples and pagodas in Myanmar (Burma) that deciding which to visit can take time and effort. Example: The Shwedagon is the most popular temple in Myanmar which has 60 tons of pure gold… Thousands of beautiful Burmese temples have been built as striking symbols of devotion, as a focal point for community life, and as a source of comfort and merit-making in one of the most devoutly Buddhist places on the planet.
1. Most famous temple in Myanmar: Yangon region 
Some of Myanmar's most beautiful – and significant – pagodas can be found in the country's largest city. Here are the two most important Yangon temples you should not miss if you visit the former capital. Yangon is also an intriguing place to live.
Shwedagon Pagoda – the famous temple in Myanmar you should visit
Prepare to be mystified by this magnificent pagoda. There is no more elaborate or beautiful Buddhist architecture than this. It's the must-visited temple in Myanmar.
Shwedagon Pagoda Overview and History
First let's begin with Myanmar's most famous pagoda, the Shwedagon Pagoda, also known as the Golden Pagoda. This lovely pagoda is set on over 100 acres of land, with 99-meter golden stupa skyscrapers above the landscape.
This is more than a gorgeous pagoda in Myanmar. It is a national symbol as well as a sacred site for Buddhists all over the world. The sight of its luxurious gold exterior, complete with a diamond-studded spire, is instantly recognizable all over the world.
The Shwedagon Pagoda is also extraordinarily important in Buddhism. The pagoda contains four valuable relics, all of which are thought to have belonged to three previous Buddhas and the current Buddha, Gautama. This is one of the factors that attracts thousands of adherents every day, so be primed and ready for some crowds.
The pagoda serves as a precinct rather than a temple. To achieve the central terrace, you should ascend four stairways in each cardinal direction. The pagoda contains shrines to all four Buddhas, in addition to smaller stupas, shrines, planetary posts, pavilions and meditation platforms, a museum, giant bells, and animist (Nat) spirit shrines.
Sule Pagoda
This ancient Burmese pagoda in Yangon's heart is much more than a historical artifact; like the Shwedagon Pagoda, it has also been at the center of local politics and identity.
Sule Pagoda Overview and History
At first glance, the Sule Pagoda appears to be a scaled-down version of Shwedagon, it's also a famous temple in Myanmar. However, describing it in this manner would be inaccurate; it is a distinct and beautiful pagoda in its own right.
According to local legend, the pagoda is even older than Shwedagon, but this cannot be confirmed. However, we do know that its modern iteration was completed by the fifteenth century.
Since then, modern structures have crept up near the pagoda, creating an incredibly interesting juxtaposition. Nonetheless, at 44 meters in height, the pagoda towers over nearby structures such as the Supreme Court.
The Sule Pagoda has become a foundation of local identity, owing to its central location as well as its cultural significance. Various political events and protests have taken place there, and it also holds deep spiritual significance for the locals.
The Pagoda's significance in Myanmar cannot be overemphasized. In Myanmar, all distances are measured from the Sule, and the political situation was so devastating in 1964 that the government only controlled an area 8 miles out from the Sule. Governments bring people and then go, but the Sule is everlasting.
2. The best temples in Myanmar: Bagan region 
UNESCO has designated Bagan as one of the world's most revered archaeological sites. It is home to thousands of magical pagodas and temples, including a number of Myanmar's most famous pagodas.
The Bagan plain is a wonderful collection of ancient, crumbling, unnamed, and appallingly restored pagodas – unquestionably the world's largest collection of temples. It is a once-in-a-lifetime opportunity, to visit a popular temple in Myanmar. 
One special way to experience Bagan's temples is by hot air balloon at sunrise, bike, or on this Bagan cultural day tour.
Shwesandaw Pagoda – the popular temple in Myanmar 
For nearly a thousand years, this stark white pagoda has stood as a symbol of Buddhist devotion in Bagan. It's an old temple in Burma.
Shwesandaw Pagoda Overview and History
Shwesandaw Pagoda, at just under 100 meters, is one of the largest temples in Bagan, if not all of Myanmar. Its sheer size isn't the only thing that makes it a spectacle; much of its white covering still remains, making it stand out against the blue sky and green foliage around it.
The pagoda was built in 1057 by King Anawrahta, one of Burma's most famous and significant monarchs, to house a holy relic of the Buddha's hair.
Its architecture is distinct and unusual, as it is one of the pagodas from this early period. The top is a large dome, but beneath it are five terraces where statues once stood. Many of the treasures have been relocated to the Archaeological Museum, but the pagoda remains stunning.
Shwesandaw Pagoda has become a popular place to watch a magical sunrise or sunset, when the light casts a beautiful glow over the pagoda.
Visit Shwesandaw Pagoda: Practical aspects
A Bagan Archaeological Zone visitor's ticket, which costs 25,000 kyats but allows you to visit all of the pagodas in the area for five days, is required to enter. It should be noted that climbing the pagoda is currently prohibited due to some of its instability.
Ananda Temple
The more you look at this exquisite pagoda, the more you will be mesmerized by its intricate details and beauty. You must-visited temple in Myanmar for spiritual health. 
Ananda Temple Overview and History
This Burmese pagoda has been dubbed "the Westminster of Burma," which may appear strange at first. However, once you get up close and see the exquisite detail on this pagoda, you'll realize it's on par with Westminster Abbey in terms of craftsmanship.
Among Myanmar's thousands of temples, the 12th-century Ananda is well-known for its architecture. Although it was overseen by the local King Kyansittha, it is thought to have been heavily influenced by Indian styles.
The gilded stupa is a relatively new addition to the Ananda Pagoda. It was covered in gold to commemorate the pagoda's 900th birthday in 1990, and it certainly adds a glitzy touch to the pagoda.
Ananda Pagoda is beautiful at any time of year, but it is especially magical during an annual festival held in Pyahto (December/January). This involves 1,000 monks chanting scripture for three days without stopping – a true display of devotion and an incredible spectacle.
Dhammayangyi Pagoda
The largest pagoda in Bagan has a dark side, making it one of Myanmar's most intriguing pagodas to visit. It's also a massive and popular temple in Myanmar. 
Dhammayangyi Pagoda Overview and History
There's no doubt that most of Myanmar's best pagodas are breathtaking in their aesthetic and spiritual beauty – but Dhammayangyi is a little different. Yeah, of course, this pagoda is beautiful, but it also has a dark history.
Bagan's largest pagoda, Dhammayangyi, has a massive square base and six terraces stacked on top.
The grandeur is thought to have stemmed from King Narathu's desire to atone for his sins. And what heinous sins they were! In short, he ascended to the throne by murdering his own father and brother in a heinous betrayal. Unfortunately, this was not an isolated incident in the atrocities perpetrated by Burmese kings.
His attempt to clear his conscience and make things right didn't go so well. He was assassinated before the intricate pagoda could be finished. The fact that the interior is locked adds to the mystery, as does the fact that no one knows why.
3. Popular temple in Myanmar: Mandalay region 
Mandalay, on the banks of the Ayeyarwaddy River, was the royal capital as well as the seat of the Burmese monarchy. These Myanmar tours include visits to the Mandalay temples listed below.
Mahamuni Pagoda
This stunning pagoda is arguably Myanmar's most spiritually significant – regardless of your spiritual beliefs, you'll be migrated by the experience. Mandalay residents adore it, and they guard its sanctity with vigilance. It is a popular temple in Myanmar. 
Mahamuni Pagoda Overview and History
It's easy to think of Myanmar's historic pagodas as archaeological treasures, but they're so much more. Most pagodas are still a part of modern life in Myanmar, with locals and visitors large numbers of tourists paying their respects.
The presence of a special image (or statue) of the Buddha is what makes Mahamuni so revered. This is no ordinary gilded statue; it is thought to be one of only five Buddha likenesses made during his lifetime.
Because of this, many visitors and pilgrims from Myanmar and other Buddhist countries travel to the Mahamuni Pagoda. Whatever your spiritual beliefs are, there is no denying the beauty of the Buddha's likeness, which is encrusted with gold and precious stones.
Kuthodaw Pagoda
The magnificent Kuthodaw Pagoda is famous for housing the world's largest book. It is an old temple in Burma. 
Overview and timeline for this popular temple in Myanmar 
Kuthodaw Temple, located at the foot of Mandalay Hill, is one of Myanmar's most distinctive structures. At first glance, it appears to be just another intricate pagoda in Myanmar – beautiful, but possibly not entirely unique. If you enter the pagoda, you'll be greeted by a surprise: the world's largest book.
The Kuthodaw Pagoda was constructed in the mid-1800s, during the British invasion of southern Myanmar. Fearing that the Buddhist dhamma (teachings) would be lost, 729 massive white marble tablets were inscribed in gold. Despite the fact that the gold has faded, they are still on display for scholars, Buddhists, and curious visitors.
This one-of-a-kind feature has been dubbed "the world's largest book," and it's a breathtaking sight..
4. For more beautiful and popular temple in Myanmar
There are even more beautiful Burmese pagodas to discover beyond the Yangon – Bagan – Mandalay triangle. Here are a few that are well worth the extra effort to get to.
Hsinbyume Pagoda
Nestled between the trees on the banks of the Irrawaddy River, this white pagoda appears almost magical. This is a famous temple in Myanmar. 
Hsinbyume Pagoda Overview and History
An all-white pagoda contrasted against the blue sky and ochre land are strikingly beautiful. It's no surprise that Prince Bagyidaw built this pagoda as a memorial to his beloved wife (three years before he became king).
Princess Hsinbyume, also known as the White Elephant Princess, died in childbirth in the early 1800s. Bagyidaw, bereaved, ordered the building of the beautiful tiered pagoda.
The Hsinbyume Pagoda is not only unique in style, but it also has a romantic story behind it. It is surrounded by ornate, wave-like circular terraces that represent the seven mountain ranges surrounding Mt. Meru, the Buddhist cosmological center.
Mt. Popa
Natural beauty and incredible craftsmanship combine to form an incredibly striking pagoda atop Mt. Popa. It's the best temple in Myanmar in terms of beauty.
Mt. Popa Overview and History
The diversity of Myanmar's most important pagodas is one of its most amazing features. Take Mount Popa, for example, which is unlike anything you've ever seen in Myanmar or elsewhere.
The ascent of Mount Popa requires 777 steps, but the view is spectacular. Overall, it's an incredible place to experience everything that makes Myanmar amazing – the rich culture, stunning architecture, and vast natural beauty.
Kyaiktiyo (Golden Rock) Pagoda
Small but perfectly formed shrine balances on a gilded rock – this is without a doubt one of Myanmar's most iconic pagodas and most famous pilgrimage sites. It is a must-visited temple in Myanmar.
Kyaiktiyo Overview and History
Kyaiktiyo Pagoda, or the Golden Rock Pagoda, is another of Myanmar's most beautiful temples. The reason for its moniker is self-evident: the small, gilded pagoda atop a much larger (and also heavily gilded) boulder.
Kyaiktiyo Golden Rock is located in southern Myanmar, near the border with Mon state. The best way to get there is by private taxi or tour from Yangon, though a public bus is also available. The cable car runs from 5 a.m. to 6 p.m. For foreign visitors, the entrance fee is 10,000 kyat. It is important to note that female visitors are not permitted in the inner sanctuary.
Are you planning a trip for spiritual health, particularly to a popular temple in Myanmar? Our team will provide you with the best trip you've ever had. Please do not hesitate to contact us if you want to plan an unforgettable trip.