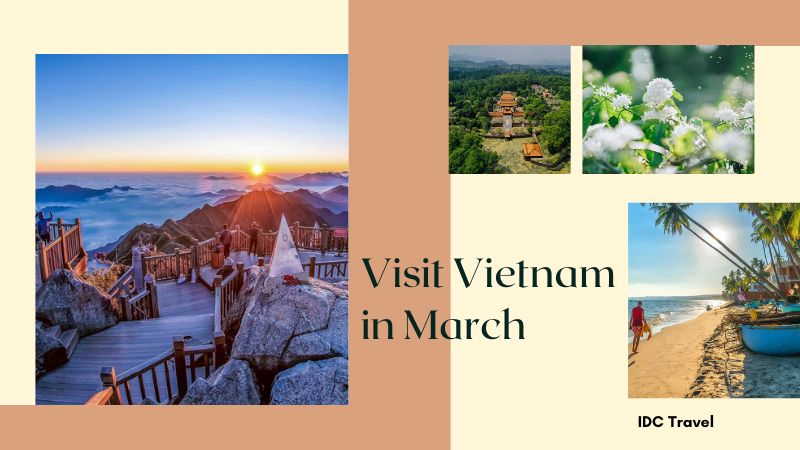 March in Vietnam is probably the sweetest month of the year. The late spring weather is warm and sunny. There are no longer thick layers of fog or light rain, but the beginning of summer heat and early spring cool. March is right after Lunar New Year, so many travel services and airlines will have attractive incentives to help you save even more. Thus, March would be lost without a trip to Vietnam. This article provides you with recommendations for the most popular places to visit in Vietnam in March.
Sapa – Conquer Roof of Indochina
The mountainous areas of Sapa have always been attractive to those who love to explore.  Many places to visit in this city include Fansipan, Ham Rong mountain, and Cat Cat village. Sapa is in full bloom at this time of year. The famous trail leading to Giang Ta or Lo Chai villages will be lined with colorful endless terraces. However, it is best for tourists to contact local guides in advance who can communicate with the H'mong or Dao people in the area.
With warmer weather than the previous period from December to February, favorable climatic conditions in March are ideal for adventurers to explore Fansipan. The highest peak on the Indochina peninsula, Fansipan is located in the Hoang Lien Son mountain range, with the closest access point being Sapa. If you don't feel fit enough for the long sloppy trail, you can also opt for the Fansipan cable car to reach the top.
Mai Chau – Best place to see Ban flowers
Located in Southwest of Hanoi, Mai Chau Valley is rated by Wanderlust as another good option for a long picnic. This place is known as the hometown of White Tai people. Arriving in Mai Chau, tourists have the opportunity to stay in traditional huts and taste local food. Hiking the entire valley can take up to a week.
Mai Chau in March is gorgeous with the white of "Ban" flower. At this time, you can enjoy the fresh air, pleasant weather and admire the beautiful spots also have many memorable photos.
Hue weather in March is very suitable for sightseeing. A Hue tour gives you a chance to learn about Vietnamese history through its relics from the reign of the 19th-century Nguyen emperors: Imperial Citadel, Forbidden City, Emperors's Private Resident,… and many King's tombs built on principles feng-shui.
Besides the historical monuments, Hue offers you so much more with stunning nature of beaches, mountains and waterfalls inside Bach Ma National Park. At this time of the year, Hue is an ideal destination for sports and outdoor activities like swimming, cycling, walking, camping, etc.
Danang – Good time for a city sightseeing
Nice and dry weather in Danang in March is very conducive to outdoor activities. This is a good time for sightseeing and taking part in big festivals.
A trip to Danang won't be perfect if you dismiss Ba Na Hills. You will experience 4 seasons in one day: wake up in the spring ambiance and end your day in the cool air. Many well-known destinations you should visit are Cham Museum of Sculpture, Dragon Bridge, Han River Bridge, Marble Mountain, Son Tra peninsula,…
Hoi An – Ancient Town
If you decide to travel to Danang, let's move on to Hoi An, just 30 km away from Danang. This ancient town is one of the best places to visit in Vietnam in March. Hoi An's weather in March is same as Danang with the temperature average between 28 and 31 degree. March is a good time to visit Hoi An whether you want to relax on the beach or discover the culture.
If Danang beach is too crowded, An Bang Beach in Hoi An is the best alternative. It's more quiet and with calm water. Let's cycle around the ancient town and walk along every corner and try its best food.
Buon Ma Thuot – Good time to see the best coffee blooms
March can also be a great time to visit the Central Highlands area, especially if you want to avoid the crowds in other touristic destinations. Explore the coffee hills around Buon Ma Thuot just in time for the best coffee blooms and learn how to make the best coffee in the world! Don't forget to stop by Trung Nguyen Coffee Village and learn about Vietnam's unique kopi luwak (civet coffee or weasel coffee). After that, you can quickly visit Ban Don – an ancient village famous for its traditional custom of taming and taking care of forest elephants. As of 2018, elephant rides have been phased out, making way for more ethical treatment of elephants; Now, visitors can observe elephants from afar and feed them.
Mui Ne – Best place for beach holiday
Mui Ne is also one of the must-visit places for tourists. Travelling in March, you can visit the places of the city: Poshanu Cham Tower, Ho Chi Minh Museum or Duc Thanh School, etc. Also, some of the beautiful beaches you can think of are: Hon Rom Beach, Doi Duong Beach, Suoi Tien, etc. March is especially perfect for diving and snorkeling thanks to the calm sea.
March is really a great time to visit Vietnam. Then, the different weather between the north and south mean you get to enjoy a vast array of experiences. Contact our travel experts now if you are planning a Vietnam tour in March.