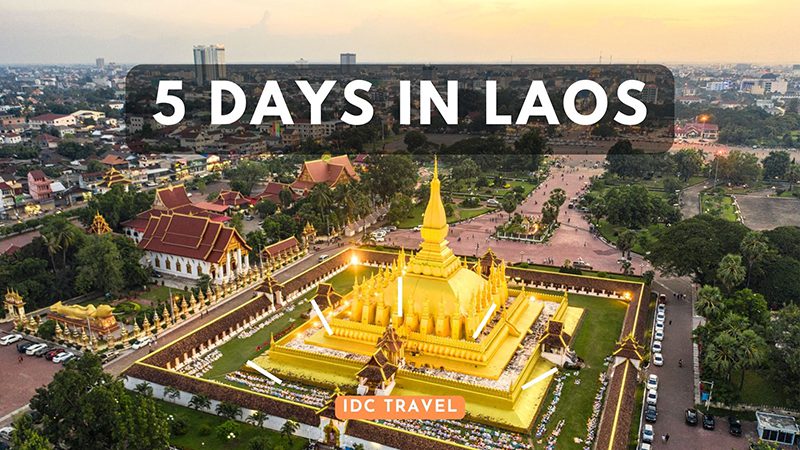 Overview
Not carrying the palatial, magnificent or modern beauty, Laos attracts tourists with its very own attractions, which are ancient beauty from ancient cities, temples or gentle beauty, idyllic from peaceful villages and towns. To explore more deeply the beauty of this "million elephant" country, IDC Travel suggests you Laos 5 day itinerary
Ideal time to go visit Laos
Laos has a tropical monsoon climate with two distinct seasons throughout the year. May through November is the rainy season, which has an average temperature of around 30 degrees. The dry season, which lasts from December to April the following year, only sees temperatures of 15 to 25 degrees. Therefore, this time may be ideal for you to visit.
In addition, Laos is also known as the land of festivals with many major holidays and festivals held all year round. You can also choose to travel to Laos at these times to enjoy the festive atmosphere:
Four Tet occasions: New Year's Eve, Lunar New Year, Lao New Year (April) and H'mong New Year (December).
Other typical festivals: Buddha's Birthday (April), Lent (July), boat racing (October),..
Country highlights 
This 5 day tour in Laos, will give you recommendations on how to fully explore Laos through the most prominent tourist attractions.
Xieng Khouang: This land has diverse terrain and scenery with hot springs, forests, beautiful waterfalls and monuments…
Pakse: a peaceful and slow tourist city. Attractions in Pakse are mainly French colonial architecture near Xe Don river and pristine Buddhist temples
Luang Prabang: you can freely admire the unique architectural temples with alms-monks in the morning. Maybe you can explore majestic waterfalls, caves, and rugged mountains.
Vientiane: The capital of Laos kingdom with unique historical sites; Unspoiled nature, tropical mountains in the north and vast fields in the south will bring you an enjoyable stay.
Vang Vieng: this place is famous for its peaceful rural landscape, cool fresh air, slow but not boring pace of life of local people. The pace of life of the locals is slow but not boring.
Transportation for Laos 5 days tour
Tuk Tuk
A tuk tuk is a common mode of transportation in Laos for short distances. A tuk tuk is a three- or four-wheeled vehicle with a cabin. The primary mode of transportation between Vientiane, Luang Prabang, to the suburbs can hold up to 12 passengers and is a car.
Public Long-Distance Buses
If you want lower travel costs, the option you can consider is the public bus. using the public ground transportation in Laos is a time-consuming process. Laotians trade convenience for speed, cleanliness, and money. During the busiest time of year, roughly from November to March, tickets may run out. On the night buses, it's possible that you'll sleep in a tin bed with a total stranger.
Rental car – the complete solution for 5 days in Laos
To move between provinces and cities, you can rent a tourist car. Since there aren't many airports and attractions are scattered, traveling is a great way to see the entire area.
The car rental service is available from IDC Travel. With the stops, meals, lodging, and activities you specify along the way, we can turn your vacation to Laos into an amazing inland tour. It is safer and more pleasurable than taking the bus or the train. Additionally, we provide golfers with shuttle service while on their golf tour. Both golf gear and passengers can fit in the cars to make your 5 days visiting Laos the most convenient.
5 day itinerary in Lao
Day 1: Xieng Khouang
Xieng Khouang the place you must visit in your 5 day itinerary is the field of jars, which is dotted with tens of thousands of stone jars, is located near Khammouan city on the Xieng Khouang plateau. There are numerous enduring beliefs focused on the jars, and no one has yet been able to disprove them all. Individuals were inspired to regret a bygone era by the wreckage of cheap nba jerseys. The field of jars was also once the site of the three Indochinese nations' bloodiest battleground in their anti-American conflict. This is the third site of Laos recognized by UNESCO as a world cultural heritage.
Wat Phia Wat is another location in Xieng Khouang that is a must-see. The US Air Force brutally bombarded this location, causing Wat Phia Wat to crumble, yet miraculously, the enormous Buddha statue within the temple survived. This Buddha statue may not be the most attractive in the nation – the right cheek and lip are scarred, and one eye is missing – but it still exemplifies the residents' strength when confronted with the near-total destruction.
Day 2: Pakse
First place when visiting Pakse is a Temple, that is Phou Salao temple. It is known that this temple was built thanks to Japanese investment. The special thing of the place is the golden Buddha statue. When you reach the place where the giant golden Buddha is located, you will have a great view of the landscape below. Around the big Buddha statue, there are many other small Buddha statues.
Another must-see place is Wat Luang Temple. Among the 20 wats in the heart of Pakse, this one is among the oldest and most beautiful. The temple is situated directly close to the bridgehead leading into Pakse City's historic district. The pagoda was constructed utilizing traditional Laotian architectural styles. On the banks of the tranquil Sedona River is a sizable temple with a pleasant area.
A sizable golden Buddha statue is shown in the "Calling the Earth to Witness" mudra in the congregation hall. Locals claim that Buddha left his imprint on the temple grounds, which draws pilgrims from all over the world. Visitors should not skip taking in a collection of priceless relics and amazing discovery while exploring the temple complex.
Day 3: Luang Prabang
 Luang Prabang is a town located on the mighty Mekong and Khan rivers. Luang Prabang was once the capital of the former Kingdom of Laos and has been recognized by UNESCO as a World Heritage Site.
You can select to go to the old town first when you get to this town. Instead of having high-rise structures like Vientiane, Luang Prabang Old Town has distinctive architecture resembling basic rural villages. You'll detect a particular aspect of Hoi An old community with quiet old homes and straightforward, honest residents. Don't miss the fascinating nighttime activities at this popular tourist site since the historic capital's major street is illuminated every evening with a night market filled with one-of-a-kind goods and handicrafts. This Luang Prabang schedule is interesting.
We advise heading to the mountains, specifically Mount Phousi. You can see all of the historic capital of Luang Prabang from the summit of Mount Phousi. You'll find a lot of interesting items on the steps leading up to Phousi, like a Bodhi tree that the Indian government sent to Laos in honor of the 2500th year of the Buddhist calendar and hundreds of old Dai (Cham Pa) trees.
Up to the top of Mount Phousi, you will feel an extremely cool and serene atmosphere. On the top of the mountain there is a tower named Chom Si up to 20 meters high in yellow. Standing on top of Phousi, looking to the left is the Nam Khan stream, to the right is the peaceful Luang Prabang, at the foot of the mountain is the Lao Royal Palace with a regal campus, now the Royal Museum.
Day 4: Vientiane
Vientiane capital will be the 4th destination in your Laos 5-day itinerary. The places you must visit here can be:
The Pha Chedi Lokajulamani (Big Golden Tower), also known as the Luang Golden Tower, is regarded as one of Laos' most significant national monuments. That Luang is influenced by the Indian architectural art style, which is the symbolic image of Mount Sumeru of the Universe mountain along with three parts of the structure representing the Hinayana. A harmony in the proportions between the pieces is created by the layout's obvious unity, the little towers' proper placement, the exceedingly accurate geometric shapes, and the clarity. That Luang tower's beauty is enhanced by the lines and even the use of clashing colors.
Buddha Park is another destination you have to see. It is a very vast garden with more than 200 specially crafted statues of Hindu and Buddhist gods. The garden also features replicas of gods, devils, people, animals, and three different levels of hell, earth, and heaven.
We suggest you with an amazing place that is so well-known, that is Patuxai, the "Triumphal Arch" of Laos. The Arc de Triomphe, which is situated between the Vientiane and That Luang Streets roundabout, is designed after the Arc de Triomphe in Paris. The upper portion features tower-shaped architecture and characteristic Lao cultural reliefs. The Arc de Triomphe is regarded as one of the most stunning representations of the Vientiane capital since it was built as a memorial to the unidentified warriors who are buried on Lane Xang Boulevard.
Day 5: Vang Vieng
The small town Vang Vieng will be the last destination on your 5 days Laos tour. It is a peaceful countryside with a fresh and cool climate and is also a famous tourist destination of Laos. We have 2 places in Vang Vieng to recommend you for your last day in the 5 days itinerary in Laos.
The first one is Blue Lagoon 3. Located near Nam Ngum, the Blue Lagoon is an island in a lake. The lake water in Blue Lagoon 3 is so transparent that you can see fish swimming around on the bottom, as the name implies. It is a clear blue tint like jade. Laotians build a lot of wooden rafts on the lagoon so that visitors can go out into its middle and take in the sight. Besides the wooden raft, you can use tires to become a professional boat swimming on the clear blue water, looking at the picture is equally interesting.
The second location is Tham Chang Cave, which is reached via a bridge over the Nam Song River. A spring is located inside the cave, about 50 meters (160 feet) from the entrance. The ideal location to see hundreds of bats flying out of the cave is in this cave, which also has an underground lake. The Buddha (virgin statue) is in a beautiful position inside the cave with the lights shining directly on it.
Other Itinerary Laos 10 days
If you want to travel for longer days, it can be up to 10 days. You have a very attractive Laos package tour in 10 days designed by IDC Travel.
Highlights of the places you will have the opportunity to visit are:
Vientiane, shares a border with Thailand and is situated on a bend in the Mekong River, has Vientiane as its capital.
Champasak serves as the regional gateway for commerce between Thailand, Cambodia, Laos, and Vietnam. It also serves as the economic, security, and defense core for the southern regions of Laos. Champasak also has a significant location on the East-West corridor.
Khong Island is renowned for its natural beauty and continues to draw visitors from various nations.
Must-try cuisine in Laos 5 days tour
A perfect trip is indispensable to learn about food. Here are the specialty dishes at tourist sites that you must try when visiting Laos in 5 days.
Savanakhet grilled chicken
Diners can find places selling this grilled chicken right in Vientiane, Luang Prabang and many other localities in Laos. Served with white sticky rice, rounded to the size of a fist and dipped with cheo deck (a spicy, sour, aromatic dipping sauce)
Khausoy
Khausoy is a very well-known meal in Luang Prabang, Laos. From the exterior, it looks a lot like our Vietnamese pho, but the ingredients are far simpler.
Laotian makes the dish from a blend of pureed pork and mixed with garlic, tomatoes, spices, contains a particularly significant component called khausoy. You can eat this dish with pepper, chili sauce, a few tablespoons of dried onions, vegetables, such as raw water spinach, and vegetables.
Lao coffee
Lao coffee is famous as a drink recognized as the best in the world. Traveling to Luang Prabang, you must try this dish. There are many good view cafes in the old town. Life will seem less chaotic and busy if you order a nice cup of Lao coffee, listen to classical French music while you enjoy it, and observe the streets of the former capital.
Tips for first time visitors
Currency – the must-know thing before 5 days visting Laos
The Laos Kip is the nation's official unit of exchange (LAK). In Laos, you can also use the kip, Thai baht, and US money. Hotels, restaurants, and tourist stores all accept both US dollars and Thai Baht in major cities.

Credit card: In Vientiane and Luang Prabang, Visa and Master cards are accepted at a large number of hotels, fancy eateries, and gift shops. Outside of these three cities, especially in hilly regions, credit cards are practically useless.

ATMs: ATMs are only found in large cities. Visitors can only withdraw a maximum of 700,000 kips (about $70) for once, with a $2 cost for each withdrawal.

Airports and large cities offer currency exchange services.
Electricity
Laos has a 230 V voltage and a 50 Hz frequency. Round or flat 2-pin outlets are available.
Religion
When visiting Buddhist sites, the following guidelines must be observed:
Dress in formal attire.

Remove your shoes and hat before entering a pagoda.

Keep your distance when talking to monks.

Don't make noise at places of worship.
You love to travel, passionate about experiencing new things and learning cultural, historical,… ? What are you waiting for? Why don't you contact IDC Travel because designing and advising you on extreme trips is what we aim for.