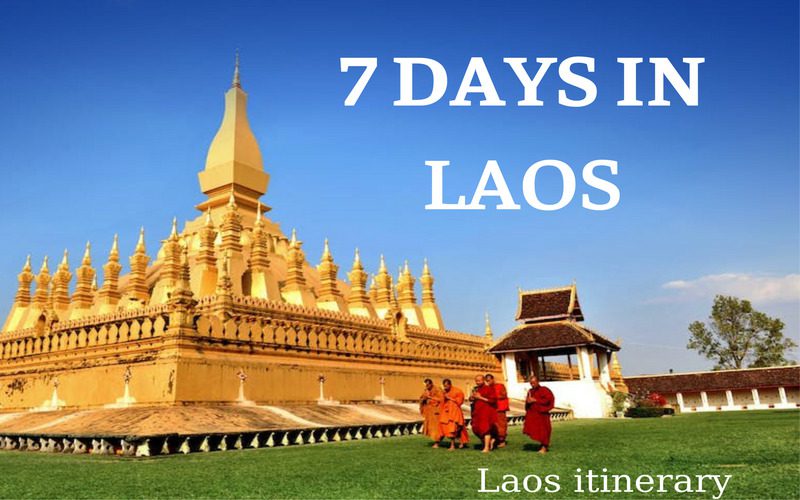 Laos is the most heavily bombed country in modern history, with the US dropping over 2 million tons of bombs during the Secret War. Traveling for 7 days in Laos can give you an overview of the history and culture. There are still many trace amounts of the war's aftermath in the country. Because of its lack of tourism promotion, this land-locked country sandwiched between Cambodia, Vietnam, Thailand, Myanmar, and China is usually neglected.
Best time to visit Laos
This country is an excellent destination for traveling at any time of the year, as the country does not have a coastline that influences the weather. The climate of Laos is a tropical climate with two seasons which are the dry season (May – September) and the rainy season (October – April). Ultimately, the best time to travel to Laos is from October to February, which is the dry and cool season.
During this time, the average temperature is 21-24 degrees Celsius (68-76 degrees F) while the humidity is not high and the night stays cool. Another good thing is that during this time the rivers are high enough to make river travel easy and flexible. However, this is the most popular time for travelers visiting the country, so expect to see more people at this time of year. Also, in the far south at this time, the winter is even warmer and could one day turn warm, while the weather gets cooler as one moves north to higher elevation.
A highlight of 7 days in Laos
Vientiane – A guided city tour of Laos' capital includes the iconic golden Pha That Luang and the Patuaxi Monument.

Vang Vieng – Visiting the Tham Jang Caves and unwinding or choosing to bicycle through the verdant countryside.

Luang Prabang  – Tour the historic Wat Xiengthong Monastery while riding a tuk-tuk through the town.
Brief for 7 days Laos tour
1st: Visiting Vientiane – The capital of Laos
2nd – 4th: Vang Vieng – Small town
5th – 7th: Luang Prabang province
Detailed 7 day itinerary in Laos
Day 1: Visiting Vientiane – The capital of Laos
Vientiane is easily accessible by air from neighboring countries such as Thailand, Vietnam, and Singapore as a regional hub. Travel in Laos for 7 days would be a happy trip for you!
After checking into your hotel, you should  spend your first afternoon in Laos exploring the following local landmarks:
Pha That Luang
Pha That Luang, a 45-meter Buddhist stupa wrapped in up to 500 kilograms of gold leaf, is a Laos icon. The more than 450-year-old stupa is located 15 minutes from Vientiane's tourist district and is easily accessible by tuk-tuk.
Don't forget to participate in That Luang festival lasts for three to seven days around the full moon of the twelfth lunar month (November).
Wat Si Saket
Vientiane's oldest temple is also one of its most important cultural attractions. This 1818 temple houses a collection of over 2,000 Buddha images made of exotic materials such as ceramic and silver.
Patuxai
The Patuxai, a large victory arch in the center of one of Vientiane's main streets, was built in the 1960s to commemorate Laos' independence from French colonial rule. It's worth exploring the monument's interior, which depicts Brahma, Vishnu, and several other gods.
The Cooperative Orthotic and Prosthetic Enterprise, or COPE, operates a visitor center in Laos to educate visitors on the recovery process for people injured by unexploded ordinances hidden in the Lao countryside.
Day 2 – 4: Vang Vieng – Small town
The best time to leave is late morning, so you can arrive in Vang Vieng in mid-afternoon, just in time for a relaxing evening. If you only stayed 7 days in Laos or 10 days in Laos, you could explore the best places there.
If you've enjoyed the incredible variety and quality of food on offer in Vientiane, be prepared to lower your standards a little in Vang Vieng. The majority of restaurants in town are attached to guesthouses and are of the cheap backpacker variety, with menus that are all roughly similar.
Vang Vieng, once known as Laos' backpacker capital Vang Vieng is well-known for its excellent tubing and rafting on the nearby Nam Song River. Tubing in Vang Vieng was once a drunken adventure, but operators have cleaned things up in the last year and now offer a variety of fun river adventures. Tham Nam Water Cave and River Tubing Vang Vieng are two operators to consider.
Kayaking Several tour operators in Vang Vieng offer guided kayaking trips down the Nam Song River, providing an excellent opportunity to see the area's incredible scenery from a different angle than most visitors.
You should try cycling in the mountains when you're staying 7 days in Laos. Vang Vieng's rough and beautiful scenery makes it ideal for cross-country mountain biking. VLT Natural Tours rents out high-quality mountain bikes that are ideal for the town's rugged terrain.
Vang Vieng, like Southern Thailand, has become one of Southeast Asia's rock climbing capitals. Climbers of all skill levels (including absolute beginners) can take courses on various limestone cliffs in and around town. Don't forget to climb here when you take a trip to Laos 7 days.
Day 5 – 7: Luang Prabang province 
Luang Prabang, a UNESCO World Heritage Site, is one of Southeast Asia's most well-known small cities. 
Luang Prabang is a relaxing and peaceful place to read a good book before flying home. It also has a number of interesting temples, markets, and waterfalls that can easily fill a 7-day itinerary in Laos.
Phou Si Mountain
Climbing Mount Phou Si, a 100-meter hill in the heart of Luang Prabang's Old Town is an excellent way to become acquainted with the city.
Museum of the Royal Palace
The Royal Palace Museum, located in the heart of Luang Prabang, is a small but intriguing building that once housed the Lao royal family.
Old Town Luang Prabang
The main draw of Luang Prabang is its Old Town, a beautiful area near the Mekong River with colonial buildings and a great selection of cafés, restaurants, and traditional local shops. The Old Town is an excellent location for dining or simply relaxing with a good book.
Market in the Morning
If you're awake early on your first morning in Luang Prabang, stop by the Morning Market to observe local life.
Night Market in Luang Prabang
The Luang Prabang Night Market is a great place to shop for souvenirs, clothing, and other trinkets from just before sunset until late at night.
The Kuang Si Falls
The Kuang Si Falls, one of Luang Prabang's most popular day trips, is only 30 kilometers from the town center.
Tips for first-time visitors to Laos 7 days
Visit the Lao Textile Museum to immerse yourself in the world of colors
If you are obsessed with textiles, you should go to the Lao Textile Museum, which displays the entire Lao textile culture, including antique textiles, weaving equipment, and a variety of designs. You can easily get there by taking a tuk-tuk.
Photograph the Arc de Triomphe: Patuxai
Laos, influenced by the French, has its own Arc de Triomphe to commemorate those who fought and died in the battle against the French and subsequent wars. Patuxai is a great sight to see in Laos' capital, with a twist on Lao architectural traits.
Visit the COPE Center to learn about the secret war
Few people were aware of the secret war in Laos, in which the United States dropped more bombs than in all of World War II. The war continues to have a profound impact on the lives of Lao people today, with people being killed by unexploded bombs.
Visit the Buddha Park
Buddha Park, also known as "Spirit City," is located 25 kilometers from the capital and makes an excellent day trip from Vientiane. A strange park filled with concrete statues of humans, animals, and demons from Buddhist and Hindu mythology awaits you. The park's main attraction is a 120-meter-long reclining Buddha statue.
Vang Vieng tubing
One of the most enjoyable and challenging activities for young travelers in Laos. Tubing – both the fun and the danger – is probably something you've heard about in Vang Vieng. The good news is that tubing has become much safer for visitors in recent years. Vang Vieng is the place to go if you want to have some fun in Laos.
Suggested itineraries for 7 days in Laos
Itinerary 1: Luang Prabang – Vang Vieng – Vientiane
Day 1: Arrive in Luang Prabang. Visit Wat Visoun, Wat Xieng Thong, and Mount Phousi.
Day 2: Cruise through Mekong River to visit Pak Ou Caves. In the afternoon, proceed to Kuang Si Waterfall.
Day 3:  Visit Royal Palace Museum. In the afternoon, transfer to Vang Vieng.
Day 4: Stop over at Mor Village – a fishing village and enjoy lunch at Nam Ngum Lake area.
Day 5: In the morning, admire Kaeng Nyui Waterfall. In the afternoon, transfer to Vientiane.
Day 6: In the morning, visit Wat Sisaket, Wat Ho Phra Keo, and That Luang Stupa. In the afternoon, drive to Buddha Park.
Day 7: Depart from Vientiane.
Itinerary 2: Vientiane – Vang Vieng – Champassak
Day 1: Arrive in Vientiane. Visit the famous That Luang Stupa and Patuxay Monument, Vientiane's own Arc de Triomphe.
Day 2: In the morning, visit Wat Sisaket and Wat Prakeo. In the afternoon, drive to Buddha Park.
Day 3: City tour around Vientiane and hang around at Vientiane Night Market at night.
Day 4: Transfer to Vang Vieng. Stop over at Mor Village – a fishing village and enjoy lunch at Nam Ngum Lake area. Visit Tham Chang Cave, one of the most beautiful caves in Vang Vieng.
Day 5: In the morning, take a boat on Nam Song River to explore along the town. In the afternoon, transfer to Champassak. Take a Wat Phou cruising trip and overnight on board.
Day 6: Cruise to the small village of Ban Veuthong and then take a boat to Khone Island. After that, take a minivan to amazingly scenic splendor of the Khong Pha Peng waterfall. Fly back to Vientiane.
Day 7: Depart from Vientiane.
Itinerary 3: Luang Prabang – Muang La – Nong Khiaw
Day 1: Depart Luang Prabang and start your trekking journey with Oudomxay. Arrive in Muang La in the afternoon.
Day 2: Trek to some ethnic villages in Muang La: Kamu village of Houay Ho, Loum village of Ban Phonsavan and Yang village of Long Ya. Admire the beauty of Nam Pak River.
Day 3: Discover Ikos village and Ban Tauser village.
Day 4: Drive from Muang La to Muang Khua. Enjoy the view of Nam Ou River on the way. Reach Nong Khiaw in the afternoon.
Day 5: Cruise along Nam Ou River and stop over at Pak Ou Caves. Continue downstream for another 2 hours to Luang Prabang.
Day 6: Visit Wat Xieng Thong and Royal Palace Museum. In the afternoon, fly back to Luang Prabang.
Day 7: Depart from Luang Prabang.
If you want to spend 7 days in Laos, don't hesitate to contact us for tailor-made Laos tours! Our team will help you to create the best vacation according to your wishes!