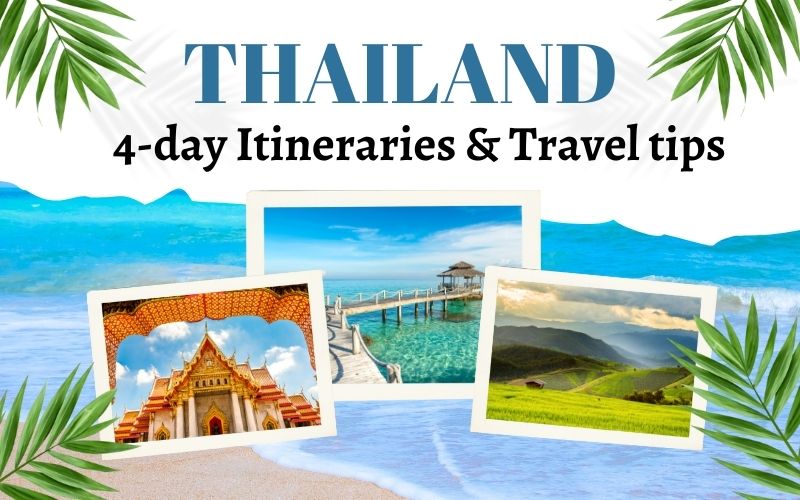 Thailand, situated in Southeast Asia, maybe a small country, but it consistently attracts a large flux of tourists every year. This is because Thailand offers an array of diverse attractions that can attract tourists from all over the world. You want to spend 4 days in Thailand, but you find yourself uncertain about where to begin. Although the 4-day vacation is short, it is imperative to carefully plan your itinerary, activities, and necessary preparations.
Best Time to Visit Thailand
Thailand stands out as one of the most popular and easily accessible destinations in Southeast Asia. However, despite its tropical location near the equator, the country's weather patterns do not undergo drastic changes throughout the year, leading to corresponding fluctuations in crowds and prices. Seasons in Thailand fall into three broad categories:
High season: November to March
Shoulder season: April to June & October
Low season: July to September
Thailand is a large country that stretches over 1,000 km from north to south. Therefore, the conditions can vary depending on your location within the country. For instance, October marks the start of the high sunny season on the Andaman coast, but also the start of the monsoon season on the Gulf side. Before finalizing your plans for a jungle retreat or an island boat tour, read on to discover the optimal times for your trip to Thailand.
Best Time for Ideal Weather
For ideal weather, it's recommended to plan your visit to Thailand during the dry season, which spans from November through March, April, and May. In general, the period from November to February offers the coolest and most pleasant weather, with average temperatures hovering around 80 degrees Fahrenheit. During this time, you can enjoy clear blue waters, little chance of rain, and beautiful landscapes that have been covered by the previous monsoon.
The days get warmer in March and April, but this is the perfect time to visit, as the crowds have died down after the November to February peak. April, in particular, is a favorable choice, as the number of tourists dwindles, festivals abound, and the summer rains won't arrive for a few weeks.
Best Time for Festivals
Thailand hosts a multitude of vibrant festivals throughout the year, from the fruit festivals in spring to the Lopburi Monkey Festival in late November, which also play an important role. One such celebration is the Lantern Festival, often observed in November, which consists of Yi Peng, where thousands of rice paper lanterns are released into the sky, and Loy Krathong, where candlelit baskets are thrown into the water.
Another noteworthy event is the Chinese New Year, which takes place in either January or February. During this time, Bangkok's Chinatown comes alive as a sea of ​​visitors under the red glow of firecrackers and hanging lanterns. Another major event in February is the Chiang Mai Flower Festival, which lasts three days and offers an impressive display of chrysanthemums and damask roses.
In mid-April, Songkran, widely known as the Water Splash Festival, ushers in the Buddhist New Year with parades, parties, and performances across the country each year. Finally, the vegetarian festival marks the end of September or the beginning of October, offering a unique experience to witness this cultural phenomenon.
Cheapest Time to Visit Thailand
Thailand remains a reasonably priced destination throughout the year, with travelers being able to enjoy significant discounts on accommodations, flights, and tours during the low/monsoon season(July to September).
Traveling during the low season has advantages: fares are generally more affordable, allowing visitors to stretch their budget further. Additionally, the region tends to be quieter during this time, providing a more tranquil experience. In July, tourists are more numerous, and in August, the sky is cloudier and the precipitation is more abundant. September, being the wettest month, is typically the least crowded month.
Incredible Time to Explore Thailand's Paradise Islands
The boat trip from one limestone island to another, overlooked by the jungle, is undoubtedly one of the most delightful experiences when exploring Thailand. However, the rainy forecasts that prevail from May to October can disrupt the island adventures, with some South Andaman resorts even shutting down during the rainy season.
It is, therefore, best to plan your getaways to Phuket, the Phi Phi Islands, Ko Lanta, and the other Andaman islands between the end of October (when the rains begin to subside) and May or June. Ko Lanta is indeed closed during the monsoon season – you will be able to get there, but accommodation options will be very limited. Conversely, the idylls of the Gulf of Thailand, Ko Samui, Ko Tao, and Ko Phangan experience their rainiest and windiest period between October and December.
Follow a Guided Tour or An Independent Trip?
Guided tour packages offer comprehensive group travel experiences, led by knowledgeable guides and following predetermined itineraries. These tours are highly favored worldwide, boasting a diverse range of options suitable for individuals of all ages and budgets.
On the other hand, when we mention "self-guided travel" or "independent travel," we are referring to trips that you plan and undertake without the assistance of an organizing or guiding company upon reaching your destination. If you plan a trip to Bangkok on your own, including arranging train tickets, accommodations, and flights, it is considered an independent trip.
What Type of Holiday Suits You?
In short, the choice of your travel style will be influenced by factors such as your personality, your budget, your taste for risk and adventure, and your travel experience. If you desire to maintain full control over your journey, independent travel is likely to align with your preferences. If you think having a guide will enhance your experience and facilitate deeper cultural immersion, book a guided tour, and travel with a new group of friends!
What to Prepare for 4 Days in Thailand?
Necessary Documents
There are many important documents you need to prepare before and during your trip to this Southeast Asian country. Some of these documents are mandatory (for entry and identity verification), while others prove practical in optimizing your travel experience (quick communication and discounts).
Documents to save:
Passport ( valid for at least six months)
ID card
National and international driving license
Family record book
Vaccination record
Plane ticket
Bank stop number, insurance emergency number
Hotel voucher
A useful precaution every time you go abroad: scan all your official documents and send them by e-mail to your e-mail address to have copies in case of loss or theft.
Luggage
Your 4-day trip to Thailand will not be a long stay that will take you a lot of luggage. There are numerous items available for purchase within Thailand and use during your trip without having to bring them from your home country.
Items needed in Thailand:
Clothing: long pants, long-sleeved T-shirts, warm waterproof jacket (for the trip to northern Thailand), light raincoat or poncho, cap or other types of hat to protect against the sun, pair of sunglasses, swimsuits (For the trip to islands)
Toiletries: Toilet paper, shower gel/soap, toothbrush, and toothpaste
Microfiber towel (one large)
Pharmacy: mosquito repellent, sunscreen, after-sun, hand sanitizer gel, first aid kit
English-Thai pocket guide or dictionary
Waterproof protective bag for your electronic devices
Budget for 4 Days in Thailand?
Thailand is an exceptionally affordable tourist destination, so the budget for traveling in Thailand should not be a big concern, especially for a 4-day trip. With a range of mid-range accommodations and restaurants available, visitors can enjoy a bit of indulgence a little more without spending a fortune, and there are also plenty of affordable activities to do in Thailand. Of course, the actual cost of a trip to Thailand depends on each traveler and their personal preferences.
In 4 days, you will have to pay the following fees:
Airline tickets to Thailand
Means of transport in Thailand: cars, taxis, trains, buses, bicycles (rented), boats, etc.
Accommodation for 3 nights
Meals, drinks, and snacks
Entrance fees to a few destinations and fees for activities such as snorkeling, rafting, kayaking, etc.
Memories
Backpacker Budget
If you embrace the backpacker lifestyle and always choose the cheapest options when traveling in Thailand, it is very easy to explore Thailand on the cheap. Thailand offers an abundance of cost-free attractions that are well-suited for the frugal traveler. These include captivating temples, lively street markets, breathtaking waterfalls, pristine beaches, and mesmerizing viewpoints. may involve a small admission fee, but this is usually close to zero.
The estimated budget for 1 day is:
Dormitory bed at hostel: 15 USD
Fruit smoothie: 1 USD
Entrance fees to a temple: free or 2 USD
2 meals on the street: 6 USD
Taxi ride: 5 USD
Mid-range Budget
If you're willing to spend a little more money than the average backpacker, you can up your Thailand travel budget to include more fun stuff. Explore all the top-notch attractions, even if they require a slightly higher investment. Treat yourself to a few cocktails on the beach once in a while. Book a 1-hour Thai massage or a day of scuba diving. Stay in affordable hotel rooms and eat a wide range of food, including cheap street food and great eats at restaurants.
The estimated budget for 1 day is:
Economy double room in a hotel: 20 USD
Lunch in a restaurant: 10 USD
Cocktail: 5 USD
Street food for dinner: 2 USD
Purchase of souvenirs: 4 USD
Cabaret show: 15 USD
Taxi ride: 12 USD
Luxury Travel Budget
If you choose to indulge in a luxurious vacation in Thailand, you'll be pleasantly surprised by its affordability.  If you're willing to spend the big bucks, you'll also be able to pay for all the best activities. You can reserve guided temple tours, embark on breathtaking island speedboat tours, indulge in spa treatments and massages, partake in private cooking classes, and much more. You can also treat yourself to the best food and drink, and stay in five-star hotels.
The estimated budget for 1 day is:
Luxury suite in a beautiful hotel: 150 USD
Private temple visit: 50 USD
Thai cooking class: 30 USD
Lunch in a tourist restaurant: 30 USD
Drinks on the beach: 30 USD
Spa treatment: USD 20
Dinner in a good restaurant: 40 USD
Places to Visit in Thailand 4 Days
Visit a Single Destination in Thailand
Indeed, a trip of 4 days and 3 nights in Thailand provides an ideal opportunity to explore a city thoroughly. You can discover everything about this city: from well-known tourist attractions to hidden gems, from grand architectural marvels to unique and captivating sights, from bustling areas to serene retreats, and from vibrant neighborhoods to tranquil pockets. You will also be able to better understand the people and culture through your guides or by living with the locals.
So, which city to choose for your trip? Here are our two most popular cities along with our suggested itineraries:
1. Bangkok

Bangkok, the capital and largest city of Thailand, boasts a population exceeding 10 million, making it a bustling metropolis. Bangkok is also the most visited city in the world. It is the starting point for many trips to Thailand and the rest of Southeast Asia, thanks to its major international airport. However, there are numerous other reasons to explore this vibrant city.
"Same thing, but different" – this expression sums up almost everything that happens in Thailand. Bustling traditional markets and exquisite golden temples, where you will be immersed in the daily life of the locals as it has existed for centuries, coexist with glass skyscrapers, trendy rooftop bars, and huge malls. modern business.
>>> Read our Bangkok travel guide.
Day 1 :
Arrival in Bangkok
Explore at your leisure
Day 2:
Destination Tour: Grand Palace, Emerald Buddha, Wat Pho, Wat Arun
Excursion along the Chao Phraya River and peaceful klongs (canals) aboard a long-tail boat 
Day 3:
Discovery of Damnoen Saduak floating market, Rose Garden
Watch the show in a typical Thai village
Day 4:
Explore at your leisure
Departure from Bangkok
>>> Check out our itinerary in detail at The Perfect Tour 4 Days in Bangkok
2. Chiang Mai

Following Bangkok, Chiang Mai stands as one of Thailand's most sought-after destinations. This charming mountain town is renowned for its hill tribes, verdant rainforests, sanctuaries for elephants, and captivating culinary scene.
If you like Buddhist temples, Chiang Mai has more than 300 of them. There are many vibrant night markets, as well as digital nomads who have chosen to settle in this northern Thai city. It's such a livable city that offers an almost perfect balance of pace, convenience, comfort, rich cultural experiences, natural beauty, and exciting nightlife.
>>> Read our Chiang Mai travel guide.
Day 1 :
Arrival in Chiang Mai
Explore at your leisure
Day 2:
Discovery of the temple complex of Doi Suthep
Half-day Bike adventure through the Streets of Chiang Mai
Day 3:
Bike Adventure in Mae Tang Area
Experience white water rafting
Day 4:
Explore at your leisure
Depart from Chiang Mai
>>> See our itinerary in detail at Amazing Chiang Mai Adventure In 4 Days.
Visit Several Destinations in Thailand 4 Days
If you have a passion for travel and wish to explore multiple cities within four days, you have the opportunity to combine various nearby attractions to enhance your trip. A trip of 2 to 3 destinations in 4 days will allow you to explore more sites, and to touch more cultures.
However, for the trip to be short, but unforgettable, it is advisable to plan a trip on the same theme, for example:
Beach break: a combination of resort activities and water sports on beautiful islands and beaches such as Phuket or Krabi.
Natural expedition: a combination of adventure activities in the forests and mountains of the northern region, such as Chiang Mai or Chiang Rai.
Spiritual journey: a combination of visiting and learning about Buddhist temples.
Historical Tour: Combination of sightseeing and learning at historical sites such as temples, ruins, or national historical parks in Sukhothai, Kanchanaburi, or Ayutthaya.
Here are our 2 itinerary suggestions for your 4-day trip to Thailand:
Seaside stay in the Southern islands

Phuket, Ko Phi Phi, and the surrounding islands in southern Thailand have been considered a paradise for tourist lovers. Tourists are always looking for something: crowded beaches with lots of fun activities or peaceful white sand beaches shaded by coconut palms, adventure water sports or jungle treks, luxury dining on a luxury boat, or seafood dinners in a fishing village. It is a perfect choice for a family vacation or a romantic honeymoon getaway with your beloved.
>>> Read our Phuket travel guide.
Day 1:
Arrival in Ko Phi Phi
Boarding the sailing catamaran toward Ko Phi Phi Leh
Day 2:
Racha Noi Island Excursion
Snorkeling, kayaking, or swimming
Day 3:
Transfer to Koh Yao Yai
Explore Ko Khai Nai
Day 4:
Disembarking from the catamaran in Phuket
>>> See our itinerary in detail at 4 Days Beach Relaxation on Phi Phi Island. Want a more wonderful vacation on the paradise beaches of Thailand? Check out our Thailand Beach Holidays. Here, we have Thailand tour itineraries that meet every traveler's needs, from short to long packages, from economic to luxury tours. You can also find a trip where you go in a group or independently.
North-to-Center Historical Tour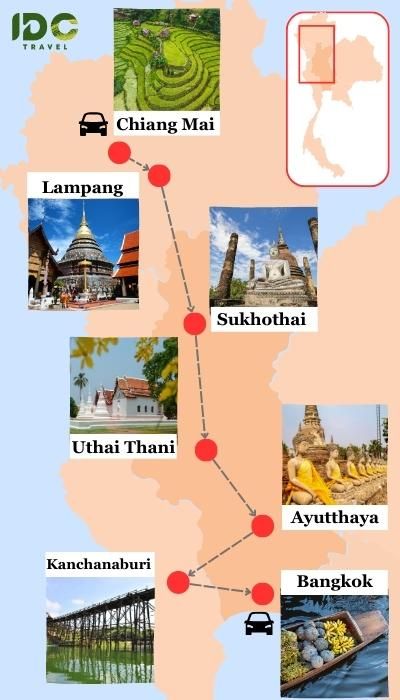 Thailand is renowned for its awe-inspiring historical sites, brimming with ancient heritage awaiting admiration and exploration. A drive from northern to central Thailand will give you easy access to ancient temples, impressive ruins from past events, and national historical parks where many buildings were built and have existed for many centuries. This route is an ideal choice for individuals with a fervent desire to learn and a passion for uncovering the rich tapestry of history and culture that Thailand has to offer.
Day 1:
Route: Chiang Mai – Lamphun – Lampang – Sukhothai
Destinations: Wat Phra That Hariphunchai, Wat Phra That Lampang Luang, Sukhothai Historical Park, Ruins of Ancient Sukhothai
Day 2:
Route: Sukhothai – Uthai Thani – Ayutthaya
Destinations: Ayutthaya Historical Park, Wat Phra Si Sanphet, Viharn Phra Mongkol Bophit, Wat Phra Mahathat
Day 3:
Route: Ayutthaya – Kanchanaburi
Destinations: Kwai Noi and Kwai Yai Rivers, Bridge over the River Kwai, Death Railway, Military Cemetery
Day 4:
Route: Kanchanaburi – Bangkok
Destinations: Phra Pathommachedi Stupa, Damnoen Saduak Floating Market
>>> Consult our itinerary in detail at Discovery of Thailand's Hidden Treasures in 4 days. Want to learn more about the nature and culture of other regions of Thailand? Consult our Thailand Tours – Discover The Land of Smiles.
Useful and Practical Information for Thailand Itinerary 4 Days
Electricity
In Thailand, the electrical current is supplied at a frequency of 220 V – 50 Hz. Therefore, it is important to have a suitable power adapter before your trip or purchase one locally. Multiple adapters can be easily found everywhere on the market for 50 or 100 baht.
Phone
Before departing from your home country, it is prudent to put your phone in "airplane" mode and deactivate the acquisition of mobile data. Most hotels and restaurants have free Wi-Fi. If you need to use your phone to call often, it's best to buy a Thai SIM card that includes a local plan.
Cash
The official currency of Thailand is called the baht (THB). On average, the exchange rate is approximately 35 THB for $1. For quick conversions, it's helpful to consider 100 THB as roughly $2.9.
You will find ATMs almost everywhere in the tourist areas of Thailand. This is usually the best way to get local currency, but ask your bank about international exchange fees. The ATMs in the country now charge 150 baht (about 5 US dollars) to withdraw more money for each transaction!
Credit cards, as well as debit cards, are widely accepted for purchases at many stores, hotels, and restaurants in Thailand, with a service charge of around 4-5%. The most commonly accepted cards are Visa and MasterCard, followed by Amex and Japan Card Bureau.
Pictures
In general, Thai people don't mind being photographed. However, courtesy requires obtaining his agreement. Many pagodas charge a small fee for cameras, video cameras can be a bit more expensive. Some museums prohibit photos. It is no longer a problem to bring video cameras.
Thus, through the blog "How to organize a memorable trip for 4 days in Thailand?", we've given you the information you need to start planning your vacation. And if you are looking for something more perfect and assured, feel free to contact us for the best plans.
Read more: